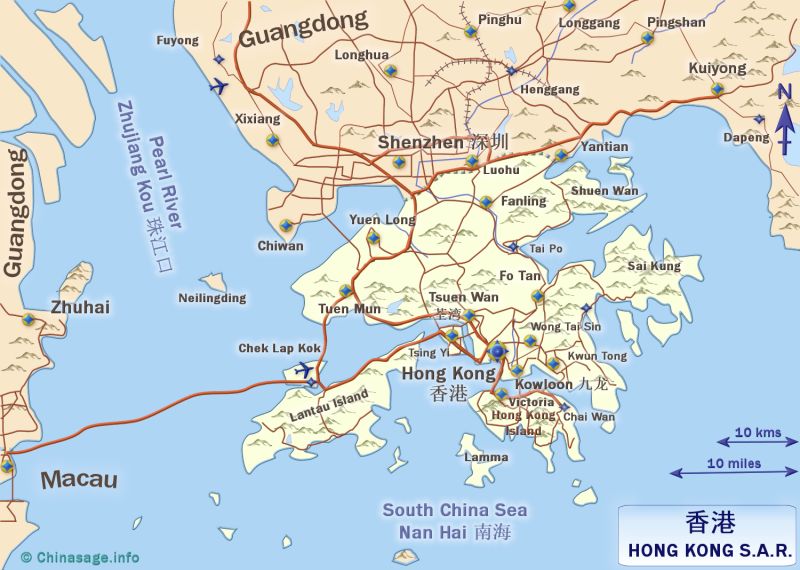 Hong Kong Province
Name

香

港

(

xiāng

gǎng

)

['fragrant' 'harbor']

Capital
Hong Kong City
Population
7.264 million (0.53 %) [29th] comparison table
Area
1,000 km2 [386 mile2] (0.01 %) [32nd]
GDP
253,513 (7.36 %) [2nd]


Google map of Hong Kong

Neighbors
Guangdong
Macau
Show province
Hong Kong is a former British island outpost. It is a 'Special Administrative Region' rather than a province as it is working through fifty years of 'two systems one country' transitional period negotiated with the U.K.. Its quasi-independence is clear from the retention of its own currency, the Hong Kong dollar ➚ which is pegged to the US dollar, and its own flag (a five petaled orchid).
The name 'Hong Kong' is based on the local Cantonese name for the island; the mandarin name is Xianggang meaning fragrant harbor. It is known colloquially as the Oriental Pearl and stands strategically on the Pearl River delta ➚ where vast amounts of sea trade passes to the main Chinese southern port of Guangzhou. It has steep mountains, with 'The Peak' shan teng (1,811 feet [552 meters] rising dramatically from the sea. Much of the sea front and the airport sit on reclaimed land as there is so little flat land. The large town of Kowloon on the mainland, also part of Hong Kong, means 'nine dragons' (jiulong in mandarin Chinese) because it is built on nine hills. A transport link over the Pearl Estuary to Macau is due to open in late 2018. It will be the world's longest sea bridge and part tunnel under the busy shipping lanes.
Night skyline of Victoria harbor, Hong Kong
Hong Kong History
Teacup media
audio podcast by
Laszlo Montgomery
.
The History of Hong Kong

➚
Initially the British Prime Minister Lord Palmerston ➚ dismissed Hong Kong Island as of little value: 'a barren rock with nary [not] a house on it', however the harbor proved an excellent base for trade with China standing on the other side of the Pearl River estuary to the much older Portuguese colony of Macau. It was Scottish entrepreneurs such as Jardine Matheson ➚ who turned it into a bustling port. Cantonese People moved from surrounding Guangdong province to provide an ample supply of cheap labor. Hong Kong island became a British possession in 1842 under the treaty of Nanjing at the end of the First Opium War, and in 1860 China lost neighboring Kowloon too in the Second Opium War. Britain leased the 'New Territories' on the mainland in 1898 for 99 years and this was the reason for the handover on June 30th 1997. If only the New Territories had been returned to Chinese control, the remaining 'permanent' possession of Hong Kong Island would not have been able to function independently. Hong Kong shot to prosperity after the Second World War when capitalists fled Communist mainland China but continued to trade with the mainland. The use of Cantonese rather than Mandarin is still prevalent in place names, it is expected that Mandarin will gradually replace it within the 50 year transition period. English is widely spoken and used, and British traditions remain an important influence, especially in administration.
All about the exploitation of China by foreign powers from the
Ming dynasty
to the foundation of the PRC in 1949. The establishment of foreign enclaves within most Chinese cities one hundred years ago led to many frictions with the foreign powers, particularly Britain. The
treaty port
system forcibly opened up cities to foreign trade in lat Qing dyansty China.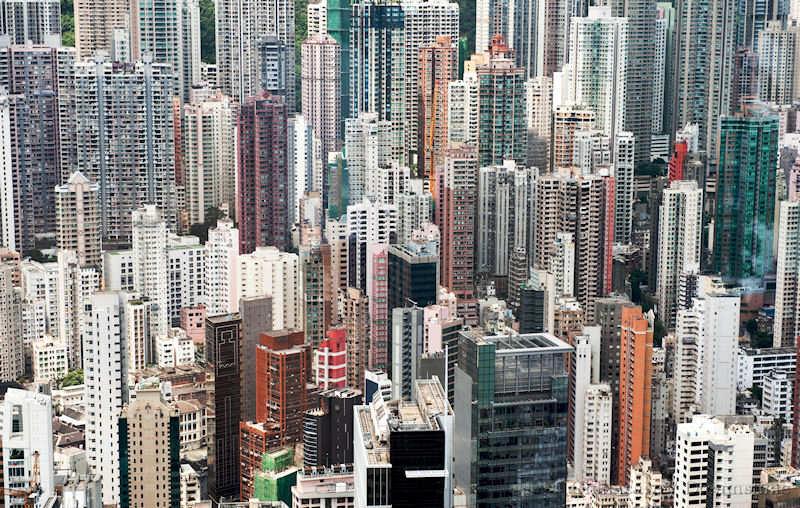 Densely populated Hong Kong
Financial and industrial enterprises have flourished and Hong Kong remains a city of world-wide importance. HSBC ➚ (Hong Kong and Shanghai bank) and Bank of China ➚ have impressive skyscraper buildings here. By many measures it is the most densely populated city ➚ on Earth. Hong Kong has a notable local film industry which produced massively successful 'Kung fu' films. The success of Hong Kong made it the template for how to develop cities on mainland China. Famous for cuisine and a major luxury shopping area, it remains a popular tourist destination. Life is frenetic and never seems to stop. The boats of the Star Ferry company ➚ provide excellent views of the city from the water as they navigate the narrow stretch between Hong Kong island and Kowloon. The Zoological and Botanical Gardens ➚ are world famous for their impressive collections of animals and plants. The Tin Hau Temple ➚ in Causeway Bay is a relatively modern temple from the Qing dynasty while Victoria Peak is a mountainous viewpoint which offers dramatic views of the skyline. Each day the noon day gun is fired as it has done since the 1864. It is immortalized in Noel Coward's 'Mad dogs and Englishman ➚' song. The tradition started because the British trading company of Jardines ➚ had had the habit of firing a gun salute whenever a senior executive arrived, while this privilege should have been reserved for the military commanders. As punishment Jardines were ordered to fire a noon day gun for ever after. Horse racing is a very popular sport, and the Happy Valley Racecourse ➚ in the center of the city has packed stands on Wednesday nights.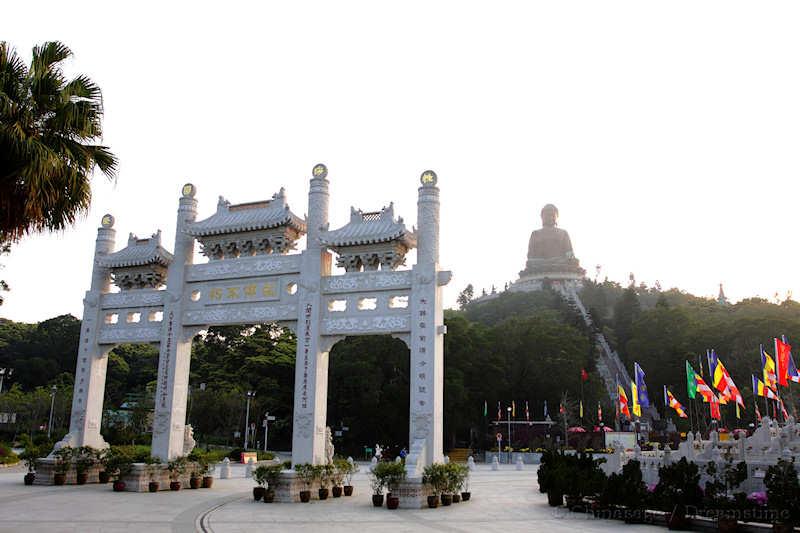 The Po Lin Monastery Hong Kong with its famous Big Buddha statue
Geography
Hong Kong consists of a group of mountainous islands and a chunk of mainland. The terrain heavily restricts development but there are some surprisingly peaceful and beautiful nature reserves within Hong Kong's boundaries. The climate is extremely hot, wet and humid in summer with winters not that much cooler.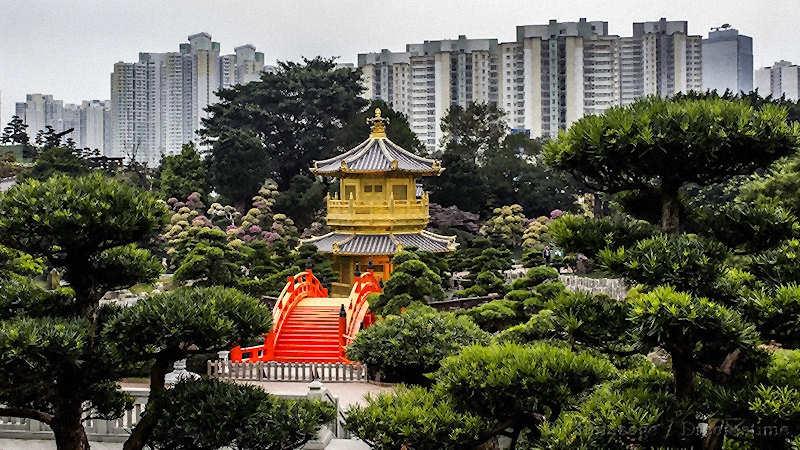 A pavilion located at Nan Liang Garden in Hong Kong
Hong Kong Climate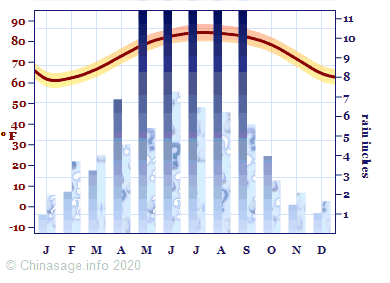 Both
Temp
Rainfall
° C/mms
° F/ins
Key

Show Bing Map

➚
Major Cities
Population
Hong Kong City

香

港

7,404,886
Airports
Universities
After the rapid development of Hong Kong, the original College of Medicine (where
Sun Yatsen
was the most famous student) became a University in 1911 and has been the highest ranked Chinese University for some years. It is highly regarded in a number of disciplines including law and medicine.. Undergraduates: 15227, Postgraduates: 11778, International students: 6814, GP World ranking 32
The Hong Kong University of Science and Technology often abbreviated as HKUST was founded less than 35 years ago; it specializes in science, engineering, business and technology and has rapidly achieved a high International ranking.. Undergraduates: 8699, Postgraduates: 3897, International students: 3625, GP World ranking 28
Despite the use of 'Chinese' in its name, English is the main teaching language at this well regarded Hong Kong University just 50 years old. It has a high international reputation in mathematics; science; medicine as well as the arts and humanities.. Undergraduates: 15351, Postgraduates: 13337, International students: 2746, GP World ranking 51
Hong Kong has more than its fair share of prestigious universities and the City University is among the top six academic institutions in the territory. It became a full University in 1994 and teaches all the main subjects to a high level. It ranks high in languages and linguistics. Like other Hong Kong universities it teaches principally in English.. Undergraduates: 12689, Postgraduates: 6017, International students: 905, GP World ranking 57
This old Hong Kong institution became a University in 1994. It is now the third ranked university in Hong Kong with a high international reputation. It concentrates on business, design, engineering rather than science.. Undergraduates: 18777, Postgraduates: 8766, International students: 481, GP World ranking 116
Originally founded as an American Baptist College it became a university in 1994 and now has a high international ranking. It has a full range of courses and is strong in geography, computer science and mathematics.. Undergraduates: 6690, Postgraduates: 2601, International students: 2720, GP World ranking 281
Source references used for this page:
Book : A Map History of Modern China, Catchpole, Heinemann, 1976
p. 22;

Book : China : Eyewitness Travel, Dorling Kindersley, 2012
p. 307-325;

Book : China A to Z, May-lee Chai and Winberg Chai, Plume, 2007
p. 137-139;

Book : Lonely Planet: China, 1988
p. 162-164;

Book : Modern China: A companion to a rising power, Graham Hutchings, Harvard University Press, 2003
p. 202-204;

Book : Mr. China, Tim Clissold, Harper Business, 2004
p. 8;

Hong Kong (wikitravel)

➚
;

Hong Kong Travel, Hong Kong Disneyland Travel

➚
City populations for 2012, Province statistics National Bureau of Statistics 2014

Back to top

Chinasage is a new web resource, pages will be added, enhanced and re-formatted regularly. We would be most grateful if you can help improve this page. Please visit our (secure) contact page to leave any comment. Thanks.
Citation information for this page : Chinasage, 'Hong Kong - Special Administrative Region of China', last updated 5 Feb 2018, Web, http://www.chinasage.info/maps/hongkong.htm.
No information available


Copyright © Chinasage 2012 to 2018
Please wait...
Downloading information about character