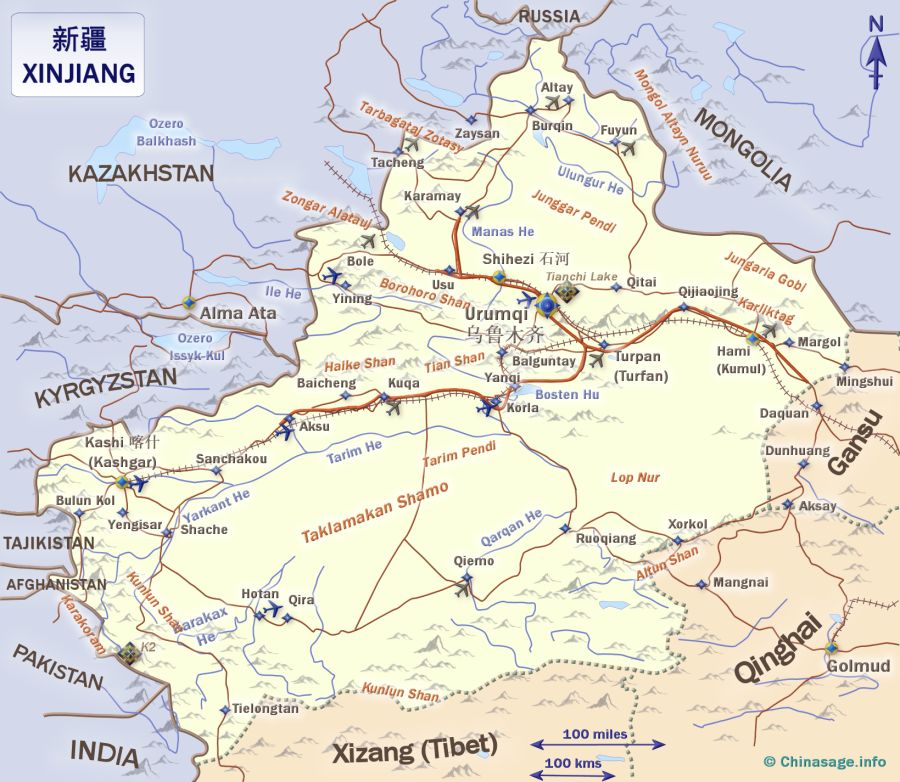 Xinjiang Province
Name

新

疆

(

xīn

jiāng

)

['new' 'border']

Old Name

Sinkiang WG
Capital
Urumqi
Population
22.814 million (1.66 %) [25th] comparison table
Area
1,600,000 km2 [617,760 mile2] (16.67 %) [1st]
GDP
40,607 (3.70 %) [18th]


Google map of Xinjiang

Neighbors
Qinghai
Gansu
Tibet
Show province
Xinjiang, the north western Autonomous Region of China, covers the old land routes into China. Much of Xinjiang is desert with patchy vegetation only suitable for light grazing. It was settled by central Asian tribes over the centuries who look more to the countries to the north and west than to Beijing. Most of its people are Turkish speaking Muslims; there are Uyghurs but also Mongolian; Kyrgyz; Tajik; Hui and Kazakh people. [Note: Uigur is variously spelled Uyghur or Uighur or Uygur] As a border zone it has only periodically been under Chinese control. It was considered part of China whenever China was a powerful nation : the Han; Tang; Mongol and Qing dynasties.
Flock of sheep near Lake Yileimu in Xinjiang with herdsman's yurt
We have overlaid a Google map of China with our own additional information: airports, cities and visitor attractions to make it a far richer way to explore this vast country.
Xinjiang History
Xinjiang was precious to China when the Silk Road was the major trade route into China but proved hard to control. It marked a buffer zone outside the official gateway into China which was at Jiayugyuan in neighboring Gansu. Rebellions in 1855-71 led to the massacre of many Muslims. On the fall of the Qing the area once again fell to local rebellions and war lords. Frictions with Russia in the 1870s led to some erosion of the vague northern frontier. In 1955 it was designated as the 'Uygur Autonomous Region' to confer on the province a sense of local control, however it has little actual autonomy. Terrorist attacks by Uighur separatists still occur from time to time, it remains a politically sensitive region. Xinjiang is rich in oil and gas reserves, which is another reason why the province is important to China.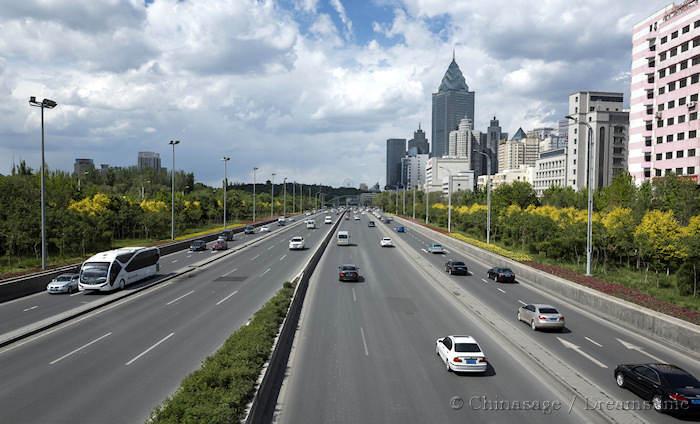 Expressway into Urumqi, Xinjiang
Historically it has been named in the West as 'East Turkestan', indicating its real geographical location. Both Chinese and Arabic are taught in schools although proficiency in Chinese is the passport to employment. Many families have links with neighboring countries and Russian influence is considerable. Border clashes with Russia ➚ took place in 1969 and 1974. Despite being 1,500 miles [2,414 kms] west of Beijing the province officially uses Beijing time (as over all China) but local Xinjiang time is sometimes unofficially used (which is 2 hours behind Beijing time).
Places to Visit in Xinjiang
With such an arid climate the towns are located close to water sources. There is more rainfall in the far north and west allowing forests and grasslands to flourish. Turpan ➚ (Turfan) is the lowest at 505 feet [154 meters] below sea level and hottest place in China (121 ° F [49 ° C]) with ancient aquifers providing the water supply via long, subterranean channels to keep the oasis green. Moonlight Lake (Aydingkol ➚) is a salt lake at the center of the depression. West of Turpan are the famous Flaming Mountains ➚ which can reach an unbearable 176 ° F [80 ° C] in summer. These mountains feature in the Journey to the West which is the story of Buddhism's arrival into China.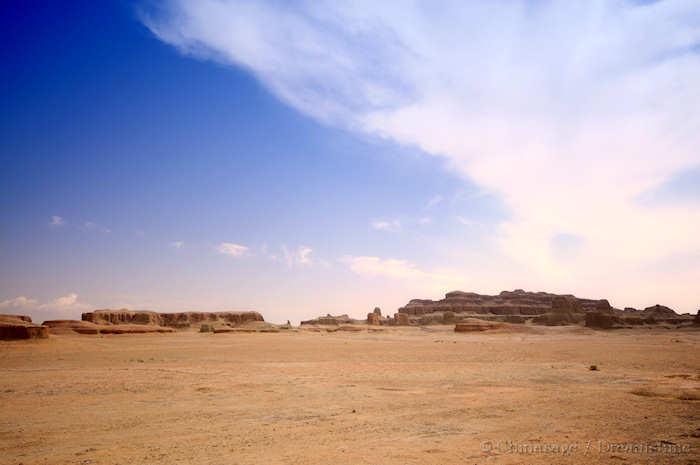 Desert landscape in Xinjiang
The Taklamakan desert is free of vegetation and a real desert; it remains a perilous region to cross. Ancient cities have been engulfed by the sands over the centuries, as at Niya ➚. The silk road had two routes to avoid the desert: to its north along the edge of the Tianshan mountains through Kuqa and Korla and to on its south through Hotan (Khotan) and Qiemo.
The southern area is part of the Tibetan plateau and borders Tibet and is the bleakest region. In 1964 China carried out its nuclear tests at Lop Nor ➚ a desert area to the east of the Taklamakan. The Kunlun mountains ➚ that form the southern border of Xinjiang are famous as the source of jade which has been mined there for thousands of years. Kunlun is the reputed home to the legendary Queen Mother of the West. Boulders of jade can still be found on the banks of the Karakax (Karakash) 'Black jade river' and the Yurungkash 'White jade rive ' 白玉河. The second highest mountain after Everest is K2 or Chogori ➚ (28,251 feet [8,611 meters] high) on the Pakistan border with Xinjiang. At Gaochang ➚ there is an ancient Silk Road trading post with impressive gate-towers and many archaeological remains.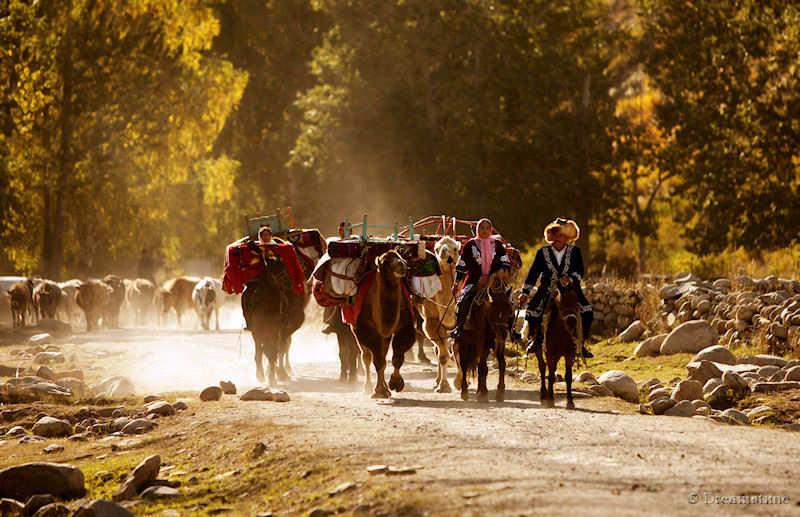 Kazakh nomads on the road, Xinjiang Copyright © Dreamstime see
image license
Dip into history
Our history section has a page for each major dynasty, for the whole period from the time of myths and legends 5,000 years ago all the way through the Han, Tang, Song, Ming dynasties to the last great dynasty the Qing .
Read More
Urumqi ➚, the capital of Xinjiang is an important transport hub inhabited mainly by Han Chinese. It has a large museum covering finds from the whole province. It claims to be the city furthest from any ocean in the world. The Southern Pastures ➚ scenic spot is located nearby. Heavenly Lake ➚ (Tianchi) east of Urumqi is a beautiful lake hidden in the Tianshan mountains which manages to trap a little elusive moisture. The 'Iron Tile' Temple of 'Temple of Happiness and Longevity' was built by Qing Emperor Qianlong on the nearby mountain. Further west at Kashgar there is a stronger Uigur influence evidenced by the Arabic style grand Id Kah Mosque ➚. The Aba Khoja mausoleum ➚ is one of the best examples of Islamic architecture; while the Kizil Caves ➚ house many fine Buddhist sculptures. The main land route to Pakistan, the Karakoram Highway ➚, passes through Kashgar. The ancient city at Taxkorgan (Tashkurgan) is the home of many Tajik (Tadzhik) people. After the high pass at 15,750 feet [4,801 meters] the road slopes down into the Hunza valley ➚ into Pakistan.

Apak Hoja Mazzar, an ancient royal family tomb near Kashgar, Xinjiang
In the far north west of Xinjiang there is the scenic tranquility of Sailimu (Sayram) Lake ➚. Yining (or Gulja) was once the capital of the Khanate of Chaghatati ➚ who was one of Genghis Khan's four sons (another grandson Kublai Khan ruled China). It is located on the Ili river and geographically belongs to Kazakhstan.
Geography
Mountains to the far north-west receive a little more rain and support more agriculture. Watermelons; cotton; pomegranates; walnuts and grapes (especially at Turpan) are grown. Sheep grazing is widespread in Xinjiang and so lamb is the most widely available meat and features heavily in the cuisine. Areas around Urumqi are heavily industrialized while much of the remainder of Xinjiang remains desolate.
Xinjiang Climate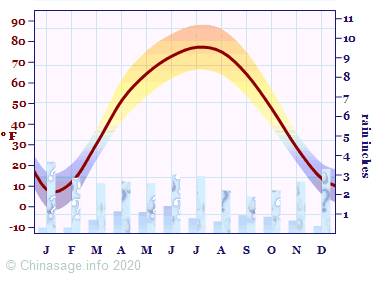 Both
Temp
Rainfall
° C/mms
° F/ins
Key

Show Bing Map

➚
Major Cities
Population
Aksu
阿

克

苏

340,020
Hotan

和

田

114,000
Huocheng
霍

城

360,000
Kashgar
喀

什

274,717
Korla
库

尔

勒
179,465
Shihezi

石

河

572,772
Urumqi

乌

鲁

木

齐
1,719,400
Yining
伊

宁

542,507
Airports
Source references used for this page:
Book : 60 Scenic Wonders in China, New World Press, 1980
p. 218-225;

Book : A Map History of Modern China, Catchpole, Heinemann, 1976
pp. 18, 30;

Book : China : Eyewitness Travel, Dorling Kindersley, 2012
p. 503-515;

Book : China A to Z, May-lee Chai and Winberg Chai, Plume, 2007
p. 251-252;

Book : Insight Guides: China, APA publications, 1994
pp. 47-57, 229-241;

Book : Life along the Silk Road, Susan Whitfield, University of California Press, 1999
p. 127;

Book : Lonely Planet: China, 1988
pp. 45-47, 759-786;

Book : Modern China: A companion to a rising power, Graham Hutchings, Harvard University Press, 2003
p. 470-473;

Map of Xinjiang, China

➚
;

Xinjiang (wikitravel)

➚
;

Xinjiang Travel Guide - Fruit And Unique Dance Will Make You Drunk

➚
;

Xinjiang Travel Guide: Tour, Map, History, Climate, Sights

➚
City populations for 2012, Province statistics National Bureau of Statistics 2014

Back to top

Chinasage is a new web resource, pages will be added, enhanced and re-formatted regularly. We would be most grateful if you can help improve this page. Please visit our (secure) contact page to leave any comment. Thanks.
Citation information for this page : Chinasage, 'Xinjiang Autonomous Region China', last updated 6 Dec 2016, Web, http://www.chinasage.info/maps/xinjiang.htm.
No information available


Copyright © Chinasage 2012 to 2018
Please wait...
Downloading information about character