Tang Dynasty

唐

朝

618 - 907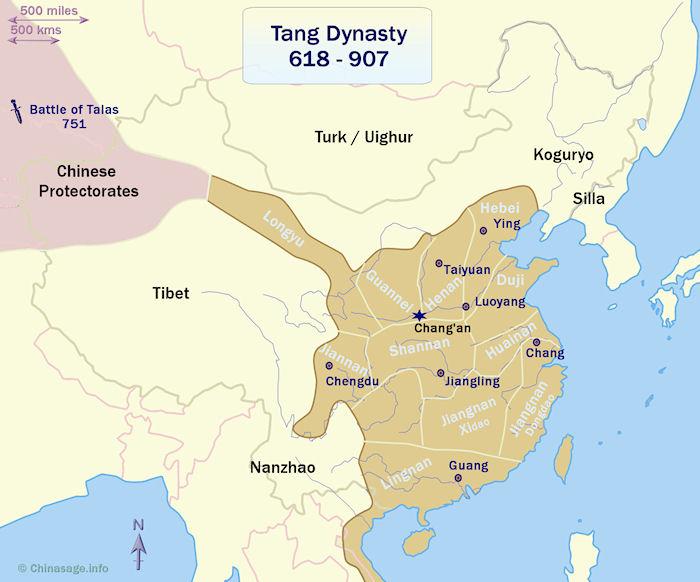 Echoing the foundation of the preceding Sui dynasty the illustrious Tang dynasty was founded by a northern aristocratic family member serving as an official in the Sui government. Li Yuan [566 - 635] rose in revolt at Taiyuan, Shanxi against Emperor Yangdi in 617 and soon captured the capital, he took the name Gaozu ('High Ancestor' see below on names) on accession in 618. (Note that the temple name Gaozu had also been used by a number of Emperors including Liu Bang founder of the Han dynasty). His son Li Shimin was the main military genius behind the conquest. Although of mixed Han/Turkic/Mongol/Xianbei descent the imperial Tang dynasty embraced Chinese culture and married into the former Imperial Sui and Northern Zhou families. Their ancestral Turkic language remained in use among the Imperial family members. Li Shimin's eldest son Li Cheng Qian became obsessed with his Tartar ancestry and wore Turkish clothes, spoke Turkish and adopted a nomadic herder's lifestyle. The Central Asian roots is evident in the surviving artwork showing the Tang love of horses, horse riding and polo playing. Emperor Xuanzong famously trained a troop of 100 dancing horses to perform for him.
Tang Emperors and Empress
Teacup media
audio podcast by
Laszlo Montgomery
.
Wu Zetian

➚
Gaozu restored peace between the rival ruling families and laid the foundation for the Tang period of wise rule. His land reforms paved the way to peace and prosperity. Gaozu's son Li Shimin [598 - 649] who had the title Taizong ('High Ancestor') is one of the great Chinese Emperors, who started by living frugally, seeking advice from others, working hard and ruling wisely. Examples of Taizong's fine calligraphy have been found at Dunhuang, he was artistic and literate. One story recounts how he broke off from a meal to draw an unusual bird that had landed nearby. He drew on all the native Chinese religions in making his decisions. His plans to subjugate the Koreans, failed just as Sui Emperor Yangdi had failed before. The corruption engendered by such total power gradually took its toll in Taizong's later years. After a conflict between two of his sons, it was a younger son Gaozong who took the throne.
Roman ban
The popularity of Chinese silk in Rome became such a drain on Roman Imperial finances that
Emperor Tiberius

➚
issued an edict to ban men wearing silk. In one year over 22,000 pounds of gold was spent on its import.
Read More
Gaozong rule was overshadowed by his powerful wife Wu Zetian who soon took power in her own right (founding a new 'Zhou dynasty') after the death of her son Zhongzong. She became the only Chinese Empress in history and women at this time had more power and influence than in later dynasties. The modern epic film Detective Dee and the Mystery of the Phantom Flame ➚ is set at this time. She is portrayed as ruling ruthlessly, killing any who opposed her, even her own son; however her rule is generally considered wise and benevolent, and it is probable that later historians tried to besmirch the dangerous precedent of a female emperor. She sought to secure her power by appointing officials based on merit through a re-invigorated examination system. One story is told that she decided that she had the divine power to cause flowers to bloom, when peonies ignored her Imperial edict all peonies were uprooted and burnt. She was eventually deposed and Emperor Zhongzong's reign followed a similar pattern, his Empress Wei took on more power and fighting between rival family factions continued.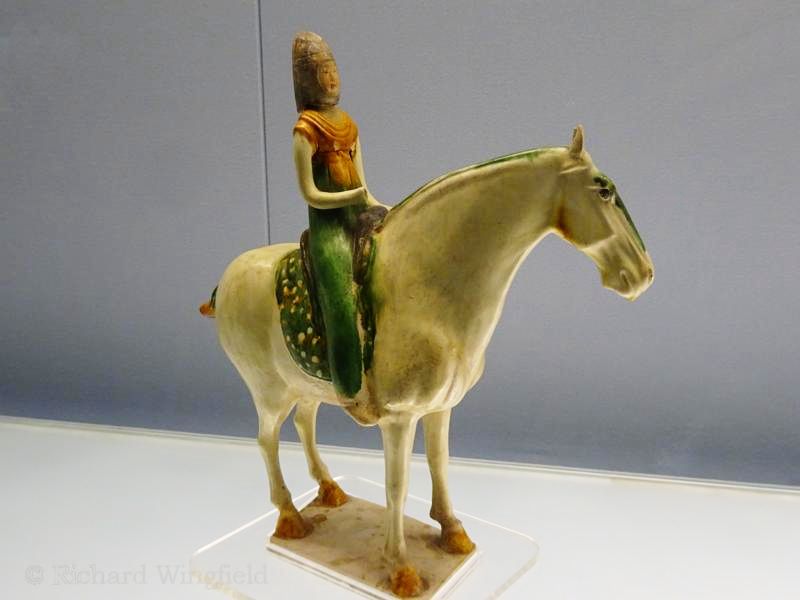 Tang dynasty woman horse rider in Sansuci pottery. Copyright Richard Wingfield, October 2017.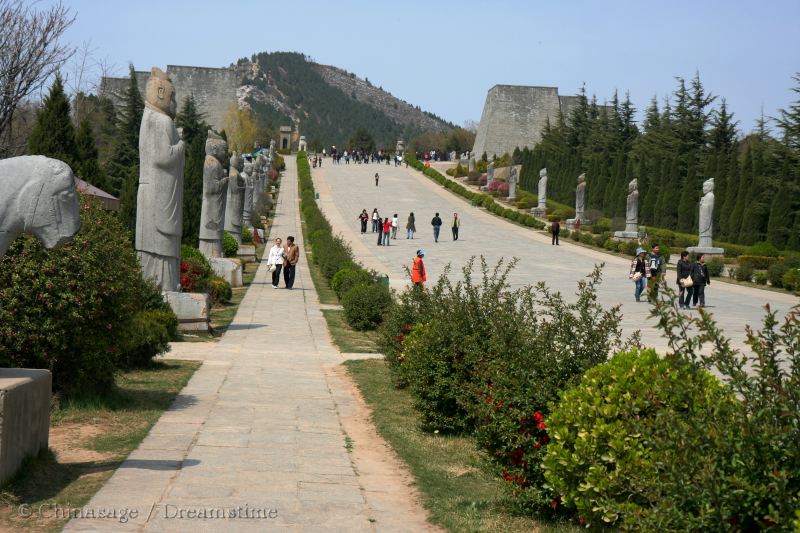 Sacred Way
to tombs of Tang Emperor Gaozong and Empress Wu Zetian,
Xi'an
Xuanzong (712-756) also known as Ming Huang brilliant emperor is a popular emperor who rebuilt the splendor of Tang culture. He founded the leading scholarly institution in 725 - the Hanlin Academy that lasted for nearly 1,200 years. He is famous for an infatuation with his son's wife the beautiful Yang Guifei ➚. The country prospered, the first permanent bridge over the lower Yellow River, the Pujin Bridge ➚ was built and the population of China rose to 53 million.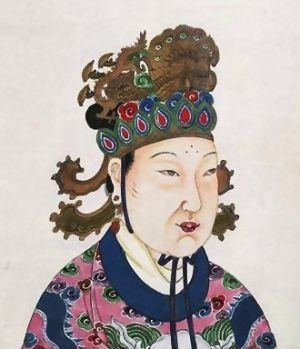 Empress Wu (Wu Zetian) Image taken from An 18th century album of portraits of 86 emperors of China, with Chinese historical notes. Originally published/produced in China, 18th century. (British Library, Shelfmark Or. 2231) available under a
Creative Commons license

➚
.
World Center
China remained the dominant Asian power with its capital at Chang'an, the largest city in the World at the time with 2,000,000 inhabitants. A tenth of the city's population were foreigners: Tibetans; Sogdians; Turks; Persians; Arabs and Syrians, it was a very cosmopolitan era. China saw no threat from foreign 'barbarian' states and welcomed their skills and customs. Some contact with the Byzantine Empire ➚ is also documented. Supplying the vast city with food was a logistical problem with very difficult transportation by boat up the Yellow and Wei rivers. The grip on southern China strengthened with the inclusion of Fujian province into the Empire. For the first time the empire was administered as a set of ten provinces rather than much smaller districts. The provinces were Longyu (roughly present day Gansu); Guannei (Shaanxi); Henan (Shanxi); Hebei (roughly present day Hebei); Duji (Shandong); Shannan (Henan; Shaanxi; Hubei); Jiannan (Sichuan); Lingnan (Guangxi; Guangdong; Vietnam) and Jiangnan (a vast area subdivided into east and western parts covering much of Anhui; Fujian; Zhejiang; Guizhou; Hunan; Jiangxi; Jiangsu). Guangzhou developed rapidly as a port on the south coast with good roads to the rest of China. The most prized export shifted from silk to porcelain which is more suited to transport by boat rather than by land.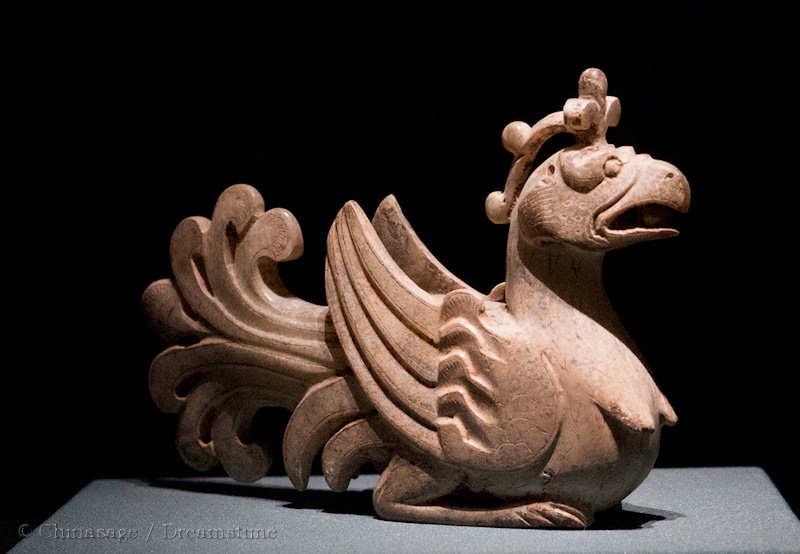 Tang dynasty depiction of a hen
Tang dynasty Culture
Teacup media
audio podcast by
Laszlo Montgomery
.
Tang Dynasty

➚
Culturally, the Tang dynasty is seen as another peak in Chinese development. The first printed books in the world were produced. In technology iron chain bridges were built as well as water mills. Control of irrigation became more sophisticated bringing more land into cultivation. Tea was extensively planted and Tang porcelain became highly prized. There was a great literary flowering with many great poets including Li Bai and Du Fu creating timeless classics. An Imperial Academy ('the Forest of Pens') promoted literature. In administration the Tang mainly followed the Sui system although the reformed system still relied on grain levies on poor farmers. Nine grades of nobility were created which received a fixed proportion of the income from taxation. The first class princes (wang) were the top grade made up of sons and brothers of the emperor; the next two grades were more distant relatives; the remaining six grades were for eminent officials.
Battle of Talas 751CE
During the Tang dynasty, the empire expanded far to the West along the Silk Route the main artery of Tang trade to touch the Aral Sea ➚. Chinese expansionist dreams were brought to a halt at the Battle of Talas ➚ in 751. It was the growth of Islam that fueled the conflict; Abbasid ➚ troops met a combined force of Chinese and mercenary Karluk troops. During the battle the Karluk troops changed sides and this proved decisive, very few Chinese survived. China lost control of the area which is now Xinjiang and Qinghai provinces, at one stage her influence had extended to Pakistan and the Aral Sea. Perhaps most importantly the Arabs captured mercenaries skilled in the manufacture of paper. Paper mills were then built at Samarkand and from there, the secret made its way to Europe and the rest of the world.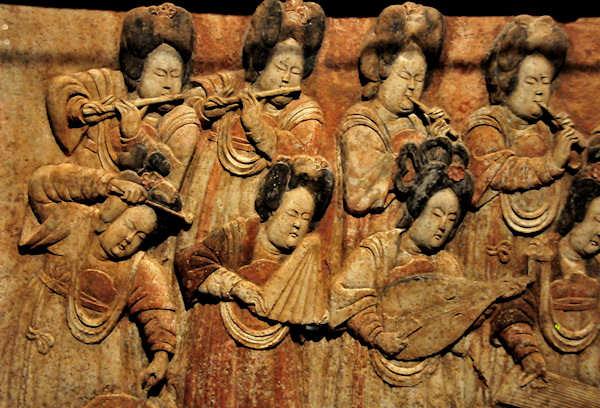 Chinese artwork of lady musicians in a raised-relief, from the Capital Museum in Beijing, dated to the
Five Dynasties and the Ten Kingdoms Period
(907-960CE) Image by
gongfu_king

➚
available under a
Creative Commons license

➚
.
625
Empress Wu Zetian born
685
Emperor Xuanzong born;
690
Empress Wu Zetian became ruler;
699
Wang Wei
born;
701
Li Bai
born;
705
Empress Wu Zetian no longer ruler
712
Du Fu
born; Emperor Xuanzong became ruler
868
Printing of Diamond Sutra ;
878
Guangzhou massacre began;
879
Guangzhou massacre ended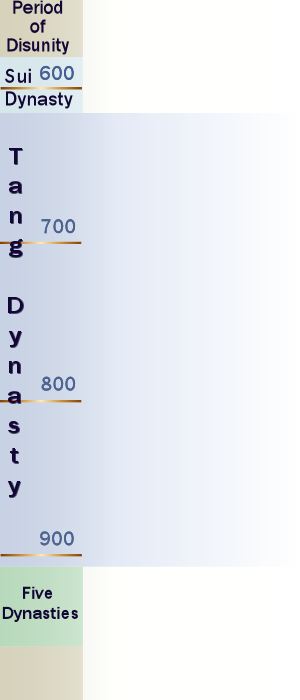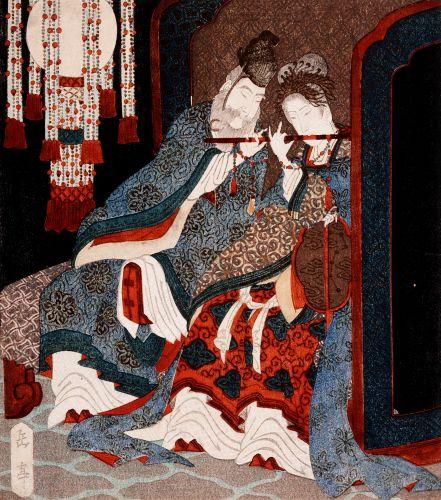 Color woodcut by Yashima Gakutei (Japan, c.1786-1868). Los Angeles County Museum of Art. Image by
Gallery

➚
available under a
Creative Commons License

➚
An Lushan Rebellion
One of the most famous episodes in Chinese history concerns An Lushan, [5 Feb 756 - 29 Jan 757] who managed to bring about the downfall of the Tang dynasty. An Lushan was of Turkish/Sogdian descent and while still illiterate became the slave of a Chinese military officer. He soon learned his letters and became an interpreter and rose to become military governor-General to the fractious border regions.
At this time the Tang had met their first major military defeat at the Battle of Talas in 751. The empire struggled to rule the border regions with high ethnic populations. To enable effective rule in these regions the military were given administrative and financial control, this gave An Lushan great power and influence. He became the protege of Li Linfu, the chief minister and by then grossly obese, he joined the Imperial court at Chang'an.
At court he inveigled his way into the affections of Yang Guifei, the emperor's favorite concubine. The great Emperor Xuanzong after achieving much in his early years was besotted with her while in his sixties. Yang Guifei (aka 杨玉环) was born in Sichuan and became a Daoist priestess just at the time that Imperial court turned from Buddhism to Daoism. She was then picked as a wife by Xuanzong's own son - Li Mao the Prince of Shou before the Emperor noticed her and took her for himself. The Huaqing Hot Springs near Xi'an is a place associated with the two lovers.
An Lushan acted as a fool and clown to the delight of the Emperor and his favorite concubine. His powerful rival at court was Yang Guozhong, 杨国忠 Yang Guifei's second cousin who had been promoted to first minister. The Emperor and concubine went so far as to make An their adopted son. When Yang Guozhong raised doubts on An's loyalty, An Lushan made a tearful defense before the Emperor that won him his release. Picking his moment An Lushan with the aid of his close friend Shi Siming (史思明) launched the An-Shi revolt in 755 from their power-base in the north east (Hebei, Liaoning, Shanxi and around Beijing). The rebel army, 150,000 strong, started out from Jicheng and then quickly and easily moved through Hebei and Shanxi, massacring the population of Kaifeng before moving towards the then capital Chang'an in Shaanxi. They captured the capital and Emperor Xuanzong fled towards Sichuan. An Lushan then proclaimed the foundation of his new Greater Yan dynasty.
It is wrong to 'personalize' the rebellion too much in terms of a drama among personalities at court. The reality was that Tang control was overstretched and the border regions could only be controlled by devolving power to strong military leaders. Emperor Xuanzong's court in his later years had become corrupt and supine. A shrewd and pragmatic leader like An Lushan had the energy that the court had been lacking. However the rebellion did not create a new strong dynasty. Emperor Xuanzong's fleeing escort mutinied and killed Yang Guozhong and demanded that Yang Guifei should be killed. He had no choice but to see his beloved strangled. The episode is made famous through Bai Juyi's poem 'A song of Unending Sorrow' about the eternal tension of old age and youth.
"The Emperor could not save her.
He could only cover her cold face.
And later when he looked back, a yellow dust blown by a cold wind
hid the sight of blood and tears.
Earth endures, heaven endures, sometimes both shall end,
While this unending sorrow continues forever."
The Great Emperor Xuanzong, a broken man, abdicated in favor of son Suzong (Yang Guifei was his mother). With the aid of loyal generals Guo Ziyi and Li Guangbi, Suzong launched a counter-attack which took a grueling eight years to end the revolt. An Lushan ruled for just one year, he became blind and was assassinated by his own son An Qingxu ➚. Eventually a truce was drawn up between the two sides.
The Tang dynasty never fully recovered from the revolt. The disruption to agriculture and displacement of people caused a break down in administration. Some claim that 36 million died, but this figure reflects the impossibility of carrying out an accurate census across a ravaged country, many fled south. Local warlords were able to build their own areas of control. The episode reveals the fragility of power of the late Tang dynasty.
Decline and Fall of the Tang
After the tumult of the An Lushan rebellion, Xuanzong's son Suzong eventually restored peace, with aid from foreign mercenaries but only to see a new power, the Tibetans, invade and sack Chang'an. In 766 some stability was established under Dezong (Suzong's son) but the centralized power of the early Tang rulers was never reinstated. The majority of the unrest was in northern China; in the Yangzi valley and further south peace was preserved, this period marked the shift to the south of Chinese culture, areas in the north became depopulated with cities left in ruins while in the south new towns and cities were built.
Buddhism was the religion of the Tang emperors; it was a period of carving of huge numbers of Buddhas in such places as Dunhuang, Gansu; the Longmen Caves and the Yungang Grottoes. Towards the end of the dynasty Buddhism had become very powerful and rich, it was then fiercely persecuted (841-846) by Emperor Wuzong and never again achieved the same dominance. Nationalism was resurgent with foreigners: Turks, Jews, Muslims, Christians, Parthians dispossessed and some murdered. The state turned back to Confucianism as the ruling doctrine, and central control was lost with local fiefdoms emerging particularly in the north.
Natural disasters took their toll too, a series of droughts in Shandong and Henan led to peasant rebellions. The remnants of Tang administration resorted to high levels of taxation and confiscation of land. At one stage a 'Green shoots tax' was instigated, so farmers had to pay a tax on crops as they germinated long before harvest. Misrule and dominance by court eunuchs, encroachment of Arab armies from the west, and rebellions all led to the breakdown of the empire into smaller 'fiefdoms' . Huang Chao (黄巢) ➚'s rebellion proved the main cause of the demise of the illustrious dynasty and the birth of a period of strife: Five Dynasties and Ten Kingdoms.

Back to top

Chinasage is a new web resource, pages will be added, enhanced and re-formatted regularly. We would be most grateful if you can help improve this page. Please visit our (secure) contact page to leave any comment. Thanks.
Citation information for this page : Chinasage, 'The Illustrious Tang Chinese Dynasty 618 - 907', last updated 30 Nov 2016, Web, http://www.chinasage.info/dynastytang.htm.
Source references used for this page:
Book : A Map History of Modern China, Catchpole, Heinemann, 1976
pp. 1, 8;

Book : China : A short cultural history, G.P. Fitzgerald, The Cresset Press, 1950
p. 292-374;

Book : China : Eyewitness Travel, Dorling Kindersley, 2012
p. 56-58;

Book : China: A Concise History, Meyer, Littlefield Adams, 1984
p. 197-198;

Book : China: A Macro History, Huang, Sharpe,1990
p. 100-101;

Book : Chinese Civilization - A source book, Patricia Ebrey, The Free Press, 1993
p. 123-124;

Book : Chronicles of the Chinese Emperors, Ann Paludan, Thames and Hudson, 1998
pp. 13, 37, 88-117;

Book : History: China Handbook Series, Foreign Languages Press, 1982
p. 39-50;

Book : Insight Guides: China, APA publications, 1994
p. 50-52;

Book : Lonely Planet: China, 1988
p. 12-14;

Book : The Cambridge Encyclopedia of China, ed. Brian Hook, Cambridge University Press, 1991
p. 166-173;

Book : The Cambridge Illustrated History of China, Patricia Embury, Cambridge University Press, 2010
p. 108-135;

Book : The Civilization Of China, Herbert A. Giles, Bickers and Dagny, 1911
p. 46;

Book : The Sextants of Beijing, Waley-Cohen, Norton, 1999
p. 21-37;

Book : The Walled Kingdom, Witold Rodzinski, Fontana, 1984
p. 100-102;

Book : Twilight in the Forbidden City, Reginald Johnston, Oxford Paperbacks, 1934
p. 231;

Imperial Names (wikipedia)

➚
;

Tang dynasty (wikipedia)

➚
Copyright © Chinasage 2012 to 2018
Please wait...
Downloading information about character