Festivals in China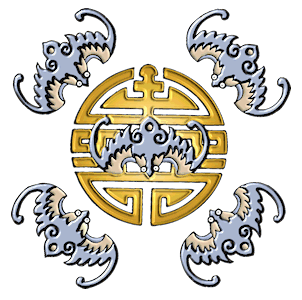 There are many, joyous Chinese Festivals that are still marked each year. A number of the festivals follow the old Chinese calendar rather than the Western (Gregorian) calendar of 365 days. The old calendar was based on the moon so just as with the Christian Easter, some festivals fall on a different days of the year. Because the lunar and solar ➚ calendars drift apart two different calendar systems have been used in China for thousands of years. The 节气 jié qì solar calendar has always been used for farming as the date of sowing, reaping needs to be synchronized to the sun not the moon. For more about the Chinese calendar please visit our Chinese Calendar section. In recent years some festivals are moved to a Monday or Friday to give a three day weekend. The mixture of moveable and fixed, modern and ancient create a complex calendar of public holidays.
Festivals reflect the mixed religious traditions in China. Some of the festivals honor more than one religion, others mark the passage of the seasons.
All these dates are for 2016 or 2017. If the date varies from year to year the year is always given in full, see our month at a glance Calender section for all festivals 2010-2020 with information about events and anniversaries.
The following dates are for next year: 2017
January 1st - New Year
When China adopted the Western, Gregorian calendar on the founding of the Republic of China in 1911, the 'Western' beginning of the year January 1st began to be marked as a festival just as elsewhere in the world. Since 2008 it has become a public holiday lasting 3 days. Sometimes the holiday is 'shifted' to give an extended weekend.
February 26th 2017 - Tibetan New Year
In Tibet the start of the year (Losar) is on the first day of the second lunar month as reckoned by the Chinese lunar calendar. 'Sacred pills' of barley are eaten to wish the Dalai Lama a prosperous new year. It is also celebrated in India and Nepal.
March 8th - International Women's Day
On the foundation of the Peoples Republic in 1949 the 8th March has been designated Women's Day with a half or full day's holiday for women in China.
March 12th - Arbor or Tree Planting Day
To make up for widespread deforestation and keep China well stocked with trees, on 12th March 植树节 people go out and plant trees. It is not a holiday and was instituted as late as 1981.
April 3rd - Cold Food Day
Cold Food day commemorates the story of Jie Zitui ➚ a loyal and humble servant at the time of the Spring and Autumn Period. The servant is supposed to have cut off part of his own thigh to offer sustenance to his starving master. Jie Zitui shunned rewards and fled to a mountain with his mother, he was pursued by the angry prince and was only put off burning down Jie's house by a pleading poem written in blood. To mark the event no fires are lit and all food is served cold. It is a minor festival held on the eve of Qing Ming . As the events took place in Shanxi province it is mainly there that the festival is celebrated.
April 13th - Water Splashing Festival
The Dai people of Yunnan people have great fun getting very wet on April 13th each year. There are very many festivals specific to particular minority people, this is one of the best known through widely seen documentaries.
May 4th - Youth Day

青

年

节
Commemorates the activity of young people on May 4th 1919 that helped create the Republic of China. It also marks the foundation of the influential May 4th movement. It is not a public holiday.
June 1st - Children's Day

六

一

儿

童

节
A recent holiday specifically for children under 14 was created under the PRC to be held each year on 1st June. Admission to cinemas is free and presents are given.
August 1st - Army Day

建

军

节
A recently instituted half-day holiday for military personnel is held on the 1st August each year.
September 10th - Teacher's Day
Teachers have their own special day when students show respect and give presents to them. It is not a holiday and is held on 10th September each year.
The following dates are for the current year: 2016
November 11th - Single's Day
December 25th - Christmas (Shengdanlaoren

圣

诞

老

人

)
In recent years the Western celebration of Christmas on 25th December has had an increasing impact. This is chiefly an excuse to buy presents for children in the cities. Shengdan Laoren is a transliteration of 'Santa' as 'sheng:圣' saintly 'dan:诞' birth followed by 'laoren:老人' old man. To wish someone 'Merry Christmas' you can say 圣诞快乐 shèng dàn kuài lè. It is not an official holiday.
Copyright © Chinasage 2012 to 2016
---