Good luck in China
Learning the
numbers
in Chinese is easier than in many other languages. In our complete guide to the numbers we include the traditions associated them. Do you know why 4 was unlucky but 8 lucky?
One of the most widely seen Chinese characters in China is 褔 fú the character for good fortune or luck. You see it painted everywhere: on wind chimes, pots, posters as a decoration. A look at its origin gives a feel of the complexity and longevity of symbols in Chinese culture.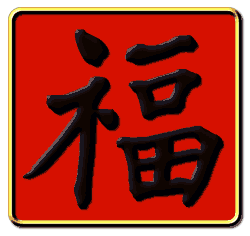 The character for good fortune consists of the radical for auspicious or heaven sent to the left. The separate right-hand symbol for wealth or abundance also pronounced fù 富 but with a falling fourth tone itself comprises of three elements. At the top is a roof, underneath is the abbreviated form of the character for high and at the bottom is the symbol for field 田 tián. Taken together the three elements have the meaning of storing produce piled high from a good harvest; the most ancient and potent indicator of wealth and good luck.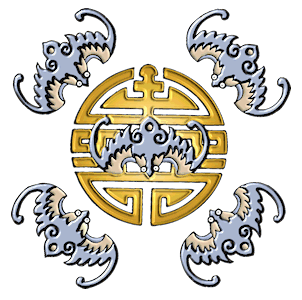 Upside-down
Fu is widely seen on Chinese New Year posters. In many cases the poster is deliberately hung upside down. This needs a bit of explanation as there are several stories explaining how this came about ➚. Firstly if you look at the character fu there is a certain vague resemblance to the character for upside down dao. The character dao can mean both 倒 dǎo upside down or fall and 到 dào arrive only differing in tone. Combining the meaning of dao and fu gives the idea of good fortune raining down from the heavens. So placing fu upside down is increasing the possibility of good fortune. It may also have something to do with bats (see following) that hang upside down. This is somewhat similar to the European custom of lucky horseshoes ; it is a symbol for good luck one way up but if placed upside down is an ill omen as the luck falls out of the horseshoe.
How to get on in China
If you are traveling to China it is essential to know the customs and general etiquette so that you do not unknowingly cause offense. Our customs page covers all areas including giving gifts, banquets, sealing business deals and how to behave in public. Any attempt at understanding Chinese sensibilities will create a good impression.
Read More
Lucky bats
The Chinese love puns. Another character that is pronounced the same way as fu (in the Beijing dialect) is fú 蝠 for bat. So drawings of bats in a design bestow a wish for good fortune. The character consists of fù 富 wealth with the radical chóng 虫 for insect - as bats eat insects. The good luck motto 蝠子天来 fú zǐ tiān lái literally 'bats come down from the sky' means 'let good fortune come down on you'.
The five bats in a design represent the five lucky gods and the five blessings: long life, wealth, health, virtue and peaceful death. The central bat is placed on top of another widely used good luck symbol, this is shòu 寿 the symbol for the god of longevity Shouxing.
Here is another design including a bat in a less obvious way. Beneath the bat dangles the "endless knot" a Buddhist symbol ➚ for long life; eternal love and friendship. For more on bats see our Chinese symbolism section.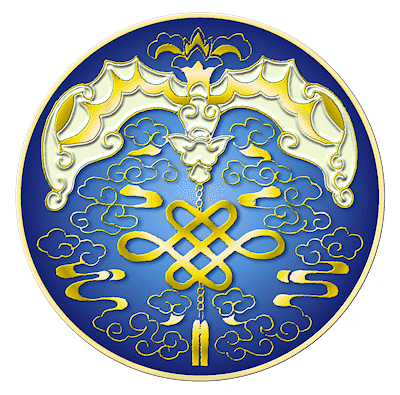 Tangerines
Tangerine. Image by
Kaldari

➚
available under a
Creative Commons license

➚
.
You may see lots of tangerines at Chinese New Year, and this is another play on words. The similar looking character for tangerine is ju 橘 and in the Guangdong area it is pronounced the same as fu 褔.
Chinese arts and handicrafts are full of hidden symbols. Bats, goldfish, peonies and bees all give a specific meaning to a painting or decoration. Exploring the world of Chinese symbolism opens up a whole new layer of appreciation.
Imagination has led to the creation of many artistic versions of the character for good luck. Some of the designs are based on the ancient seal form of the character. Here are some examples.

The fourth version above has the 'fu' element on its own.

The first version above is an example of the character upside down. The fourth is of 'fu' on its own.

The first and third versions above have the 'fu' element on its own.
For a video of the character fu being written as calligraphy please see following You Tube video.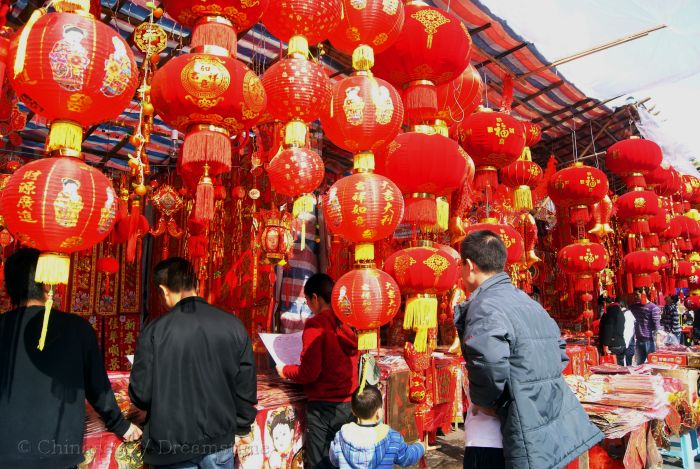 Buying supplies for the
Chinese New Year Festival
, Shenzhen Copyright © Dreamstime see
image license
Source references used for this page:
Book Fun with Chinese Characters, The Straits Times, Federal Publications,1982 [2]
pp. 30, 124;

fu good fortune (wikipedia)

➚
;

fu good fortune (wikipedia)

➚

Chinasage is a new web resource, started in 2012, pages will be added, enhanced and re-formatted regularly. Please check back soon for updated information about China.
We would be most grateful if you have any comments or suggestions to help improve this page. Our contact page is also available if you have a longer comment. Just type in a quick remark here:
Citation information: Chinasage, 'Good Fortune in Chinese - the Character 'Fu'', last updated 25 Nov 2016, Web, http://www.chinasage.info/langfu.htm.
Copyright © Chinasage 2012 to 2017