Anhui Province
Name

安

徽

(

ān

huī

)

['peace' 'emblem']

Old Name

Anhwei WG
Capital
Hefei
Population
60.564 million (4.40 %) [8th] comparison table
Area
140,000 km2 [54,054 mile2] (1.46 %) [22nd]
GDP
34,425 (8.33 %) [28th]


Google map of Anhui
Neighbors
Shandong
Zhejiang
Jiangxi
Hubei
Henan
Jiangsu
Show province
Anhui can claim to be at the heart of Central China as it straddles the mighty Yangzi river. The northern portion is part of the flat, fertile North China plain and is noted for wheat and rice production. There is a vast coalfield and iron industry west of Huainan. South of the Yangzi, the province is more mountainous. Economically it remains somewhat behind its neighbors Hubei and Henan.
Anhui History
Anhui became part of the 'recognized' nation of China over 2,000 years ago and was settled during the Han dynasty. Hefei, at the center of the province, is the provincial capital; it has developed rapidly as an industrial center since the founding of the PRC. The name for Anhui is formed from the names of two ancient cities Anqing (安庆) and Huizhou in the far south near Huangshan. The province is well known for the production of paper, ink and ink-stones; as these are the treasures of the calligrapher, it has a fine literary associations.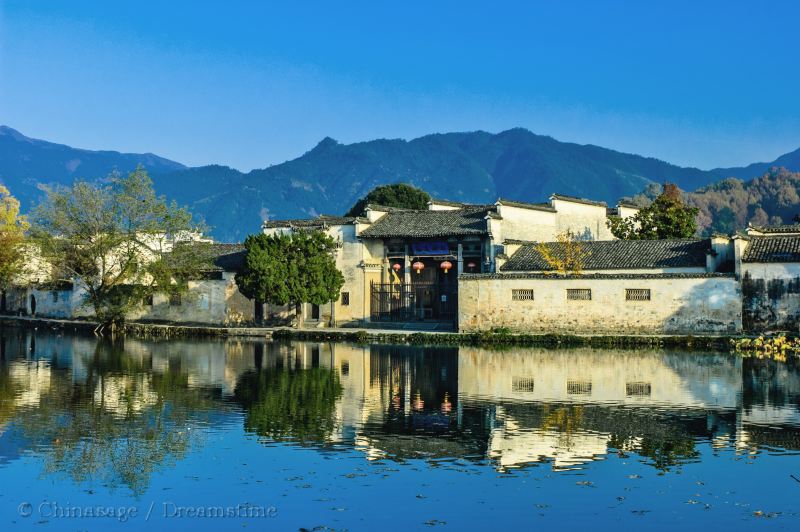 Ancient village of Hongcun in Anhui with structures from Ming and
Qing dynasties
History of the often difficult relations between China and Japan. With the Japanese occupation of China 1937-45 and continued U.S. support for Japan has led to continuing frictions between governments and peoples.
Famous people from Anhui include: Bao Zheng ➚, the model for selfless dedication to public office; Cao Cao the villain of the Three Kingdoms period; Zhu Yuanzhang founder of the Ming dynasty and reputably both Lao Zi and Zhuang Zi founders of the Daoist tradition.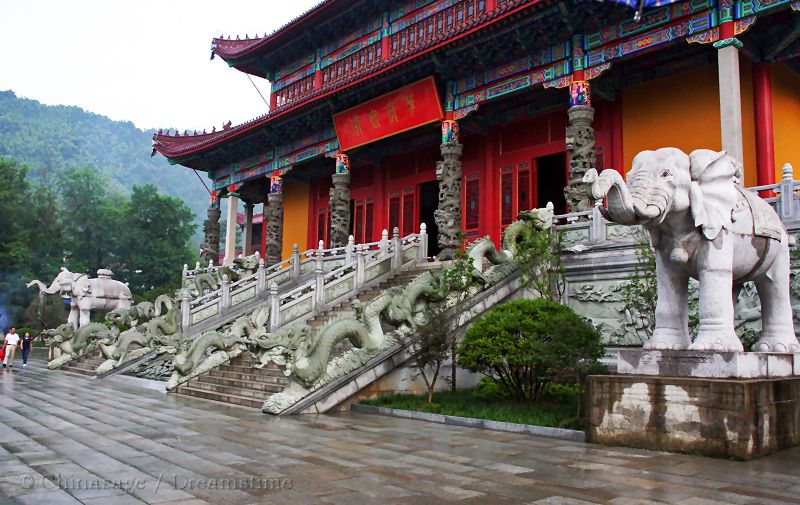 Entrance to a Buddhist temple decorated with
dragons
and elephants, Jiuhuashan, Anhui
Historically the northern part has been subject to severe flooding from the Yangzi, and centuries ago, by the Yellow river too. The city of Chaohu is named after the large lake to its west.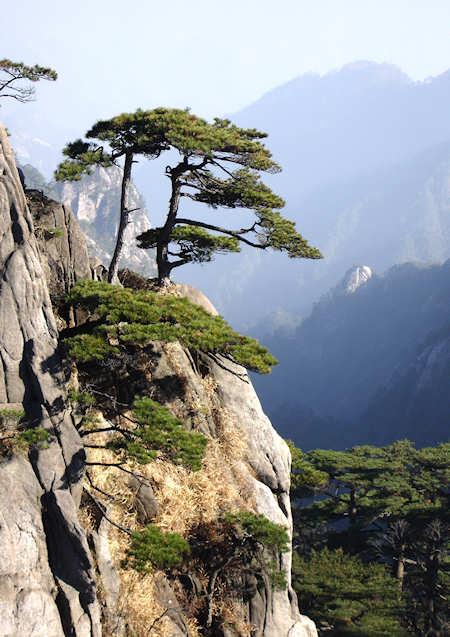 Huangshan mountain with Pinus hwangshanensis trees, Nov 2010
Image by
Peter05031960

➚
available under a
Creative Commons license

➚
Places to visit in Anhui
A notable attraction of Anhui is scenic Huangshan (Yellow Mountains) in the south, a very popular mountain range to climb for Chinese as well as foreign tourists. It has rocky peaks and pine trees growing right up to the summit. A famous view is of Huan Ke Song 'Welcoming Guest Pine' at the base of the trail, reputed to be 1,000 years old. Many people gather at sunrise to see the sun shine through iridescent mists at the summit. The walk to the top can be spread over several days with ancient temples and viewing points along the way. Tang poet Li Bai labeled the mountain a 'Golden Hibiscus'. Hot springs are found at the bottom while near the top Jade Screen Pavilion ➚ offers panoramic views often with the mountains shrouded in mist. Tiandu Peak ➚ which can be reached by a stone walkway just 164 feet [50 meters] short of the summit 'Lotus Flower Peak' 6,115 feet [1,864 meters]. There are hotels, cafes and shops high up in the mountains serving the continuous flow of tourists.
Both Huangshan and Qimen are famous for their teas; Huangshan for green tea ➚ and Qimen for black tea ➚. In the mountains in Yixian county are two ancient villages Xidi and Hongcun ➚ undisturbed since Ming dynasty times and on the UNESCO World Heritage List ➚. Shexian county (formerly called Huizhou) also has Ming dynasty buildings. Jiuhuashan ➚ 九花山 (Nine Flowers Mountain) sacred to Buddhists is not far away.
Anhui Climate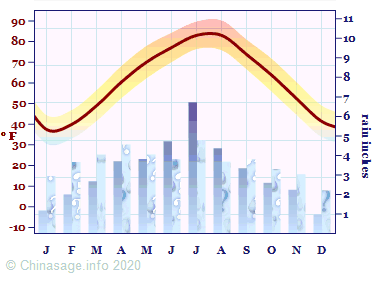 Both
Temp
Rainfall
° C/mms
° F/ins
Key
Show Bing Map

➚
Major Cities
Population
Anqing

安

庆

373,775
Bengbu
蚌埠
539,593
Fuyang
阜

阳

362,081
Hefei

合

肥
1,663,800
Huaibei
淮

北

612,369
Huainan
淮

南

970,100
Lu'an

六

安

311,825
Ma'anshan

马

鞍

山

420,295
Suzhou Anhui
宿

州

1,647,642
Tongling
铜

陵

314,971
Wuhu
芜

湖

551,138
Airports
Universities
The University at Hefei was founded by the Chinese Academy of Sciences under the leadership of
Guo Moruo

➚
to promote research into science and technology. Since its foundation in 1958 it has broadened its scope and is one of the top Universities in China.. Undergraduates: 7667, Postgraduates: 8921, International students: 49, GP World ranking 113
Source references used for this page:
Anhui (chinatravel)

➚
;

Anhui (maps-of-china)

➚
;

Anhui (travelchinaguide)

➚
;

Anhui (wikitravel)

➚
;

Book : 60 Scenic Wonders in China, New World Press, 1980
p. 117-121;

Book : A Map History of Modern China, Catchpole, Heinemann, 1976
p. 4;

Book : China : Eyewitness Travel, Dorling Kindersley, 2012
p. 234-237;

Book : Lonely Planet: China, 1988
p. 326-331;

Book : Modern China: A companion to a rising power, Graham Hutchings, Harvard University Press, 2003
p. 30-31
City populations for 2012, Province statistics National Bureau of Statistics 2014

Chinasage is a new web resource, started in 2012, pages will be added, enhanced and re-formatted regularly. Please check back soon for updated information about China.
We would be most grateful if you have any comments or suggestions to help improve this page. Our contact page is also available if you have a longer comment. Just type in a quick remark here:
Citation information: Chinasage, 'Anhui, China', last updated 7 Dec 2016, Web, http://www.chinasage.info/maps/anhui.htm.
Copyright © Chinasage 2012 to 2017