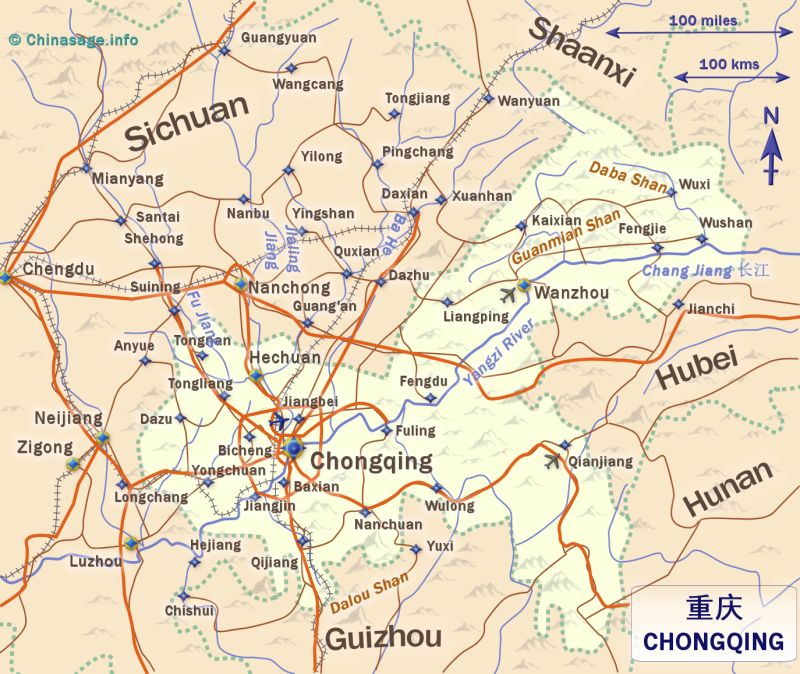 Chongqing Province
Name

重

庆

(

chóng

qìng

)

['duplicate' 'celebrate']

Old Name

Chungking WG
Capital
Chongqing City
Population
29.807 million (2.17 %) [20th] comparison table
Area
82,000 km2 [31,660 mile2] (0.85 %) [26th]
GDP
47,859 (5.70 %) [14th]


Google map of Chongqing

Neighbors
Shaanxi
Sichuan
Guizhou
Hubei
Hunan
Show province
Chongqing is China's newest province, split off in 1997 from its large neighbor Sichuan. It is officially a 'municipality' rather than a province but includes a large rural area to the east of the huge city of Chongqing which makes it different to the other metropolitan provinces of Beijing; Tianjin and Shanghai.
Writing characters
The art of calligraphy is still widely appreciated in China. Fine historic pieces by the great masters continue to achieve high prices at auction. To appreciate Chinese writing it is important to know how the characters are made with the brush. Our page on brush strokes lets you learn how to write in Chinese calligraphy.
Read More
History
Situated on the Yangzi at its rocky confluence with the Jialing River, Chongqing serves as the dominant port and gateway for trade with Sichuan Province and the rest of China. Chongqing is an ancient place, it has a heritage reaching back to the Bayu Culture ➚ in the depths of history. The name means literally 'double celebration', which needs a little explanation. Originally it had a succession of names : Jiangzhou (江州) 'river city'; 'mountain city'; and also Yu 渝 then Gong 恭. It became Chongqing (双重喜庆) in 1189 when Zhao Dun became King of the region and later the Song Emperor of China and so changed the city's name to mark this double celebration. Unlike most Chinese cities that are laid out in a grid pattern, the hilly topology has led to many small, meandering streets that give the city its unique charm. It became a British treaty port in 1890 giving them control of central China along the Yangzi.
Chongqing
Chongqing was the capital of China under the Nationalist forces of Chiang Kaishek during the Japanese invasion (1938-47) after Beijing and then Nanjing had fallen. The city's frequent winter fogs kept the city relatively free from the threat of Japanese bombers. With America on China's side in the war, the city became the headquarters of General Joseph Warren Stilwell ➚ 1942-44, whose headquarters can still visited today. More recently the city was the power base of the disgraced politician Bo Xilai ➚.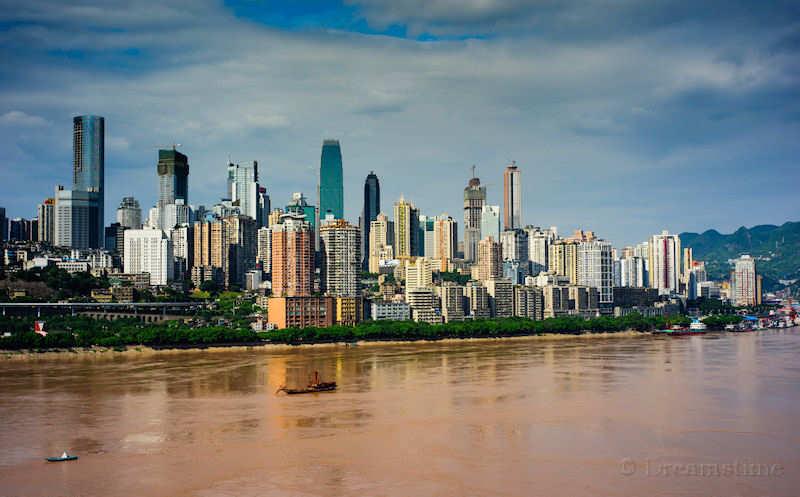 View of Chongqing from the
Yangzi River
Copyright © Dreamstime see
image license
The construction of Three Gorges Dam ➚ in Hubei has made navigation from the sea all the way up the Yangzi to Chongqing far easier. It is now one of the fastest growing cities in the world. Many new large buildings and roads are being built each year. A full range of industries are represented in the bustling city.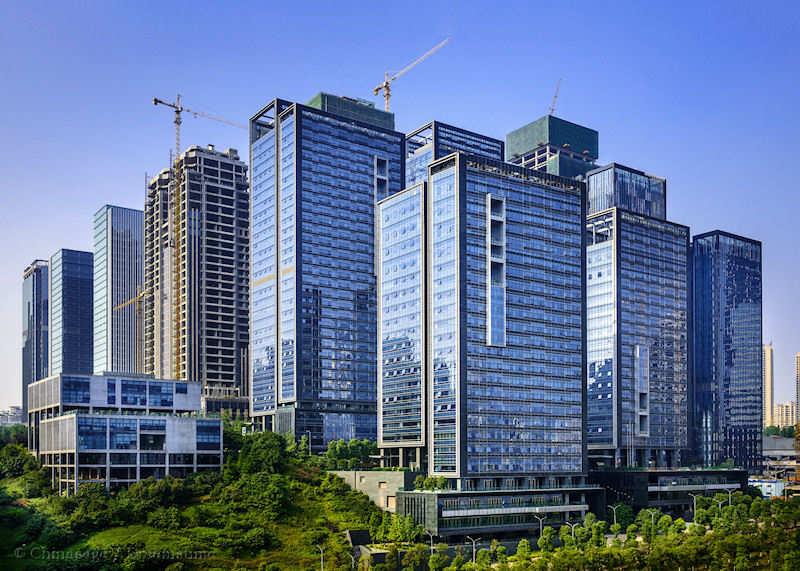 New, modern office buildings in Chongqing, 2014
Chongqing Climate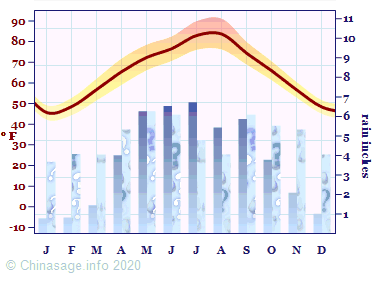 Both
Temp
Rainfall
° C/mms
° F/ins
Key

How to get on in China
If you are traveling to China it is essential to know the customs and general etiquette so that you do not unknowingly cause offense. Our customs page covers all areas including giving gifts, banquets, sealing business deals and how to behave in public. Any attempt at understanding Chinese sensibilities will create a good impression.
Read More
Places to visit in Chongqing
The rock carvings at Dazu ➚ are a UNESCO World Heritage site. Fuling ➚ also has fine ancient carvings. There are a number of hot springs in the area. Fengdu ➚ is one of the towns which was partially submerged when the Three Gorges Dam was built on the Yangzi.
Geography
Hot and humid for much of the year, Chongqing City is known as one of China's 'three furnaces'; it is often submerged in smog. Rural Chongqing to the east of the city is very much like neighboring Sichuan, as it consists of densely populated and rich agricultural land. The border of the province follows the Yangzi river into Hubei. Bamboo is an important crop and is put to a multitude of uses.
Sleeping
Buddha
at Dazu caves, Chongqing Copyright © Dreamstime see
image license
Show Bing Map

➚
Major Cities
Population
Chongqing City

重

庆

7,457,600
Airports
Source references used for this page:
1890%2c%20Chongqing%20-%20Britain%20%7c%20china%27s%20external%20relations%20-%20a%20history

➚
;

Book%20:%20A%20Map%20History%20of%20Modern%20China%2c%20Catchpole%2c%20Heinemann%2c%201976
p. 52;

Book%20:%20Insight%20Guides:%20China%2c%20APA%20publications%2c%201994
p. 315-316;

Book%20:%20Lonely%20Planet:%20China%2c%201988
pp. 47, 657-659;

Chongqing (wikipedia)

➚
;

Chongqing%20Travel%2c%20Chongqing%20History

➚
;

Map%20of%20Chongqing%2c%20China%20and%20travel%20guide

➚
City populations for 2012, Province statistics National Bureau of Statistics 2014

Back to top

Chinasage is a new web resource, pages will be added, enhanced and re-formatted regularly. We would be most grateful if you can help improve this page. Please visit our (secure) contact page to leave any comment. Thanks.
Citation information for this page : Chinasage, 'City of Chongqing, Central China', last updated 25 Nov 2016, Web, http://www.chinasage.info/maps/chongqing.htm.
No information available


Copyright © Chinasage 2012 to 2018
Please wait...
Downloading information about character