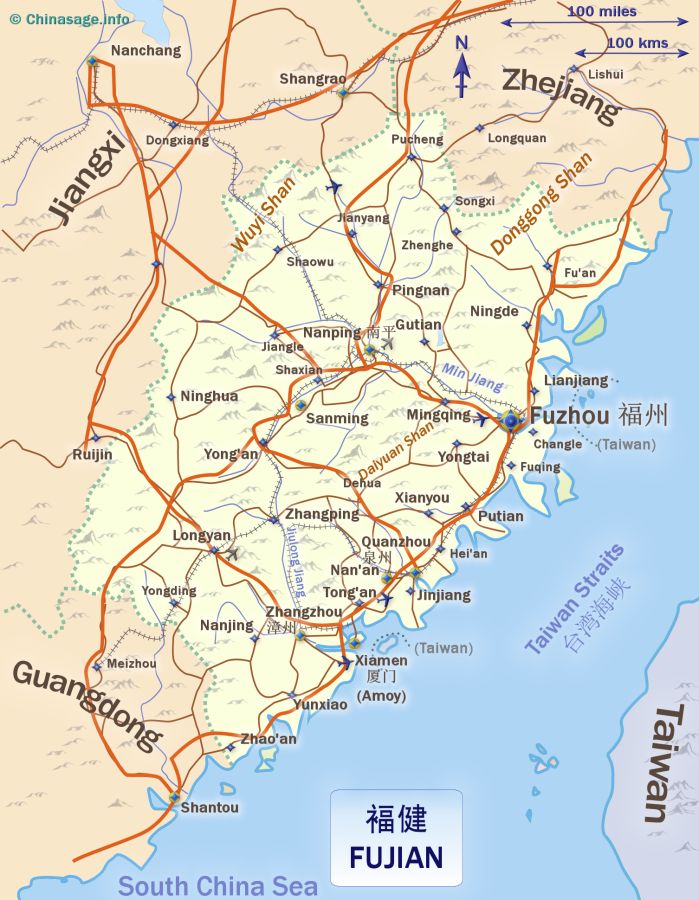 Fujian Province
Name

褔

健

(

fú

jiàn

)

['blessing' 'healthy']

Old Name

Fukien WG
Capital
Fuzhou
Population
37.9 million (2.76 %) [16th] comparison table
Area
122,000 km2 [47,104 mile2] (1.27 %) [23rd]
GDP
63,472 (9.62 %) [10th]


Google map of Fujian

Neighbors
Guangdong
Jiangxi
Zhejiang
Show province
Fujian is a mountainous province that looks primarily out to the South China Sea and as such it has a certain feeling of independence from China. Indeed it remained the semi-independent kingdom of Min yue ➚ (闽蛮) for the period 330 to 110 BCE before it was conquered and assimilated by Han Emperor Wudi. In the last days of the Song dynasty (1276-1279) Fujian was the last refuge from the conquering Mongols. It resisted the Qing conquest in 1644 the longest of all provinces through the efforts of General Zheng Chenggong ➚ ( Guoxingye 国姓爷 Koxinga WG) who grew up near Quanzhou and used Xiamen as his base. Later in 1660 a Japanese invasion of 6,000 pirates and looters ransacked the province.
Fujian history
Historically many of the Chinese diaspora originate from Fujian, some settled on the nearby island of Taiwan which was part of Fujian province in Qing times. With only very poor roads over the mountains, the sea ports of Fujian were used by emigrants to sail away to a new life. Hakka ➚ people live in the south west of the province and still use their own language.
The Cambridge Illustrated History of China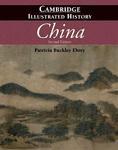 Cambridge University Press produce a mammoth in-depth history of China, this can be considered an abridgement of this work. It has copious illustrations and useful panels describing key parts of Chinese culture and history. It covers the whole time period from pre-history to the present day - a lot to cover in one book. It is a fascinating and engaging read and to be recommended as a key reference work.
More details...

➚
More recently the defeat of Chiang Kaishek and the Republic of China Nationalists in 1949 led to continuing friction between Taiwan and the Communist mainland. The isolated small islands (Jinmen; Mazu islands) within easy sight of the Fujian coast 'belong' to the Taiwan government rather than Fujian and bristle with military defenses. The large, scattered diaspora of Fujianese in Taiwan and throughout south-east Asia has helped their families financially and funded industrial development and universities, as the emigrants still remember their ancestral roots and send money home. Continuing improvement of relations with Taiwan is bringing new opportunities for development. The coast has a scattering of old attractive ports and islands on a rugged coastline. Inland there are high mountains which still harbor rare tigers. The moist air that often hangs over the mountains makes Fujian an ideal location for the growing of tea.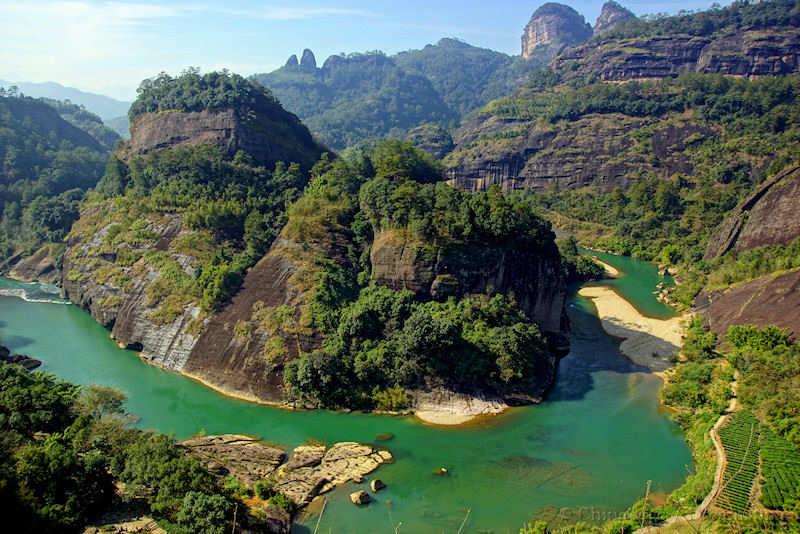 Wuyishan Mountain, Fujian
Women in China
Gender equality in China has been a long time coming. Traditions dating back thounsands of years are hard to shift. There has yet to be a woman appointed to the top rung of government committee. Change really only started to come after the foundation of the Peoples Republic in 1949. Our page on attitudes to women covers the few Imperial women leaders, marriage and concubines as well as foot binding.
Read More
Places to visit in Fujian
Xiamen (厦门) is an ancient trading port with historical links to the Portuguese, Spanish and Dutch. After the Opium Wars Xiamen came under the control of the British for fifty years. Better known as Amoy following the local dialect, the port and island of Gulangyu faces the island of Taiwan. Nanputuo Temple ➚ is a famous Buddhist site. Gulangyu island was developed by Britain together with other foreign powers as an enclave, it has long been associated with egrets ➚. The Garden of the Countless Rocks (Wanshi Gongyuan) is close by and has pretty landscaped parks and temples. The Lu Xun Memorial Hall is a more modern attraction, commemorating the noted revolutionary writer who lived here in 1926. Lin Zexu ➚ the famous Commissioner who was tasked with stopping the import of British opium was born in Fujian. There are many picturesque islands dotted around Xiamen.
Not far away up the estuary is the ancient city of Zhangzhou, it is sited on the Jiulongjiang (nine dragon river) it boasts many temples including the Southern Mountain Temple ➚ and the Precious Hall of the Great Hero ➚.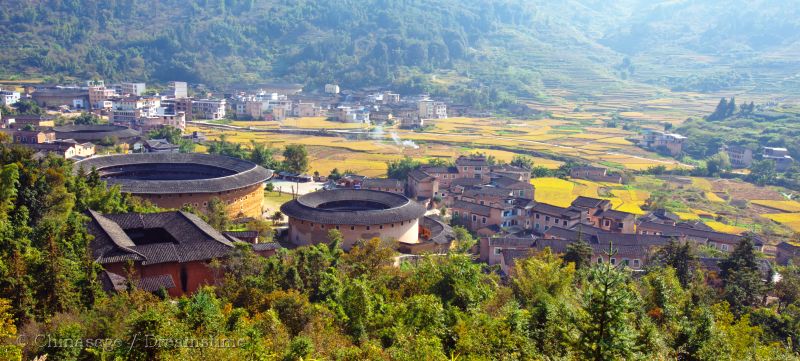 View of circular Hakka tulou buildings, Yongding, Longyan, Fujian
Tea originates from China, it has been drunk there for thousands of years. Our description of
tea
covers the history, preparation, growing and appreciation of tea over the centuries.
The port of Quanzhou (泉州) once was a port as important as Xiamen having been visited by Marco Polo and many other foreigners. Quanzhou, formerly known as Zayton or Chinchew, developed during the Tang dynasty as sea trading began to replace overland transport over the Silk Road to become one of China's four main ports. The streets were lined with coral bean trees ➚ and it was known as the 'Coral Bean City' by foreign traders. Kaiyuan Temple ➚ is an amazing example of Tang dynasty architecture with one hundred stone pillars. Here, a 900 year old stone bridge crosses the Luoyang River. Confirming the dominant role of Muslims in sea trade, there is a cemetery at Lingshan dedicated to foreign traders and there is an ancient mosque. It was from here that Muslim Zheng He set out on his impressive voyages of discovery.
By contrast the capital of Fujian Fuzhou (福州) has the feel of a modern industrial city, it became a treaty port under foreign control in late Qing times.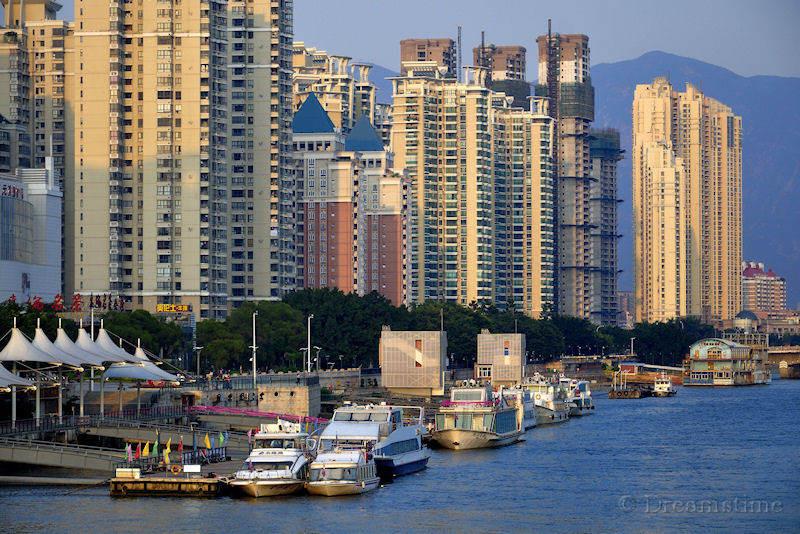 View of Fuzhou waterfront, Fujian Copyright © Dreamstime see
image license
Testimonial
"Great information and education of the history of the leaders of China's history."
Chinese Leaders
Unsolicited comment from genuine visitor to Chinasage.
Fishing is a major industry of Fujian, the mountainous inland area is relatively poor with tea growing (particularly Oolong tea ➚ and Lapsang Souchong) the most famous and important crop. Tourist sites include the mountains Wuyi; Tailao; Nanji; Zhiti; Dongyan; Magu; Gushan ➚ and many of these have Buddhist and/or Daoist temples on them. Jinhu Lake ➚ is widely appreciated for its scenic beauty. The ancient Tulou ➚ houses of the Hakka people can be seen at Gaobei; Tianluokeng; Hongkeng and Chuxi. The rocky coastline includes many islands and sandy beaches including those near Xiamen; Pingtan and Putian. In scattered towns there are remnants of old folk traditions such as Quanzhou puppetry ➚ and a local, distinctive Opera tradition. Handicrafts in lacquer-work, bamboo and shells are available widely.
Fujian Geography
Fujian has a rocky coastline and a mountainous hinterland. It has warm frost-free winters and hot summers, but is subject to damaging floods when typhoons move inland from the South China Sea in late summer.
Fujian Climate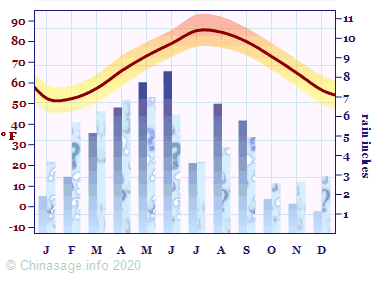 Both
Temp
Rainfall
° C/mms
° F/ins
Key

Show Bing Map

➚
Major Cities
Population
Fuzhou

福

州

1,179,720
Nan'an

南

安

1,500,000
Nanping

南

平

171,674
Putian
莆

田

376,558
Quanzhou

泉

州

184,143
Xiamen
厦

门

3,531,347
Zhangzhou
漳

州

589,831
Airports
Universities
The university founded in 1921 was the first to be founded by
overseas Chinese
as Amoy University. It is ranked within the top 20 universities in China. Lu Xun is the most famous figure associated with the University.. Undergraduates: 17847, Postgraduates: 10286, International students: 2800, GP World ranking 406
Source references used for this page:
Book : 60 Scenic Wonders in China, New World Press, 1980
p. 107-113;

Book : A Map History of Modern China, Catchpole, Heinemann, 1976
p. 22;

Book : Chronicles of the Chinese Emperors, Ann Paludan, Thames and Hudson, 1998
p. 27-39;

Book : Insight Guides: China, APA publications, 1994
p. 279-285;

Book : Lonely Planet: China, 1988
pp. 53-55, 296-304;

Book : Modern China: A companion to a rising power, Graham Hutchings, Harvard University Press, 2003
p. 150-152;

Book : Symbols of China, Feng Jicai, Compendium, 2010
pp. 92, 129;

Fujian

➚
;

Fujian (chinafolio)

➚
;

Fujian (chinatravel)

➚
;

Fujian (maps-of-china)

➚
;

Fujian (travelchinaguide)

➚
;

Fujian (wikipedia)

➚
;

Fujian (wikitravel)

➚
City populations for 2012, Province statistics National Bureau of Statistics 2014

Back to top

Chinasage is a new web resource, pages will be added, enhanced and re-formatted regularly. We would be most grateful if you can help improve this page. Please visit our (secure) contact page to leave any comment. Thanks.
Citation information for this page : Chinasage, 'Fujian Province, China', last updated 30 Nov 2016, Web, http://www.chinasage.info/maps/fujian.htm.
No information available


Copyright © Chinasage 2012 to 2018
Please wait...
Downloading information about character