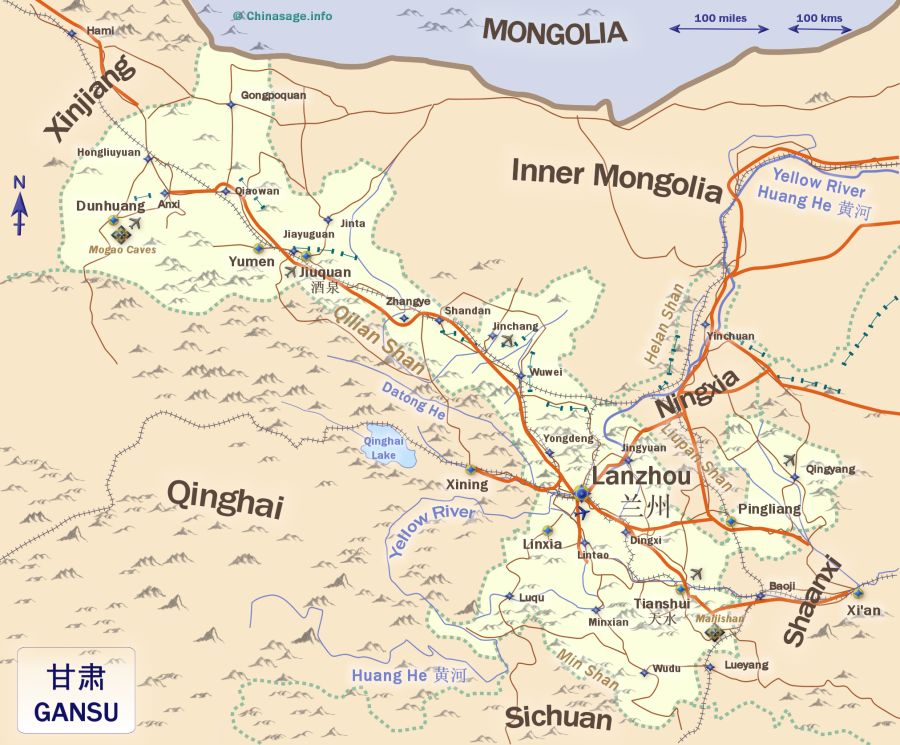 Gansu Province
Name

甘

肃

(

gān

sù

)

['pleasant' 'respectful']

Old Name

Kansu WG
Capital
Lanzhou
Population
25.865 million (1.88 %) [22nd] comparison table
Area
454,000 km2 [175,289 mile2] (4.73 %) [7th]
GDP
26,427 (2.73 %) [32nd]


Google map of Gansu

Neighbors
Xinjiang
Qinghai
Inner Mongolia
Ningxia
Sichuan
Shaanxi
Show province
Gansu is the historic gateway into China; it stands between the high Tibetan mountain chains to the southwest and the Gobi desert to the north offering a trading corridor with Central Asia through the ages. The Great Wall snakes along its northern edge up to the Silk Route's fort at Jiuquan. The name Gansu is one of the few provinces named after two places 'Gan' (Zhangye area) and 'Su' (Jiuquan area).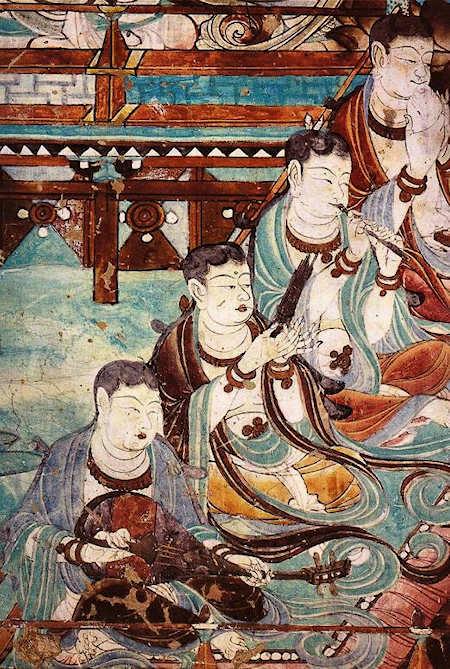 Musicians
in paradise, Yulin cave 25, Dunhuang,
Tang Dynasty
Image available under a
Creative Commons license

➚
Gansu History
One of the earliest and most significant claims to fame is that the Qin people that went on to unify China under Qin Shihuangdi may have originated from Gansu. Wudi, the August emperor of the succeeding Han dynasty sought to solve once and for all the threat from barbarian tribes to the north. He strengthened existing parts of the Great Wall, built new walls and forced the re-settlement of up to 500,000 people into the Gansu region to consolidate Han rule.

Terraced farmland in the loess lands of Gansu
Places to visit in Gansu
Lanzhou is an important crossing point of the mighty Yellow River on the natural route to Xi'an and northern China.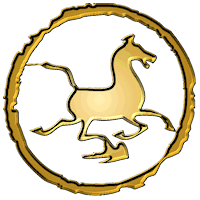 A representation of the famous flying horse found in Gansu.
The silk road from China leading to India and through Central Asia to the Middle East was the longest trade route by land. It allowed early contact between the Roman Empire and China when silk was in much demand in Rome. The abandonment of the route led to a slow decline of the whole of northern China.
The Buddhist caves at Dunhuang are witness to the famous journey of Buddhism along the Silk Route into China. The Mogao grottoes contain 2,300 painted statues and large painted murals. They have been protected by desert conditions from harm for centuries. Figures were painted over a period of nearly a thousand years and the depictions give useful insight to changes in sartorial style over time. Dunhuang was positioned as the last (and first place) in China on the pilgrim route to India. The Tang dynasty murals are considered the finest. Although depiction of human figures predominate there is, for instance a large, detailed depiction of Wutai Mountain. When discovered by Europeans in the early 20th century a number of important artifacts were taken away including the Diamond Sutra ➚ (the first printed book) which is now held by the British Library, London.
The Maijishan Grottoes ➚ near Tianshui, Gansu are another set of impressive Buddhist carvings cut deep into a steep cliff. Walkways are strung along the cliff edge for visitors to appreciate them. Some are carved, others are modeled in clay and date from the 4th century into the Qing dynasty. Bingling Si ➚ has another fine collection of Buddhist sculptures. Lanzhou has an impressive museum, and Linxia has a number of mosques. Wuwei in Gansu is where the famous flying horse sculpture ➚ was discovered in 1969.
The famous crescent lake near Dunhuang, Gansu
Wed 29
th
Aug
It has been widely reported that China is stopping the import of waste plastic for recycling. It's a commonly held misconception that there is value in this waste while in fact it costs money to recycle it. The main reason that China has stopped processing plastic is that it does not fit well with the status as an upcoming world power rather than a garbage recycler.
The plastic is now going to other countries in the region including Malaysia and leaves China with an increased demand for 'virgin' petro-chemicals to produce plastics.
China is the biggest producer of waste plastic that ends up in the ocean - 63% compared to the U.S. 2% and schemes to ban single-use plastics are only just started working. Improved trash collection at coastline and riverside cities in China would have a bigger impact on sea pollution than trying to restrain demand for plastics.
Our demand for plastics is high and growing. In developing countries where clean water is unavailable there continues to be a legitimate need for plastic containers for bottled water.
It's to be hoped that China will change its views on plastic recycling to leave the world a cleaner place.
Read full story...
Read all our
news stories...
Just as impressive as Dunhuang and Maijishan are the Yulin Caves ➚. Also known as Wanfoxia 'The gorge of ten thousand Buddhas', it is rather remote and has caves constructed over a thousand year period dug out on two cliffs facing each other across a gorge. It is located 47 miles [47 miles] south of Anxi.
Shandan in the middle of the transport corridor is famous as the location of the Shandan Bailie School ➚ which was established by the Englishman, George Hogg in 1945. He rescued 30 boys from the war in China by guiding them over the mountains from Shaanxi .
The fort of Jiayuguan at Jiuquan marked the Chinese frontier for many travelers long before China extended west into Xinjiang. Built in 1372 of tamped soil it controlled the narrow pass the Silk Route followed into China. The 35 feet [11 meters] high walls were wide enough for horses to ride along the top. Over land travelers must have been extremely impressed by their first glimpse of Chinese grand architecture.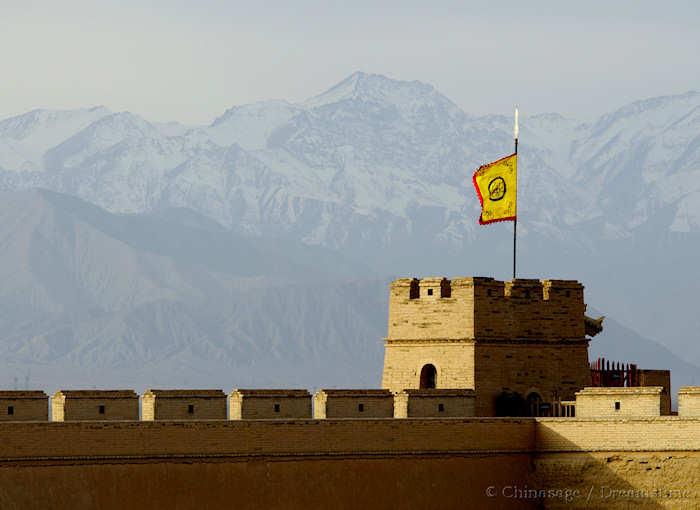 Jiayuguan fort with snowy Qilian mountains, Gansu
Gansu Geography
The
countries
that surround China have an interesting set of relationships. Wars, conquest and religion have defined the current boundaries of the Peoples' Republic. India, Russia, Pakistan, Myanmar and Afghanistan all have important borders with China.
Cold in winter and very hot in summer, the province has very low rainfall (16 inches [40 cms] a year), so habitation and agriculture is restricted to areas close to rivers. It is a mountainous area (70% of land is mountains or plateau) with most land about 2,000m above sea level. Specialty food in the province includes lamb and Lanzhou noodles. It is famous for producing angelica; carved jade; medicinal herbs and melons.
The discovery of extensive iron ore and coal deposits has led to heavy industrialization in places, but much of the Gansu province is arid with desert or poor pasture land. Its long history of settlement is demonstrated by significant numbers of Tibetan, Hui, Mongol and Kazakh minority people.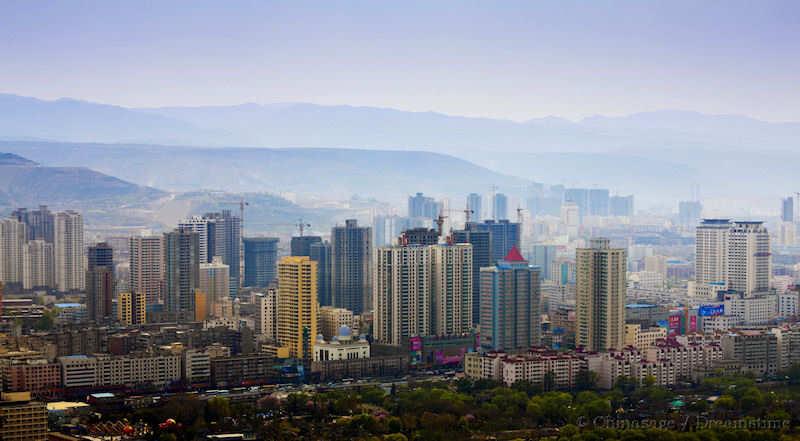 Lanzhou city skyline, Gansu
Gansu Climate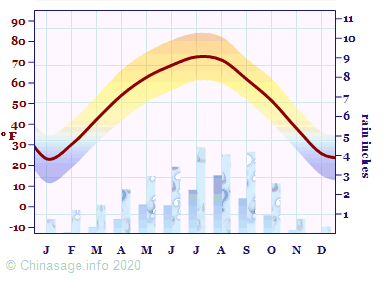 Both
Temp
Rainfall
° C/mms
° F/ins
Key

Show Bing Map

➚
Major Cities
Population
Jiuquan

酒

泉

350,000
Lanzhou
兰

州

2,628,426
Tianshui

天

水

3,500,000
Wuwei

武

威
493,092
Airports
Source references used for this page:
Book : 60 Scenic Wonders in China, New World Press, 1980
p. 214-217;

Book : China : Eyewitness Travel, Dorling Kindersley, 2012
p. 479-498;

Book : Chronicles of the Chinese Emperors, Ann Paludan, Thames and Hudson, 1998
p. 14-39;

Book : Red Dust: A path through China, Ma Jian, Vintage, 2002
p. 76-82;

Book : Symbols of China, Feng Jicai, Compendium, 2010
p. 121;

Dunhuang (sacu)

➚
;

Gansu (wikipedia)

➚
;

Gansu (wikitravel)

➚
;

Map of Gansu Province, China

➚
City populations for 2012, Province statistics National Bureau of Statistics 2014

Back to top

Chinasage is a new web resource, pages will be added, enhanced and re-formatted regularly. We would be most grateful if you can help improve this page. Please visit our (secure) contact page to leave any comment. Thanks.
Citation information for this page : Chinasage, 'Gansu, China', last updated 30 Nov 2016, Web, http://www.chinasage.info/maps/gansu.htm.
No information available


Copyright © Chinasage 2012 to 2018
Please wait...
Downloading information about character