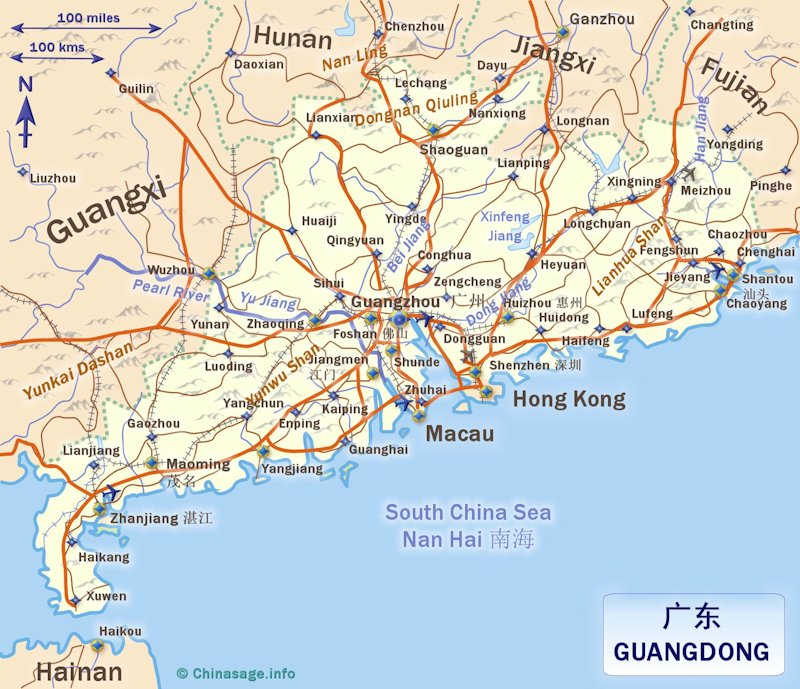 Back to top

Chinasage is a new web resource, pages will be added, enhanced and re-formatted regularly. We would be most grateful if you can help improve this page. Please visit our (secure) contact page to leave any comment. Thanks.
Citation information for this page : Chinasage, 'Guangdong, China', last updated 17 Nov 2016, Web, http://www.chinasage.info/maps/guangdong.htm.
Guangdong Province
Name

广

东

(

guǎng

dōng

)

['vast' 'east']

Old Name

Kwangtung WG
Capital
Guangzhou
Population
106.84 million (7.77 %) [1st] comparison table
Area
178,000 km2 [68,726 mile2] (1.85 %) [15th]
GDP
63,452 (27.10 %) [11th]


Google map of Guangdong

Neighbors
Guangxi
Hainan
Hunan
Jiangxi
Fujian
Hong Kong
Macau
Show province
Symbols of China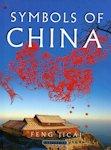 A lavishly illustrated book covering all aspects of China not just 'symbols': traditions, scenic sights, festivals, arts, legends and famous figures. The text descriptions are a little short but it does give a very good general overall coverage and the photographs and illustrations are very good.
More details...

➚
Guangdong History
Guangdong has been China's southern gateway to the world for many centuries with trade as the life blood of the province. Guangzhou (named Canton by the Portuguese and known by that name until 1949) is positioned close to the estuary of the 珠江 Zhū Jiāng (or Pearl River) providing easy access to the South China Sea. The Pearl or West River is the third largest in China and drains much of the provinces of Guangxi and Guangdong. It has a complex pattern of outflows, one channel runs through Guangzhou while the main one runs to the west of Macau. The southern coast is dotted with small islands (over 700) and receives copious water from the rivers that flow south from the province's northern mountains to the sea. The coastal belt has fertile alluvial soil and the rocky coastline gives excellent fishing grounds. The port of Guangzhou opened to foreign trade in 1685, and for two centuries had the monopoly of all foreign sea trade. Precious and fragile Jingdezhen porcelain was carried over the mountains from Jiangxi into Guangdong for export to Europe.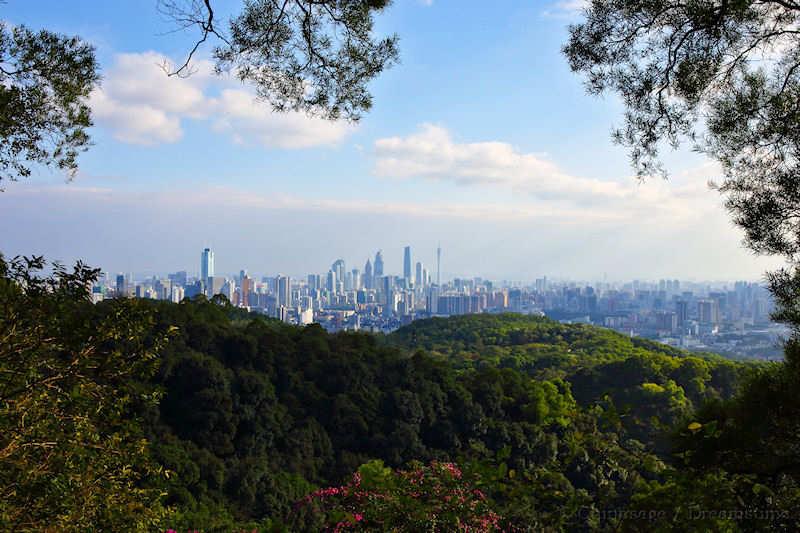 View of Guangdong's provincial capital: Guangzhou
The Cantonese language or 'Yue' language is still spoken by over 50 million people in Southern China (Guangdong, Guangxi,
Hong Kong
and
Macau
). Although the written form is very similar to
mandarin
the spoken language is very different. As many Chinese people have migrated to other countries around the world you will often hear Cantonese in Chinatowns and Chinese restaurants.
The province of Guangdong became part of China as long ago as the Qin dynasty. When the Qin empire collapsed the area broke away as the kingdom of Nanyue until re-unification in 111BCE. At this time Guangzhou was called Panyu ➚. It has been subject to immigration and emigration over the centuries and there is a good mixture of peoples within the province. It became involved in overseas trade from an early date, it was sacked by the Arabs and Persians in 758CE. International trade continued to grow, and in the Tang dynasty (879CE) Huang Chao led the Guangzhou massacre ➚ in which many foreign merchants died. As the southernmost province it was the last to be conquered by the Mongols – at the Battle of Yamen in 1279 (near Jiangmen). The most widely spoken dialect after Mandarin and Wu is Cantonese or 'Yue', and due to emigration Cantonese is widely heard outside China too. For example English uses the Cantonese pronunciation of 锅 'wok' ➚ rather than the Mandarin 'guō'. Local people consider themselves Tang Chinese rather than Han Chinese as they do in northern China because of the flourishing of culture in the south in Tang dynasty times fueled by the migration of many people from the north. There has always been a sense of independence from, and rivalry with, Beijing far to the north.
Guangdong as the only port allowed to trade with foreigners became the flashpoint for the Opium Wars. All foreign trade from 1757 to 1841 was through the Cohongs ➚ on Shamian island, the only place foreigners were allowed to set foot on Chinese soil. Later the province was the crucible of the Taiping Rebellion (1850-64) when Hong Xiuquan led a revolt against the Manchu rulers based on a strange reading of Christian theology and a smattering of other philosophies. The melting pot of cultures at Guangzhou created the necessary conditions for such a revolt. Later on in 1895 and again in 1917, it was the turn of Sun Yatsen to foment revolution in Guangzhou when he set up his headquarters there. In 1926 the First United front of Communists and Nationalists set off from Guangdong on the Northern Expedition in an attempt to unify China under the Republic.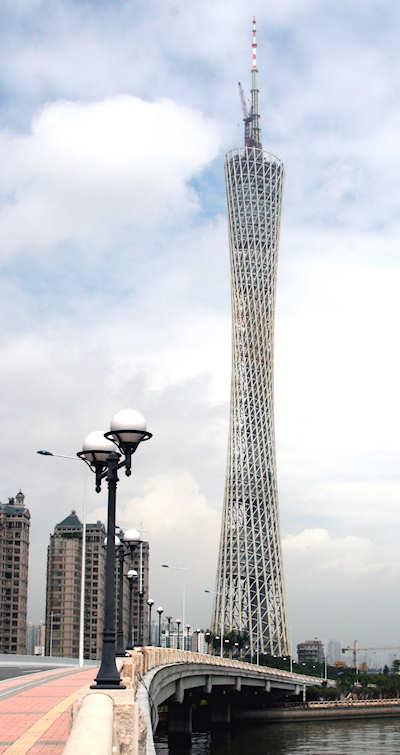 Guangzhou Tower 2009
Image by
User:慕尼

黑

啤

酒

➚
available under a
Creative Commons license

➚
Guangzhou capital of Guangdong
Guangzhou, the provincial capital, is called the 'City of the Rams' after a legend about its foundation. It is said that five gods came to Guangzhou in the form of five rams each with a sheath of rice in their mouth while the city was in severe famine. This precious food was distributed to the local people. The legend is commemorated by a famous sculpture of five rams in Yuexiu Park ➚. Guangzhou has been involved in trade for over two thousand years and dates back at least to the Qin dynasty. Guangzhou is composed of three distinct districts, the old inner city protected by an ancient wall. Centuries of conflict and rapid development have made traces of the ancient heritage hard to find. The Nanyue Palace Gardens show archaeological remains of the fleeting Nanyue kingdom founded on the break up of Qin dynasty China. It is well known for flowers, and has a large, annual flower fair just before Chinese New Year. Yuexiu Park is a popular park with pavilions, lakes and covered promenades, it has a memorial hall to Sun Yatsen. Zhenhai Tower, built in the Ming dynasty to advertise China's power to visiting ships, has become the provincial museum. Huangpu Military Academy ➚ Whampoa WG was located to the East of the City on the Pearl River and is now also a museum. Yellow Flower Hill (Huanghuagang 黄花岗起义) is a memorial garden to 72 revolutionaries who died in Sun Yatsen's 1911 uprising ➚. The Memorial Garden to the Martyrs ➚ commemorates Chiang Kaishek's attack in April 1927 against his Communist allies when 5,700 people were massacred. There are a number of temples in the city: Temple of the Six Banyan Trees ➚; Five Genies Temple ➚ and Guangxiao Si Temple ➚ as well as mosques and churches.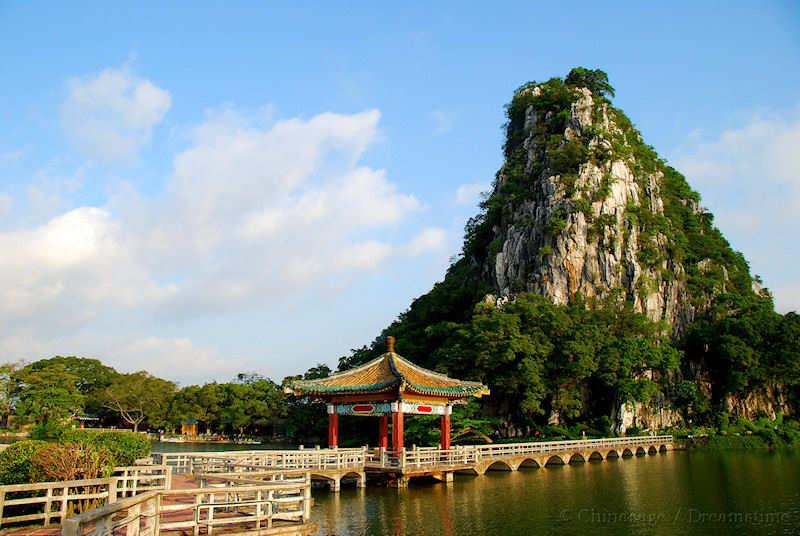 The Star Lake (Qingxingyan) at Zhaoqing, Guangdong
The eastern province of
Shandong
sticks out into the Yellow Sea and has many historic attractions. It boasts the birthplace of Confucius and also the manufacture of Qingdao beer. The most sacred mountain in China - Taishan - has many ancient temples and memorials.
China today
You can find information not only about China's long history but its present and future too. We cover the years since 1912, the space program, the current leadership and system of government as well as some lengthy musing on China's future direction.
Read More
Places to visit in Guangdong
Rivalry with Hong Kong after the opening up of China has led to rapid industrialization of Guangdong in the last 30 years. For many years it has had the highest GDP of any province in China (if Hong Kong and Macau are included). A transport link over the Pearl Estuary from Hong Kong to Macau and Guangdong is due to open in late 2018 which will open the estuary area for further development. New cities such as Shenzhen have been created within special development zones along the coastline. Up until 1988 Hainan was administered as part of Guangdong. Notable Universities include Jinan ; Sun Yatsen and Guangdong. Foshan to the south-west of Guangzhou has a fine Buddhist shrine and famous for handicrafts as well as soy sauce. Zhanjiang to the north of Hainan has some French colonial heritage and is China's naval base for the South China Sea as well as boasting tropical coral reefs. Shantou on the other hand was another treaty port taken over by the British after the Opium Wars.
Popular tourist spots also include: Xinghu Lake ➚; Mount Danxia, Renhua ➚; Mount Dinghu, Zhaoqing ➚; Qinghui Garden, Shunde ➚; Doctor Sun Yatsen's Memorial Hall, Guangzhou ➚; Pearl River Cruise ➚; Yangjiang Kite Festival ➚. Seven star rocks (Qixingyan) near Zhaoqing west of Guangzhou are made of towering limestone crags. The Conghua Hot Springs are located 50 miles [81 kms] north-east of Guangzhou has been developed into a major health spa. The water reaches 160 ° F [71 ° C] in one of the eleven hot springs.
Geography
Guangdong has a sub-tropical climate. Frequent rain and fog create a humid climate almost all year round. Tropical crops include lychees; bananas and, further to the north tea. It has the highest population of any province in China - over 100 million. Guangdong is home to a number of ethnic minorities. It is heavily industrialized and prosperous with rich farmland. Many industries are based on food processing and there is considerable silk processing too.
Guangdong Climate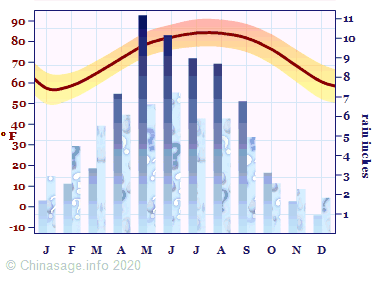 Both
Temp
Rainfall
° C/mms
° F/ins
Key

Show Bing Map

➚
Major Cities
Population
Chaozhou
潮

州

424,787
Dongguan

东

莞
8,000,000
Foshan
佛

山

3,600,000
Guangzhou

广

州

11,071,424
Huizhou
惠

州

289,201
Jiangmen

江

门

532,419
Jieyang
揭

阳

1,001,985
Lufeng
陆丰
318,488
Luoding
罗

定

359,480
Maoming
茂

名

1,264,500
Puning

普

宁

118,023
Shantou
汕

头

5,329,024
Shaoguan
韶

关

628,749
Shenzhen
深圳
10,358,381
Taishan

台

山

145,440
Yangjiang

阳

江

399,735
Yunfu

云

浮
2,612,800
Zhanjiang
湛

江

637,790
Zhaoqing
肇

庆

361,969
Zhongshan

中

山

3,121,275
Zhuhai
珠

海

501,199
Airports
Universities
Sun Yatsen founded this University back in 1924 shortly before his death. Guangzhou was his power base in southern China. With Sun Yatsen's qualification in medicine it is no surprise that it has a strong medical research center. It also has high achieving faculties in business; humanities; politics and computing.. Undergraduates: 32690, Postgraduates: 21610, International students: 3217, GP World ranking 307
Source references used for this page:
:: XINHUANET ::

➚
;

Book : 60 Scenic Wonders in China, New World Press, 1980
pp. 122-129, 130-132;

Book : A Map History of Modern China, Catchpole, Heinemann, 1976
pp. 20-22, 24, 40, 44;

Book : China : Eyewitness Travel, Dorling Kindersley, 2012
p. 295-303;

Book : Chronicles of the Chinese Emperors, Ann Paludan, Thames and Hudson, 1998
p. 27-39;

Book : Insight Guides: China, APA publications, 1994
p. 275-295;

Book : Lonely Planet: China, 1988
pp. 17, 162-164, 189-204;

Book : Symbols of China, Feng Jicai, Compendium, 2010
p. 225;

Guangdong (wikipedia)

➚
;

Guangdong Travel Guide - The Province With The Most Developed Economy And Tourism

➚
;

Map of Guangdong Province, China

➚
City populations for 2012, Province statistics National Bureau of Statistics 2014
No information available


Copyright © Chinasage 2012 to 2018
Please wait...
Downloading information about character