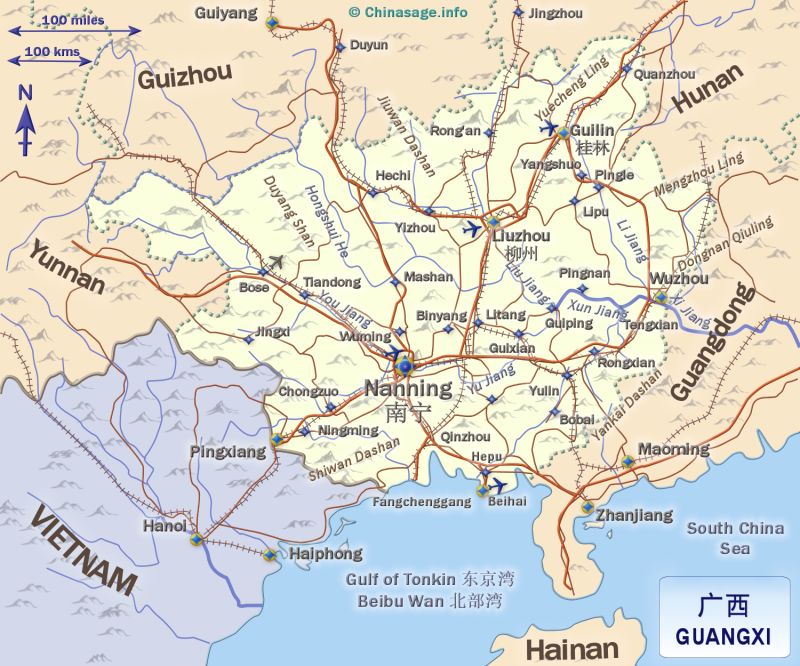 Guangxi Province
Name

广

西

(

guǎng

xī

)

['vast' 'west']

Old Name

Kwangsi WG
Capital
Nanning
Population
47.365 million (3.44 %) [11th] comparison table
Area
237,000 km2 [91,506 mile2] (2.47 %) [9th]
GDP
33,090 (6.26 %) [29th]


Google map of Guangxi
Neighbors
Guangdong
Yunnan
Guizhou
Hunan
Vietnam
Show province
Guangxi is a mountainous province on China's south western border with Vietnam. It is home to a large number of minority peoples including: Zhuang; Yao; Miao; Dong and Shui people who live mainly in the Western two thirds. They hold many colorful festivals throughout the year. Reflecting its diverse ethnicity it is designated as Guangxi Zhuang Autonomous Region rather than an ordinary province.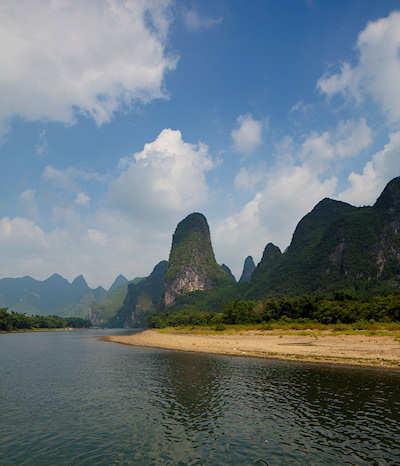 Li River near Guilin. September 2012.
Image by
Mgmoscatello

➚
available under a
Creative Commons license

➚
Thu 4
th
May
In this article in China Daily the role of Confucian temples is examined. Should the remaining temples be run to draw in tourists or return to be places where Confucian doctrine is studied? Under Mao Zedong, most Confucian temples were torn down and the monks and officials dismissed. Confucius was held up as the epitome of all that was backward and out-dated. Gradually, since about 1990 Confucius has come back into prominence. The Chinese government supports the many Confucius Institutes springing up all over the world to promote Chinese culture and education. He is now seen as an ancient father figure representing the distinctive Chinese culture and philosophy.
A report on the status of the remaining 546 Confucian sites highlights the difficulties in maintaining them. The province of Hunan has the most Confucian academies including Yuelu that has been going for over a thousand years. With massive redevelopment of towns and cities all over China the temple sites are coming under increasing pressure from development.
There are Confucian sites outside China: Vietnam, Japan and Korea and many Asian tourists come to visit the Chinese temples. Of particular interest is the vast temple complex at Confucius' birthplace Qufu which is still inhabited by his descendents.
Lingxing Gate of Qufu Confucian Temple, Qufu, Shandong. January 2009.
Image by
Sean Shih

➚
available under a
Creative Commons license

➚
Read full story...
Guangxi History
As a frontier province it shares much with neighboring Vietnam and Thailand; there is a strong Tai ➚ cultural influence. Geographically, it has high mountains in the west and north that define the river basin of the mighty Xi (West or Pearl) River. Back in the Zhou dynasty it was part of the ancient Baiyue kingdom ➚. In the early Han dynasty it came under the control of the breakaway kingdom of Nanyue ➚ together with neighboring Guangdong. For many centuries there was limited control from China's far away capital. It was during this period that there were sporadic rebellions that led to cruel reprisals by the Han Chinese against the indigenous people. Many of the Taiping rebel leaders came from eastern Guangxi. In the late nineteenth century it was claimed by France as the northern extension of its French Indo-China ➚empire.
Sunset over Nanning provincial capital of Guangxi
Population
China has the largest population of any country in the world, more than the populations of the United States, Brazil, Pakistan, Nigeria, Russia, Japan, Germany, France and the United Kingdom put together.
Read More
Places to visit in Guangxi
The provincial capital Nanning has expanded very rapidly from a small market town in 1949 to a busy industrial city. Guangxi is best known for its scenic beauty. The river trip towards Vietnam through Zuo Jiang takes you past Neolithic rock art. Guilin and Yangshuo are popular resorts on the Li River ➚ as the river weaves through dramatic Karst ➚ scenery; multitudes of towering pinnacles of limestone cover a wide area. Many consider this area the most scenic in China. There is an old proverb 桂林山水甲天下 Guìlín shānshuǐ jiǎ tiānxià meaning Guilin's mountains and rivers are the best sights in the world.
Guilin City has a limestone pillar: the Solitary Beauty Peak ➚ rising majestically from its center. Guilin is named after the Osmanthus or Cassia trees which carry sweet scent in the fall. Seven Star Park (Qixing) is renowned for its jagged limestone peaks. As well as lofty crags, the weathering of limestone has produced a number of caverns full of stalactites and stalagmites including the Red Flute Cave ➚. One cavern can hold up to a thousand people and is called the 'Crystal Palace of the Dragon King'. The river trip to Yangshuo on the Li River is an excellent way to see the magnificent scenery. Fishing with tame cormorants on the Li River is a well-known local custom, now financed by tourism rather than from the selling of fish. To the north of Guilin the Ling Canal ➚ was built to link the Yangzi and Pearl river systems over 2,000 years ago.
River Li (Lijiang) between Guilin and Yangshuo, Guangxi. 23 September 2009
Image by
Jerzy Bereszko

➚
available under a
Creative Commons license

➚
Fisherman with cormorants trained to fish at Yangshuo, Guangxi

January 2015. Chinasage is now available in convenient eBook format.
Click here for details
.
Wuzhou in the East of the province was an important town in the 18th century, and the British set up a river steamer service from there down to Guangzhou on the Pearl River. It is now well known for the trade in snakes destined for the dinner table. Huangyao is an old town with much intact Qing architecture; Guiping is renowned for its green tea while Detian Falls ➚, near the Vietnam border, rivals Huangguoshu Waterfalls in neighboring Guizhou for splendor.
The industrial city of Liuzhou is surrounded by the same style of Karst scenery as Guilin but on a lesser scale. Huaping ➚ has an extensive tropical nature reserve while Beihai is a busy port carrying out trade with Vietnam.
Huang Luo village of the Yao ethnic minority, Guangxi Copyright © Dreamstime see
image license
Geography
Guangxi has a sub-tropical climate, it lies on the Tropic of Cancer and so has hot, wet summers with short drier winters. In the limited flat areas provided by the river valleys rice (two or three crops a year); tea and tobacco are grown. Tropical fruit produce includes lychees, longans, pineapples and bananas. It is also hot enough to grow spices such as aniseed; cinnamon and ginseng. Agriculture remains the main industry, although in recent years a busy freight link with Vietnam has opened up the province for greater development.
Guangxi Climate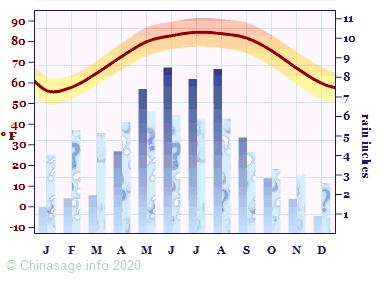 Both
Temp
Rainfall
° C/mms
° F/ins
Key
Show Bing Map

➚
Major Cities
Population
Guilin
桂

林

513,746
Liuzhou
柳

州

900,700
Nanning

南

宁

1,334,700
Airports
Source references used for this page:
Book : 60 Scenic Wonders in China, New World Press, 1980
p. 152-155;

Book : A Map History of Modern China, Catchpole, Heinemann, 1976
pp. 24, 32;

Book : China : Eyewitness Travel, Dorling Kindersley, 2012
p. 412-425;

Book : Chronicles of the Chinese Emperors, Ann Paludan, Thames and Hudson, 1998
p. 27-39;

Book : Insight Guides:China,APA, 1994
p. 299-303;

Book : Lonely Planet: China, 1988
p. 595-614;

Book : Modern China: A companion to a rising power, Graham Hutchings, Harvard University Press, 2003
p. 171-173;

Guangxi (chinatravel)

➚
;

Guangxi (news)

➚
;

Guilin (sacu)

➚
City populations for 2012, Province statistics National Bureau of Statistics 2014

Chinasage is a new web resource, started in 2012, pages will be added, enhanced and re-formatted regularly. Please check back soon for updated information about China.
We would be most grateful if you have any comments or suggestions to help improve this page. Our contact page is also available if you have a longer comment. Just type in a quick remark here:
Citation information: Chinasage, 'Guangxi Zhuang Autonomous Region China', last updated 8 Dec 2016, Web, http://www.chinasage.info/maps/guangxi.htm.
Copyright © Chinasage 2012 to 2017