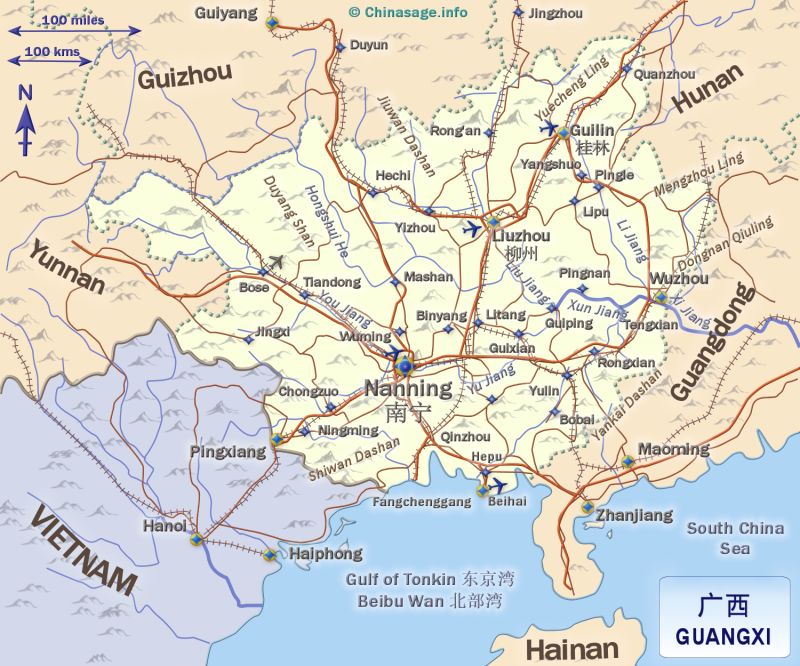 Guangxi Province
Name

广

西

(

guǎng

xī

)

['vast' 'west']

Old Name

Kwangsi WG
Capital
Nanning
Population
47.365 million (3.44 %) [11th] comparison table
Area
237,000 km2 [91,506 mile2] (2.47 %) [9th]
GDP
33,090 (6.26 %) [29th]


Google map of Guangxi
Neighbors
Guangdong
Yunnan
Guizhou
Hunan
Vietnam
Show province
Guangxi is a mountainous province on China's south western border with Vietnam. It is home to a large number of minority peoples including: Zhuang; Yao; Miao; Dong and Shui people who live mainly in the Western two thirds. They hold many colorful festivals throughout the year. Reflecting its diverse ethnicity it is designated as Guangxi Zhuang Autonomous Region rather than an ordinary province.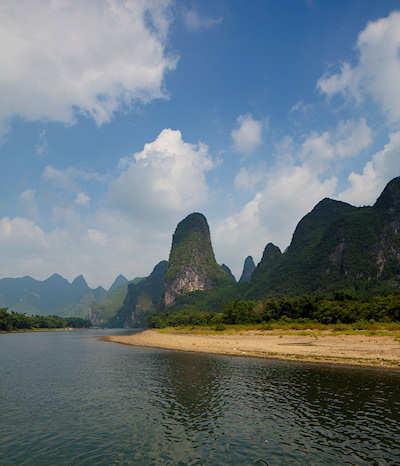 Li River near Guilin. September 2012.
Image by
Mgmoscatello

➚
available under a
Creative Commons license

➚
Wed 17
th
May
Spending a trillion dollars (yes $1,000 billion) is a serious investment. China's big idea is to open up the country for much wider trade. The primary focus is to develop stronger links with Central Asian countries on the route of the old Silk Road. However the initiative seems all embracing as even New Zealand, hardly on the Silk Road is keen to be involved. The idea ➚ is for both an overland 'Silk Road Economic Belt' (China to Europe) and a '21st century Maritime Road' (China through the Indian Ocean to Africa and then north to Egypt). This has been shortened to 'One belt one road' or 'Belt and Road' or just 'OBOR' for short.
It is hard to work out exactly what the initiative is all about, there seem to be several factors and motives. One is that President Trump has continued to threaten China with extra tariffs to protect U.S. jobs from cheap Chinese imports. If China can open up new markets for her exports she will not be as badly hit by any protectionist measures. The U.S. continues to have a huge balance of payments deficit with China, in March 2017 the U.S. exported $9.6bn but imported $34.2bn. China's heavy dependence on sales into the U.S. is a problem that needed to be fixed. In 2015 China's main trade partners were: United States $457bn, Hong Kong $273bn, Japan $152bn, Germany $97.4bn and South Korea $90.1bn. Shifting trade to new countries will strengthen and stabilize China's economy.
Many analysts also point to the problems of over-capacity in China. Just looking at total imports and exports is too crude a measure, the real problem is that China's growth rate has slowed and the excess capacity in building related industries (steel, cement, construction) need new markets. If China can kick-start economic development elsewhere in the world she solves two problems at once - over-capacity at home and opening up new markets abroad. The China Communications Construction Group has already agreed deals worth up $40 billion in contracts with 'Belt and Road' countries. Sinking so much money in loans that may never be repaid is quite a risk. Venezuela now owes China $65bn and is not in a position to repay. Analysts consider such a huge project will be impossible to manage effectively and huge amounts are likely to be misappropriated.
The initiative comes at a particularly opportune time for the U.K.. Always keen on free trade and instinctively anti-protectionist the U.K. has more to gain than most other countries. With difficult talks ahead on exit of the E.U. trading block the opening up of possible deals with China all over the world is very appealing. U.K. politicians have been very keen to promote the initiative and use its undoubted trading expertise to jointly open up new markets.
The initial proposals centered on the countries of central Asia - along the route of the old Silk Road out of China. The initiative is therefore a way of re-invigorating trading links that were active for a thousand years before trade moved to China's southern ports. The vast bulk of Chinese development had been along the south and eastern coasts, the poorest inland provinces have been left well behind. Of particular importance is the troubled province of Xinjiang. Positioned on the fringes of China the province is more Central Asian than Chinese with a Muslim majority. With frequent terrorist attacks by separatists in the province, China struggles to keep tight control. Recently China has banned Muslim parents from giving their children Muslim names and is embarking on a system of DNA profiling of every citizen. With the 'Belt and Road' initiative deals with neighboring Central Asian states (Takjikistan, Kyrgyzstan, Kazakhstan) the increased economic activity should lessen instability in the region.
The key point is that China is changing from an inward to an outward-looking nation, no longer putting internal development as the top priority. With increased economic involvement comes political power too, and some hawkish observers see this as the first stage in the building of a new Chinese Empire.
Read full story...
Guangxi History
As a frontier province it shares much with neighboring Vietnam and Thailand; there is a strong Tai ➚ cultural influence. Geographically, it has high mountains in the west and north that define the river basin of the mighty Xi (West or Pearl) River. Back in the Zhou dynasty it was part of the ancient Baiyue kingdom ➚. In the early Han dynasty it came under the control of the breakaway kingdom of Nanyue ➚ together with neighboring Guangdong. For many centuries there was limited control from China's far away capital. It was during this period that there were sporadic rebellions that led to cruel reprisals by the Han Chinese against the indigenous people. Many of the Taiping rebel leaders came from eastern Guangxi. In the late nineteenth century it was claimed by France as the northern extension of its French Indo-China ➚empire.
Sunset over Nanning provincial capital of Guangxi
The illustrious Ming
It was during the Ming dynasty that China achieved many accomplishments: a vast fleet sailed the seas and made many dicoveries.; an encylopedia of the accumulated knowledge was distilled into 11,000 chapers; trade with America brought in new vegetables and cotton that were widely grown.
Read More
Places to visit in Guangxi
The provincial capital Nanning has expanded very rapidly from a small market town in 1949 to a busy industrial city. Guangxi is best known for its scenic beauty. The river trip towards Vietnam through Zuo Jiang takes you past Neolithic rock art. Guilin and Yangshuo are popular resorts on the Li River ➚ as the river weaves through dramatic Karst ➚ scenery; multitudes of towering pinnacles of limestone cover a wide area. Many consider this area the most scenic in China. There is an old proverb 桂林山水甲天下 Guìlín shānshuǐ jiǎ tiānxià meaning Guilin's mountains and rivers are the best sights in the world.
Guilin City has a limestone pillar: the Solitary Beauty Peak ➚ rising majestically from its center. Guilin is named after the Osmanthus or Cassia trees which carry sweet scent in the fall. Seven Star Park (Qixing) is renowned for its jagged limestone peaks. As well as lofty crags, the weathering of limestone has produced a number of caverns full of stalactites and stalagmites including the Red Flute Cave ➚. One cavern can hold up to a thousand people and is called the 'Crystal Palace of the Dragon King'. The river trip to Yangshuo on the Li River is an excellent way to see the magnificent scenery. Fishing with tame cormorants on the Li River is a well-known local custom, now financed by tourism rather than from the selling of fish. To the north of Guilin the Ling Canal ➚ was built to link the Yangzi and Pearl river systems over 2,000 years ago.
River Li (Lijiang) between Guilin and Yangshuo, Guangxi. 23 September 2009
Image by
Jerzy Bereszko

➚
available under a
Creative Commons license

➚
Fisherman with cormorants trained to fish at Yangshuo, Guangxi
Shanghai
Shanghai City was known as the 'Paris of the East' in the 1920s. By Chinese standards
Shanghai
is a very modern city. It was just a small fishing port in the 1840s with population of only 50,000; by 2007 this had risen to an incredible 18.6 million making it the largest city in China. It is considered China's second city.
Read More
Wuzhou in the East of the province was an important town in the 18th century, and the British set up a river steamer service from there down to Guangzhou on the Pearl River. It is now well known for the trade in snakes destined for the dinner table. Huangyao is an old town with much intact Qing architecture; Guiping is renowned for its green tea while Detian Falls ➚, near the Vietnam border, rivals Huangguoshu Waterfalls in neighboring Guizhou for splendor.
The industrial city of Liuzhou is surrounded by the same style of Karst scenery as Guilin but on a lesser scale. Huaping ➚ has an extensive tropical nature reserve while Beihai is a busy port carrying out trade with Vietnam.
Huang Luo village of the Yao ethnic minority, Guangxi Copyright © Dreamstime see
image license
Geography
Guangxi has a sub-tropical climate, it lies on the Tropic of Cancer and so has hot, wet summers with short drier winters. In the limited flat areas provided by the river valleys rice (two or three crops a year); tea and tobacco are grown. Tropical fruit produce includes lychees, longans, pineapples and bananas. It is also hot enough to grow spices such as aniseed; cinnamon and ginseng. Agriculture remains the main industry, although in recent years a busy freight link with Vietnam has opened up the province for greater development.
Guangxi Climate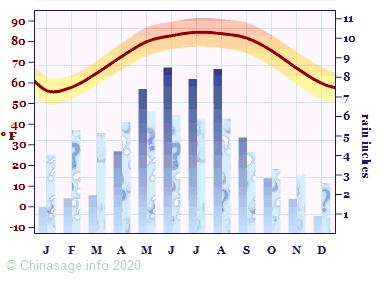 Both
Temp
Rainfall
° C/mms
° F/ins
Key
Show Bing Map

➚
Major Cities
Population
Guilin
桂

林

513,746
Liuzhou
柳

州

900,700
Nanning

南

宁

1,334,700
Airports
Source references used for this page:
Book : 60 Scenic Wonders in China, New World Press, 1980
p. 152-155;

Book : A Map History of Modern China, Catchpole, Heinemann, 1976
pp. 24, 32;

Book : China : Eyewitness Travel, Dorling Kindersley, 2012
p. 412-425;

Book : Chronicles of the Chinese Emperors, Ann Paludan, Thames and Hudson, 1998
p. 27-39;

Book : Insight Guides:China,APA, 1994
p. 299-303;

Book : Lonely Planet: China, 1988
p. 595-614;

Book : Modern China: A companion to a rising power, Graham Hutchings, Harvard University Press, 2003
p. 171-173;

Guangxi (chinatravel)

➚
;

Guangxi (news)

➚
;

Guilin (sacu)

➚
City populations for 2012, Province statistics National Bureau of Statistics 2014

Chinasage is a new web resource, started in 2012, pages will be added, enhanced and re-formatted regularly. Please check back soon for updated information about China.
We would be most grateful if you have any comments or suggestions to help improve this page. Our contact page is also available if you have a longer comment. Just type in a quick remark here:
Citation information: Chinasage, 'Guangxi Zhuang Autonomous Region China', last updated 8 Dec 2016, Web, http://www.chinasage.info/maps/guangxi.htm.
Copyright © Chinasage 2012 to 2017