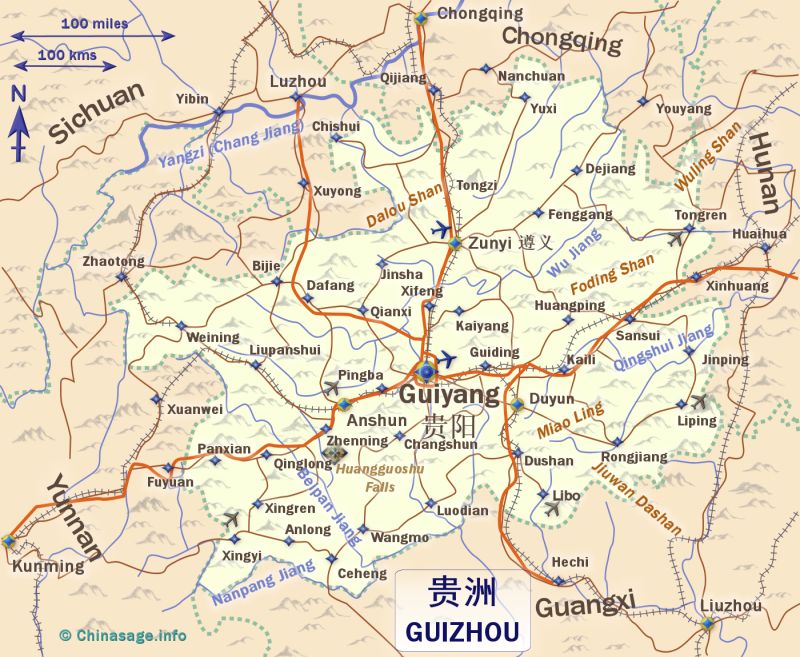 Guizhou Province
Name

贵

洲

(

guì

zhōu

)

['precious' 'region']

Old Name

Kweichow WG
Capital
Guiyang
Population
35.051 million (2.55 %) [19th] comparison table
Area
174,000 km2 [67,181 mile2] (1.81 %) [16th]
GDP
26,393 (3.70 %) [33rd last]


Google map of Guizhou
Neighbors
Guangxi
Yunnan
Sichuan
Chongqing
Hunan
Show province
Guizhou is a mountainous southern province somewhat off the beaten track. It has high mountains in the west that step down gradually towards the east of the province. It stands on the watershed between rivers flowing north to the Yangzi and south to the Yu (Pearl) river. As in neighboring Guangxi there is a great deal of karst (limestone) scenery. Many different ethnic people (including Miao; Buyei; Dong; Yi; Shui and Gelao) live in isolated rural communities scattered among the mountains; in these communities local languages are more commonly spoken than Mandarin Chinese. The wide range of traditions give a good many opportunities to hold rural festivals including Sanyuesan Festival ➚; Sisters' Rice Festival ➚ and Shui New Year [held in September] ➚.
Morning mists lift from Guizhou landscape
The eastern province of
Shandong
sticks out into the Yellow Sea and has many historic attractions. It boasts the birthplace of Confucius and also the manufacture of Qingdao beer. The most sacred mountain in China - Taishan - has many ancient temples and memorials.
Over the centuries Han people have settled in the north and east of Guizhou, forcing the indigenous people to move to the mountains. In January 1934 the Long Marchers made there way through Guizhou. The Zunyi Conference was held and it was then that Mao Zedong became the leader of the Communists.
Development of Guizhou started during the Japanese occupation when neighboring Chongqing became the capital of Free China. Even so, as late as the 1980s 50% of the villages still had no road to them. Recently some industry has developed including coal mining and hydro-electric power generation but development compared to its neighboring provinces has been slow. It has served as an example of the limits of centralized economic planning.
Landscape of terraced fields in Guizhou
Guiyang
Guiyang, at the center of Guizhou province is the largest city. Beset by moist air, sunshine here is at a premium leading to the city's name which transliterates as 'precious sun'. Qianling Shan Park ➚ to the north of the city center has many shrines set in woodland. Guiyang still has some restaurants that serve dog meat ➚ as a specialty. Jiaxia Lou is a Ming pavilion converted into a tea-house.
The famous Huangguoshu Falls in Guizhou
Places to visit
The scenic splendor of Guizhou makes the province a little known gem for visitors. The best known spot is the Huangguoshu Waterfalls ➚ to the south-west of Guiyang. It is the largest waterfall in China, there are nine 'falls' of level; eight cataracts and one large waterfall. It is possible to view the waterfall as a curtain from behind. The falls are on the Baihe 'White River' which flows south by many twists and turns before joining the Pearl River which eventually empties into the South China Sea. The 66 feet [20 meters] wide river falls 197 feet [60 meters] with great force into Rhinoceros Pool. It is best to time your visit to avoid the dry season that runs from November to April. There is a cavern nearby bristling with stalactites.
Other sites to visit in Guizhou include the Wuyang River ➚; Anshun ➚ with its batik textile industry and Longgong Caves ➚. Weining in the far west of Guizhou is famous for its minority festivals and bird watching on Cao Hai ➚. Chishui in the north has nature reserves along the river. While Zhaoxing to the south east has villages of the Dong minority people with their distinctive wooden houses.
An old village inhabited by
Dong minority people
in Guizhou
Thu 4
th
May
In this article in China Daily the role of Confucian temples is examined. Should the remaining temples be run to draw in tourists or return to be places where Confucian doctrine is studied? Under Mao Zedong, most Confucian temples were torn down and the monks and officials dismissed. Confucius was held up as the epitome of all that was backward and out-dated. Gradually, since about 1990 Confucius has come back into prominence. The Chinese government supports the many Confucius Institutes springing up all over the world to promote Chinese culture and education. He is now seen as an ancient father figure representing the distinctive Chinese culture and philosophy.
A report on the status of the remaining 546 Confucian sites highlights the difficulties in maintaining them. The province of Hunan has the most Confucian academies including Yuelu that has been going for over a thousand years. With massive redevelopment of towns and cities all over China the temple sites are coming under increasing pressure from development.
There are Confucian sites outside China: Vietnam, Japan and Korea and many Asian tourists come to visit the Chinese temples. Of particular interest is the vast temple complex at Confucius' birthplace Qufu which is still inhabited by his descendents.
Lingxing Gate of Qufu Confucian Temple, Qufu, Shandong. January 2009.
Image by
Sean Shih

➚
available under a
Creative Commons license

➚
Read full story...
Geography
Guizhou has hot, humid summers and short cool winters. Where the mountainous terrain makes possible, tobacco; tea; rapeseed are grown. The Chinese Gooseberry ➚ (Kiwi fruit) is a native plant along with many unusual plants that are used in traditional medicine. Maotai Liquor ➚ is distilled from a wheat and sorghum base; it is famous throughout China and beyond. Qian cuisine is the dominant style and balances hot; spicy and sour flavors.
Guizhou Climate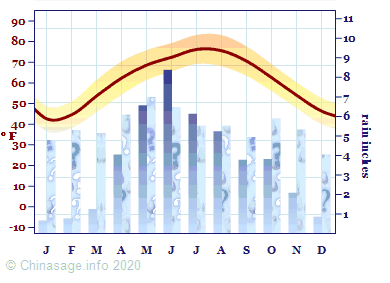 Both
Temp
Rainfall
° C/mms
° F/ins
Key
Show Bing Map

➚
Major Cities
Population
Guiyang

贵

阳

1,549,800
Zunyi
遵

义

352,504
Airports
Source references used for this page:
Book : 60 Scenic Wonders in China, New World Press, 1980
p. 156-158;

Book : China : Eyewitness Travel, Dorling Kindersley, 2012
p. 397-412;

Book : Lonely Planet: China, 1988
p. 615-623;

Book : Modern China: A companion to a rising power, Graham Hutchings, Harvard University Press, 2003
p. 174-177;

Guizhou (chinatravel)

➚
;

Guizhou (maps-of-china)

➚
;

Guizhou (travelchinaguide)

➚
City populations for 2012, Province statistics National Bureau of Statistics 2014

Chinasage is a new web resource, started in 2012, pages will be added, enhanced and re-formatted regularly. Please check back soon for updated information about China.
We would be most grateful if you have any comments or suggestions to help improve this page. Our contact page is also available if you have a longer comment. Just type in a quick remark here:
Citation information: Chinasage, 'Guizhou, China', last updated 1 Dec 2016, Web, http://www.chinasage.info/maps/guizhou.htm.
Copyright © Chinasage 2012 to 2017