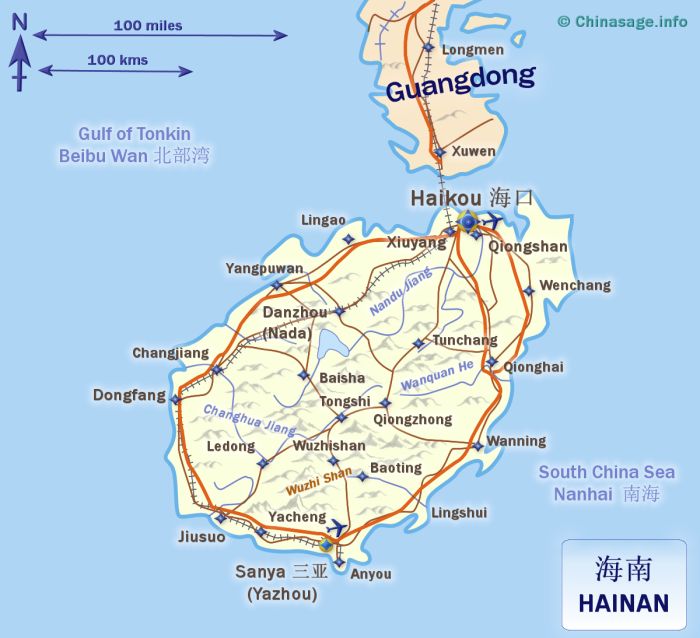 Hainan Province
Name

海

南

(

hǎi

nán

)

['sea' 'south']

Capital
Haikou
Population
8.994 million (0.65 %) [28th] comparison table
Area
34,000 km2 [13,127 mile2] (0.35 %) [28th]
GDP
38,924 (1.40 %) [23rd]


Google map of Hainan
Neighbors
Guangdong
Show province
Hainan Island is China's southernmost province; although China does lay claim to island groups in the South China Sea ➚ which are administered from Hainan (including the disputed Paracel ➚ and Spratly Islands ➚). It is a tropical paradise for Chinese tourists seeking sun and sand and so it is promoted as the 'Eastern Hawaii'. The mountainous interior is home to the indigenous Li and Miao peoples (now only 15% of the island's population). The local dialect Hainanese ➚ is hard for Mandarin speakers to understand.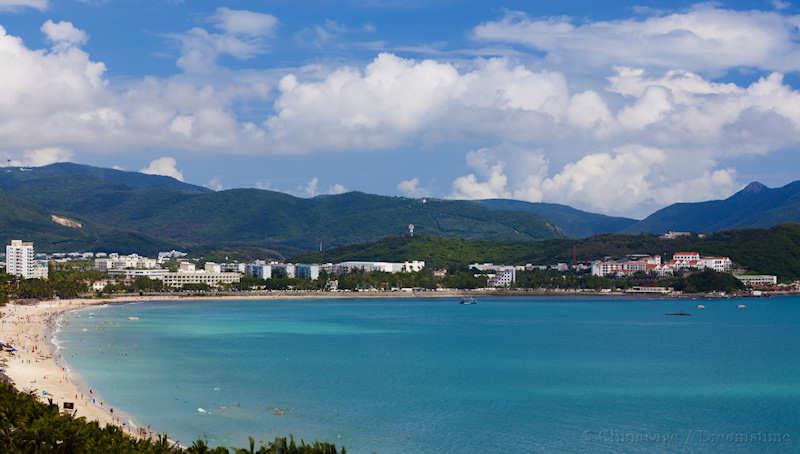 The beach at Sanya, Hainan island
For each of the 33 administrative regions (provinces and major cities) we give a brief history, guide to visitor attractions as well as airports, universities, climate and major towns and cities
Hainan History
Throughout much of its history Hainan has been on the outermost fringe of Chinese control. Originally known as Qiongzhou 琼州; a military garrison was set up here in early Han dynasty times. Han people began to settle in large numbers in the northern part of the island during the Song dynasty. At this time officials were sent to the remote island as a punishment. The most famous person to be banished was the poet Su Shi. During the Yuan dynasty Hainan was governed as an independent province. Subsequent immigration in the Ming dynasty led to some conflict with the indigenous Li people over land ownership. Over the centuries many Hainanese emigrated to other lands in South East Asia, Hong Kong was a popular destination in later years. In the Civil War many Communists who fled from Shanghai put up spirited resistance against the nationalists here. Hostilities with neighboring Vietnam in the 1980s led to the construction of naval bases along the western coast. In 1988 it was split off as a separate province from neighboring Guangdong and became a Special Economic Zone (SEZ). There followed a brief financial boom with many people engaged in lucrative import businesses.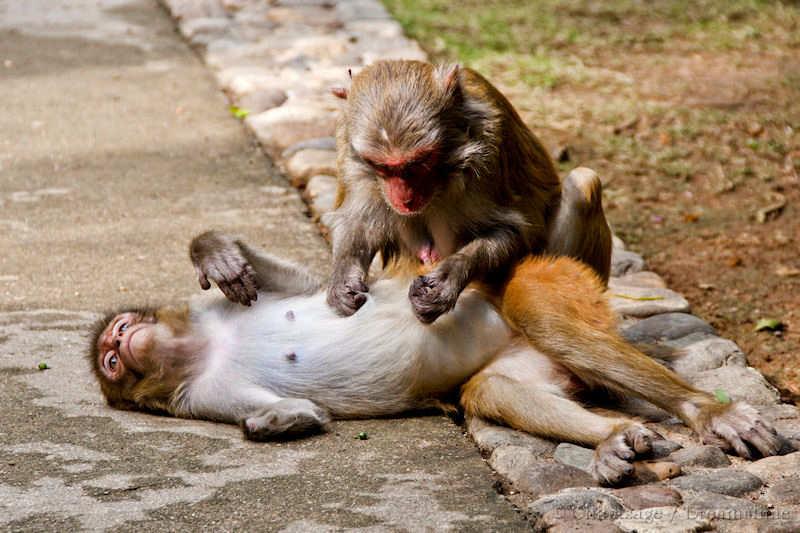 Macaque monkeys on Nanwan Monkey Island off Hainan main island
Nowadays rich Chinese people have chosen to buy retirement homes on the island, increasing the demand for housing along the coast. Tourists also come in large numbers to appreciate the tropical warmth for a short winter break. The island is frequently blasted by typhoons in the season from May through to October.
The modern province of
Shaanxi
has many sites of historic interest. Perhaps none more so than the tomb of the First Qin Emperor with its thousands of Terracotta warriors. With the great Yellow River, mountains and arid areas there is a great deal of scenic beauty too.
Places to Visit in Hainan
Haikou on the northern tip is the gateway to the island and the largest city. It has several historic sites including Wugong Temple ➚. The famous poet Su Shi/Su Dongpo is commemorated at the Dongpo Academy ➚ there. Since 2012 the World Open Snooker ➚ tournament has been held at Haikou. Sanya at the southern tip of the island is the main beach resort. Nearby Nanshan ➚ is famous for the long life of its people and its pine trees. Large scale clearance of the inland tropical forest in the 1960s and 1970s has unfortunately damaged the fragile eco-system of the island's interior. Tianyahaijiao ➚ is visited as the furthest southern extremity of China while Gusong village near Wenchang allows tourists to see a traditional small Hainanese village. Wenchang Chicken is the best known Hainanese dish. Gusong is the ancestral home of the famous Song sisters, one married Chiang Kaishek and the other Sun Yatsen. The Xinglong area is well known in China for its coffee. Tongshi near Wuzhishan is the capital of the Li and Miao minority people on the island; while Qiongzhong has an impressive 984 feet [300 meters] waterfall.
China has built a massive, new space exploration center in Hainan: the Wenchang Launch Center ➚ which will be the focus for rocket launches.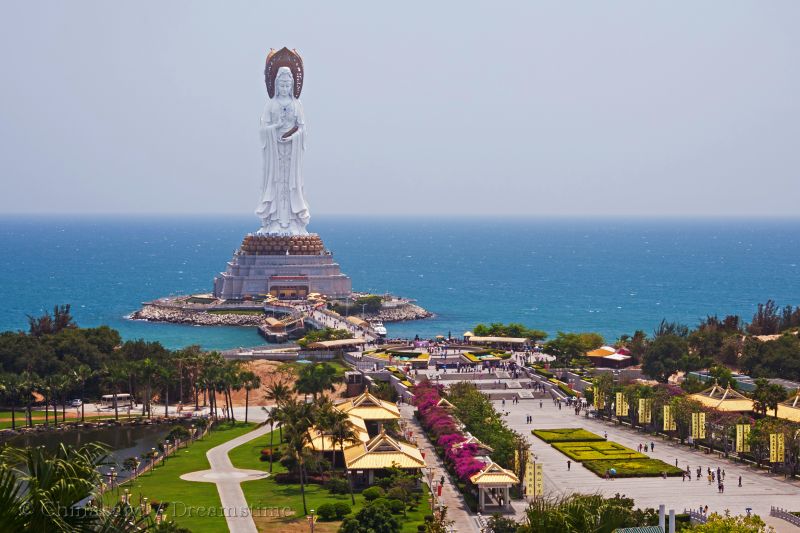 Statue of
Guanyin
(Guanshiyin or Avalokitesvara), Goddess of Mercy, Sanya, Hainan
Geography
The maritime tropical climate makes Hainan suitable for rice; sugar cane; coffee; rubber and coconut production. To emphasize the tropical climate, a Coconut Festival is held on the island in March/April. Industry is limited but there are large iron; zirconium; titanium; copper and coal deposits that are now mined. There are plans to build up the gambling industry with super-casinos to rival those of Macau and Las Vegas ➚.
Hainan Climate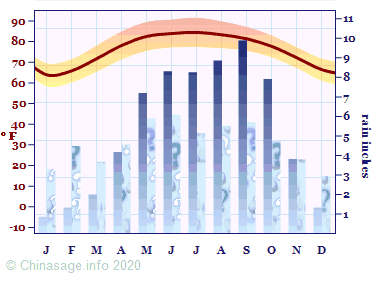 Both
Temp
Rainfall
° C/mms
° F/ins
Key
Show Bing Map

➚
Major Cities
Population
Haikou

海

口

513,720
Sanya

三

亚
685,408
Airports
Source references used for this page:
Book : A Map History of Modern China, Catchpole, Heinemann, 1976
p. 54;

Book : China : Eyewitness Travel, Dorling Kindersley, 2012
p. 304-305;

Book : Lonely Planet: China, 1988
p. 205-216;

Book : Modern China: A companion to a rising power, Graham Hutchings, Harvard University Press, 2003
p. 178-179;

Hainan (chinatravel)

➚
;

Hainan (maps-of-china)

➚
;

Hainan (travelchinaguide)

➚
;

Hainan (wikitravel)

➚
City populations for 2012, Province statistics National Bureau of Statistics 2014

Chinasage is a new web resource, started in 2012, pages will be added, enhanced and re-formatted regularly. Please check back soon for updated information about China.
We would be most grateful if you have any comments or suggestions to help improve this page. Our contact page is also available if you have a longer comment. Just type in a quick remark here:
Citation information: Chinasage, 'Island Province of Hainan China', last updated 6 Dec 2016, Web, http://www.chinasage.info/maps/hainan.htm.
Copyright © Chinasage 2012 to 2017