Heilongjiang Province
Name

黑

龙

江

(

hēi

lóng

jiāng

)

['black' 'dragon' 'river']

Old Name

Heilungkiang WG
Capital
Harbin
Population
38.34 million (2.79 %) [15th] comparison table
Area
469,000 km2 [181,081 mile2] (4.89 %) [6th]
GDP
39,226 (6.01 %) [22nd]


Google map of Heilongjiang

Neighbors
Russia
Jilin
Inner Mongolia
Show province
Russian style Saint-Sophia Cathedral, Harbin, Heilongjiang
Heilongjiang is named after the 'Black Dragon River' that forms much of its eastern border with Russia (the Russians call the river 'Amur'). The province shares its harsh, cold winters with Russia too.
Heilongjiang History
The province was part of the Korean Balhae Kingdom ➚ at the time of the Tang dynasty. This fell to the Jurchen Jin Dynasty but Heilongjiang only really became an integral part of China in the Qing (Manchu) dynasty. At this time it was only sparsely populated and not seen as strategically or economically important. As part of Manchuria it was invaded and industrialized by the Japanese in the 1930s, for it has extensive coal; iron and oil deposits as well as timber. The rural extremities have people of Manchu; Hui; Korean; Oroqen and Mongolian origin.
It was the building of the Trans-Siberian Railway through to Vladivostok that led to the rapid urban development of Heilongjiang, particularly at Harbin. The strong Russian involvement in the early twentieth century can be seen in the local architecture including the onion dome of St. Sofia in Harbin. Russian investment has remained an important spur to development in the province.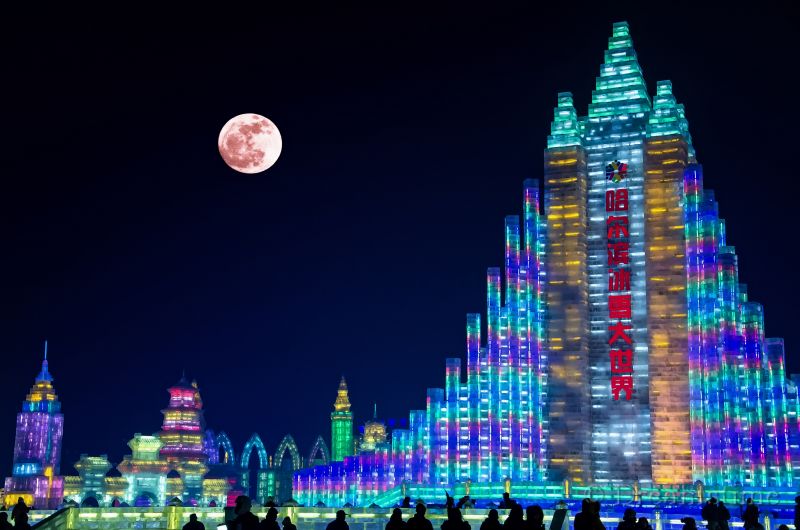 Illuminated ice sculptures at Harbin, Heilongjiang Copyright © Dreamstime see
image license

January 2015. Chinasage is now available in convenient eBook format.
Click here for details
.
Harbin
Harbin has a famous ice sculpture fair at Zhaolin Park ➚ from January to March, reflecting the long, cold winters (typically -22 ° F [-30 ° C]). It gets so cold that fruit and milk are sold in frozen form. Lanterns made out of ice feature at the Chinese New Year festival. To complete the cold theme there are ski slopes nearby at Shangzhi ➚. Harbin, whose name means 'Place of Drying Fish nets' is a relatively modern city, only a hundred years ago it was a fishing village on the Songhua River. It has recently built an impressive Opera House ➚ of very modern design. The city has been laid out with a large number of public parks.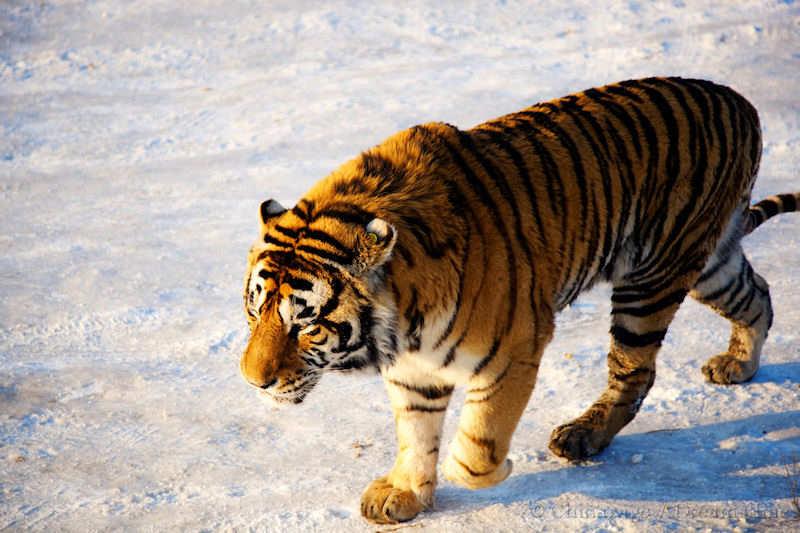 A Siberian tiger walking on snow, Heilongjiang
Places to visit in Heilongjiang
Heilongjiang has impressive mountain scenery and its fringes are covered with dense pine forests. A Siberian Tiger Reserve ➚ is located near to Harbin. An area with important industrial history is the famous Daqing oilfield which was strategic during the Mao era when China was isolated and had to find its own (at the time) scarce sources of oil.
The
countries
that surround China have an interesting set of relationships. Wars, conquest and religion have defined the current boundaries of the Peoples' Republic. India, Russia, Pakistan, Myanmar and Afghanistan all have important borders with China.
Mirror Lake ➚ (Jingpo) is a volcanic lake (22,239 acres [90 sq kms]) south-west of Mudanjiang set amongst the forests. It is a popular resort particularly for fishermen. Qiqihar is an old industrial town while nearby is the Zhalong Nature Reserve ➚ that attracts many birds, particularly on migration, and is the home of rare red-crowned ➚ and white-naped ➚ cranes. Wudalianchi ➚ meaning Five inter-linked lakes, north of Bei'an is another popular scenic spot amid one of China's few active volcanic areas. Yichun ➚ is a historic forestry town with many old adobe buildings.
Geography
The Songhua River ➚ has been subject to high levels of pollution as it flows through many industrial cities picking up associated industrial and domestic waste. Extensive pasture lands make Heilongjiang the most important province for dairy products, it is also produces a large amount of grain and soybean.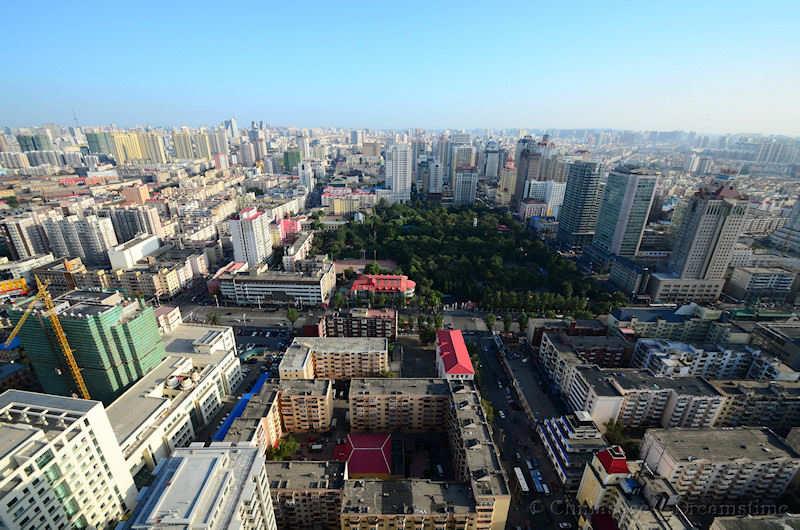 Skyline of Harbin, Heilongjiang
Heilongjiang Climate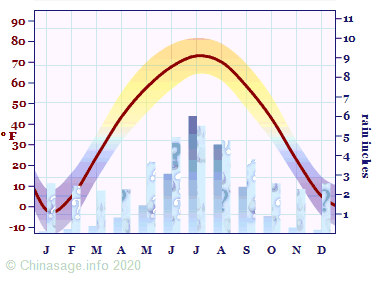 Both
Temp
Rainfall
° C/mms
° F/ins
Key

Show Bing Map

➚
Major Cities
Population
Bei'an

北

安

436,444
Daqing

大

庆

203,488
Harbin
哈

尔

滨
5,878,939
Hegang
鹤岗
743,307
Jiamusi
佳

木

斯
549,549
Jixi

鸡

西

403,759
Mudanjiang
牡丹

江

665,915
Qiqihar
齐齐哈

尔

882,364
Qitaihe

七

台

河

320,385
Shuangyashan

双

鸭

山

600,000
Yichun
伊

春

155,762
Airports
Universities
The Harbin Institute of Technology is the leading university in northeastern China. It is actually split over three campuses spread over three provinces: Weihai in
Shandong
; Shenzhen in
Guangdong
and Harbin in Heilongjiang. It concentrates on space technology; military technology and general engineering. The Harbin campus has some hints to its history of Russian influence.. Undergraduates: 25002, Postgraduates: 12710, International students: 1584, GP World ranking 291
Source references used for this page:
:: XINHUANET ::

➚
;

Book : 60 Scenic Wonders in China, New World Press, 1980
p. 226-228;

Book : China : Eyewitness Travel, Dorling Kindersley, 2012
p. 450-455;

Book : Insight Guides: China, APA publications, 1994
p. 189-192;

Book : Lonely Planet: China, 1988
p. 578-590;

Book : Modern China: A companion to a rising power, Graham Hutchings, Harvard University Press, 2003
p. 187-188;

Heilongjiang (wikitravel)

➚
;

Map of Helongjiang Province and travel guide

➚
City populations for 2012, Province statistics National Bureau of Statistics 2014

Back to top

Chinasage is a new web resource, pages will be added, enhanced and re-formatted regularly. We would be most grateful if you can help improve this page. Please visit our (secure) contact page to leave any comment. Thanks.
Citation information for this page : Chinasage, 'Heilongjiang Province, China', last updated 22 Nov 2016, Web, http://www.chinasage.info/maps/heilongjiang.htm.
No information available


Copyright © Chinasage 2012 to 2018
Please wait...
Downloading information about character