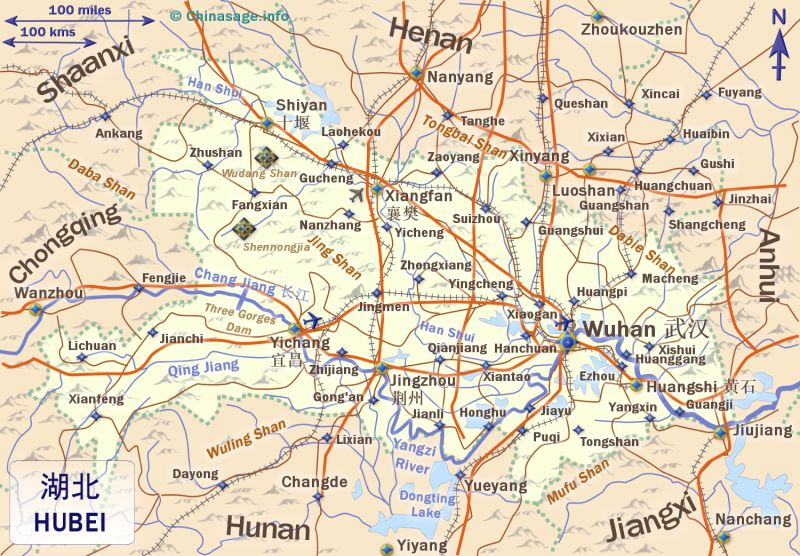 Hubei Province
Name

湖

北

(

hú

běi

)

['lake' 'north']

Old Name

Hupeh WG
Capital
Wuhan
Population
58.075 million (4.22 %) [9th] comparison table
Area
186,000 km2 [71,815 mile2] (1.94 %) [14th]
GDP
47,124 (10.94 %) [15th]


Google map of Hubei
Neighbors
Henan
Anhui
Jiangxi
Hunan
Chongqing
Shaanxi
Show province
Three gorges dam on
Yangzi river
Hubei is a central Chinese Province; rather like neighboring Henan it marks the transition from mountains in the West to low fertile coastal plain in the East. The name Hubei is derived from its location north of Dongting Lake. It is dominated by the Yangzi River (or Chang Jiang) that forms many low lying lakes and reservoirs (the largest number in China) as well as the world famous Three Gorges ➚ (now harnessed by the huge Sanxia Daba dam ➚). Qutang, Wuxia and Xiling are the names of the gorges that are spread out over 120 miles [193 kms] in order west to east (but the first two are in neighboring Chongqing Province). Many of the sites along the river have been drowned by the rise in water level associated with the Three Gorges dam. Wuxia gorge is marked by towering mountains on either side of the river making it seem a chasm. The gorges took a heavy toll in people and boats over the centuries; so it is good that this great hazard has now been removed. The ancient 'hanging coffins' of the Bo people ➚ can still be seen. Su Shi, the Song poet wrote eloquently about the gorges. Hubei was the heart of the Chu kingdom during the Warring States period of Chinese history. Qu Yuan, the earliest acclaimed Chinese poet lived in Hubei at that time.
Overlooking Fancheng District from Xiangcheng District on the other side of the Han River, which is a tributary of the Yangtze River. October 2011.
Image by
Zihanzor

➚
available under a
Creative Commons license

➚
Thu 4
th
May
In this article in China Daily the role of Confucian temples is examined. Should the remaining temples be run to draw in tourists or return to be places where Confucian doctrine is studied? Under Mao Zedong, most Confucian temples were torn down and the monks and officials dismissed. Confucius was held up as the epitome of all that was backward and out-dated. Gradually, since about 1990 Confucius has come back into prominence. The Chinese government supports the many Confucius Institutes springing up all over the world to promote Chinese culture and education. He is now seen as an ancient father figure representing the distinctive Chinese culture and philosophy.
A report on the status of the remaining 546 Confucian sites highlights the difficulties in maintaining them. The province of Hunan has the most Confucian academies including Yuelu that has been going for over a thousand years. With massive redevelopment of towns and cities all over China the temple sites are coming under increasing pressure from development.
There are Confucian sites outside China: Vietnam, Japan and Korea and many Asian tourists come to visit the Chinese temples. Of particular interest is the vast temple complex at Confucius' birthplace Qufu which is still inhabited by his descendents.
Lingxing Gate of Qufu Confucian Temple, Qufu, Shandong. January 2009.
Image by
Sean Shih

➚
available under a
Creative Commons license

➚
Read full story...
Wuhan
Wuhan is the largest city in Hubei, it was formed in 1926 by combining three neighboring cities Hankou, Wuchang and Hanyang together. Hankou became a major river port on the Yangzi when, after the first Opium War, trade opened to foreign powers (British; French; German; Russian and Japanese). Some buildings near the center of the city show this foreign influence. Large ocean going ships can sail up river as far as Wuhan and so the city was important for trading into central China. Wuhan stands at the confluence with another significant Chinese river the 'Han' 汉水 hàn shuǐ.
The Wuhan area suffered severe damage in the last century: in 1911 with the fall of the Qing and later in 1923 and then 1937 with the Japanese occupation. The Wuchang Uprising of 1911 led by Sun Yatsen marked the start of the revolution that created the Republic of China and it is commemorated at Wuchang. The Changjiang Daqiao ➚ was the first bridge over the lower Yangzi built 1955-57 and opened up the area to trade considerably. Since then the city has been redeveloped and heavily industrialized. The provincial museum at Wuhan is one of the best in China with many exhibits from the Warring States and Three Kingdoms periods. Wuhan's Fengdu Ghost City ➚ is a more unusual tourist attraction.
Wudang Mountains, Hubei
The illustrious Ming
It was during the Ming dynasty that China achieved many accomplishments: a vast fleet sailed the seas and made many dicoveries.; an encylopedia of the accumulated knowledge was distilled into 11,000 chapers; trade with America brought in new vegetables and cotton that were widely grown.
Read More
Places to visit in Hubei
Donghu (East Lake) is an attractive park east of the center of Wuhan while near the bridge is the Huanghelou ➚ Yellow Crane Tower dating back over 1,700 years; the present building has recently been rebuilt on the original site. The Buddhist Guiyuansi 'Temple of Original Purity ➚' has thousands of ancient sacred texts. Much of Wuhan city is more modern; ferries run upstream on the Yangzi via the ancient city of Yichang through the gorges to Chongqing. Shengnongjia ➚ is a noted National Forest in the mountainous north-west. The Wudang ➚ mountains are famous for temples scattered among the mountains and gave rise to the Wudangquan ➚/Taijiquan (Taichi) martial art tradition.
Wuhan, from the Yellow Crane Tower. October 2005.
Image by
CraigTheBrit

➚
available under a
Creative Commons license

➚
Hubei Geography
Hubei has hot, humid summers and cool, dry winters. Wuhan is one of the 'three furnaces' of China in summer with temperatures over 104 ° F [40 ° C] combined with high humidity. Agriculturally it marks the lies on the dividing line of wheat growing in the north to rice growing in the south but it also grows a great many other crops including bamboo; Yichang black tea; Enshi green tea and sesame seeds. Industry is centered on the Wuhan area. The province produces some oil to add to China's sources of energy.
Library building of Wuhan University, Hubei
Hubei Climate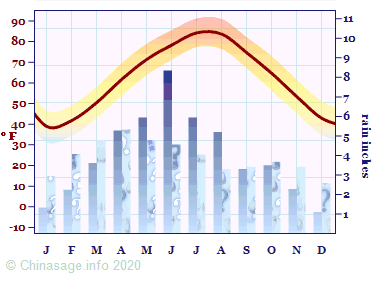 Both
Temp
Rainfall
° C/mms
° F/ins
Key
Show Bing Map

➚
Major Cities
Population
Huangshi

黄

石

593,160
Jingmen
荆

门

380,329
Jingzhou
荆

州

605,433
Qianjiang
潜

江

311,724
Shiyan

十

堰
396,115
Suizhou
随

州

348,102
Tianmen

天

门

382,362
Wuhan

武

汉

4,516,100
Xiangfan
襄樊
633,240
Xiantao
仙桃
425,967
Yichang

宜

昌

634,568
Airports
Universities
The leading university in Hubei province is Wuhan University. It has roots as an institution dating back to 1893 before becoming a University in 1928. It covers most subjects in the arts and sciences.. Undergraduates: 34133, Postgraduates: 13918, International students: 1477, GP World ranking 273
Huazhong is the main University in Hubei province and specializes on Science and Technology. In 1953 it began as an engineering institute before merging with other Wuhan institutions in 2000 to become a university.. Undergraduates: 36000, Postgraduates: 20040, International students: 560, GP World ranking 445
Source references used for this page:
Book : 60 Scenic Wonders in China, New World Press, 1980
pp. 148-151, 163-166;

Book : A Map History of Modern China, Catchpole, Heinemann, 1976
p. 44;

Book : China : Eyewitness Travel, Dorling Kindersley, 2012
p. 266-273;

Book : Insight Guides:China,APA, 1994
p. 307-310;

Book : Larousse Encyclopedia of the World, Hamlyn, 1964

➚
p. 520;

Book : Lonely Planet: China, 1988
pp. 47, 52, 240-248;

Book : Modern China: A companion to a rising power, Graham Hutchings, Harvard University Press, 2003
p. 211-212;

Hubei (chinatravel)

➚
;

Hubei (news)

➚
;

Hubei (wikitravel)

➚
;

Yangzi River (sacu)

➚
City populations for 2012, Province statistics National Bureau of Statistics 2014

Chinasage is a new web resource, started in 2012, pages will be added, enhanced and re-formatted regularly. Please check back soon for updated information about China.
We would be most grateful if you have any comments or suggestions to help improve this page. Our contact page is also available if you have a longer comment. Just type in a quick remark here:
Citation information: Chinasage, 'Hubei Province, China', last updated 1 Dec 2016, Web, http://www.chinasage.info/maps/hubei.htm.
Copyright © Chinasage 2012 to 2017