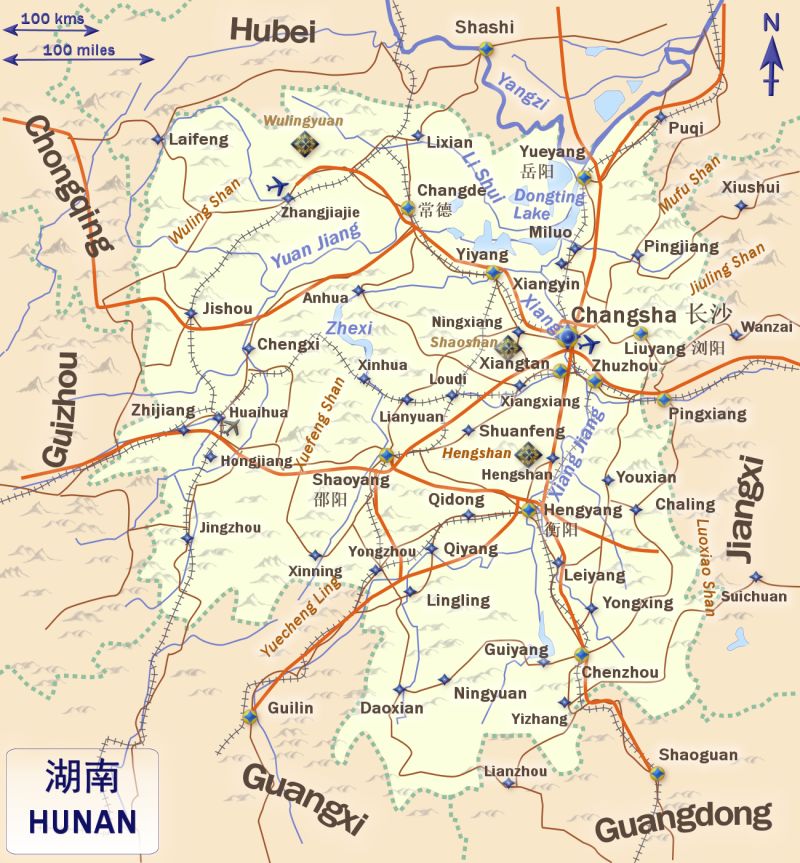 Hunan Province
Name

湖

南

(

hú

nán

)

['lake' 'south']

Capital
Changsha
Population
67.139 million (4.88 %) [7th] comparison table
Area
212,000 km2 [81,853 mile2] (2.21 %) [10th]
GDP
40,287 (10.81 %) [19th]


Google map of Hunan

Neighbors
Hubei
Jiangxi
Guangdong
Guangxi
Guizhou
Chongqing
Show province
Hunan province is defined by the river basins of the Yuan and Xiang rivers that both drain north-eastwards into Dongting Lake and from there to the Yangzi River (known in China as the Chang Jiang). The name originates from its position south of the Dongting Lake (the second largest freshwater lake in China) which is on the flood plain of the Yangzi. The shortened name for the province is the river name 'Xiang 湘'.
Hunan stands in the rich heartland of south central China surrounded by mountains. It has produced food to feed the northern provinces for centuries. The rapid growth of population in the 19th century led to famine, fueling support for the Taiping Rebellion and in the 20th century the Republican movement.
Fisherman at Zixing, Hunan
The leadership of the
People's Republic
since 1949 has been one of stability with an emphasis of continuity and steady progress. This was not the case in the early years. With China such a major power it is important to understand the background to the handful of people who have led China in a new direction.
Hunan History
In the Five Dynasties it became, briefly the kingdom of Ma before being absorbed into the Tang empire. Qu Yuan met his death in the Miluo river north of Changsha, and the Dragon Boat Festival (Duanwu) marks this event throughout the world. The mountainous fringes of Hunan are home to a number of minority people: Miao; Tujia; Dong and Yao, but most of the rich lowland area has been settled by Han Chinese since the Warring States Period. During the Qing dynasty friction with Han settlers led to a series of Miao Rebellions ➚ which were brutally put down. Hunan is famous as the birthplace of Mao Zedong at Shaoshan. Liu Shaoqi, one time Chairman of the Communist Party, was also born in the province at Ningxiang. In 1928 the Communist Pingjiang Uprising ➚ took place in Hunan against the Guomindang.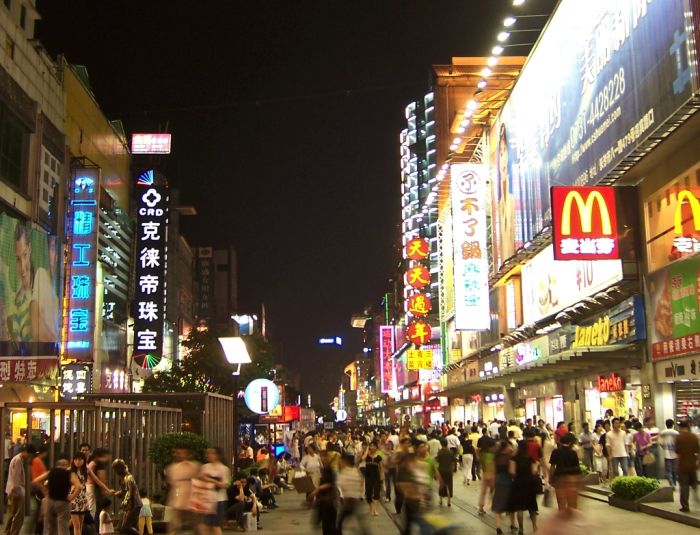 The
Huángxīng Lù
Commercial Pedestrian Street in Changsha. 15 Jun 2006
Image by
X. Zhou

➚
available under a
Creative Commons license

➚
Store
Buy books about China and other goods from our online store.
Places to visit in Hunan
Changsha is the largest city in Hunan and its history goes back 4,000 years, it stands on the busy overland route to Guangzhou, Guangdong. The Mawangdui ➚ museum in Changsha holds many archaeological finds from ancient China. There is a legacy of foreign development which came when the city became a treaty port in 1903. It was one of the last cities to fall to Japanese occupation in 1944. Orange Island ➚ has a memorial to Mao Zedong complete with a carving of his poem called 'Changsha' celebrating his home province. The city has a number of other sites relating to Mao's life.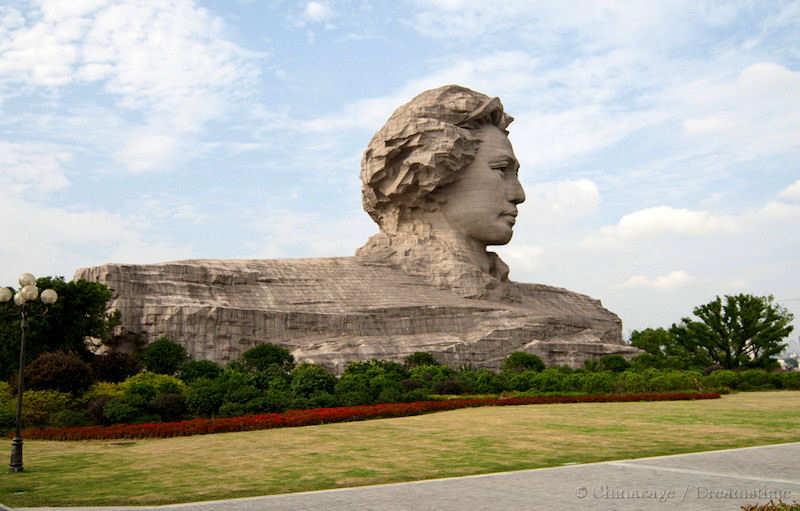 Sphinx like sculpture of
Mao Zedong
at Changsha, Hunan
Alone I stand in the autumn cold
On the tip of Orange Island,
The Xiang flows northward;
I see a thousand hills crimsoned through
By their serried woods deep-colored,
And a hundred barges vying
Over crystal blue waters.
Eagles split the air,
Fish glide in the limpid deep;
Under freezing skies millions of creatures contend for freedom.
Brooding over this immensity,
I ask, on this boundless land
Who rules over man's destiny?

Part of Mao Zedong's poem "Changsha".
Liuyang to the north east is famous for the manufacture of firecrackers - an indispensable part of any Chinese celebration. Up the Xiang river Hengyang is a large industrial city which also mines nearby mineral deposits. Mount Heng (the southernmost of two with that bear this name) is a famous Daoist sacred mountain with temples dotted around the forested slopes. Furongzhen is famous as the 'Hibiscus Town' of writer Gu Hua ➚. Wulingyuan Scenic Area ➚ is in the north west of the province, it is a large 243 sq miles [629 sq kms] forested and mountainous area. UNESCO ➚ has designated the area as important for its wildlife.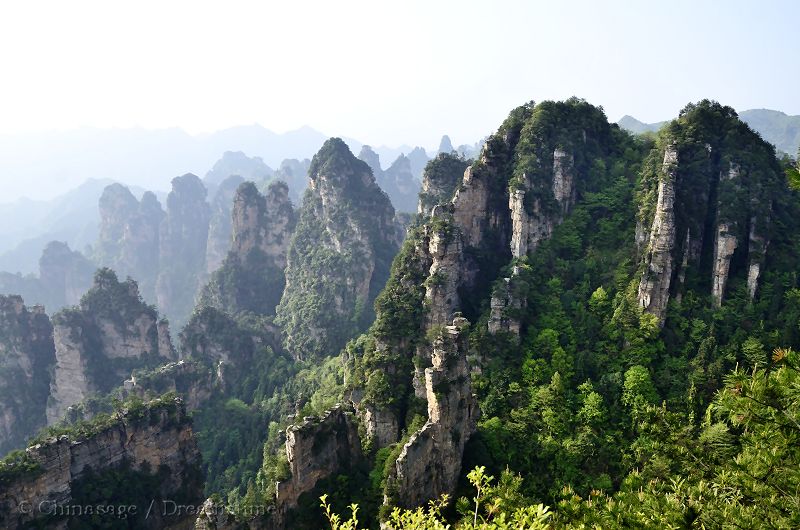 Zhangjiajie mountains, Hunan
廿

niàn twenty

Made up of [

廾

gǒng two hands radical 55]
Origin
Two ten symbols combined to give twenty. Mainly reserved for use in day numbers within a month
Full information for

廿
Yueyang Tower ➚ is an ancient pavilion overlooking Dongting Lake at the northern tip of the province. It commemorates battles going back to the Warring States period but has been rebuilt several times most recently in 1867; the tower now forms the western gate of Yueyang City. To the side of the tower is a pavilion named Drunk Three Times ➚ commemorating the legendary life of Tang itinerant and Daoist immortal Lu Dongbin. Both Du Fu and Li Bai , famous poets of the Tang dynasty wrote poems about the tower at Yueyang. A mausoleum to China's legendary Emperor Shennong is at Yandi Park ➚, Zhuzhou.
Hunan (or Xiang) Cuisine is famous for its spicy dishes. Green Tea produced at Dayong and Yinfeng are highly regarded teas. Junshun Silver Needle ➚ tea, 'The tea of Emperors' is grown to the west of Dongting Lake.
By many statistical measures Hunan is an average province, so it typifies the whole of China which befits its central geographical position.
Hunan Climate

Both
Temp
Rainfall
° C/mms
° F/ins
Key

Show Bing Map

➚
Major Cities
Population
Changde

常

德

517,780
Changsha

长

沙
3,093,980
Fenghuang

凤

凰
370,000
Hengyang
衡

阳

759,602
Liuyang
浏

阳

1,278,928
Shaoyang
邵

阳

339,575
Xiangtan
湘潭
674,189
Yiyang
益

阳

202,608
Yueyang
岳

阳

1,200,000
Zhangjiajie

张

家

界
1,476,521
Zhuzhou
株

洲

709,358
Airports
Source references used for this page:
Book : 60 Scenic Wonders in China, New World Press, 1980
pp. 133-136, 143-147;

Book : A Map History of Modern China, Catchpole, Heinemann, 1976
pp. 4, 40;

Book : China : Eyewitness Travel, Dorling Kindersley, 2012
p. 259-265;

Book : Lonely Planet: China, 1988
p. 217-229;

Book : Modern China: A companion to a rising power, Graham Hutchings, Harvard University Press, 2003
p. 218-220;

Hunan (chinatravel)

➚
;

Hunan (maps-of-china)

➚
;

Hunan (travelchinaguide)

➚
City populations for 2012, Province statistics National Bureau of Statistics 2014

Chinasage is a new web resource, started in 2012, pages will be added, enhanced and re-formatted regularly. Please check back soon for updated information about China.
We would be most grateful if you can help improve this page. Please visit our (secure) contact page to leave any comment. Thanks.
Citation information: Chinasage, 'Hunan, China', last updated 2 Dec 2016, Web, http://www.chinasage.info/maps/hunan.htm.
Please wait...
Downloading information about character
No information available


Copyright © Chinasage 2012 to 2018