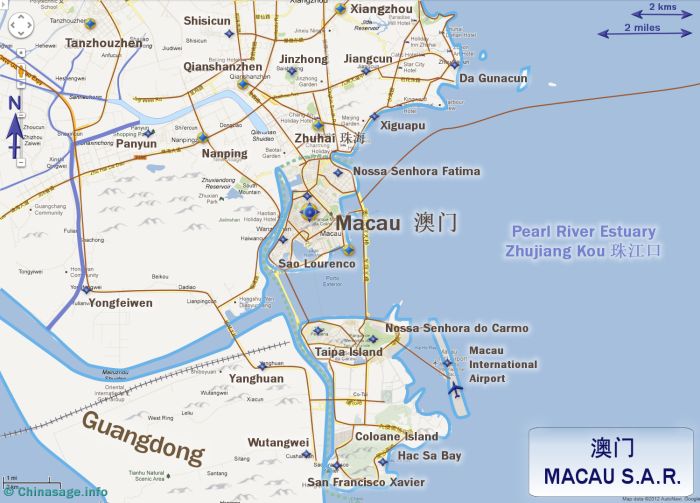 Macau Province
Name

澳

门

(

ào

mén

)

['bay' 'entrance']

Capital
Macau City
Population
0.6362 million (0.05 %) [33rd last] comparison table
Area
1,000 km2 [386 mile2] (0.01 %) [32nd]
GDP
513,427 (1.31 %) [1st]


Google map of Macau
Neighbors
Guangdong
Hong Kong
Show province
Macau (or Macao) is a relic of China's subjugation by European powers. Macau stands on a rocky peninsular on the mouth of the Zhu (Pearl) River estuary connected by bridges to Taipa and Coloane Islands .
Macau skyline, 2013
Protected by mountains on three sides and the Yangzi river on the other, Sichuan has the feel of an isolated kingdom. Historically Chinese culture has held out longest here when China came under attack. It has hot, moist summers and has been heavily populated for two thousand years.
Macau History
Macau is a Special Administrative Region (S.A.R.) rather than a province like nearby Hong Kong on the other side of the Pearl river estuary. The mandarin Chinese name for the island is 'Aomen'. Both Cantonese and Portuguese are widely spoken in the city. Originally Portugal helped China remove Japanese pirates who were damaging trade with the port of Guangzhou (Canton). Portuguese traders then settled in the 16th century and it remained under the control of Portugal until December 20th 1999, making it the first and last foreign presence in China. The early trade was extremely lucrative, the Portuguese acted as the trusted middlemen for trade between China and Japan. There was a ban on direct trade between China and the 'barbarous' Japanese and so the Portuguese had a monopoly of the trade in luxury goods such as silk which they bought with Japanese silver. Because gold in China was relatively undervalued they could make huge profits by exchanging silver for gold and shipping the gold back to Europe. This lucrative trade came to an end when all contact with Europeans was banned by the Japanese Emperor at the end of the 1630s.
In the Qing dynasty up to the time of the Opium Wars foreign merchant ships were not allowed into Guangzhou for much of the year, and so the European crews spent several months in Macau. From the mid 18th century up until 1876 Macau was the center of the infamous 'coolie trade' where Chinese workers were treated no better than slaves. They were held in 'barracoons ➚' at Macau while awaiting transport to Cuba, Peru and other foreign destinations. Many of the old buildings are of the Portuguese style even though they now represent only 2% of the population. Portugal's neutrality in the second World War made it a refuge for 600,000 fleeing the Japanese occupation. When China was closed to International trade during the 1950s Macau became the conduit for many illicit deals. Later on, in the 1980s it began a period of rapid development but was far out-stripped by Hong Kong. A certain degree of democracy was introduced to the island in 1976.
Like Hong Kong it has fifty years of semi-autonomy within China before it becomes fully assimilated. Unlike Britain, Portugal never had military conflict with China and so Macau has remained an example of foreign and Chinese living and working side-by-side. It has its own currency the pataca ➚ which is currently pegged to the Hong Kong dollar. Macau has a tiny area of only 11 sq miles [28 sq kms] with the highest population density in the world.
Sao Lourenco, Macau is a lovely neo-classical church with a few Baroque touches and a Chinese tile roof. It is located in the historic heart of the city.
Thu 6
th
Apr
Following up on the previous Giant Panda story the official Chinese news story has announced the formation of huge 10,476 sq miles [27,134 sq kms] nature reserve on the borders of Sichuan, Gansu and Shaanxi making it three times bigger than the U.S.'s Yellowstone Park. The aim is for the wild pandas to be given a contiguous area so they can move freely. But to make this happy outcome possible, 170,000 people need to be relocated. Such a project would be unthinkable elsewhere but with people still keen to move from rural communities to urban centers so this may be a popular move.
Read full story...
Places to Visit in Macau
The Portuguese gave it the name 'Macau' probably after a temple to Mazu a deity of the seafarers in the area. A Ming temple dedicated to her, also known as A-Ma Gau Temple, is located in the south west of the main island. The International airport has been built on an artificial island due to the scarcity of land. There is a popular horse racing course on Taipa Island. The Fortaleza do Monte ➚ on the central high part of the island has a museum documenting the outpost's history, while the 'Largo do Senado' is at the old heart of the city with many colonial style buildings. Macau Tower at 1,107 feet [337 meters] offers dizzying view of the whole area.
View of Macau Tower at sunset
Imperious Dragons
With the dragon dance and the dragon boat festival the Chinese dragon is still a common sight in China. Considered well-intentioned and not evil the dragons that control the rains have been the most important animal in Chinese symbolism for thousands of years.
Read More
Macau's main industries continue to be tourism and gambling. With major casinos like Sands Casino ➚; Casino Lisboa ➚ and Venetian Macao ➚ (the largest in the World), it generates more gambling revenue than Las Vegas ➚. The traditional cuisine of Macau has a Portuguese style using olive oil and almonds and saffron. A very cosmopolitan mix of other cuisines is available, with seafood a major constituent.
Old streets of Macau at night Copyright © Dreamstime see
image license
Climate
Macau has a warm and humid climate through most of the year. It can be very wet during the summer months.
Macau Climate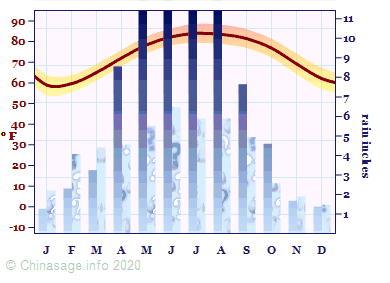 Both
Temp
Rainfall
° C/mms
° F/ins
Key
Show Bing Map

➚
Major Cities
Population
Macau City

澳

门

440,000
Airports
Source references used for this page:
Book : A Map History of Modern China, Catchpole, Heinemann, 1976
p. 14;

Book : China : Eyewitness Travel, Dorling Kindersley, 2012
p. 326-329;

Book : Modern China: A companion to a rising power, Graham Hutchings, Harvard University Press, 2003
p. 288-292;

Book : The Encyclopedia Sinica,Samuel Collins, Oxford University Press, 1917

➚
p. 133;

Macau (books)

➚
;

Macau (chinatravel)

➚
;

Macau (travelchinaguide)

➚
;

Macau (wikitravel)

➚
City populations for 2012, Province statistics National Bureau of Statistics 2014

Chinasage is a new web resource, started in 2012, pages will be added, enhanced and re-formatted regularly. Please check back soon for updated information about China.
We would be most grateful if you have any comments or suggestions to help improve this page. Our contact page is also available if you have a longer comment. Just type in a quick remark here:
Citation information: Chinasage, 'Macau Special Administrative Region China', last updated 12 Mar 2013, Web, http://www.chinasage.info/maps/macau.htm.
Copyright © Chinasage 2012 to 2017