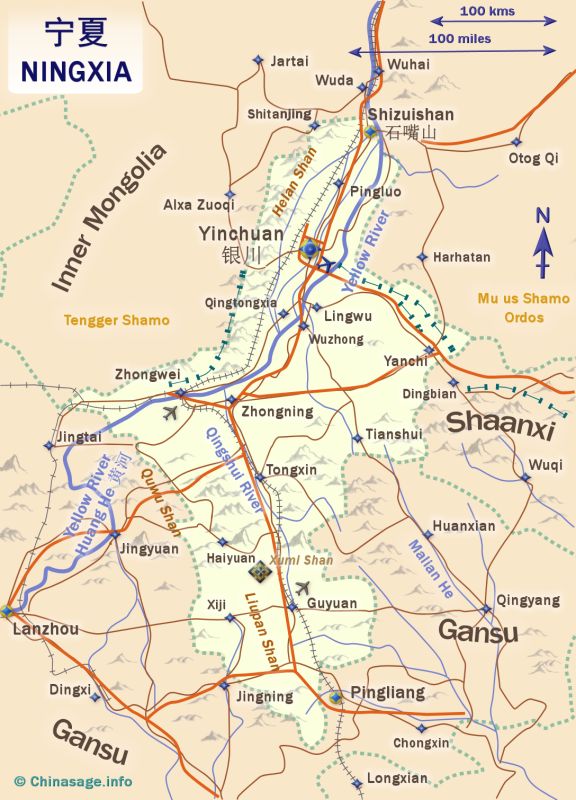 Ningxia Province
Name

宁

夏

(

nìng

xià

)

['better' 'summer']

Old Name

Ningsia WG
Capital
Yinchuan
Population
6.579 million (0.48 %) [30th] comparison table
Area
66,000 km2 [25,483 mile2] (0.69 %) [27th]
GDP
41,834 (1.10 %) [17th]


Google map of Ningxia

Neighbors
Inner Mongolia
Shaanxi
Gansu
Show province
Ningxia is more formally known as the 'Ningxia Hui Autonomous Region', and so is not strictly a province of China; the designation reflects the high (34%) proportion of Hui people that make it ethnically diverse. It was created in 1928 to govern a larger area (including parts of Mongolia) only to disappear in 1954 before re-creation in 1958. It is situated on the bend of the Yellow River (Huang He) as it heads north towards Mongolia. Apart from the waters of the river it is a dry and dusty place with thick loess deposits.
The Great Wall marks its northern boundary, its southern border follows the Qingshui river basin. It is a poor province, only moderately industrialized; although the recent discovery of oil; coal and gas fields has brought rapid development in places.
Settled as early as the Xia dynasty, Ningxia flourished as the Yellow River offered reliable irrigation - here the river is not so prone to flooding here as it is further downstream. The Xintongxia Dam 青铜峡 and Qintong Gorge (1968) hydro-electric dams on the Yellow River have helped to control river flow and generate electricity.
Thu 7
th
Jun
The power of the huge Chinese economy makes itself felt in all sorts of unexpected ways. One area of recent concern is the demand for a French export that is not food or wine but oak timber. China denuded itself of forests over the centuries and there is a severe shortage of quality hardwood. (There is however plenty of softwood (conifer) available from the north-eastern provinces). To allow woods to regenerate there are strong controls on felling and so China imports more timber than any other country. France has a good deal of deciduous woodland that has been carefully managed over hundreds of years so there is a good supply of mature oak which requires 100 years to grow. There is now very strong demand in China for quality wooden oak floors and furniture. Although this may be good for France's balance of payments it is bad news for the saw mills in France as the timber is sent to China unprocessed as it's far cheaper to process it there.
Read full story...
Read all our
news stories...
Yinchuan
Yinchuan (银川 Yín chuān) or 'Phoenix City' was once the capital of the Xixia (Western Xia) kingdom in the 11th century. The city is split into the modern part (Xincheng) and the old part (Laocheng) to the east. There are many sites for tourists to visit in Ningxia including the Western Xia Tombs ➚ which are mini pyramids at Helan Shan; Baisikou Twin Tower ➚; Haibao Tower; Chengtian Xita; Nanguan mosque ➚ and colorful markets.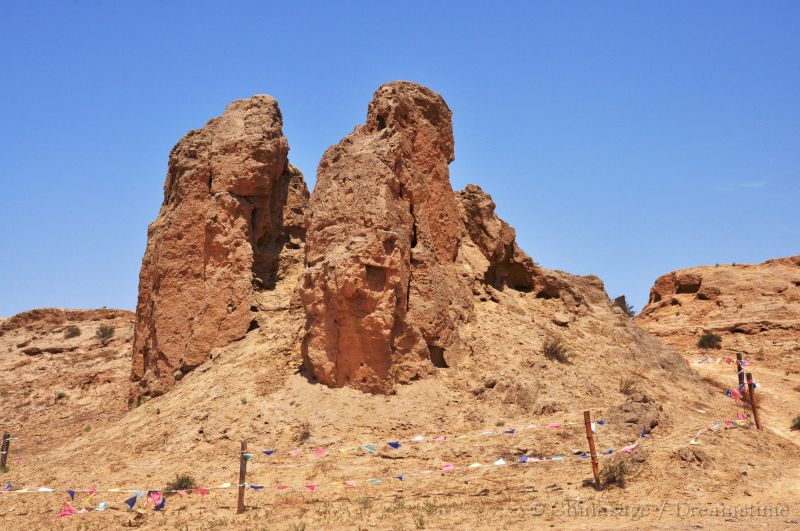 The ruins of the
Great Wall
, this section is a mud built wall that was erected during the rule of the Ming Dynasty, Ningxia
Testimonial
"I'm new to studying Chinese and I find your website really brilliant in helping me with characters and their origins. Thank you. (
Chinese characters
)
Unsolicited comment from genuine visitor to Chinasage.
The Hui (Muslim) people are descended from traders along the Silk Route who settled here and then by Central Asian immigrants during the Yuan dynasty. Portions of the rammed earth portion of the Great Wall can be seen at several locations along this vital defensive segment of the wall along the arterial Silk Road. Complex irrigation schemes created as early as the Han dynasty have allowed agriculture to flourish in the river valleys. To the south of Yinchuan lies Qingtongxia Zhen ➚ with 108 dagobas of Western Xia or Yuan dynasty date.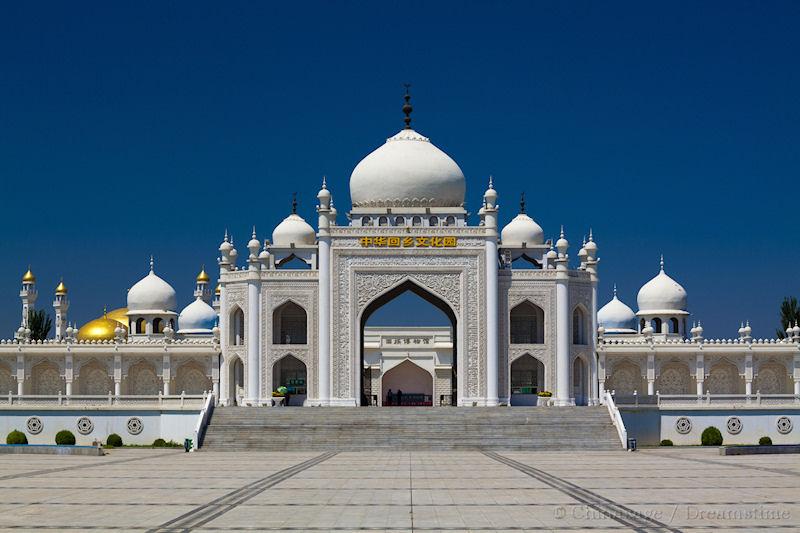 Mosque for Hui people, Ningxia
Untangling the religions of China is quite a struggle for those unfamiliar with the country. There are three main belief systems Confucianism, Daoism and Buddhism that have co-existed in relative harmony for over a thousand years. Islam, Christianity and Ancestor veneration are also described in our comprehensive treatment of the subject.
Southern Ningxia
The southern portion of Ningxia province is generally poorer with a high proportion of Muslims. Liupin mountain ➚ is a scenic area. Xumi shan ➚ has a great many carved figures. Tongxin has one of the largest mosques ➚ in the province, and is built in the Chinese style. To the west near Zhongwei, Shapotou ➚ is set on the fringes of the Tengger Desert and here the sand can be heard to 'sing' in the wind.
Ningxia is famous for growing Wolfberries ➚ or 'goji' berries that have been touted as a health or super food in Europe and America. It is one of the ingredients of a local specialty eight treasure tea 八宝茶 babaocha. Licorice ➚ root is also grown in this area.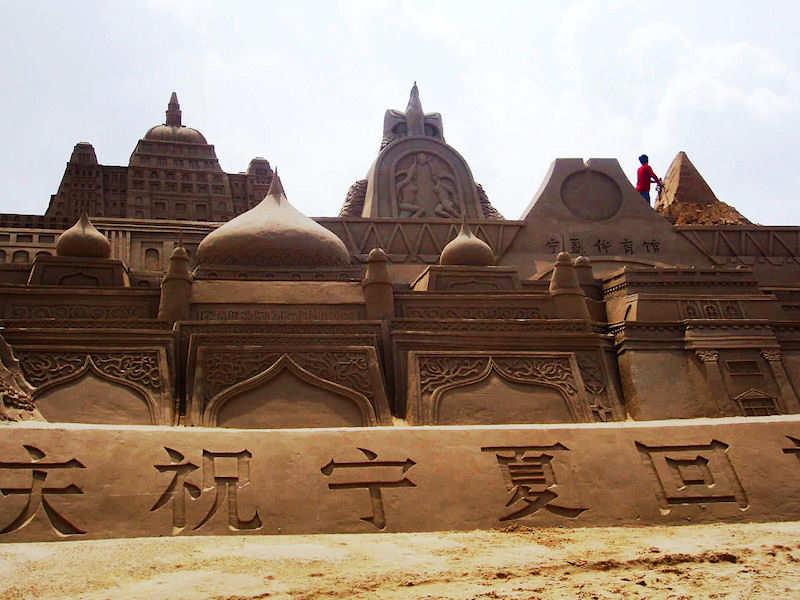 Sand sculptures in Desert Lake scenic spot near Zhongwei, Ningxia. August 2008.
Image by
Fanghong

➚
available under a
Creative Commons license

➚
Ningxia Climate
Ningxia belongs to the dry north as far as climate is concerned, it has cold winters and short but hot summers with little rainfall.
Ningxia Climate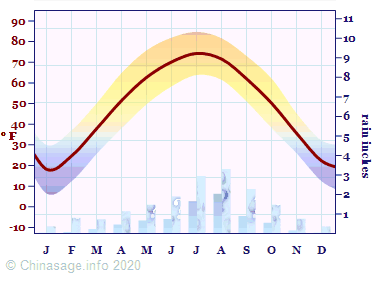 Both
Temp
Rainfall
° C/mms
° F/ins
Key

Show Bing Map

➚
Major Cities
Population
Shizuishan

石

嘴

山

136,570
Yinchuan
银

川

475,101
Airports
Source references used for this page:
Book : China : Eyewitness Travel, Dorling Kindersley, 2012
p. 475-477;

Book : Insight Guides: China, APA publications, 1994
p. 223-224;

Book : Lonely Planet: China, 1988
p. 729-735;

Ningxia (chinatravel)

➚
;

Ningxia (travelchinaguide)

➚
;

Ningxia (wikitravel)

➚
City populations for 2012, Province statistics National Bureau of Statistics 2014

Back to top

Chinasage is a new web resource, pages will be added, enhanced and re-formatted regularly. We would be most grateful if you can help improve this page. Please visit our (secure) contact page to leave any comment. Thanks.
Citation information for this page : Chinasage, 'Ningxia Autonomous Region, China', last updated 24 Nov 2016, Web, http://www.chinasage.info/maps/ningxia.htm.
No information available


Copyright © Chinasage 2012 to 2018
Please wait...
Downloading information about character