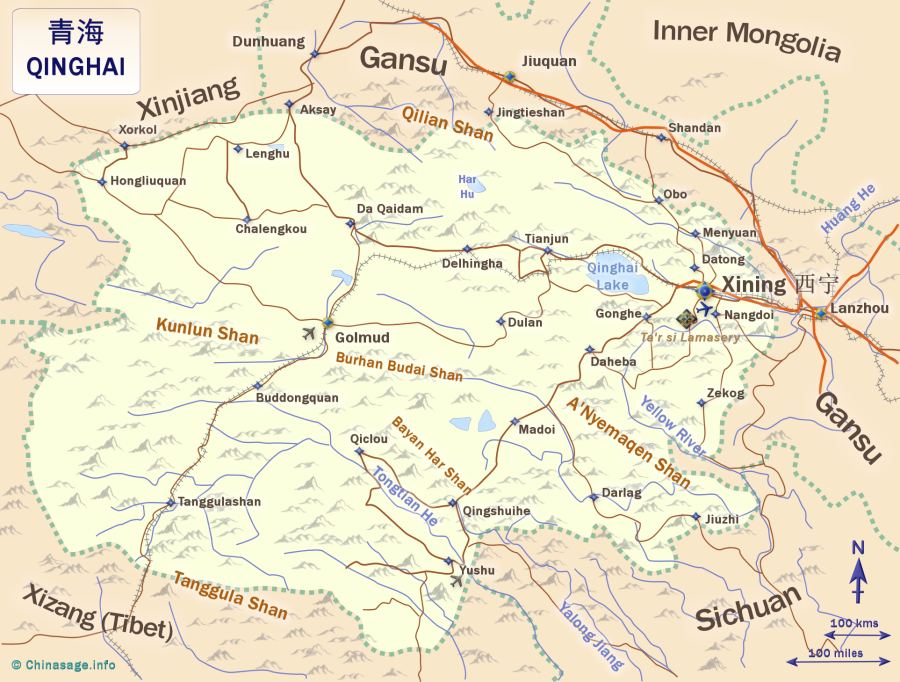 Qinghai Province
Name

青

海

(

qīng

hǎi

)

['green' 'sea']

Old Name

Chinghai WG
Capital
Xining
Population
5.806 million (0.42 %) [31st] comparison table
Area
720,000 km2 [277,992 mile2] (7.50 %) [4th]
GDP
39,633 (0.92 %) [21st]


Google map of Qinghai

Neighbors
Tibet
Xinjiang
Gansu
Sichuan
Show province
Qinghai is often over-looked, its neighbors Tibet and Xinjiang are much better known even though it is part of the same high Tibetan plateau. Qinghai is geographically and historically part of the Tibetan kingdom; it became a Chinese province as late as 1928. Subject to very low rainfall, cool summers and very cold winters it is not conducive to agriculture and its isolation makes industrial development difficult. The northwest is the driest area; while the central basin Qaidam Pendi ➚ has a harsh desert terrain with salt marshes and intermittent river courses; together this forms the ancient region of Amdo ➚. Except for the eastern portion close to Gansu the province did not come under Chinese control until the Qing dynasty. Its desolate nature has made it a suitably remote location to build prison camps for dangerous criminals.
Mountain and lake on Qinghai-
Tibet
plateau
The Complete Confucius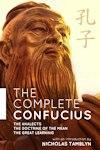 Understanding the teachings of Confucius is essential to understanding both Chinese history and the future. This modern translation of the old sage's work from 2,500 years ago. It includes not only the
Analects of Confucius
but also
The Doctrine Of The Mean
and
The Great Learning
.
More details...

➚
Qinghai Lake, also known as Kokonor, after which the province is named, is the largest lake in China 1,740 sq miles [4,507 sq kms] and the largest saltwater lake in Central Asia. It stands close to the province's north-eastern border; the salt lake is a haven for birds at Spring time - especially on an island called 鸟岛 niǎo dǎoBird Island ➚. The Lake is at a high altitude 10,500 feet [3,200 meters] and surrounded by good pasture. Some pilgrims spend about a month to walk around the margin of the lake. Most of the agriculture and limited industry is located near here and so is the provincial capital city Xining. Discovery of oil fields within the province has led to patchy industrial development. Lake Zabuye ➚ is China's main source of the important element Lithium ➚. Tanjianshan ➚ near Da Qaidam has an important gold mine.
Recently tourism and development has been greatly aided by the completion of the Lanzhou to Lhasa railway ➚ running through the middle of Qinghai.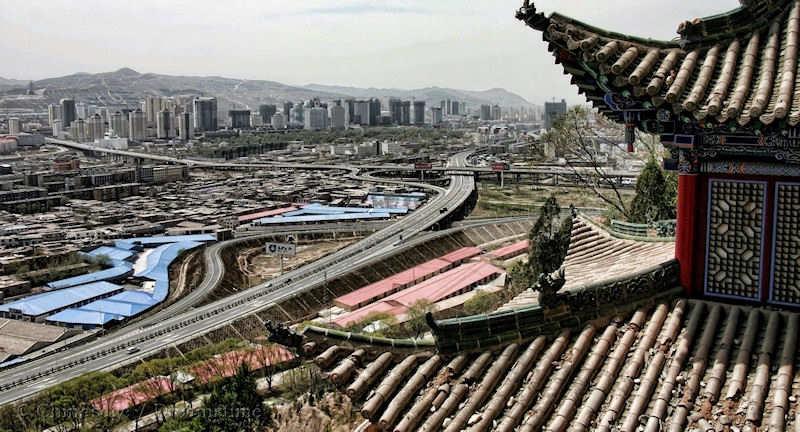 Daoist
temple near center of Xining, Qinghai

Proverb
wade hot water tread fire
Wade through scolding water and burning flame
Showing great courage and valour
Places to visit in Qinghai
Close to Ledu is the ancient Qutan Monastery ➚. Golmud is an oil and transport town on the main railway link from Gansu to Tibet. Bukadaban Feng ➚ is the highest mountain peak (at 22,507 feet [6,860 meters]) in Qinghai on the Qinghai-Xinjiang border. Mengda Tian Chi ➚ (Heavenly Lake) is close to the Yellow River 124 miles [200 kms] south east of Xining. It is a Nature reserve and is surrounded by beautiful scenery.
Xining has a 14th century Great Mosque ➚ one of the largest in China. The Ta'er or Kumbum Lamasery ➚ is an important center for Tibetan Buddhism located south of Xining. It was the birthplace of the present 14th Dalai Lama ➚. An annual horse festival at Jyekundo ➚ (Yushu) in July is a colorful local event. Gui'de ➚ south of Xining has many fascinating Qing dynasty buildings.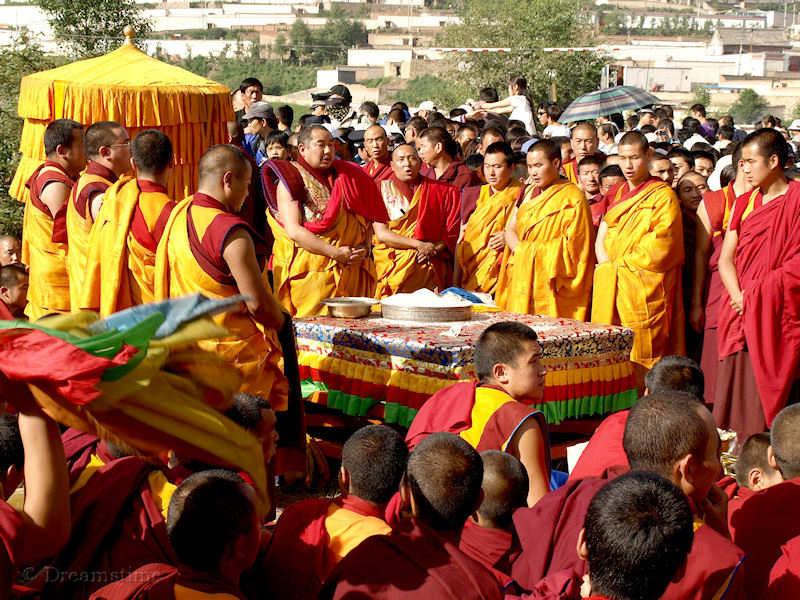 Buddhist
prayer ceremony at Xining, Qinghai Copyright © Dreamstime see
image license
Qinghai Geography
There are Tibetan, Mongolian and Hui people together with Han Chinese in the cities scratching a living in the harsh conditions. Much of Qinghai Province is poor pasture land for yaks and sheep. The province is the source of both the Yangzi (known in China as Chang Jiang and Tongtian He in its upper reaches) and also the Huang He (Yellow River), the two great rivers of China. The Mekong river ➚ also rises in the south-east of Qinghai. The area sourcing these three great rivers is designated the Sanjiangyuan ➚ 三江源 Three Rivers National Park.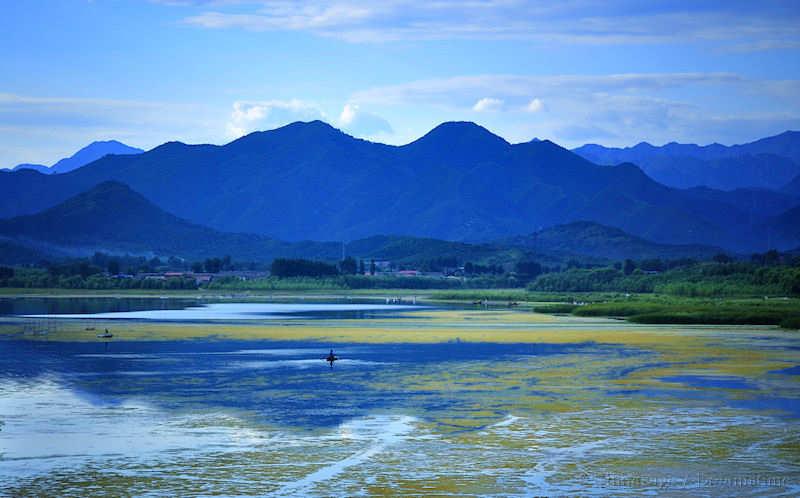 Fringe of Qinghai Lake
Qinghai Climate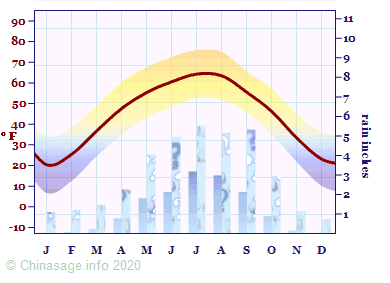 Both
Temp
Rainfall
° C/mms
° F/ins
Key

Show Bing Map

➚
Major Cities
Population
Xining

西

宁

767,531
Airports
Source references used for this page:
Book : China : Eyewitness Travel, Dorling Kindersley, 2012
p. 499-501;

Book : Life along the Silk Road, Susan Whitfield, University of California Press, 1999
p. 24-25;

Book : Lonely Planet: China, 1988
p. 788-808;

Book : Modern China: A companion to a rising power, Graham Hutchings, Harvard University Press, 2003
p. 350-352;

Book : Symbols of China, Feng Jicai, Compendium, 2010
p. 77;

Qinghai (chinatravel)

➚
;

Qinghai (travelchinaguide)

➚
;

Qinghai (wikitravel)

➚
City populations for 2012, Province statistics National Bureau of Statistics 2014

Back to top

Chinasage is a new web resource, pages will be added, enhanced and re-formatted regularly. We would be most grateful if you can help improve this page. Please visit our (secure) contact page to leave any comment. Thanks.
Citation information for this page : Chinasage, 'Qinghai, China', last updated 5 Dec 2016, Web, http://www.chinasage.info/maps/qinghai.htm.
No information available


Copyright © Chinasage 2012 to 2018
Please wait...
Downloading information about character