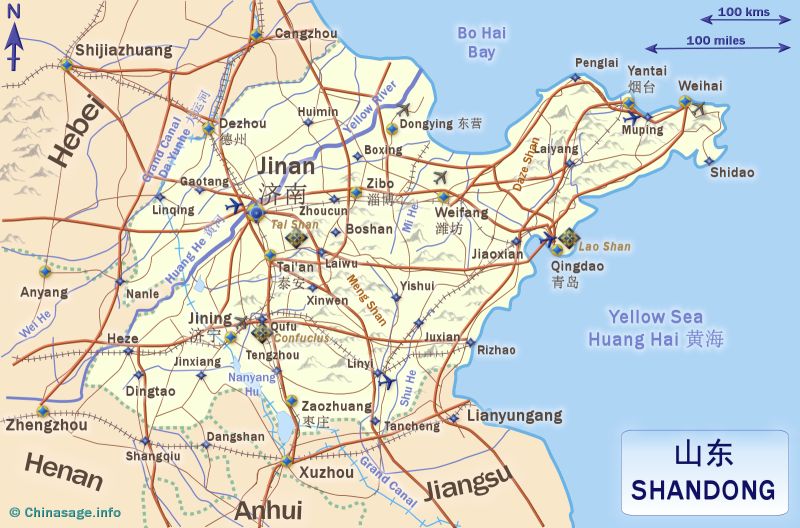 Shandong Province
Name

山

东

(

shān

dōng

)

['mountain' 'east']

Old Name

Shantung WG
Capital
Jinan
Population
97.614 million (7.10 %) [3rd] comparison table
Area
157,000 km2 [60,618 mile2] (1.64 %) [19th]
GDP
60,879 (23.75 %) [12th]


Google map of Shandong

Neighbors
Hebei
Henan
Anhui
Jiangsu
Show province
Along with porcelain and tea,
silk
is one of China's important innovations. Just like other great inventions the secret was closely guarded for centuries. Fabulous fine cloth was an important export as far back as the early Roman Empire.
Shandong stands as if an island on the East China Plain, indeed in geological times it was an island before the Yellow and Yangzi rivers joined it to the mainland by depositing rich alluvial soil to form the land to its west. As recently as 1855 the Yellow River's lower course entered the sea to the south of Shandong. So Shandong is set apart from its neighbors even though the Grand Canal passes along its western border. Mountains make up the central spine of the province and so most people live along the rugged coastline.
History
Shandong has been long inhabited, archeologists have unearthed evidence of the Longshan Culture ➚ 4,500 years ago in the province. It became part of China in the Eastern Zhou dynasty where it was under the control of the Qi and Lu kingdoms. The capital of the Qi kingdom was at Yingqiu ➚ (Linzi) near Zibo. It was at this time the great sage and philosopher Confucius was born at Qufu in Shandong. Later in the Three Kingdoms period Shandong was part of the Wei kingdom. Up until then it had been sparsely populated, during the Western Jin dynasty Han people from the north began to settle in large numbers. Shandong then suffered centuries of turmoil as it was on the north-south divide of China. It became a stable, governed province again only in the Ming dynasty .
Entrance Gate to Confucius family Cemetery at Qufu, Shandong
In Qing times it was subject to foreign coastal attack, Germany occupied Qingdao and Jinan while Britain took Weihai as 'concessions'. The fairly cool maritime climate of Shandong proved attractive to Europeans and the Eastern ports controlled the sea route to Tianjin and Beijing. The influx of foreigners led to tensions with the local people and it was in Shandong that a movement started that later became the Boxer Rebellion. During the Qing the province was barely under Imperial control with many groups and secret societies vying for power. Many Shandong people emigrated to Manchuria to escape the conflicts. Japan invaded the peninsula in 1914 under the pretext of ejecting the defeated Germans. In the following Treaty of Versailles ➚ Japan was formally handed Germany's sphere of influence in Shandong. It was only after the defeat of Japan in 1945 that it become a fully integrated Chinese province once again. Since Deng Xiaoping's reforms it has opened up to trade with South Korea across the Yellow Sea, and South Koreans have invested heavily in Shandong's rapid industrial development.
The island of
Hainan
is China's southernmost province. Many Chinese travel here for a holiday in the sun and recently some have been buying up holiday flats and houses. The tropical climate allows bananas and palms to flourish.
Places to visit
With sites sacred to Confucian and Daoist followers there is much to appreciate in the scenic beauty of the Shandong mountains. Tai shan ➚ 台山 Táishān mountain is revered not only by Daoists but also Buddhist and Confucians with many shrines dotted over it. It is said to have been formed when the Eight Immortals fought the Sea dragon. As Mount Tai is considered the most sacred of Chinese mountains many visitors scale its heights. They follow in the footsteps of Chinese Emperors and even Chairman Mao. Emperor Wudi of the Han dynasty was one of the first Emperors to make sacrifices here. The Emperor would make two sacrifices to Earth and two to Heaven, reporting his achievements of office and praying for heavenly favor. Jade tablets were buried inscribed with his accomplishments. A famous stone inscription is of the Buddhist Diamond Sutra. Traditionally the mountain was held to be the location of a tribunal that judges the deeds of the living and the dead. In many towns over China sacred stones are said to have come from Mount Tai with the power to ward off evil. Over the centuries poets such as Li Bai have been inspired by the mountain.


View of Mount Taishan, Shandong
Taishan reaches an impressive 5,029 feet [1,533 meters] and the route to the top has many sculptures, inscriptions, temples and waterfalls. The summit is called Jade Emperor Peak. The Taishan Temple ➚ at the base of the mountain dates back to Han dynasty times and greatly expanded in the Tang and Song dynasties when many splendid halls were built. Well trodden routes lead to interesting temples near the summit.
Jinan is an ancient city on an important north-south route that crosses the Yellow River; it has many natural springs. Zibo is now a center for large scale coal mining.

Old German heart of the city of Qingdao, Shandong
Untangling the religions of China is quite a struggle for those unfamiliar with the country. There are three main belief systems Confucianism, Daoism and Buddhism that have co-existed in relative harmony for over a thousand years. Islam, Christianity and Ancestor veneration are also described in our comprehensive treatment of the subject.
Qufu has a set of temples to mark the birthplace of Confucius. These are large and lavish, indeed comparable to the Forbidden City in Beijing, underlining how important Confucianism has been throughout China's long history. The temple at Qufu has 53 ornamental gateways and many halls. There are many fine courtyard buildings within the temple complex, where wealthy landowners have bequeathed land in Confucius' memory. The Confucian Woods holds monuments to members of the Kong family down the centuries. Inscribed stone slabs (steles) are there in their thousands documenting ancient life in China. The Kong family who are direct descendents of the sage, now in their 83rd generation, claim the longest family tree in the world. Nearby is the only pyramidal tomb in China - to the legendary emperor Shao Hao ➚.
Penglai Pavilion ➚ on the northern side of the peninsula is one of the Four Great Towers of China. It is considered to be the home of the Eight Immortals of the Daoist tradition. Yantai ➚ to its east, sometimes known as 'Chefoo', is an attractive coastal port with sandy beaches. Close to Qufu at nearby Zoucheng ➚ is the birthplace of the second sage of Confucianism: Mencius.
Qingdao retains some of its German heritage, the world famous Qingdao (Tsingtao WG) beer brewed here used German know-how. As well as German style beer you can eat German pastries and breads. Qingdao means blue-green island and it remained a small fishing village for many centuries. Cool ocean currents keep the climate cool and it attracts tourists who wish to escape the inland summer heat.
Mount Lao ➚ 3,716 feet [1,133 meters] is near Qingdao, and although less visited than Taishan, is equally impressive. The largest temple is Taiqinggong ➚ dating from the Song dynasty with over a hundred buildings in the complex. Laoshan's clear waters are considered an essential ingredient of Qingdao beer ➚. The ancient tradition of kite flying in China continues at Weifang where there is a kite museum and an international kite festival each year.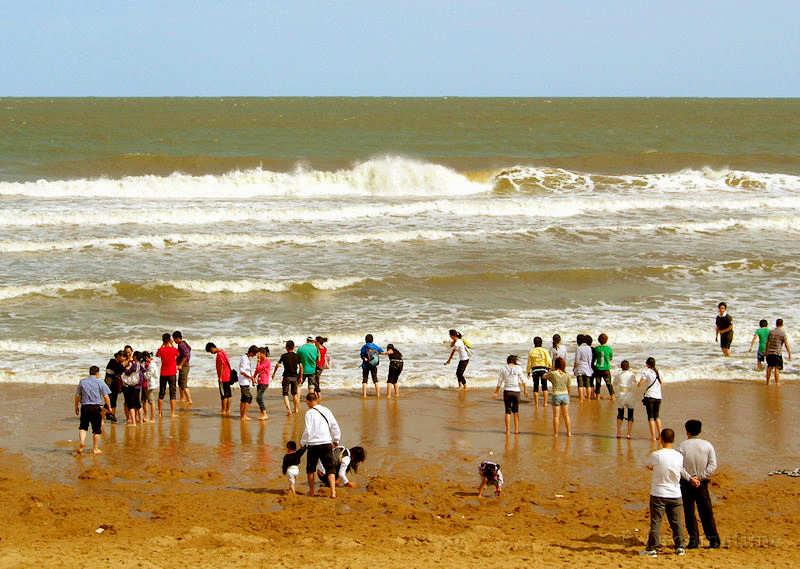 A beach on Bohai Bay, Shandong Copyright © Dreamstime see
image license
Geography
Shandong has become a major industrial province in the last 30 years with the third largest population of nearly 100 million people. It has large deposits of coal and oil and makes many domestic goods. It has the best gold reserves and rates second for diamonds within China. The fringes of the Yellow River plain provide good agricultural land for wheat and potatoes. The fertile valleys to the west produce cotton; soybean; peanuts and tobacco. The warm, frost free climate allows for a number of extensive vineyards as well as orchards.
Shandong Climate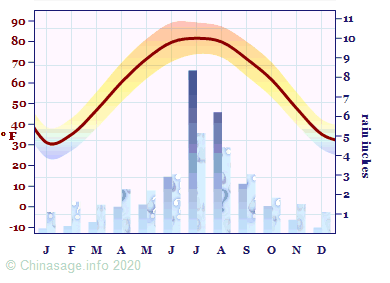 Both
Temp
Rainfall
° C/mms
° F/ins
Key

Show Bing Map

➚
Major Cities
Population
Dezhou

德

州

379,555
Dongying

东

营
525,461
Feicheng
肥

城

329,813
Heze
菏

泽

254,602
Jinan
济

南

4,335,989
Jining
济

宁

450,327
Laiwu
莱芜
124,108
Liaocheng
聊

城

226,930
Linyi
临沂
270,669
Qingdao

青

岛

3,718,835
Rizhao

日

照

246,387
Tai'an
泰

安

5,499,000
Tengzhou
滕

州

394,504
Weifang
潍坊
394,732
Weihai
威

海

152,595
Xintai

新

泰
222,459
Yantai
烟

台

719,332
Zaozhuang
枣庄
183,665
Zhucheng
诸

城

1,086,222
Zibo
淄博
3,129,228
Zoucheng
邹

城

190,537
Airports
Source references used for this page:
Book%20:%2060%20Scenic%20Wonders%20in%20China%2c%20New%20World%20Press%2c%201980
pp. 93-95, 103-106;

Book%20:%20A%20Dictionary%20of%20Chinese%20Symbols%2c%20Eberhard%2c%20Routledge%2c%201983
p. 284;

Book%20:%20A%20Map%20History%20of%20Modern%20China%2c%20Catchpole%2c%20Heinemann%2c%201976
pp. 4, 32, 40;

Book%20:%20China%20:%20A%20short%20cultural%20history%2c%20G.P.%20Fitzgerald%2c%20The%20Cresset%20Press%2c%201950
p. 222-223;

Book%20:%20China%20:%20Eyewitness%20Travel%2c%20Dorling%20Kindersley%2c%202012
p. 141-149;

Book%20:%20China%20A%20to%20Z%2c%20May-lee%20Chai%20and%20Winberg%20Chai%2c%20Plume%2c%202007
p. 204-205;

Book%20:%20Everyday%20Life%20in%20Early%20Imperial%20China%2c%20Michael%20Lowe%2c%20Carousel%2c%201973
p. 111-113;

Book%20:%20Insight%20Guides:%20China%2c%20APA%20publications%2c%201994
p. 196-201;

Book%20:%20Lonely%20Planet:%20China%2c%201988
p. 418-445;

Book%20:%20Modern%20China:%20A%20companion%20to%20a%20rising%20power%2c%20Graham%20Hutchings%2c%20Harvard%20University%20Press%2c%202003
p. 370-373;

Book%20:%20Symbols%20of%20China%2c%20Feng%20Jicai%2c%20Compendium%2c%202010
pp. 88, 209;

Book%20:%20The%20Cambridge%20Illustrated%20History%20of%20China%2c%20Patricia%20Embury%2c%20Cambridge%20University%20Press%2c%202010
p. 71;

Map%20of%20Shangdong%20Province%2c%20China

➚
;

Shandong (wikitravel)

➚
;

Shandong%20Travel%20Guide%20-%20Home%20Town%20Of%20Confucius

➚
;

Shandong%20Travel%20Guide:%20Map%2c%20Weather%2c%20History%2c%20Sights

➚
City populations for 2012, Province statistics National Bureau of Statistics 2014

Back to top

Chinasage is a new web resource, pages will be added, enhanced and re-formatted regularly. We would be most grateful if you can help improve this page. Please visit our (secure) contact page to leave any comment. Thanks.
Citation information for this page : Chinasage, 'Shandong, China', last updated 2 Dec 2016, Web, http://www.chinasage.info/maps/shandong.htm.
No information available


Copyright © Chinasage 2012 to 2018
Please wait...
Downloading information about character