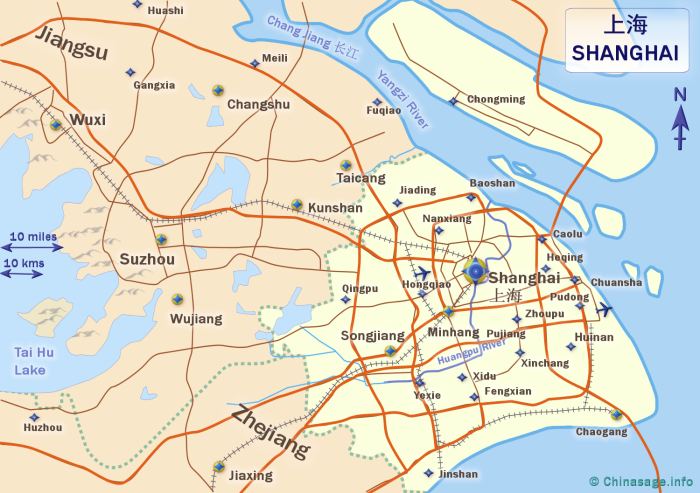 Shanghai Province
Name

上

海

(

shàng

hǎi

)

['up' 'sea']

Capital
Shanghai City
Population
24.204 million (1.76 %) [24th] comparison table
Area
6,000 km2 [2,317 mile2] (0.06 %) [31st]
GDP
97,343 (9.42 %) [5th]


Google map of Shanghai

Neighbors
Jiangsu
Zhejiang
Show province
闲

xián to stay idle; to be unoccupied; not busy

Made up of [

门

mén entrance; gate radical 169,

木

mù wood; wooden radical 75]
Origin
Can be thought of as a tree blocking an entrance with meaning of leisure as will not be disturbed
Full information for

闲
Shanghai has a healthy rivalry with Beijing in the competition to be China's leading city. By population and trade it certainly wins the contest. For a country as old as China, Shanghai's importance has been precocious, it does not have the heritage of other ancient cities. Shanghai is situated on the Huangpu River ➚, close to Yangzi River's outflow to the sea, Shanghai was ideally situated to control the river trade into central China and quickly developed from a small Zhejiang fishing town in the 1840s (population 50,000) to be the huge metropolis it is today. It is one of the five municipal divisions of China with equal standing to provinces and considered China's most cosmopolitan city.
Shanghai History
Early development was initiated by an influx of foreign investment after the Opium Wars when Shanghai became a treaty port. It was developed at first by the British, and up until 1940 was known colloquially as 'Britain's front door to China', the Hong Kong and Shanghai Bank (HSBC) founded by the Scotsman Sir Thomas Sutherland ➚ dominated early investment into China. Investors used the city's strategic position near the mouth of the Yangzi to develop the whole valley, far away from the Qing dynasty control imposed at Guangzhou and Beijing. It became China's first 'modern' city serving as both an example and a warning about modern urban development. At its heart were the International and French concessions - areas subject to foreign not Chinese law.
Nanjing Road, Shanghai Copyright © Dreamstime see
image license
All about China
Our geography section has pages for each individual province as well as the great Yangzi and Yellow rivers. To complete the wide coverage we have included pages on climate, population, ethnic people, airports and universities.
Read More
The city has always important politically, Sun Yatsen arrived at Shanghai on Christmas Eve 1911, on the foundation of the Republic of China; Shanghai was the site of the First National Congress ➚ of the Chinese Communist Party in 1921. An influx of Russians fleeing Communist rule after the Russian revolution in 1917 added to the racial mix. The world famous Bund ➚ (外滩 Wài tān in Chinese) along the waterfront was established at that time. Shanghai then attracted a vibrant cosmopolitan culture and was called the 'Paris of the East'. However most of the local Chinese had little money or influence, they provided cheap labor for the foreigners; only a few locals managed to make a good living as middlemen. It became to subject to periods of industrial unrest and rebellion. The 'May 30th Incident' of 1925 commemorates the death of 11 people at a demonstration over the death of a worker ➚ at a Japanese textile factory. The May Thirtieth Movement was founded and a national strike disrupted all Chinese trade.
In 1927 the Nationalist Chiang Kaishek exterminated many of his former Communists allies in Shanghai using his connections with gang leaders by unleashing his White Terror campaign ➚. The famous Spielberg film Empire of the Sun ➚ based on the book by J.G. Ballard gives an insight into life of the foreigners in Shanghai when the Japanese invaded Shanghai in 1932. Following the Communist victory in 1949 Shanghai was pilloried as the epitome of decadent capitalism that exploited workers and it was not until the late 1990s that development really took off. This was helped by President Jiang Zemin and Premier Zhu Rongji's association with Shanghai. The city is known colloquially as the 'Head of the Dragon' to reflect its leading role in China's recent economic development.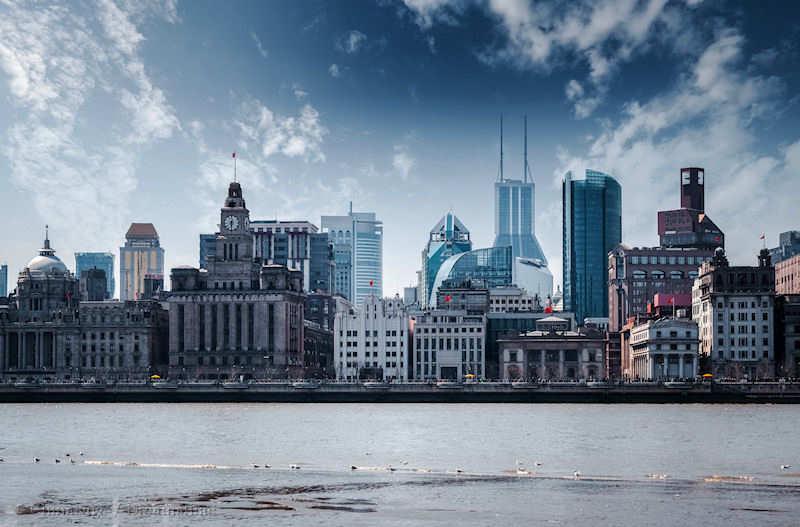 Historical buildings on Shanghai's famous Bund
Protected by mountains on three sides and the Yangzi river on the other, Sichuan has the feel of an isolated kingdom. Historically Chinese culture has held out longest here when China came under attack. It has hot, moist summers and has been heavily populated for two thousand years.
Places to visit in Shanghai
The Bund area of Shanghai has a mix of houses of 'European' architecture of the early 20th century. There are few truly ancient sights to see in Shanghai. However, Shanghai Museum holds one of the finest collections of artifacts in the country. A Buddhist Yufo Temple ➚ (Jade Buddha) built in the traditional style is of modern date. Hongkou Park is a green area hidden among all the buildings, in the grounds is the grave of the great modern writer Lu Xun. There are also the Yu Gardens which have been built in traditional Ming dynasty style. A modest hill, She Shan 328 feet [100 meters] high, is the site of a large Catholic church built 1925-35. Shanghai is divided by the Huangpu River, Puxi is the district to the west and Pudong to the east. The Pudong district was opened for development in 1999 and has grown very rapidly; its most famous landmark is the emblematic Oriental Pearl TV Tower ➚ which offers stunning views over the whole city.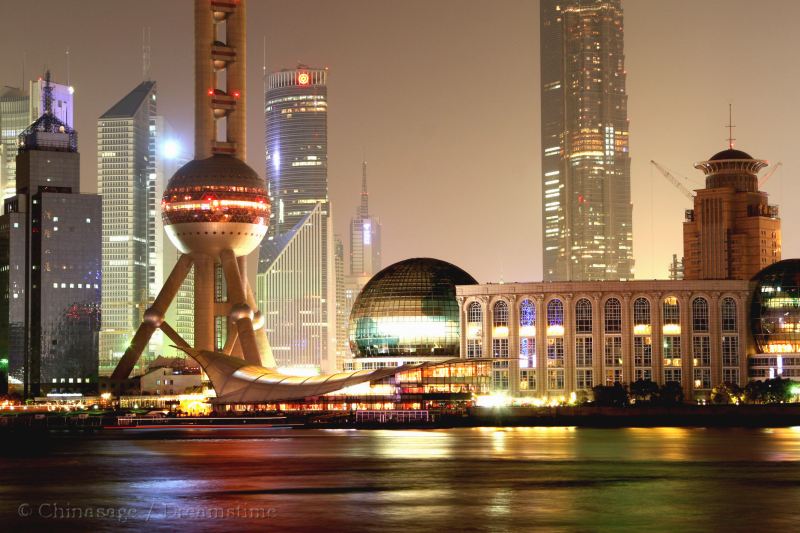 View of modern Pudong district of Shanghai
Geography
Shanghai can be very hot and humid in summer; spring and autumn are the best times to visit. As well as Mandarin, the local dialect Shanghainese (a form of the Wu language) is widely spoken. The city is one of the main centers for financial services, as well as car and computer production.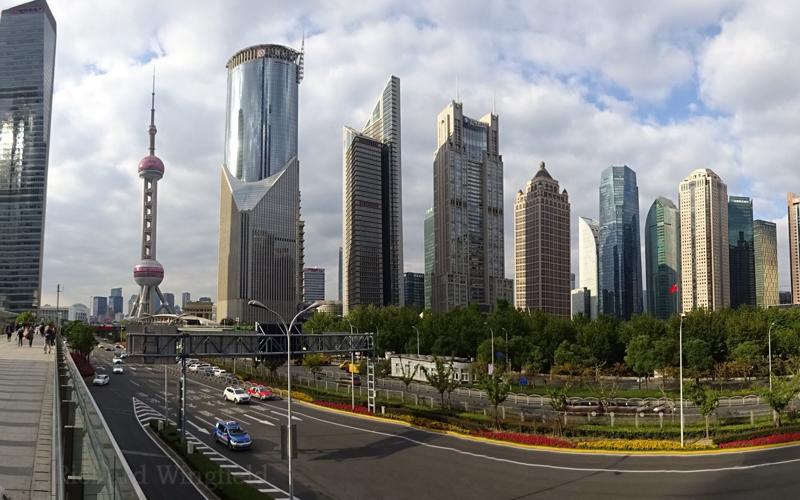 Modern Shanghai. Copyright Richard Wingfield, October 2017.
Shanghai as a Treaty port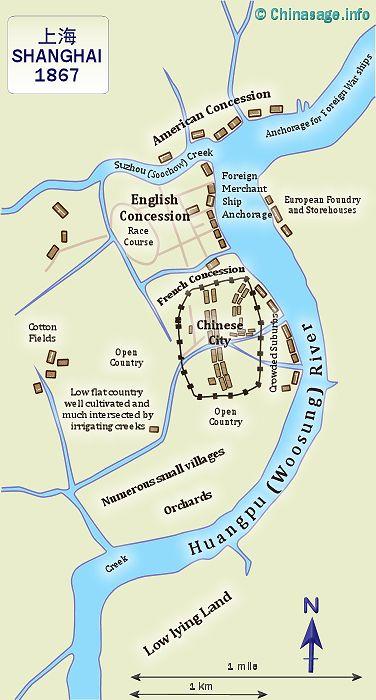 Map based on illustration on page 350 of "The treaty ports of China and Japan" by Nicholas Dennys and William Mayers. Trübner and Co. London. 1867. The 'Foreign and Merchant Ship anchorage' on the map became the 'The Bund'. Access to the Yangzi river and the South China Sea is to the north-east.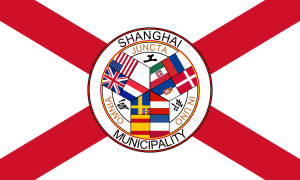 The flag of Shanghai International Settlement. Omnia Juncta In Uno (All Joined in One). United Kingdom, United States, France, Germany (blanked out) ,Russia, Denmark, Italy, Portugal,Norway and Sweden, Austria, Spain, Netherlands. Image by
Lokal_Profil

➚
available under a
Creative Commons License

➚
The first British contact was in 1756 when Frederick Pigou a director of the British East India Company ➚ suggested that Shanghai was a suitable site for development. Shanghai was at this time a small fishing town with a population of about 50,000. With hostility to the British at Guangzhou (Canton WG) over the Opium Wars, Britain saw Shanghai as an alternative port she could develop as she wished. It offered good harbor and control of the Yangzi River. It was made a treaty port under the terms of the Treaty of Nanjing. In 1843 British Captain Balfour ➚ was sent to Shanghai to inaugurate settlement. By the end of 1843 there were only 23 foreign residents and their families. Agricultural land at Shanghai was bought from the local Chinese to build residences. Initially the international settlement was under British military protection.
All about the exploitation of China by foreign powers from the
Ming dynasty
to the foundation of the PRC in 1949. The establishment of foreign enclaves within most Chinese cities one hundred years ago led to many frictions with the foreign powers, particularly Britain. The
treaty port
system forcibly opened up cities to foreign trade in lat Qing dyansty China.
When southern China was in the grip of the Taiping Rebellion (1850-64) the foreign concessions in Shanghai General Charles Gordon ➚ helped keep the port open for trade. The Chinese city within Shanghai was taken by the rebels from 7th Sept.1853 until 17th Feb 1855 and many Chinese moved to the foreign concessions to escape them. During this time (11th July 1854) a joint agreement by foreign powers: Britain; United States and France set up the 'Shanghai Municipality' to give the city independence from foreign government interference and so solve the issues of rivalry between foreign countries. It provided a sound legal framework for trade and ownership. It also allowed joint co-operation in the defense of Shanghai against the rebels. Anyone coming to Shanghai was free to try to make a living subject to Shanghai's not China's laws. In 1863 the British and American concessions at Shanghai merged to form the autonomous 'International concession'. The resulting environment made it so harmonious a city that it was termed a 'Model Settlement'. In 1865 the population had increased to 5,589 foreigners with 146,051 Chinese. Of the foreigners 78% British; 8% American.
By 1920, when Shanghai was a major cosmopolitan center, the population of the Shanghai French and International settlement combined had reached 60,000 foreigners with 300,000 Chinese; the wider Shanghai city including land outside the concessions had reached 3,000,000. The Chinese were given only a small representation on the Shanghai Municipal council. Shanghai's rapid rise came to an end on 8th December 1941 when it was invaded by Japan. The foreign powers agreed not to seek to renew treaty rights after the defeat of Japan at the end of World War 2.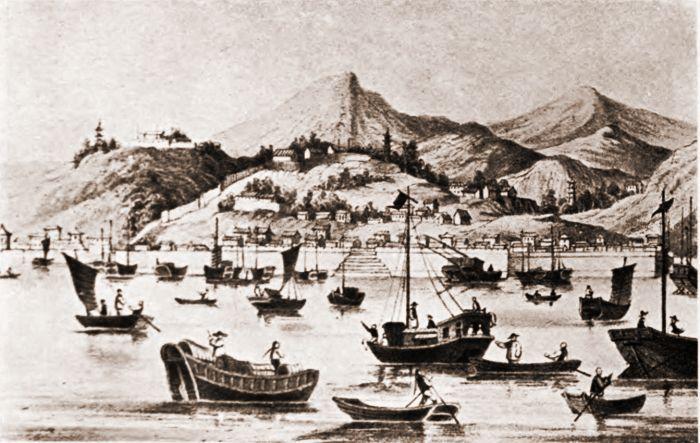 Shanghai Illustration p.356 , 1867 available under a
Creative Commons License

➚
Shanghai Climate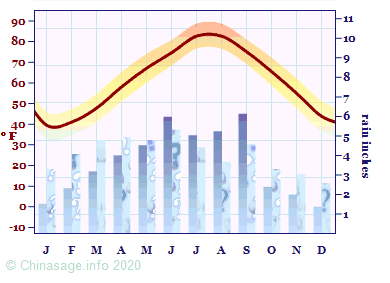 Both
Temp
Rainfall
° C/mms
° F/ins
Key

Show Bing Map

➚
Major Cities
Population
Shanghai City

上

海

22,315,474
Airports
Universities
Currently the highest ranked University outside Beijing and Hong Kong, Fudan is an old institution covering a wide range of subjects.. Undergraduates: 15700, Postgraduates: 11000, International students: 2812, GP World ranking 51
The University is one of the oldest academic institutions in China. Its early reputation was for producing high caliber engineers and scientists but now covers all major disciplines. It is also known by the acronym SJTU or Jiao Da.. Undergraduates: 16802, Postgraduates: 24495, International students: 1598, GP World ranking 70
One of several Universities located in Shanghai, Shanghai University was founded in 1922 but then re-constituted in 1994 with parts of other institutions. It has a large undergraduate intake and covers all the main academic subjects.. Undergraduates: 26000, Postgraduates: 8000, International students: 3000, GP World ranking 415
The third of Shanghai's great universities, Tongji, was founded over a hundred years ago by the German government. It has a high reputation in engineering and architecture and retains a specialism in the Geman language.. Undergraduates: 21370, Postgraduates: 17385, International students: 1829, GP World ranking 345
Source references used for this page:
Book : A Map History of Modern China, Catchpole, Heinemann, 1976
pp. 22, 36, 42-46;

Book : China : Eyewitness Travel, Dorling Kindersley, 2012
p. 183-201;

Book : China A to Z, May-lee Chai and Winberg Chai, Plume, 2007
p. 212-213;

Book : Insight Guides: China, APA publications, 1994
p. 253-259;

Book : Lonely Planet: China, 1988
p. 332-365;

Book : Modern China: A companion to a rising power, Graham Hutchings, Harvard University Press, 2003
p. 373-377;

Book : Mowrer in China, Mowrer, Penguin,1938
p. 26;

Shanghai (brookings)

➚
;

Shanghai Facts: Location, History, Events, Population

➚
;

Shanghai Travel, Shanghai Is The Pearl Of The Orient

➚
City populations for 2012, Province statistics National Bureau of Statistics 2014

Back to top

Chinasage is a new web resource, pages will be added, enhanced and re-formatted regularly. We would be most grateful if you can help improve this page. Please visit our (secure) contact page to leave any comment. Thanks.
Citation information for this page : Chinasage, 'Shanghai City, China', last updated 24 Nov 2016, Web, http://www.chinasage.info/maps/shanghai.htm.
No information available


Copyright © Chinasage 2012 to 2018
Please wait...
Downloading information about character