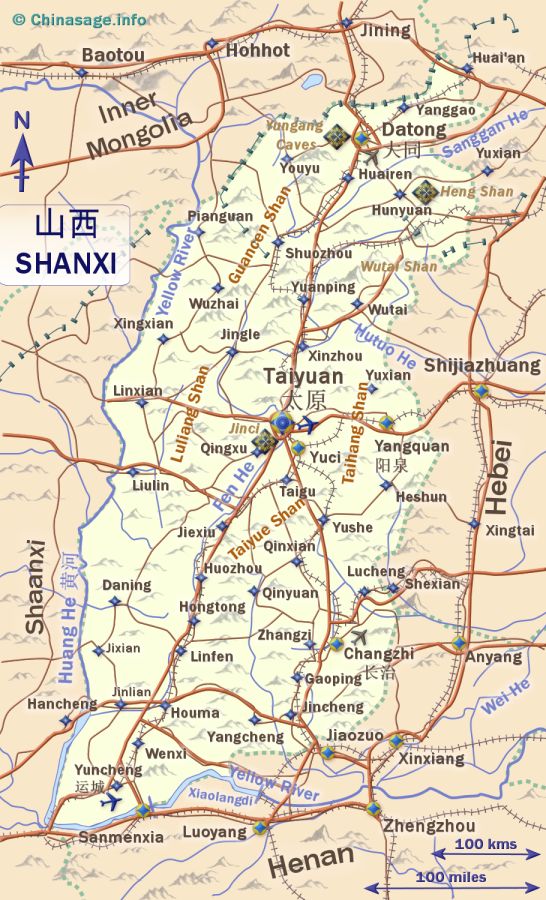 Shanxi Province
Name

山

西

(

shān

xī

)

['mountain' 'west']

Old Name

Shansi WG
Capital
Taiyuan
Population
36.389 million (2.65 %) [18th] comparison table
Area
156,000 km2 [60,232 mile2] (1.63 %) [20th]
GDP
35,064 (5.10 %) [25th]


Google map of Shanxi
Neighbors
Shaanxi
Inner Mongolia
Hebei
Henan
Show province
Shanxi's western boundary is the mighty Huang He (Yellow River) while the Taihing mountain range ➚ marks its eastern limits; Shanxi is named from its location 'west of these mountains' compared to Shandong 'east of the mountains'.
Together with Shaanxi and Henan, Shanxi province is positioned in the fertile Yellow River valley which was the nucleus for the development of the distinctive Chinese civilization. Most of the land is covered in loess - loose calcareous sand which is ideal for crop cultivation when irrigated. The northern boundary of Shanxi follows the Great Wall built during the Warring States period and then strengthened by Qin Shihuang the first Qin emperor, to mark the border and keep the barbarians out. Shanxi flourished up to the Tang dynasty, after which time the growing importance of the Yangzi basin; incursions by northern tribes; growth of sea trade and decline in use of the Silk Route all took their toll. Centuries of slow decline followed. In the last hundred years extensive coal deposits have led to rapid industrialization and the province suffers from the attendant pollution - Linfen was classed as the world's most polluted city in 2007.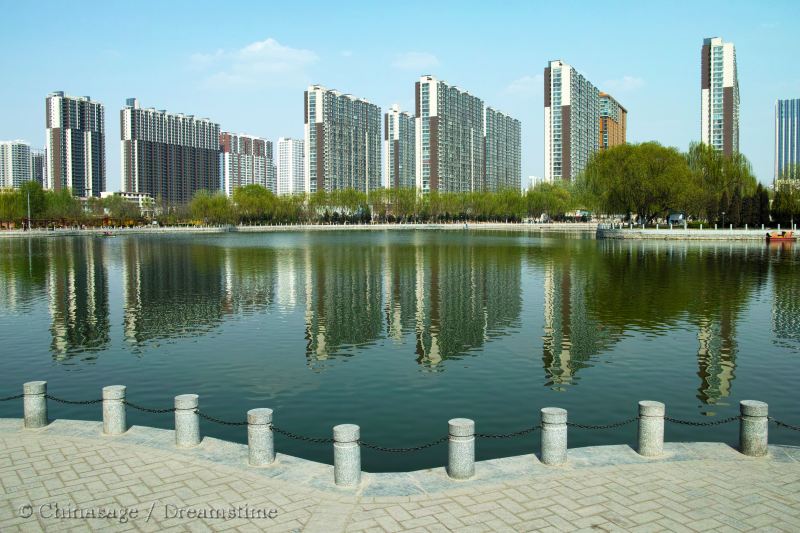 Longtan Park, Taiyuan, Shanxi

Proverb
actual direction nothing previous
This way has no problem. Be able to conquer in all directions
Invincible against all opponents
In the Communist era attempts were made to improve agricultural yields; the commune at Dazhai was held up as the example for all rural communes to follow. The leader Chen Yonggui ➚ became highly acclaimed but by 1980 the whole enterprise had been exposed as a fraud, set up as political propaganda. The industrialization of Tiayuan and Datong since 1949 has been far reaching and many of Shanxi's cities have an industrial feel.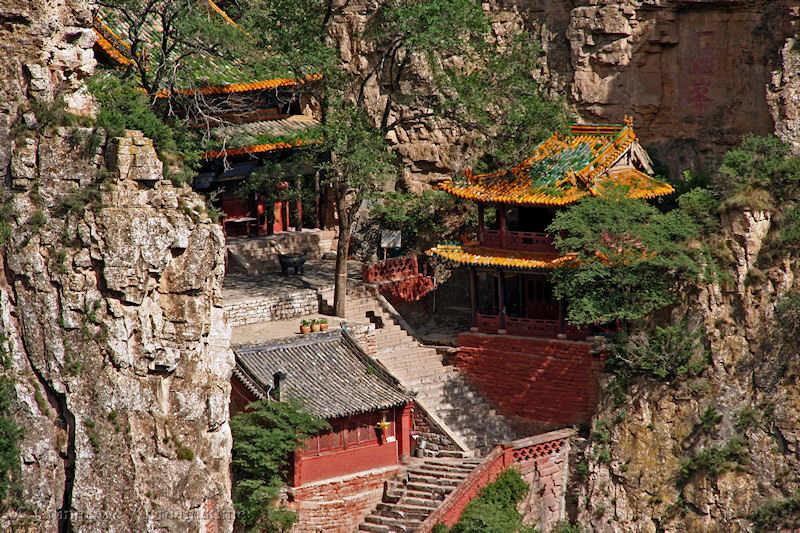 Daoist monastery on Hengshan mountain in Shanxi
Places to visit in Shanxi
There are many historic sights to see in Shanxi, including: Congshan Monastery ➚ in Taiyuan dating back as far as the 6th century but rebuilt in the 14th. There is also the Shuanglin Monastery nearby. Guandi Temple ➚, Xiezhou ➚ (commemorates a famous General from the Three Kingdoms period); Ancient City of Pingyao ➚ with many intact Ming and Qing buildings south-west of Taiyuan; Yingying Tang Pagoda ➚ at Yongji; Northern Mount Heng ➚ is a 6,617 feet [2,017 meters] sacred Daoist mountain in the north-east of the province (there is a Southern Hengshan too). Nearby is the Xuankongsi ➚ Hanging Monastery. Finally another place worth a visit is the Wooden Pagoda ➚ at Yingxian.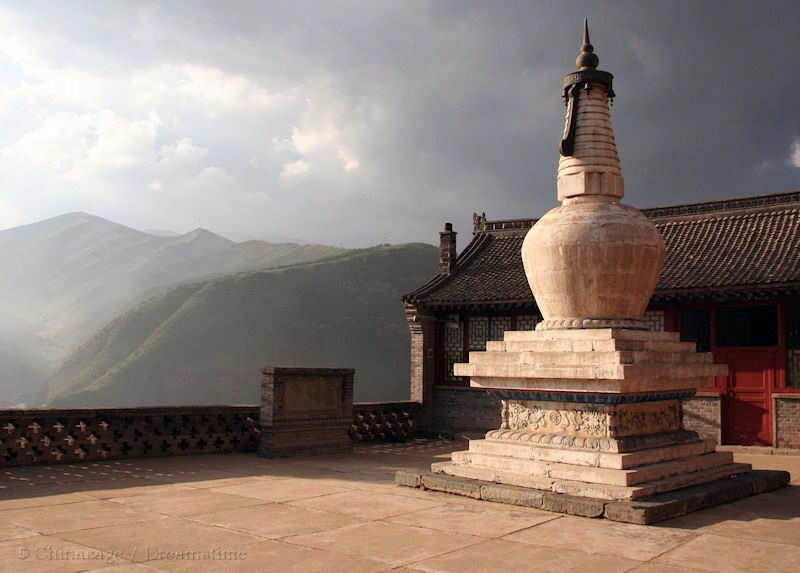 A large stupa in front of a Buddhist temple, Wutaishan, Shanxi
Mount Wutai
Chinese Cuisine
A fine Chinese meal is a carefully balanced mixtures of flavors, textures, colors and food types. Although Western fast food has made major inroads in the cities there is still a great appreciation as food as one of the finer pleasures in life. Etiquette at formal banquets is important for visitors to understand before visiting China. Each region in China has its own variations with regional specialities, the cuisine in Guangdong is very different from that of Gansu.
Read More
Wutai Shan (mountain) in northern Shanxi consists, as its name suggests of 'five platforms or peaks'. The highest peak is to the north and is 10,036 feet [3,059 meters] high making it the highest mountain ➚ in northern China.
Mount Wutai is one of the four sacred Buddhist mountains in China. The platforms are named after the five compass points, which in China include center. Where ground is protected from the sun all year round there is permanent snow cover. It has one of the oldest Buddhist shrines - Dafu Temple ➚ originally of Han dynasty date with 400 rooms. One room, the Bronze Hall, has impressive flowers and Buddhist sculptures all made in bronze. By its side stands a large white Dagoba (a Buddhist stupa). Set apart from the main group is the 'Temple of Buddha's Halo' with buildings dating back to Northern Wei and Tang date. The surrounding mountain area has extensive coal reserves.
Jinci Temple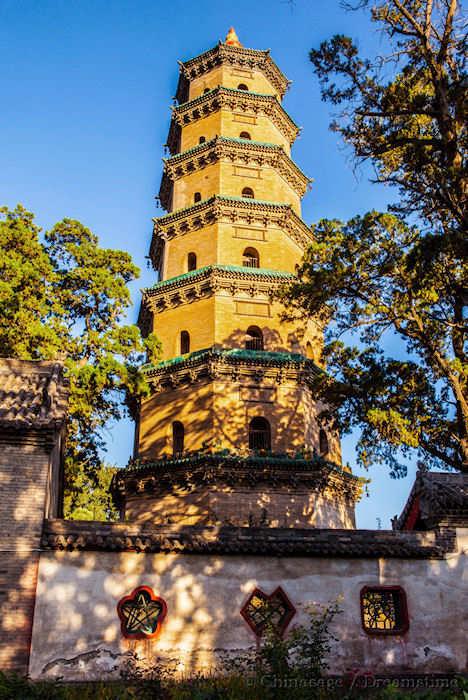 Jinci Buddhist Pagoda at Taiyuan, Shanxi. It is an octagonal
Sui Dynasty
structure standing 38m high with seven stories reconstructed in 1751CE.
The ancient Buddhist Temple of Jinci ➚ is located 16 miles [25 kms] south-west of Taiyuan, Shanxi. Founded way back in the Shang dynasty at the Springs that form the source of the Jin River, the temple has been much altered over the centuries. The foundation legend talks of a girl who was mistreated by her step mother; when the girl gave water to a passing mysterious horseman she was given a jar that magically refilled with water whenever the girl cracked a whip. The wicked step mother muscled in and tried her luck with the whip but this time the water flowed without stopping and turned into an ever-flowing Spring. The area is arid and a continuous water source was a great boon.
There is a Ming theater on Mirror Terrace where Huixian Bridge crosses the historic Zhibo canal. The 'Offerings Hall' was built in 1168 but the main attraction is 'Mother Goddess Hall' or 'Sacred Lady Hall' (Shengmudian) rebuilt in 1102 probably commemorating the mother of Shuyu ➚ of the Zhou dynasty. It is a very old wooden building with fine Song dynasty carvings. General Guanyu of the Eastern Han dynasty also has a hall there.
Yungang Caves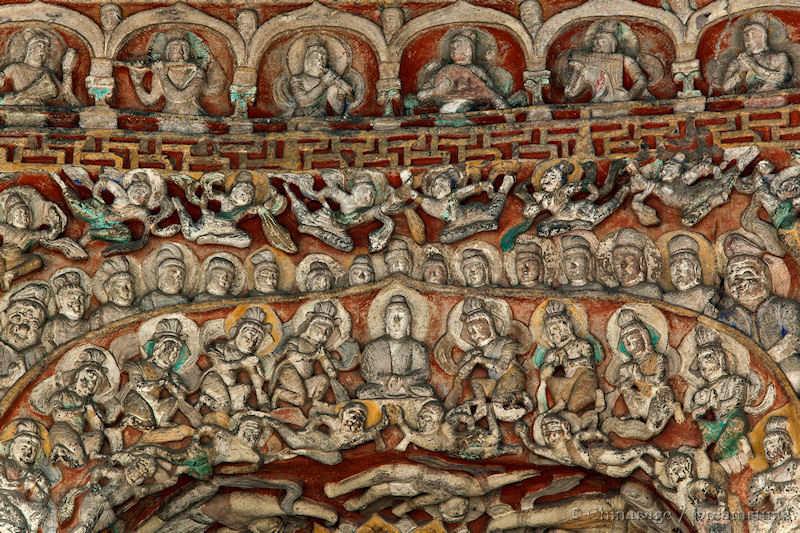 Buddha sculpture, Yungang caves, Shaanxi
Green or black?
Green tea is the variety mainly drunk in China, it has a more subtle favor. Milk is not used and it is considered altogther a healthier drink. On the otherhand black tea is drunk in elsewhere, it has a stronger, more bitter flavor. It used to be grown in China but production moved to British India to avoid Chinese taxes. Green is the fresher tea, it turns black when 'oxidized' by exposure to warm air. The reason black tea is used outside China is that black tea keeps its flavor far longer than green. This was vital when tea was transported by long sea voyage and would take months to arrive, even on the fastest tea clippers.
Read More
In northernmost Shanxi, 10 miles [16 kms] west of Datong, Shanxi are some of the best preserved Buddhist carvings in China. The Yungang Caves date back to the Period of Disunity (460-494). They were built by the short lived Northern Wei dynasty who had enthusiastically embraced the Buddhist faith. The carvings may have been modeled on the earlier ones at Dunhuang, Gansu but these are carved into the rock in the Indian tradition rather than molded. After the Northern Wei moved their capital from Datong to Luoyang in 494 the area fell into disrepair until the Liao dynasty ➚ in northern China repaired and restored the monuments. The valley has a series of about 1,000 grottoes with at one time an amazing 100,000 carvings of Buddha in all sorts of sizes and guises. However, over time the numbers have reduced to 51,000. The carvings are embellished with costumes and even musical instruments giving a vivid portrayal of life in ancient times. The 52 feet [16 meters] statue in Grotto 19 is an impressive carving and may represent the Northern Wei Emperor Daiwu ➚ (446-452) who persecuted the Buddhists.
Geography
Shanxi province is divided between the cold and dry of the north and the hot and humid climate of the south. There are many ancient and religious sites dotted throughout Shanxi. The local cuisine uses wheat and lamb extensively which gives it a distinctive northern Chinese flavor.
Shanxi Climate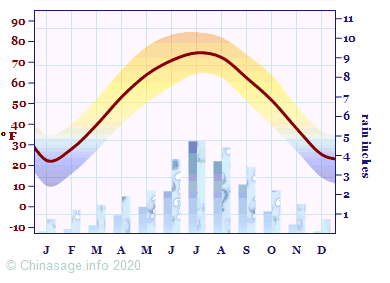 Both
Temp
Rainfall
° C/mms
° F/ins
Key
Show Bing Map

➚
Major Cities
Population
Changzhi

长

治

445,368
Datong

大

同

1,173,300
Taiyuan

太

原

2,321,500
Yangquan

阳

泉

477,686
Yuncheng

运

城

680,043
Airports
Source references used for this page:
Book : A Map History of Modern China, Catchpole, Heinemann, 1976
p. 4

Book : History: China Handbook Series, Foreign Languages Press, 1982 p. 1-12

Book : Insight Guides:China,APA, 1994
pp. 47-57, 220-222

Book : Lonely Planet: China, 1988
p. 282-294

Book : Modern China: A companion to a rising power, Graham Hutchings, Harvard University Press, 2003
p. 377-381

Shanxi (chinatravel)

➚

Shanxi (maps-of-china)

➚

Shanxi (news)

➚

Shanxi (wikitravel)

➚

Travel Guide: Shanxi

➚

Wikipedia: Shanxi

➚
City populations for 2012, Province statistics National Bureau of Statistics 2014

Chinasage is a new web resource, started in 2012, pages will be added, enhanced and re-formatted regularly. Please check back soon for updated information about China.
We would be most grateful if you have any comments or suggestions to help improve this page. Our contact page is also available if you have a longer comment. Just type in a quick remark here:
Citation information: Chinasage, 'Shanxi, China', last updated 6 Dec 2016, Web, http://www.chinasage.info/maps/shanxi.htm.
Copyright © Chinasage 2012 to 2017