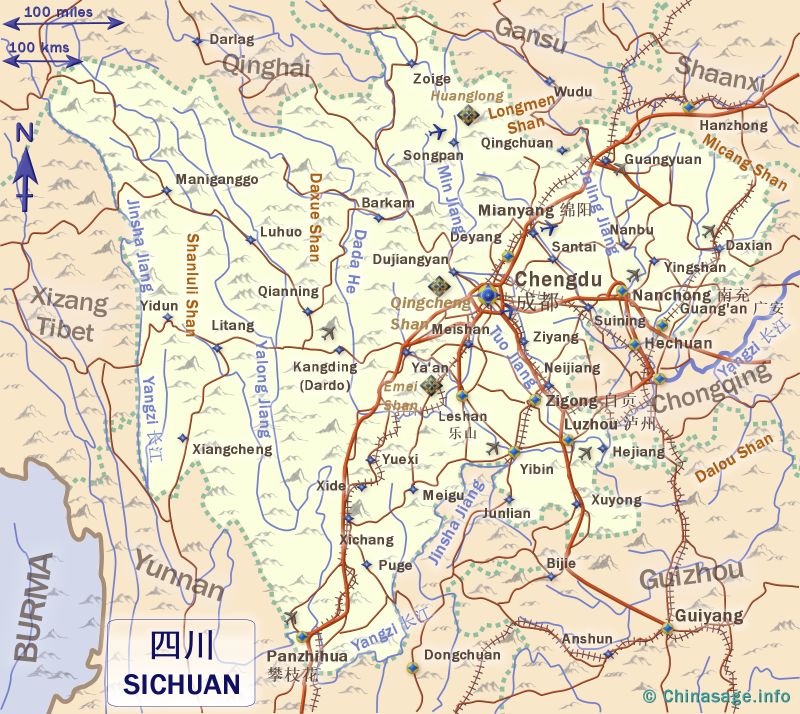 Sichuan Province
Name

四

川

(

sì

chuān

)

['four' 'river']

Old Name

Szechuan WG
Capital
Chengdu
Population
81.236 million (5.91 %) [4th] comparison table
Area
485,000 km2 [187,259 mile2] (5.05 %) [5th]
GDP
35,128 (11.41 %) [24th]


Google map of Sichuan

Neighbors
Tibet
Qinghai
Gansu
Shaanxi
Chongqing
Guizhou
Yunnan
Show province
Surrounded by mountains Sichuan has the feel of a hidden kingdom. Known for ferocious heat both in climate and cuisine, Sichuan literally means four rivers emphasizing the copious waters that flow out of the Tibetan mountains south through the province to join the Yangzi. The name is not, as widely stated, named after four rivers: the Min, Tuo, Jaling and Wu rivers); it is in fact a shortened name of an administrative district of rivers and gorges 川峡四路 chuān xiá sì lù. It is also called the 'Red Basin' from the widespread fertile red soil that have made it an important source of food for China over many centuries. Of all the Chinese provinces it is the one never to have known famine. You still see Sichuan sometimes written as Szechuan WG particularly on Chinese restaurants in Europe following the older Wade-Giles spelling.
Always a populous province, Sichuan was once the largest by land area; but in 1997 Chongqing was split off to form a new province, reducing the area substantially. This still leaves Sichuan with the fourth largest population in China after Shandong; Henan and Guangdong and the fifth largest in area. It is famous as the birthplace of Deng Xiaoping and the home to some of the few remaining Giant Pandas.
China is putting a great deal of money and effort in building a
space exploration programme
. Already missions have put people into orbit around the Earth and landed robots onto the Moon. Plans exist for a large space lab and manned landings on the Moon and even missions to Mars.
Sichuan History
At the time of the Spring and Autumn Period, the Shu Kingdom centered on present day Sichuan became an important regional power. Perhaps the most improtant development was the work of Li Bing in the Qin dynasty who built clever water control measures on the Min river that have provided irrigation for two thousand years. The Dujiangyan system ➚ is now a UNESCO World Heritage site. The first Han dynasty Emperor Liu Bang (Gaodi or Gaozu) had his main power base in Sichuan. The province was important as a source of salt and because this was a government monopoly it gave much needed revenue from salt tax. Historically the province has been prone to revolt; stiff resistance was given to the Mongol invasion; and again in 1647 when it resisted Qing conquest - Zhang Xianzhong ➚ led dogged resistance to Manchu conquest. In 1895 the Christian Missionaries were forced out and the people rose up again in 1911 when foreign companies built their new railways ignoring local opposition. It has often served as the last safe bastion of Chinese culture most recently during the Japanese Occupation when the capital of Free China was at Chongqing.
Yading, Sichuan
Good fortune
One of the most common Chinese characters you will see in China and on Chinese gifts is the one for
good fortune
This is
褔
pronounced
fú
in Mandarin. Symbolizing good fortune also are images of the bat because in mandarin 'bat' sounds exactly the same
fú
but written as
蝠
.
Read More
Chengdu
Chengdu is the bustling capital city handling the province's agriculture; silk; industry and administration. On a clear day the snowy Tibetan mountains can be seen in the distance. As long ago as the Han Dynasty Chengdu had as many inhabitants as the capital at Chang'an. At the time of the Five Dynasties numerous Hibiscus shrubs were planted giving Chengdu the poetic name of the 蓉城 Róng chéng 'Hibiscus City'. The Tang dynasty poet Du Fu had a thatched cottage ➚ near the city that can still be seen together with statues and poems. Renmin Park is famous for its tea house while Wangjiang Park has an impressive collection of different kinds of bamboo, a plant that is much used in the province. A temple to the wise statesman Zhuge Liang is surrounded by a park and cypresses. It was Zhuge who helped found the kingdom of Shu ➚ together with Liu Bei who also has a tomb in the park. Xue Tao ➚ a famous female poet of the Tang dynasty is commemorated close by. Chengdu holds a flower festival in the middle of the second Chinese month each year. Most importantly for the many modern tourists, Chengdu has a zoo housing Giant Pandas.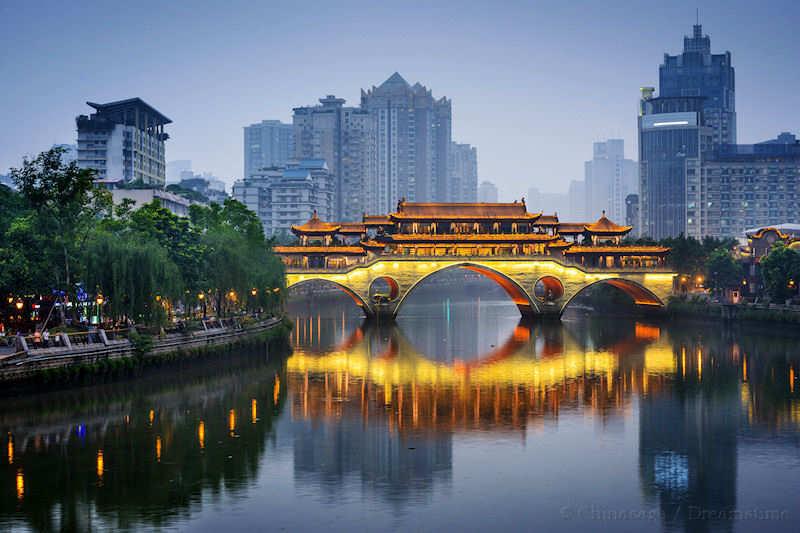 Anshun bridge at Chengdu, Sichuan
The emblematic Giant Panda acts as China's ambassador in many leading zoos around the world. A captive breeding programme has proved effective in bringing the cutest of animals back from the brink of extinction.
Places to visit in Sichuan
Guanxian to the north-west of Sichuan is where the river Min was diverted and controlled to irrigate the plains around Chengdu as early as the Qin dynasty. Meishan to the south west is famous as the home to the Su family of poets from the Song dynasty. Luding has a historic bridge over the Dadu river, this was the scene of an important event on the Communist's Long March of 1935. Sanxingdui to the north of Chengdu has a museum showing the finds from the site of a city 3,000 years old where many strange bronze and gold ornaments were found. Wanglang Nature Reserve 25 miles [40 kms] northwest of Chengdu is home to the captive breeding program for Giant Pandas; there are a number of other animals that can be seen there too. Further south Leshan is a busy agricultural city with historic sites nearby - chiefly it is famous for its Giant Buddha 'Dafo' (233 feet [71 meters] high) carved into a cliff during the Tang dynasty. The figure faces towards Mount Emei.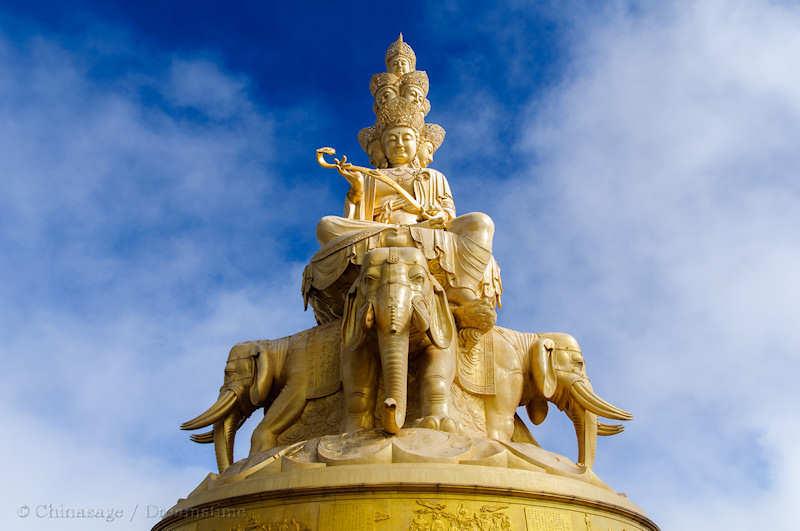 Golden palace at the top of Mount Emei, Sichaun with the world's highest status of
Pǔxián Púsà
普

賢菩薩
.
Just west of Leshan is Emei Shan ➚, one of the most sacred Buddhist mountains in China with a steady stream of Chinese pilgrims; it has the largest stone carved Buddha to be found anywhere. Described by poets as 'Beauty under Heaven' the mountain has captured the imagination for centuries. The mountain has groves of azaleas and ginkgo trees and a famous ➚ tea is produced on the slopes of the mountain. Giant pandas and thousand year old trees can be found on its slopes. Mount Emei rises to an impressive 10,167 feet [3,099 meters] high; Baoguo ➚ Buddhist Temple is at the foot of the long 39 miles [63 kms] hike to the summit. It has 4,700 figures and a complete Huayan sutra ➚. Legend has it that the first Buddhist monastery was founded on the mountain. Some way up is the Qingyin Pavilion ➚ and at the summit the mist often produces a mysterious iridescent halo that has tempted many to launch themselves off the peak. On the way down Wannian Temple ➚ is a viewing point where there is a 62 tons [56,245 kgs] bronze Buddha from the Song dynasty.

Gaomiao Town, Sichuan
The Cambridge Illustrated History of China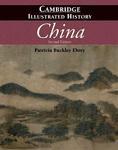 Cambridge University Press produce a mammoth in-depth history of China, this can be considered an abridgement of this work. It has copious illustrations and useful panels describing key parts of Chinese culture and history. It covers the whole time period from pre-history to the present day - a lot to cover in one book. It is a fascinating and engaging read and to be recommended as a key reference work.
More details...

➚
An Ancient Plank Road ➚ at Guangyuan guards the strategic mountain pass north through to Shaanxi. Further west Kangding lies close to the impressive mountain of Gongga Shan ➚ the highest peak in Sichuan 24,790 feet [7,556 meters]. Dege ➚ has a Tibetan Lamasery and library while Qingchengshan-Dujiangyan National Park ➚ has ancient Daoist relics.

View of hillside pavilions at the Sheng Shui Temple, Mianyang, Sichuan built on a terraced hillside, parts date back to the
Tang dynasty
.
Even further west is Litang which has as high an elevation as Lhasa in Tibet. Jiuzhaigou ➚ (Nine village valley) north-east of Songpan is a large scenic area popular with tourists among the mountains. The glacial waters from Tibet give the lakes and rivers a clear aquamarine color. It is also home to the secretive giant panda.
Geography
Tibetan; Hui; Dai and Miao minority people live in the mountains surrounding the central basin which is home to mainly Han Chinese. Sichuan has a warm climate with few winter frosts and is usually hot and humid in summer. The central eastern lowlands form the rich agricultural heartland of the province. The mountainous west is more remote and less densely populated and is geographically and historically part of Tibet. The indigenous Khampa people ➚ in this region revolted against Communist reforms in the 1960s and many fled to Tibet. It has extensive coal and natural gas reserves and grows many crops including rice; tea; rapeseed; bamboo; tobacco and produces a large quantity of silk.
Sichuan Climate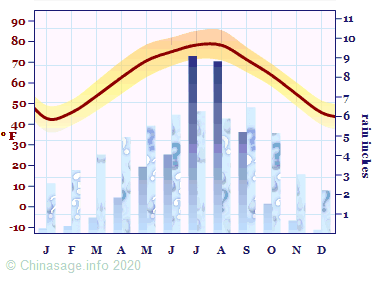 Both
Temp
Rainfall
° C/mms
° F/ins
Key

Show Bing Map

➚
Major Cities
Population
Chengdu

成

都

7,415,590
Guang'an

广

安

858,159
Leshan

乐

山

154,477
Luzhou
泸

州

394,382
Mianyang
绵

阳

264,136
Nanchong

南

充
7,150,000
Neijiang

内

江

546,854
Panzhihua
攀

枝

花

502,478
Zigong

自

贡
689,961
Airports
Source references used for this page:
Book : 60 Scenic Wonders in China, New World Press, 1980
pp. 159-162, 167-170;

Book : A Map History of Modern China, Catchpole, Heinemann, 1976
pp. 26, 36;

Book : China : Eyewitness Travel, Dorling Kindersley, 2012
p. 358-371;

Book : Chronicles of the Chinese Emperors, Ann Paludan, Thames and Hudson, 1998
p. 27-39;

Book : Everyday Life in Early Imperial China, Michael Lowe, Carousel, 1973
p. 129;

Book : Insight Guides: China, APA publications, 1994
p. 321-327;

Book : Lonely Planet: China, 1988
p. 624-668;

Book : Modern China: A companion to a rising power, Graham Hutchings, Harvard University Press, 2003
p. 382-385;

Book : Mowrer in China, Mowrer, Penguin,1938
p. 54-66;

Book : Symbols of China, Feng Jicai, Compendium, 2010
pp. 74, 81;

Book : The Cambridge Encyclopedia of China, ed. Brian Hook, Cambridge University Press, 1991
p. 446;

Book : The Water Kingdom, Philip Ball, Vintage, 2017
pp. 27, 108-111;

Map of Sichuan Province, China

➚
;

Sichuan (wikitravel)

➚
;

Sichuan Travel Guide - Land Of Abundance

➚
City populations for 2012, Province statistics National Bureau of Statistics 2014

Back to top

Chinasage is a new web resource, pages will be added, enhanced and re-formatted regularly. We would be most grateful if you can help improve this page. Please visit our (secure) contact page to leave any comment. Thanks.
Citation information for this page : Chinasage, 'Sichuan, China', last updated 6 Dec 2016, Web, http://www.chinasage.info/maps/sichuan.htm.
No information available


Copyright © Chinasage 2012 to 2018
Please wait...
Downloading information about character