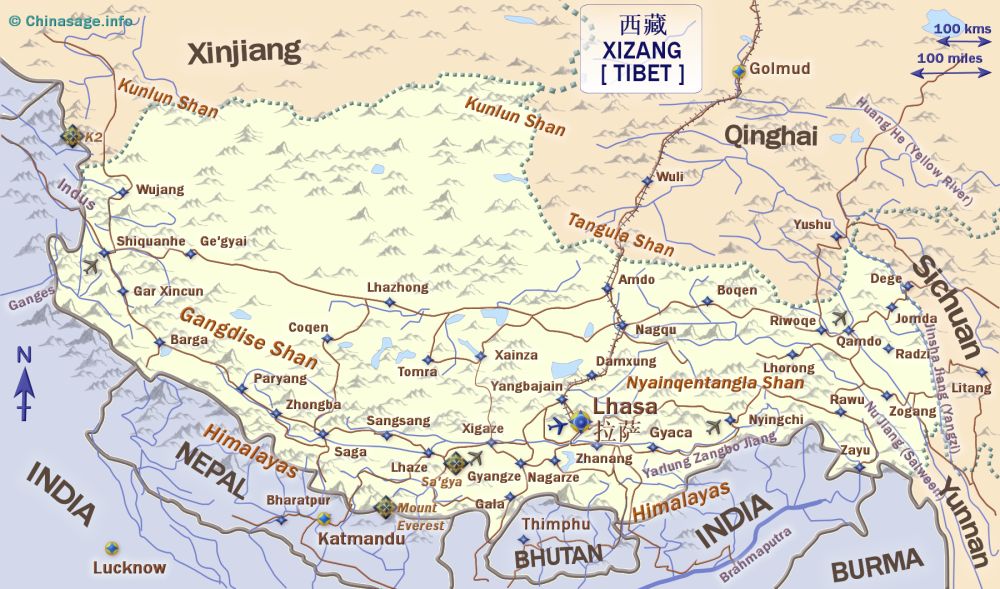 Tibet Province
Name

西

藏

(

xī

zàng

)

['west' 'treasury']

Capital
Lhasa
Population
3.148 million (0.23 %) [32nd] comparison table
Area
1,230,000 km2 [474,903 mile2] (12.82 %) [2nd]
GDP
29,252 (0.37 %) [30th]


Google map of Tibet

Neighbors
Xinjiang
Qinghai
Sichuan
Yunnan
Show province
`
Tibet has had vassal status to China for centuries. In China it is known as Xizang (meaning "Western treasure house of Buddhist scriptures") and became an Autonomous Region within China in 1950. Tibet is the China's natural south-western border because Tibet's southern edge contains the highest Himalayan Mountains including Zhumulangma Feng (Mount Everest ➚ 29,029 feet [8,848 meters]) which stands on the border with Nepal. The Tibetan Plateau is the source of the waters that become the Yarlong Tsangpo (Brahmaputra), the Indus, and the Ganges.
Three yaks with Buddhist stupas in Tibet
'Tibet' is a modern European name for the province probably derived from the Arabic 'Tibat' meaning 'The summits'. In the distant past the Chinese called it "Tufan"; the Tibetans themselves use the name "Bod བོད".
History of Tibet
Once you know the numbers 1 to 12 it is easy to understand the date and time in Chinese.
Tibet formed the Thufo Empire back in the 8th century and at this time it became strong enough to attack China and sack the great Tang dynasty capital city of Chang'an. Tibetan culture persists not just in Tibet but also in neighboring Qinghai; western Sichuan; northern Yunnan; southern Xinjiang and Gansu provinces that formed the Tibetan kingdom. The main cultural influence is from the local form of Buddhism - Tibetan Buddhism. The religion merged some features of Bon ➚, known for its prayer flags and wheels with Tantric Buddhism ➚. In 1641 the Yellow Hat sect beat the Red Hat sect to become the leading religious group and installed the first Dalai Lama. The Tibetan culture has its own traditions and festivals including Tibetan New Year. Tibet became part of Qing Empire China in 1705 and only had a brief period of independence after the fall of the Qing (1911-1950). In 1903 Britain, concerned with potential Russian threat to its Indian Empire to the south, sent Captain Younghusband ➚ to impose control. After beating the Tibetan Army, Britain agreed that Qing China could rule Tibet (as long as it kept out the Russians) but still maintained a formal presence 1904-1944 at Lhasa, Gyangze and Gartok to monitor the country.
The Cultural Revolution (1966-75) wrought havoc to Tibet. Initiatives were imposed across China taking no account of local conditions and traditions - so wheat was planted in place of barley and more importantly the Buddhist monasteries were systematically destroyed. Of the 1,600 monasteries in 1959 only 10 survived to 1979. A rebellion in 1958 resulted in the Dalai Lama ➚ and 80,000 Tibetans fleeing over the mountains to Dharamshala ➚ in northern India (only 124 miles [200 kms] from the Tibetan border). Extensive settlement by Han Chinese began at the time of the foundation of the PRC. The politics of Tibet remain a very sensitive topic and the details of China's right to rule are disputed. At the Simla Conference ➚ 1913-14 China agreed that Outer Tibet would be given full autonomy but the Republican government then disowned the accord.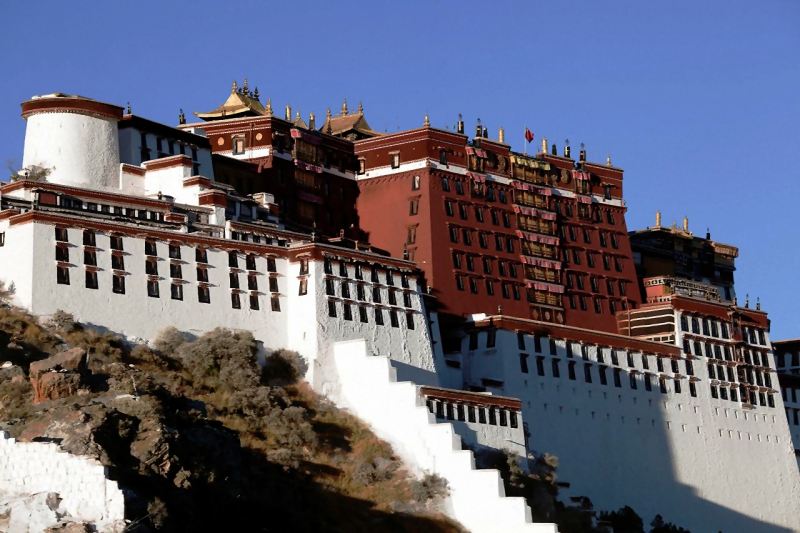 Potala Palace, Lhasa, Tibet. October 2010.
Image by
*Christopher*'s

➚
available under a
Creative Commons license

➚
Lhasa
Conditions at the high altitudes are bleak; most Tibetans live in the narrow valley of the Yarlung Zangbo Jiang ➚ where the main town Lhasa is sited, it means 'Throne of God'. Tibetan rather than Chinese is the main language, which is closer to Burmese than Chinese in form, and Tibetan Pinyin is used on road signs. The Potala Palace ➚ in Lhasa is the center of Tibetan Buddhism and popular with tourists. The Palace was built by King Songtsan Gambo (617-650) for his Han Chinese wife Wen Cheng. Potala means 'Buddha's mountain' in Sanskrit, it was last re-built in the 17th century by the fifth Dalai Lama. There are a thousand rooms and many grand halls. The West Main Hall holds the remains of the previous Dalai Lamas encased in gold. The fabulous Guanyin Hall is a rare fragment of the original palace. The whole palace was designed to resist earthquakes by pouring liquid copper into the foundations. It is a UNESCO world heritage site.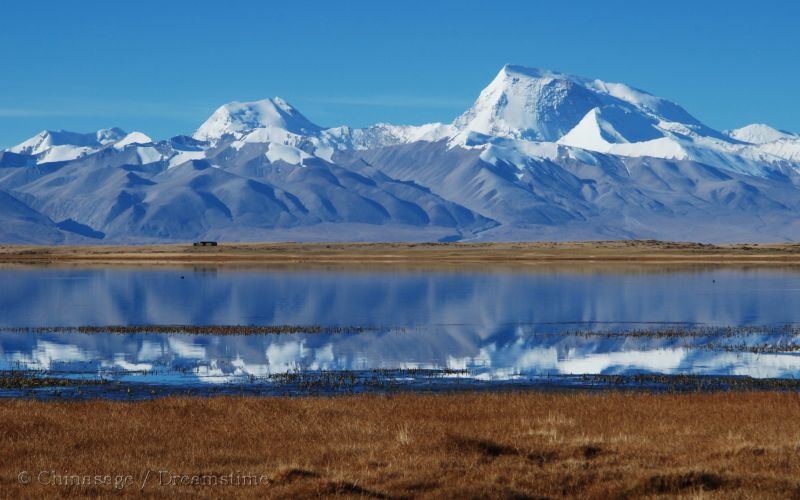 Manasarovar lake and Mount Namunani, Tibet
Places to visit in Tibet
Another well known attraction is the Tashilhunpo Monastery ➚ at Xigaze (Shigatse) this is the home of the Panchen Lama ➚ (second in seniority to the Dalai Lama). The other monasteries are dotted around including Baiqoi Monastery ➚ at Gyangze; Drepung Lamasery, Sera Monastery and Gandain Monastery. Sacred places include Yamdrok Lake ➚ and Heavenly Lake Namtso ➚. Many Buddhist monasteries have fine displays of 唐卡 Táng kǎ - a religious painting on cloth. These bright and complex images often portray Buddhas and Bodhisattvas as well as demons.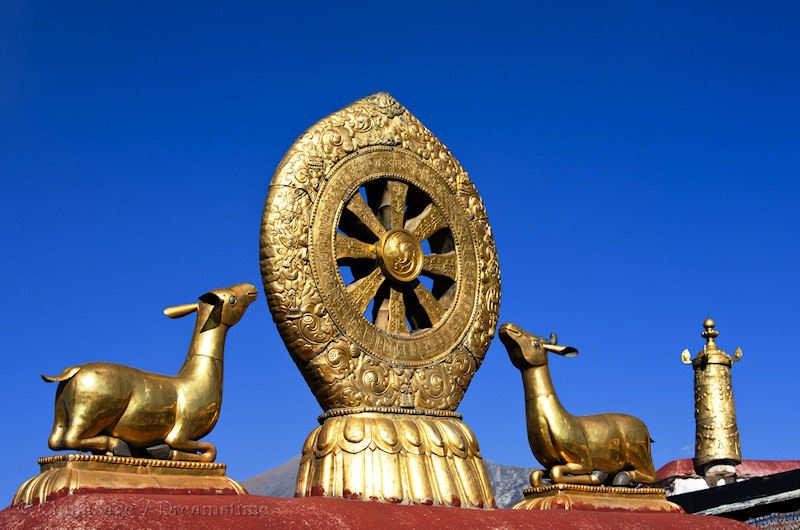 Golden deer and dharma wheel at the Jokhang Temple in Lhasa, Tibet
Currently travel within Tibet by foreigners is tightly controlled; it is not possible to travel about on your own, you have to go as part of a group. It is also essential to allow adequate time to acclimatize for the very high altitude. The Qinghai-Tibet railway 青藏铁路 was opened in 2006, and this has greatly increased the province's accessibility from the rest of China. It is the highest railway in the world, reaching 16,640 feet [5,072 meters] at the Tanggula Pass.
Geography
Tibetans form the dominant ethnic group, with a minority of Han people who live in the main towns. The forced settlement of Han people in Lhasa has given the city a Chinese feel; however tensions between the Tibetan and Han peoples continue to produce unrest at times. There are continued protests by monks, sometimes committing suicide by self-immolation ➚.

Pilgrim route with prayer wheels at Shigatse in Tibet
Tue 6
th
Mar
Hong Kong has managed to pip Japan and Italy as the location with the highest life expectancy. Figures for 2016 give 81.3 years for men and 87.3 years for women. This is a remarkable turnaround for China which has suffered from high mortality rates going back centuries. Some put the high survival rate to diet, some to physical health and others to the climate. Hong Kongers generally eat a varied diet with a good proportion of health-giving fish and can be compared to the Mediterranean diet. Many people in the 80s came from the mainland and reached there by physical exertion - swimming to Hong Kong Island or traveling hundreds of miles overland, so maybe physical fitness plays a part. Hong Kong is notorious for its high humidity but the sub-tropical climate there never sees cold winters and this is a key factor in survival rates of the elderly. As well as a warm climate Hong Kong has many green spaces, and it is easy for people to get away from the urban center to a tranquil natural spots among the mountains. All this makes the former colony a good place to live.
Read full story...
Read all our
news stories...
Tibet remains a poorly developed, desolate province compared to the rest of China. It has the feel of a different country. Yak herding is the key agricultural activity of Tibetans, but only in the southern valleys. Very little grows over much of the central and northern regions due to lack of rain and the extreme altitude and cold. Some barley is grown in the warmer valleys. It is very cold in winter and cool in summer with very limited rainfall which falls only in the southernmost area.
Tibet Climate

Both
Temp
Rainfall
° C/mms
° F/ins
Key

Show Bing Map

➚
Major Cities
Population
Lhasa
拉萨
118,721
Airports
Source references used for this page:
Book : 60 Scenic Wonders in China, New World Press, 1980
p. 188-192;

Book : A Map History of Modern China, Catchpole, Heinemann, 1976
p. 18;

Book : China : Eyewitness Travel, Dorling Kindersley, 2012
p. 518-547;

Book : Insight Guides: China, APA publications, 1994
p. 341-351;

Book : Larousse Encyclopedia of the World, Hamlyn, 1964

➚
p. 521;

Book : Lonely Planet: China, 1988
pp. 14, 32-35, 788-809;

Book : Massacres of Christians by heathen Chinese and horrors of the Boxers, Harold Irwin Cleveland, Miller, 1900
p. 285-286;

Book : Modern China: A companion to a rising power, Graham Hutchings, Harvard University Press, 2003
p. 430-436;

Book : Symbols of China, Feng Jicai, Compendium, 2010
pp. 123, 187;

Tibet (chinatravel)

➚
;

Tibet (maps-of-china)

➚
;

Tibet (travelchinaguide)

➚
;

Tibet (wikipedia)

➚
;

Tibet (wikitravel)

➚
City populations for 2012, Province statistics National Bureau of Statistics 2014

Chinasage is a new web resource, started in 2012, pages will be added, enhanced and re-formatted regularly. Please check back soon for updated information about China.
We would be most grateful if you can help improve this page. Please visit our (secure) contact page to leave any comment. Thanks.
Citation information: Chinasage, 'Tibetan Autonomous Region China', last updated 22 Nov 2016, Web, http://www.chinasage.info/maps/tibet.htm.
Please wait...
Downloading information about character
No information available


Copyright © Chinasage 2012 to 2018