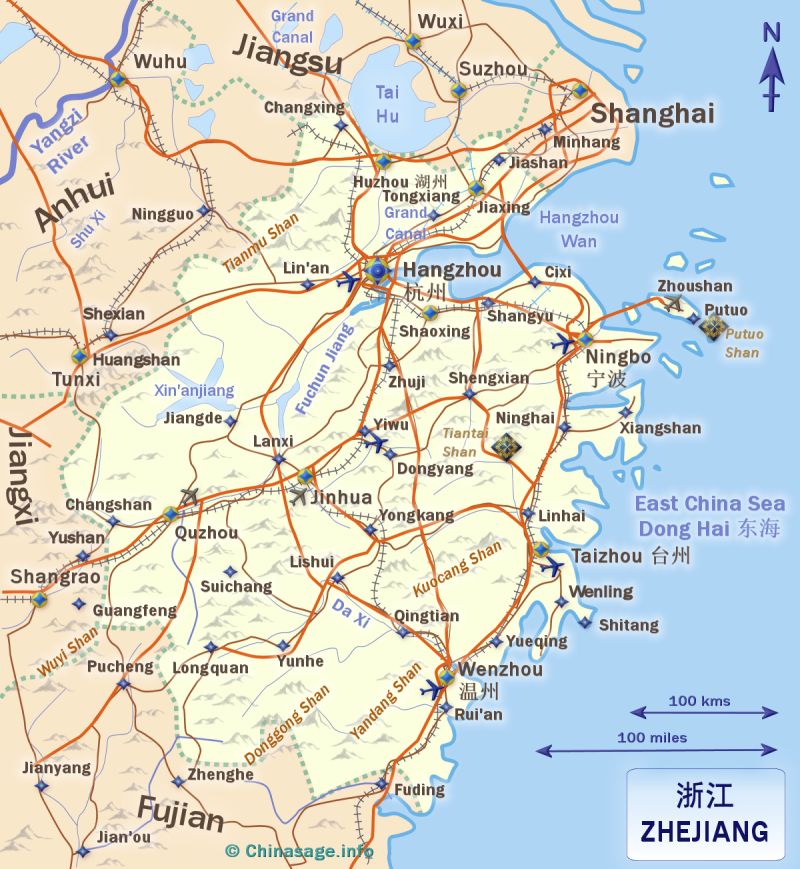 Zhejiang Province
Name

浙

江

(

zhè

jiāng

)

['Qiantang River' 'river']

Old Name

Chekiang WG
Capital
Hangzhou
Population
55.03 million (4.00 %) [10th] comparison table
Area
102,000 km2 [39,382 mile2] (1.06 %) [25th]
GDP
72,967 (16.05 %) [7th]


Google map of Zhejiang

Neighbors
Shanghai
Jiangsu
Jiangxi
Anhui
Fujian
Show province
Zhejiang province looks both north to the Yangzi and south-east to the sea. Mountains divide warm coastal Zhejiang from the northern plains. Although one of the smaller provinces by area it has always been prosperous due to high agricultural yields. It is one of only a few provinces named after a specific place, 'Zhe' is an old name for the Qiantang River ➚ that joins the Fuchun River and flows through Hangzhou. The Qiantang has another claim to fame, it has the largest tidal bore ➚ in the world. The proof that Zhejiang has been inhabited at least 8,000 years ago has been demonstrated with archeological finds unearthed at Kuahuqiao ➚.
History of Zhejiang
The Mausoleum of Yu The Great ➚ of the ancient Xia dynasty is located at Shaoxing south-east of Hangzhou. After the break-up of the Zhou dynasty, Zhejiang was split between the Wu (north) and Yue (south) kingdoms. It became a vassal state of China in the Qin dynasty unification. Later, in the Three Kingdoms period Sun Quan ➚ a native of Fuyuan became the King of Wu. The Wu language is still widely spoken within Zhejiang province.
Zhejiang scenery near Hangzhou including a
tea
plantation
Hangzhou
Hangzhou is an ancient and interesting city. It stands at the southern end of the Grand Canal from Beijing which was built in the 7th century and even served as the capital of China during the Southern Song dynasty when the north was overrun by the Jin dynasty and then the Mongols. More recently the nearby Qinshan ➚ nuclear power plant was the first to be built using Chinese technology.
The West Lake ➚ at Hangzhou ➚ is a famous tourist spot. It was admired by Marco Polo when he visited China. The lake covers 1,483 acres [6 sq kms] acres and has woods on all sides. It has three islands at its center, one of which (Yingzhou) contains a lake which itself has an island. Elegant causeways run along the banks. The 'Temple of Inspired Seclusion ➚' reached by the Bai causeway on the north bank has fine views. The Su Causeway is named after the famous Song poet Su Shi who was governor of Hangzhou for a while. On the West bank is the Temple to Yue Fei ➚, an unfairly disgraced General on the Southern Song dynasty. Hangzhou has a notable Botanical Garden with an impressive collection of species of bamboo.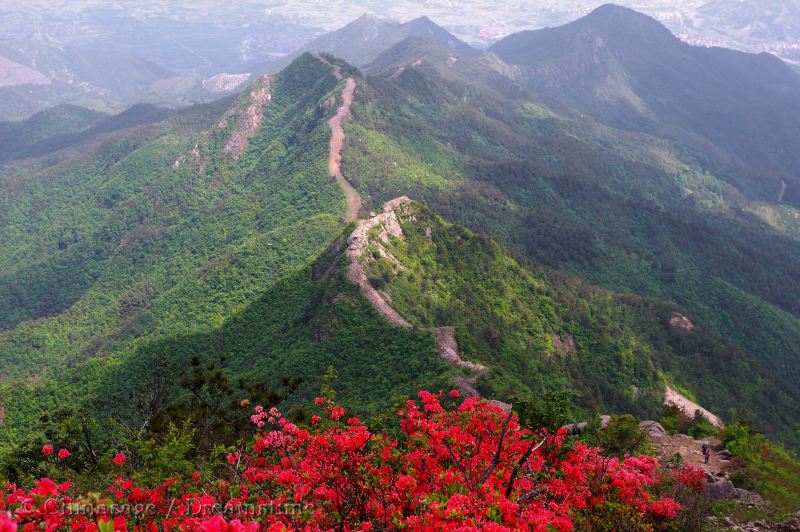 Mountain trail Zhejiang
Places to visit in Zhejiang
At the Orchid Pavilion ➚ Shaoxing there is an outstanding display of calligraphy. However the city of Shaoxing is best known for its rice wine which is produced in vast quantities. Shaoxing was the capital of the short-lived Yue kingdom ➚ in the Zhou dynasty. The famous modern writer Lu Xun, was born there and it was also the base for the Republican heroine Qiu Jin ➚.
Ningbo ➚ rose to prominence as a sea port in the Tang dynasty and became a treaty port in the 19th century. Chiang Kaishek was brought up nearby; since then it has somewhat lost out to nearby Shanghai. Wenzhou to the South is another ancient sea port that like Ningbo became a treaty port in 1876 mainly for trade in tea - another famous Zhejiang export with noted varieties Longjing and Huiming Green Tea ➚.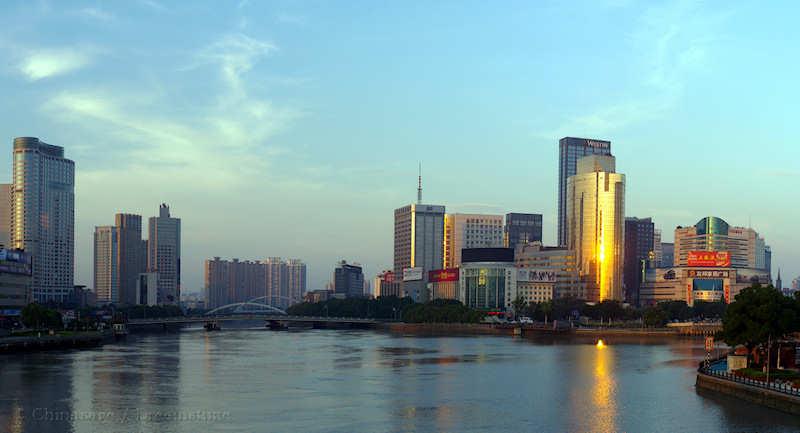 Ningbo city at sunset, Zhejiang
Zhejiang's long rocky coastline and many islands support a large fishing industry. To the north the flat land produces copious crops of rice. The mountains produce a large amount of timber and so has an important paper industry. Notable mountains include Huangyajian Peak ➚; the island peak of Mount Putuo ➚; Mount Tiantai ➚ and Mount Yandang ➚; Beishan Hill and Mount Tianmu ➚. Shangzhou is the home of the much respected traditional Yueju Opera.
Geography
Silk has always been an important industry and Zhejiang produces 30% of China's output. Zhejiang is now a heavily urbanized province with a high population density. It has a warm and rather wet climate, receiving frequent Typhoons in summer from the South China Sea.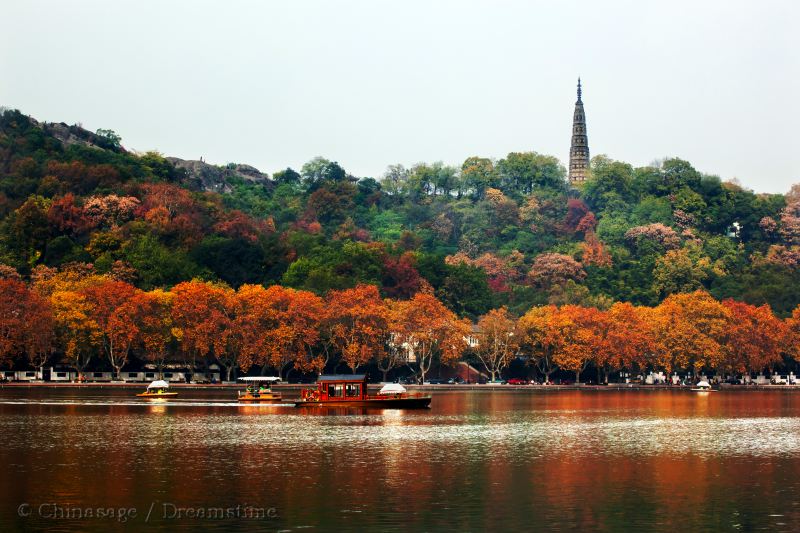 Autumn view of West Lake and Pagoda at Hangzhou, Zhejiang
Zhejiang Climate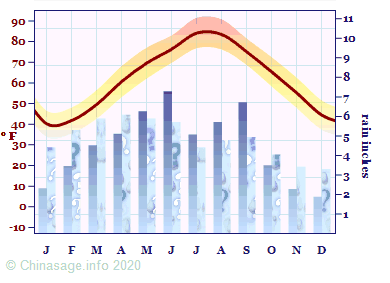 Both
Temp
Rainfall
° C/mms
° F/ins
Key

Show Bing Map

➚
Major Cities
Population
Hangzhou
杭

州

6,241,971
Huzhou

湖

州

158,320
Jiaxing
嘉

兴

466,101
Luqiao

路

桥
427,890
Ningbo

宁

波
3,491,597
Shangyu

上

虞
770,000
Shaoxing
绍

兴

421,283
Taizhou

台

州

612,356
Wenzhou
温

州

865,672
Yiwu

义

乌

1,234,000
Airports
Universities
Situated in the former capital of Hangzhou, Zhejiang University often shortened to Zheda is one of China's oldest and largest Universities. It was dubbed the 'Cambridge of the East' by Joseph Needham. The courses cover a wide range of topics.. Undergraduates: 22929, Postgraduates: 21945, International students: 2700, GP World ranking 110
Source references used for this page:
:: XINHUANET ::

➚
;

Book : 60 Scenic Wonders in China, New World Press, 1980
p. 79-86;

Book : China : Eyewitness Travel, Dorling Kindersley, 2012
p. 240-249;

Book : Chronicles of the Chinese Emperors, Ann Paludan, Thames and Hudson, 1998
p. 27-39;

Book : Insight Guides: China, APA publications, 1994
p. 263-270;

Book : Lonely Planet: China, 1988
p. 316-325;

Book : Modern China: A companion to a rising power, Graham Hutchings, Harvard University Press, 2003
p. 488-491;

Book : Symbols of China, Feng Jicai, Compendium, 2010
p. 101;

Zhejiang (wikipedia)

➚
;

Zhejiang Province Map

➚
;

Zhejiang Travel Guide - Lakes And Hills With Countless Stories

➚
;

Zhejiang Travel Guide: Map, Climate, History, Top Attractions, Local Products

➚
City populations for 2012, Province statistics National Bureau of Statistics 2014

Back to top

Chinasage is a new web resource, pages will be added, enhanced and re-formatted regularly. We would be most grateful if you can help improve this page. Please visit our (secure) contact page to leave any comment. Thanks.
Citation information for this page : Chinasage, 'Zhejiang, China', last updated 30 Nov 2016, Web, http://www.chinasage.info/maps/zhejiang.htm.
No information available


Copyright © Chinasage 2012 to 2018
Please wait...
Downloading information about character