Modern Chinese History
In this section on modern history of China we cover the last one hundred years. Our History section gives full coverage of the dynastic period from earliest times.
The Republic of China was founded on January 1st 1912, and we cover include pages on the Peoples Republic that was founded in 1949,the leaders of the P.R.C. and also the unique system of Chinese government. Looking both backwards and forwards there is coverage of China's ambitious program of space exploration; some musings on China's likely future development and that formative period for the early P.R.C. leaders : the Long March.
All about the exploitation of China by foreign powers from the
Ming dynasty
to the foundation of the PRC in 1949. The establishment of foreign enclaves within most Chinese cities one hundred years ago led to many frictions with the foreign powers, particularly Britain. The
treaty port
system forcibly opened up cities to foreign trade in lat Qing dyansty China.
The building of
railways
became a competitive scramble between foreign powers in the late 19th and early 20th century. Railways were seen as the key first step in opening up inland China for trade. Britain, France, Germany, Japan and America all invested in the building of them only for the investment to be lost in the following years of turmoil.
Modern History
An in-depth overview of the position of China in the world and its likely development in the future. China is on track to being the leading super-power before too long. What sort of future is in store for us all?
China today
You can find information not only about China's long history but its present and future too. We cover the years since 1912, the space program, the current leadership and system of government as well as some lengthy musing on China's future direction.
Read More

Tue 7

th

Mar

Any recent visitor to China will have come away astonished by the pace of change. Huge, new buildings pop-up everywhere. The government has a strategy of planned construction of whole new urban centers. While the Special Economic Zones (SEZ) of Deng Xiaoping's era have prospered there is now more than example of how this strategy has failed to deliver. Ordos has been widely featured as a modern ghost town because a local boom from coal mining did not take place. Other developments within Tianjin, Kunming cities and at Yingkou, Liaoning have also failed to find take-up by companies. The government strategy seems to be moving from designating new cities to develop to following industrial development - only putting new urban cities where there is a demonstrable need for them.

Read full story...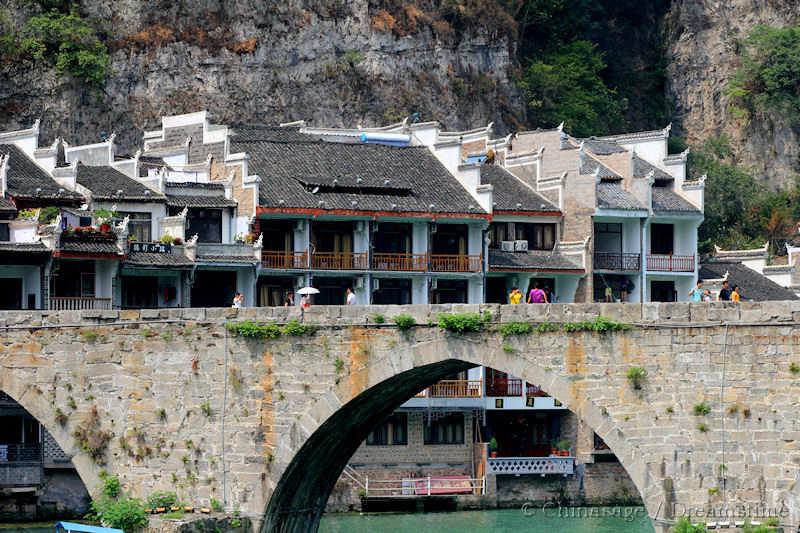 Zhenyuan village in Guizhou is home to many
Miao minority
people

Chinasage is a new web resource, started in 2012, pages will be added, enhanced and re-formatted regularly. Please check back soon for updated information about China.
We would be most grateful if you have any comments or suggestions to help improve this page. Our contact page is also available if you have a longer comment. Just type in a quick remark here:
Citation information: Chinasage, 'China's history since 1912', last updated 13 Dec 2016, Web, http://www.chinasage.info/modernhistory.htm.
Copyright © Chinasage 2012 to 2017