Modern Chinese History
In this section on modern history of China we cover the last one hundred years. Our History section gives full coverage of the dynastic period from earliest times.
The Republic of China was founded on January 1st 1912, and we cover include pages on the Peoples Republic that was founded in 1949,the leaders of the P.R.C. and also the unique system of Chinese government. Looking both backwards and forwards there is coverage of China's ambitious program of space exploration; some musings on China's likely future development and that formative period for the early P.R.C. leaders : the Long March.
The building of
railways
became a competitive scramble between foreign powers in the late 19th and early 20th century. Railways were seen as the key first step in opening up inland China for trade. Britain, France, Germany, Japan and America all invested in the building of them only for the investment to be lost in the following years of turmoil.
The two '
Opium Wars
' between Britain and China 1839-1860 mark China's forced change in direction after thousands of year of dynastic rule. Defeat by a far away foreign power created turmoil in China and triggered the 'century of humiliation' from which China only emerged in 1949.
All about the exploitation of China by foreign powers from the
Ming dynasty
to the foundation of the PRC in 1949. The establishment of foreign enclaves within most Chinese cities one hundred years ago led to many frictions with the foreign powers, particularly Britain. The
treaty port
system forcibly opened up cities to foreign trade in lat Qing dyansty China.
Most people are familiar with the twelve years and their animals.
Chinese astrology
places emphasis on the year of birth rather than the month of birth and so all people born in a particular year share some characteristics. Even to this day couples have delayed the birth of a child so it would fall in a 'lucky' year.

Proverb
self I drunk
Drunk with oneself. Narcissistic
Conceited and arrogant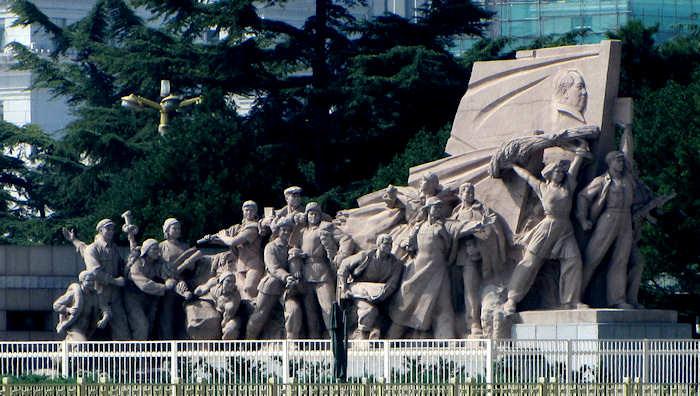 Monument on West side of
Tiananmen Square
between
Mao
Mausoleum and Monument to the Heroes of the People. September 2013. Image by RThiele available under a
Creative Commons license

➚
.

Chinasage is a new web resource, started in 2012, pages will be added, enhanced and re-formatted regularly. Please check back soon for updated information about China.
We would be most grateful if you have any comments or suggestions to help improve this page. Our contact page is also available if you have a longer comment. Just type in a quick remark here:
Citation information: Chinasage, 'China's history since 1912', last updated 13 Dec 2016, Web, http://www.chinasage.info/modernhistory.htm.
Copyright © Chinasage 2012 to 2017