Chinese proverbs keeping bad things at bay
A set of proverbs that warn about evil and demonstrate how it can be defeated.
evil string of cash everywhere full
If evil was placed like discs on a string it would be always be full. Traditionally coins had holes in them and they were strung together.
Evil is all around

We need your help to keep the Chinasage web site growing. Although we use a few targeted advertisements there are insufficient to maintain the web site. Please consider making a donation of however little or much you can afford.
To make a donation, simply click on the Paypal button below, it will take you to the official Paypal web site to make your donation simply and securely.
Many thanks, much appreciated.
rabbit no eat burrow side grass
Rabbits do not eat the grass around their burrows
Thieves do not steal from neighbors
kindness will enemy repay
Repay kindness with hostility
Reject kindness
Biting the hand that feeds it
study well three year, study bad three days
It takes three years to learn well; it takes only three days to degrade
Falling into bad ways is far easier than keeping to the good
The road to hell is paved with good intentions
snow up add frost
Add frost to snow
To add to misfortunes unnecessarily
Add insult to injury
come upon traitor stand approve jade, spirit straight no beg tile complete
In face of evil, rather be a broken jade than an intact brick
It is better to die with honor than surrender
self I drunk
Drunk with oneself. Narcissistic
Conceited and arrogant
self tall self big
Think oneself tall and great
Full of conceit and ego
evil people crooked way
Evil people in crooked ways
Dishonesty and deceit
偷梁换柱
steal girder change post
Steal beams replaced with wooden poles
To carry out a crafty deception
person evil person fear heaven no fear, person good person cheat heaven no deceive
Evil people are dreaded by other people not by heaven; good people may be cheated by people but not by heaven
Even though evil works may go unpunished on earth, good works do not go unnoticed in heaven. Reward for good may not be immediately received.
The history and structure of many
common Chinese characters
is a fascinating study. In this section we look in details at a few hundred of them.
strike grass startled snake
Striking the grass alerts the snake
It is unwise to alert an enemy
fall well throw stone
After someone falls into a well throw in a stone
To add needlessly to someone's misfortunes
Hit a man when he is down
word but nothing true
Speak but not mean it
To go back on one's word
tiger look at stare stare
A tiger's stare. To look covetously
To eye enviously
wolf feeling dog lungs
Wolves are aggressive, dog bark. Ungrateful; cruel and unscrupulous
Ungrateful and unscrupulous
haven't made damage heart affair, no fear devil call gate
Clear conscience does not fear a knock at midnight
If you have done nothing wrong, there is no worry over retribution
As you make your bed, so you must lie upon it
fall spear mutual direction
Attack own party
Betray one's own side
injure crowd this horse
Bring injury to the group
The bad person of the family
Bad apple; Black sheep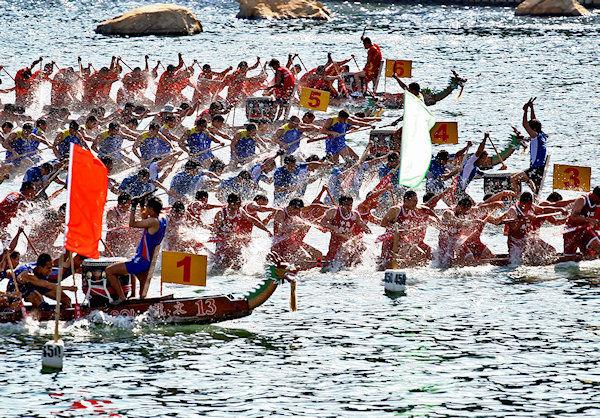 Dragonboat Racing Festival Macau 2005. Image by
lidxplus

➚
available under a
Creative Commons license

➚
evil person first tell complaint
The offender is the first to complain
The perpetrator diverts attention by being the first to complain
To cry 'wolf'
incite wind spot fire
Create wind and fire
Create a lot of trouble
mouth honey belly sword
Mouth of honey, heart of daggers
Disguising ill intent with honeyed words. Deceitful and dangerous
Places to visit
There is a great deal to see in China; as it is such a large country it is impossible to see it all in one visit. Our visitor attraction page gives a wide range of places to visit all over China, and not just the obvious ones.
Read More
one correct flatten hundred evil
Justice can overpower a hundred evils
Justice is the main defense against evil
hundred foot insect dead but not motionless
A centipede with a hundred legs does not lose its life after one blow
An evil is not easily disposed of; old institutions take a long time to renew
change evil return correct
Abandon evil and turn to good
Reject bad ways and turn to the good
Turn over a new leaf
贼喊捉贼
thief shout 'stop thief'
A thief cries 'Stop thief!'
Diverting attention to cover misdoing
Crying 'wolf'
clay figure fear rain, lie speech fear logic
A mud figure fears rain; a lie fears truth
Over time lies will eventually be laid bare
Truth will out
false public aid self
Swindle public to help yourself
Use public office for personal gain
Power corrupts; absolute power corrupts absolutely
heart like dead ash
Heart reduced to ashes
Desperately unhappy
smile inside conceal knife
A dagger concealed in a smile
Malice concealed by apparent friendliness
smelly not can equal
Worst ever smell
To give off an unbearable stink
speak Cao Cao, Cao Cao arrives
Speak of Cao Cao and he arrives. '
Cao Cao

➚
' of the Three Kingdoms is the embodiment of evil.
Someone who you are talking about happens to appear unexpectedly
Speak of the devil and he is sure to appear
virtue tall one foot, devil tall ten foot
Where good flourishes, evil can flourish even more
There is always opportunity for evil to take root
Writing characters
The art of calligraphy is still widely appreciated in China. Fine historic pieces by the great masters continue to achieve high prices at auction. To appreciate Chinese writing it is important to know how the characters are made with the brush. Our page on brush strokes lets you learn how to write in Chinese calligraphy.
Read More
dog fierce wine acid
A fierce dog bankrupts a liquor store. A story of a shopkeeper who lost all his customers due to his ferocious dog
Bad company discourages true friends
world black crow one kind black
Crows everywhere are all black
Bad people are all the same. You find bad people everywhere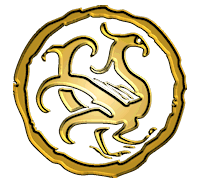 Our proverbs come with lots of information. The modern Chinese
characters
are followed by the proverb in
pinyin
. Next, there is a crude character by character transliteration into English, followed by a more accurate English translation. If this is a Chinese proverb alluding to history the meaning may still not be clear in English, so the general meaning follows. Finally some proverbs have fairly direct English equivalents, if so the English proverb is included at the end.
Our translations need improving, so please
let us know
if you can help with that.

Back to top

Chinasage is a new web resource, pages will be added, enhanced and re-formatted regularly. We would be most grateful if you can help improve this page. Please visit our (secure) contact page to leave any comment. Thanks.
Citation information for this page : Chinasage, 'Chinese Proverbs about countering evil', last updated 7 Dec 2016, Web, http://www.chinasage.info/proverbevil.htm.
Copyright © Chinasage 2012 to 2018
Please wait...
Downloading information about character