Chinese proverbs about patience and perseverance
A set of proverbs that help cope stoically with life's ups and downs. Perseverance and restraint are the central themes.
bitter exhuast sweet arrive
Bitterness over, happiness arrives. At the end of suffering comes relief
After troubles comes happiness
The darkest hour is just before the dawn

Proverb
Sikong see usual
Sikong is the title of a minister in China who said that entertainers were a common sight at feasts.
An everyday occurrence; nothing out of the ordinary
normal support has day think nothing day, noone support nothing time think has time
When rich there is time to think all day, when poor there is no time to think
When rich, you have time to dream, but do not dream of riches when you are poor
follow order gradually enter
Make gradual progress one step at a time
To make steady step by step progress towards an end
A journey of a thousand miles begins with a single step
evil extreme good arrive
At the extreme point of misfortune, good will surely arrive
Things at the worst will mend
The darkest hour is just before the dawn
frontier old man lose horse, peace know wrong blessing
When the old man from the frontier lost his horse; how could he have known that it would not be fortuitous? The
story

➚
is that a man lost his horse but actually it went over the Great Wall and brought back several horses with it
A setback may turn out to be a blessing in disguise.
Every cloud has a silver lining
good fortune not double arrive, misfortune not single walk
Blessings come along alone; troubles often come together
Bad fortune is more frequent than good
Ill fortune comes in threes
small hole no mend big hole eat bitter
A small hole not mended in time will soon become a larger hole more difficult to mend
Do not put off taking action to put things right
A stitch in time saves nine
study study not neglect
Do not neglect your studies. Ponder on problems
Study hard. Keep thinking about a problem
Where there's a will there's a way
disaster not alone walk
Disasters do not walk alone
Misfortunes tend to come all at once
When it rains, it pours
good horse not eat turn head grass
A good horse does not eat the grass behind it
Do not dwell on past actions, progress forward
joy extreme produce sorrow
After extreme joy will come sorrow
All good things must come to an end

We need your help to keep the Chinasage web site growing. Although we use a few targeted advertisements there are insufficient to maintain the web site. Please consider making a donation of however little or much you can afford.
To make a donation, simply click on the Paypal button below, it will take you to the official Paypal web site to make your donation simply and securely.
Many thanks, much appreciated.
spilled water difficult collect
Spilled water can not be brought back
What is done is done
There's no use crying over spilt milk
arrive day region long
Long time ahead
There is adequate time to achieve your desires
All things come to those who wait
world does not have no break up of banquet
No banquet in the world goes on forever
Good fortune can not last for ever
All good things must come to an end
ride tiger difficult down
When on a tiger's back, it is hard to dismount
When taking risks you have to live with the consequences, it is difficult to back out
He who sups with the Devil should have a long spoon
eat soft not eat hard
Only able to chew tender food, not the tough
Unable to withstand harsh criticism
tree cease make boat
The tree has been made into a boat
Too late to change anything
What's done is done
because choke abandon eat
If is foolish to refuse to eat just because of the chance of choking
Life does not come without risks. Risk of failure is not an argument for not trying
mountain no turn road turn
A mountain cannot turn, but a road can
It is not necessary to continue in the same direction, there are other alternatives to avoid an obstacle
There's more than one way to skin a cat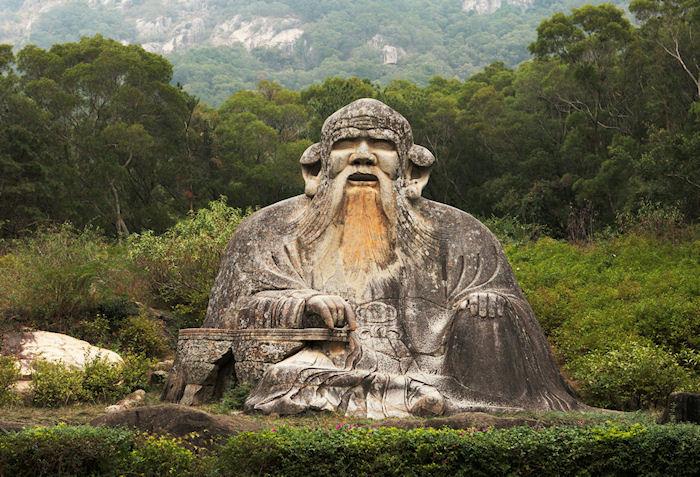 Statue of Lao Tzu (Laozi) in Quanzhou,
Fujian
. Image by Tom@HK available under a
Creative Commons license

➚
.
pull up seedling help lengthen
Young plants can not be forced to grow by stretching them
Be patient and let nature run its course
Patience is a virtue. A watched pot never boils
victory foot first climb
The winning foot is the first to climb
To succeed need to start off first
The early bird gets the worm
tree desire quiet but wind not still
The trees want to remain quiet, but the wind will not stop
In spite of a wish for peace, trouble is brewing
The illustrious Ming
It was during the Ming dynasty that China achieved many accomplishments: a vast fleet sailed the seas and made many dicoveries.; an encylopedia of the accumulated knowledge was distilled into 11,000 chapers; trade with America brought in new vegetables and cotton that were widely grown.
Read More
remain get green mountain exist, no fear have no firewood
So long as the green mountains are preserved, there will be no shortage of firewood
Do not despair, there is plenty of time and opportunity
Everything comes to him who waits
night long dream many
The longer the night, the more dreams there will be
When in hard times it is foolish to merely dream of better things
If wishes were horses, beggars would ride
sea admit hundred rivers
All rivers run to the sea
We all shared a common destiny
house leak slanting happen upon continuous night rain
When the roof is leaking, there will be continuous nights of rain
Misfortunes tend to come all at once
When it rains, it pours
you die I live
Fight to the death
To fight to the bitter end
joint outside produce branch
Leaves emerge from where they should not
New problems pop up unexpectedly
stand pride jade broken, no pride tile complete
Don't be a proud piece of broken jade, be a complete tile
Better to persevere than face destruction by standing out
eat one chasm long one wise
Fall into a pit but learn from the experience
Gain wisdom from experience of set backs
Learn from your mistakes
coarse tea bland food
Eat a simple home-made food and yet be healthy
On a starvation diet
produce rice cook accomplish well-cooked food
The rice has already been cooked
What has been done can not be undone
What's done is done
lotus root break silken thread links
Although the lotus root may be cut, its fibered threads are still connected
Friendship survives adversity
thing extreme certainly turn around
Extreme conditions will surely calm down
Things will turn around in the opposite direction when they reach the highest point
The tide is on the turn
one thread not careless
To take care of every thread in a cloth
To be meticulous. To pay atttention to every detail
If a job is worth doing it is worth doing well
good horse no eat return head grass
A good horse will not eat the grass behind it
Pride may forbid a person going back to his home town after failure. Do not dwell on past actions, progress forward
rain past heaven bright
The rain has gone, the sky brightens
Things are improving. Hope for the future
one stride one footprint
Every step leaves a footprint
Work steadily one step at a time in order to make solid progress
Rome was not built in a day

Yellow glazed tiles on a temple roof
water full level overflow
Water rises only to overflow
At the point of a crisis. Things are about to turn around
The tide is on the turn
ice freeze three foot, wrong one day single cold
Three feet of ice is not formed in a single day
It takes time to achieve satisfactory results
Rome was not built in a day
clear hand make house
Empty hand make house
To build up something from nothing
hunger not choose eat
When hungry don't care what you eat
The starving aren't fussy over their food - take whatever is available
Beggars can't be choosers
one smile separate ten thousand worries
One smile can erase a myriad worries
Keep cheerful against all the odds
Keep your chin up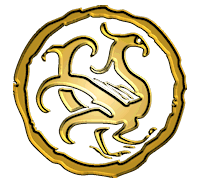 Our proverbs come with lots of information. The modern Chinese
characters
are followed by the proverb in
pinyin
. Next, there is a crude character by character transliteration into English, followed by a more accurate English translation. If this is a Chinese proverb alluding to history the meaning may still not be clear in English, so the general meaning follows. Finally some proverbs have fairly direct English equivalents, if so the English proverb is included at the end.
Our translations need improving, so please
let us know
if you can help with that.

Back to top

Chinasage is a new web resource, pages will be added, enhanced and re-formatted regularly. We would be most grateful if you can help improve this page. Please visit our (secure) contact page to leave any comment. Thanks.
Citation information for this page : Chinasage, 'Chinese Proverbs showing the wisdom of restraint and patience', last updated 28 Nov 2016, Web, http://www.chinasage.info/proverbstoic.htm.
Copyright © Chinasage 2012 to 2018
Please wait...
Downloading information about character