China Quiz Index
Japan's ally
It is little known that Britain (U.K.) was Japan's important ally during the period 1890-1920. The support for the Japanese was a strategic decision to keep Russia out of northern China. Britain directly 'ruled' central China with Shanghai as its main city but it did not have the resources to impose control over Manchuria. As Russia's control of Manchuria was growing rapidly Britain turned to Japan as an ally. It was not until Japan's expansionist plans became clear in the 1920s that Britain distanced itself from Japan.
Read More
Three furnaces of China
The three great cities Wuhan, Chongqing and Nanjing form the 'three furnaces' of China due to the very high heat and humidity in summer. The Yangzi river that meanders close to all three contributes much humidity making conditions difficult at peak times in July and August.
Read More
How well do you know China? Test your knowledge with our wide range of quizzes. Our quizzes are designed to test your knowledge of China and all things Chinese. We plan to add more quizzes, so send your comments and feedback for subjects you would like us to cover. All the questions have their answer somewhere on this web site. The order of questions and possible answers are different each time you take the test. Most people find these quizzes pretty tough so don't be discouraged. The picture quizzes ask you to identify well known landmarks in China.

Back to top

Chinasage is a new web resource, pages will be added, enhanced and re-formatted regularly. We would be most grateful if you can help improve this page. Please visit our (secure) contact page to leave any comment. Thanks.
Citation information for this page : Chinasage, '14 Free China Quizzes', last updated 18 Nov 2016, Web, http://www.chinasage.info/quizzes.htm.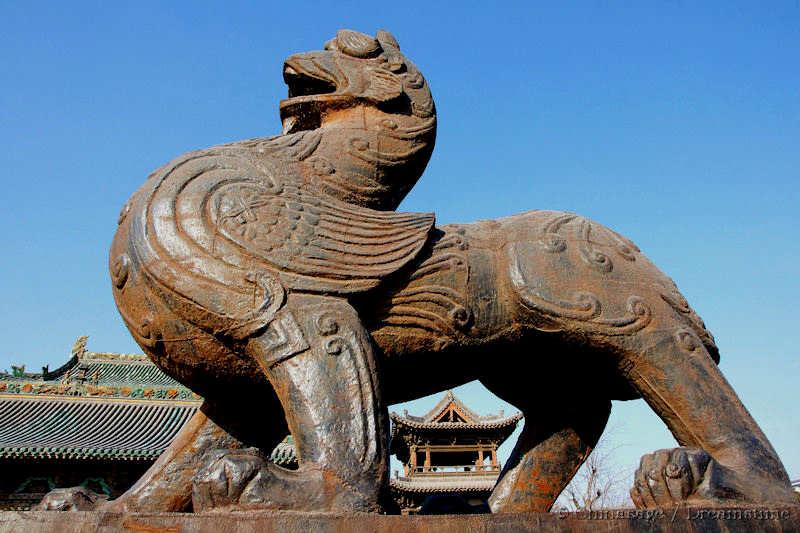 An ancient mythological beast (bixie) made of iron at Yuci Village,
Shanxi
Copyright © Chinasage 2012 to 2018
Please wait...
Downloading information about character