China Quiz Index
Tue 10
th
Oct
China boasts many things and having the largest bore is another claim to fame. But the bore in question is a tidal bore that rushes up the Qiantang River estuary is at peak height and strength just after the autumn equinox. The wave surges up the funnel shaped estuary and can be up to 33 feet [10 meters] high. The linked page shows some spectacular photographs of the bore in Zhejiang province in the last couple of days.
It is all to do with the geography, the orientation of the estuary and the moon's orbit. A similar tidal bore of more modest proportions occurs up the River Severn estuary in the U.K. Here there is a tradition of boats and surfers 'riding the bore' as it travels slowly upstream.
[Image from CCTV]
Read full story...
Imperious Dragons
With the dragon dance and the dragon boat festival the Chinese dragon is still a common sight in China. Considered well-intentioned and not evil the dragons that control the rains have been the most important animal in Chinese symbolism for thousands of years.
Read More
How well do you know China? Test your knowledge with our wide range of quizzes. Our quizzes are designed to test your knowledge of China and all things Chinese. We plan to add more quizzes, so send your comments and feedback for subjects you would like us to cover. All the questions have their answer somewhere on this web site. The order of questions and possible answers are different each time you take the test. Most people find these quizzes pretty tough so don't be discouraged. The picture quizzes ask you to identify well known landmarks in China.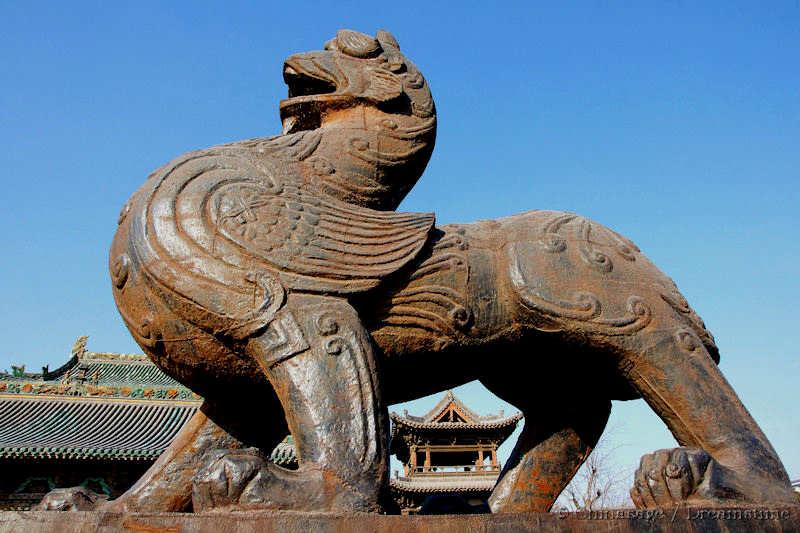 An ancient mythological beast (bixie) made of iron at Yuci Village,
Shanxi

Chinasage is a new web resource, started in 2012, pages will be added, enhanced and re-formatted regularly. Please check back soon for updated information about China.
We would be most grateful if you can help improve this page. Please visit our (secure) contact page to leave any comment. Thanks.
Citation information: Chinasage, 'China Quiz', last updated 18 Nov 2016, Web, http://www.chinasage.info/quizzes.htm.
Copyright © Chinasage 2012 to 2017