China Quiz Index

January 2015. Chinasage is now available in convenient eBook format.
Click here for details
.
Tue 20
th
Jun
The 1st July 2017 marks twenty years since the U.K. 'gave back' Hong Kong to China. Although Hong Kong is a Special Autonomous Region within China with another 30 years to go before China takes full control, many believe that Beijing is firmly in control. The attempts to install more local democracy have been brutally suppressed. Hong Kong remains a prosperous place despite fears that independence from Britain would put it at a severe disadvantage compared to other cities, especially Shanghai.
Another article from CNN ➚ uses declassified documents to the complex maneuverings for hand-over unfolded on both sides. Britain sought to find a way to continue to run Hong Kong as a colony but China blocked that proposal, seeking immediate return to full Chinese control. Legally the core part of the settlement had been signed away as a permanent possession, but the vast bulk of the wider area later had been leased from China and up for legal repossession.
Democracy remains a thorny issue. After a century of denying Hong Kong residents any real say in local government, the British under last Governor Patten started to introduce local elections. Young activists continue to try to resist control from Beijing but as long as Hong Kong remains prosperous there is little appetite for confrontation.
Read full story...
China's flag
The four smaller stars on the flag of the People's Republic represent the four classes of people: working class; peasantry; petit bourgeoisie and patriotic capitalists.
Read More
How well do you know China? Test your knowledge with our range of quizzes.
Here are our quizzes to test your knowledge of China and all things Chinese. We plan to add more quizzes, so send your comments and feedback for subjects you would like us to cover. All the questions have their answer somewhere on this web site. The order of questions and possible answers are different each time you take the test.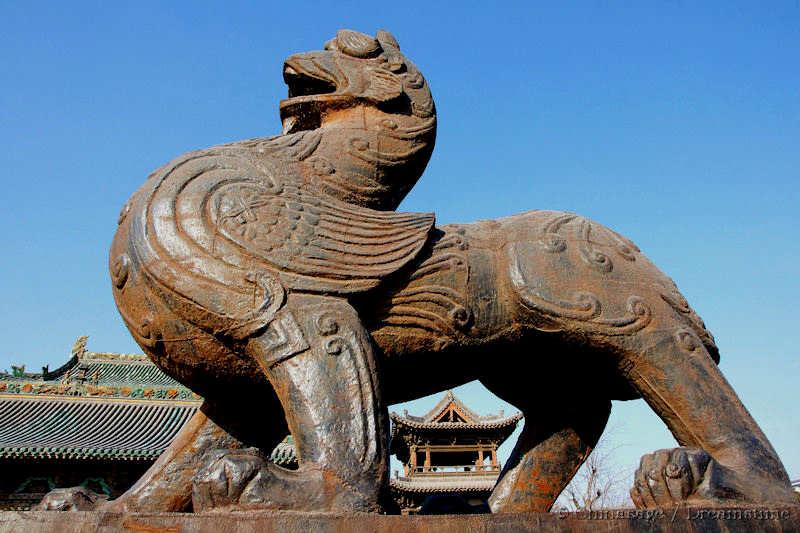 An ancient mythological beast (bixie) made of iron at Yuci Village,
Shanxi

Chinasage is a new web resource, started in 2012, pages will be added, enhanced and re-formatted regularly. Please check back soon for updated information about China.
We would be most grateful if you have any comments or suggestions to help improve this page. Our contact page is also available if you have a longer comment. Just type in a quick remark here:
Citation information: Chinasage, 'China Quiz', last updated 18 Nov 2016, Web, http://www.chinasage.info/quizzes.htm.
Copyright © Chinasage 2012 to 2017