Modern Chinese History
In this section on modern history of China we cover the last one hundred years. Our History section gives full coverage of the dynastic period from earliest times.
The Republic of China was founded on January 1st 1912, and we cover include pages on the Peoples Republic that was founded in 1949, the leaders of the P.R.C. and also the unique system of Chinese government. Looking both backwards and forwards there is coverage of China's ambitious program of space exploration; some musings on China's likely future trajectory and that formative experience for the founding P.R.C. leaders : the Long March.
The end of the dynastic system in China came after a very promising and prosperous start under the wise rule of the first four Manchu Emperors. Years of decline followed, with the
Opium Wars
and Taiping Rebellion culminating in the sad tale of the
Last Emperor Puyi
Modern History
The Chinese reaction to the Versailles Treaty was the major turning point in modern Chinese history. Widespread student led protests throughout the country led to a change in government policy and a refusal to sign the treaty. It was a nationalist movement calling for solidarity againt foreign exploitation that was eventually to lead to the a militarized Guomindang and the foundation of the Chinese Communist Party.
Modern History
Our coverage of the
People's Republic of China
(P.R.C.) includes the background to the rise of the Communists under Mao Zedong, the
Long March
, the
Cultural Revolution
and leading up to present day China. We also include a section describing China's unique form of
Communism
.
Why do we call the country of China 'China'? It is not the name used by the Chinese people themselves. In fact there are a number of names used in the 'Middle Kingdom' that reflect the country's rich cultural and historic heritage.
Chinese arts and handicrafts are full of hidden symbols. Bats, goldfish, peonies and bees all give a specific meaning to a painting or decoration. Exploring the world of Chinese symbolism opens up a whole new layer of appreciation.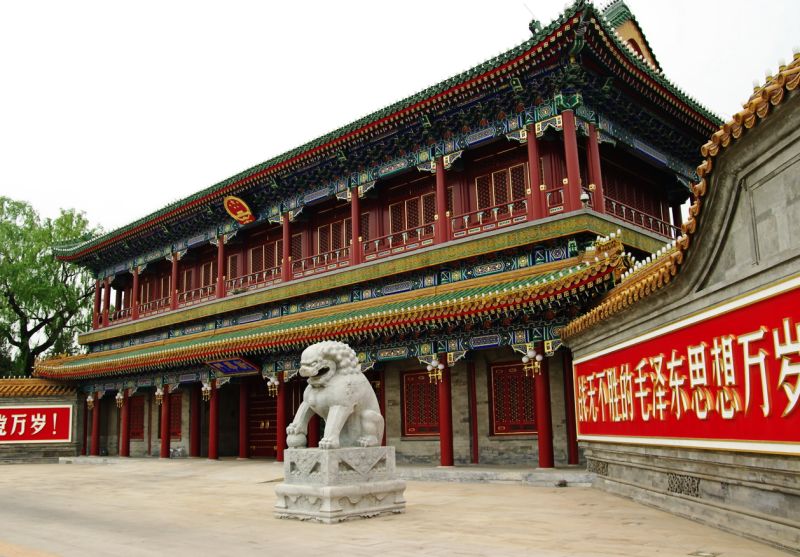 Xinhua Gate is the main ceremonial gate into the Zhongnanhai complex of government buildings, Beijing. The sector is located just to the west of the Imperial centre of government the
Forbidden City
. Image by
Bgabel

➚
available under a
Creative Commons license

➚
Copyright © Chinasage 2012 to 2018
Please wait...
Downloading information about character