Airports in China
You can click on an airport in the map of China to select information in the table.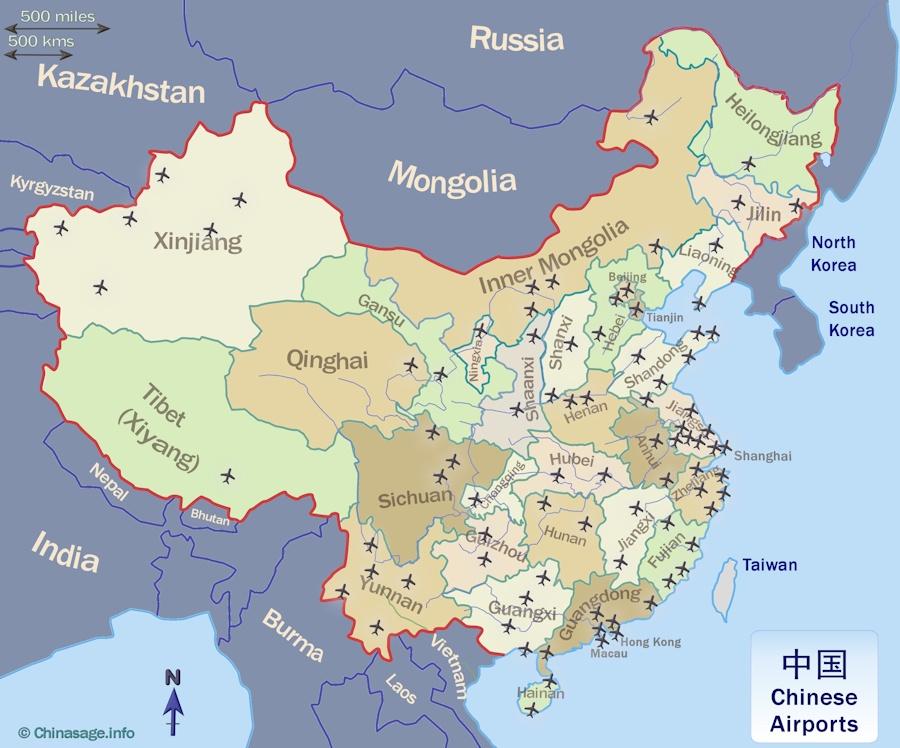 Chinese airports
Here is a list of the all the major Chinese airports across all the provinces. You can click the top of each column to sort the table of information. The distance column shows the direct distance in miles from the currently selected airport to all other airports in China.
Click on a row to select a Chinese airport and highlight in the map. The Map link will display a detailed Google map of the location of the Chinese airport. The Info link takes you to a web page with details of flights from the airport (where available), some of these web sites are in Chinese. The IATA ➚ and ICAO ➚ are the unique international code for the airports.
Air Travel in China
The network of Chinese airports has grown rapidly in the last ten years. The four main hubs for travel into China are at Hong Kong; Shanghai; Beijing and Guangzhou; from these major airports there are connecting internal flights to all provinces in China. Airports are expanding and multiplying at a remarkable rate with many new routes being opened each year. Hong Kong used to be the main entry point for foreign tourists to China. In the 1960s and 1970s it was quite common to reach China on the Trans-Siberian railway. Air China ➚ is the main international airline in China providing a basic service and an excellent safety record. Highest demand and therefore prices are in the holiday period June to September; at Chinese New Year and the public holidays at the beginning of October.
The check-in time requires arrival two hours ahead of flight and the standard baggage allowance is 44 pounds [20 kgs]. There is no longer a departure tax. On arrival a form needs to be submitted giving immigration; customs and health information together with a passport. Checks can be quite strict, in particular any signs of a viral infection (colds, 'flu) can cause substantial delay - as a precaution against spread of bird flu and SARS. Most Chinese airports have all the modern facilities that you would expect to find in an advanced country.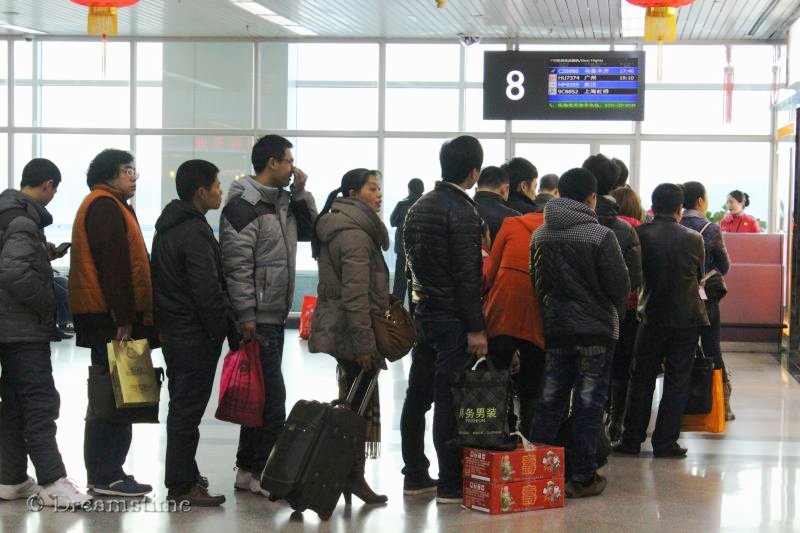 Queue for airport desk for
Chinese New Year
flights Copyright © Dreamstime see
image license
Domestic flights
As discounted tickets can often be found, internal flights within China are best bought in China after you have arrived. Air travel expanded under Deng Xiaoping's leadership in the late 1970s. There are 30 major domestic airlines in China ensuring a competitive market for air travel. They are administered by the CAAC ➚ (Civil Aviation Administration of China). Weather in the mountainous south and west often disrupts air travel and so some internal flights are subject to frequent delays and cancellations.
The continued investment in the railway network has made trains a fast, comfortable and inexpensive alternative.
Places to see
China is a vast country and that is why air travel is vital to see as much as possible on your visit. We have put together a list on our top visitor attractions page, if you look at province pages for any of these destinations it will show the nearest airport.
Visas
A visa is required to travel to China which needs to be applied for at a Chinese embassy before travel. A standard 30 day travel visa is usually adequate. Travel to Hong Kong or Macau may not need a visa, but onward travel into China will need one. A specific permit is needed to visit a few places in China, most importantly for Tibet where independent travel is not allowed - you have to go as part of a group.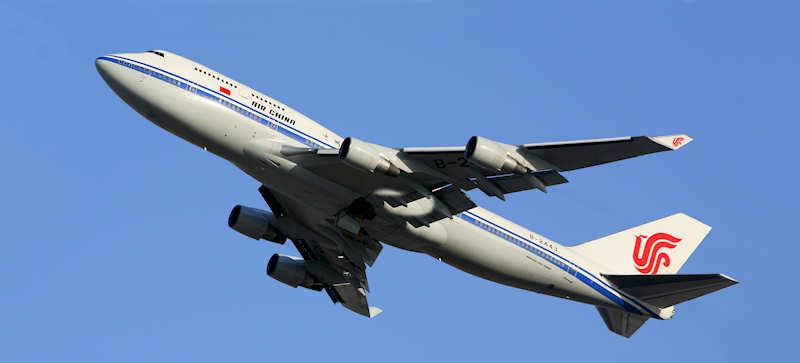 An Air China Boeing 747 taking off from Beijing Capital Airport. Photo by
Thomas Fanghaenel

➚
, available under a
Creative Commons license

➚
.
Copyright © Chinasage 2012 to 2016
---