Free Online Chinese Dictionary
Routledge Grammar:Basic Chinese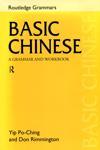 If you want to go beyond speaking and writing 'tourist Chinese' you need a good grounding in Chinese grammar. This Routledge guide goes far beyond memorizing useful phrases and serves as an essential course if you want to speak Chinese well and understand Chinese text. All the Chinese is in both pinyin and characters. It does not include a dictionary section so you will need a dictionary in conjunction with the book.
More details...

➚
Enter the text for a single character or word to look-up in our extensive Chinese-English and English-Chinese dictionary. You can enter a traditional or simplified character, pinyin or English word. For pinyin you can enter with tone marks or tone number at the end.
---
Convert measurements
Our handy measurement convertor will not only do Chinese units to/from Metric/Imperial/U.S. measures but also between meters and feet; liters and pints. Just type in the measurement in length, volume, weight, area and let China sage calculate the accurate conversion.
Read More
You can enter the character or word to look-up in any one of the following fields:
Character enter a single simplified or traditional character to look-up e.g. 友.
Pinyin enter a pinyin representation of a character, this can include tone mark or numbers e.g. yǒu or you3 or for all tones putyou.
Wade-Giles enter the wade-giles representation of a character e.g. yu.
English enter the English word to translate e.g. friend.

Our dictionary data is a subset of the CC-EDICT project ➚ providing a large free Chinese Dictionary. For license information see CC-EDICT ➚. We have only used the single character definitions and not included some of the more obscure characters leaving about 10,000 definitions. The data has been imported to our MySQL database.

Chinasage is a new web resource, started in 2012, pages will be added, enhanced and re-formatted regularly. Please check back soon for updated information about China.
We would be most grateful if you can help improve this page. Please visit our (secure) contact page to leave any comment. Thanks.
Citation information: Chinasage, '', last updated 21 Nov 2016, Web, http://www.chinasage.info/dictionary/lookup.php.
Copyright © Chinasage 2012 to 2017