Symbols index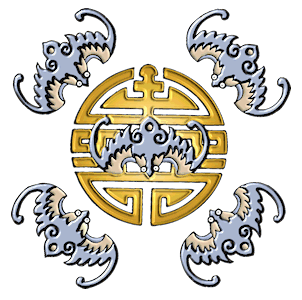 Have you ever wondered what a bee is doing in a painting with a boy on the back of an elephant? These symbolic elements have for centuries been well understood by Chinese people. It is still important to understand them as an inappropriate reference may cause offense while understanding adds a new dimension to appreciation of Chinese art.
Here are all the subjects we have covered in this large index of Chinese symbols and art motifs. As there are so many we have grouped them into birds, animals, colors, flowers & fruit, nature and assorted categories.
Amber
Amulet
Ancestral tablet
Animal
Ant
Ao
Apple
Apricot
Aubergine
Ax
Azalea
Badger
Ball
Bamboo
Basket
Bat
Bean
Beard
Bee
Bell
Bird
Black
Blue
Book
Bottle gourd
Bow
Box
Bridge
Broom
Butterfly
Cabbage
Canopy
Carp
Cat
Centipede
Cherry
Children
Chrysanthemum
Cicada
Cinnabar
Cinnamon
Cloud
Cockerel
Coin
Color
Crab
Crane
Creeper
Crow
Cypress
Deer
Dew
Dog
Donkey
Dove
Dragon
Dragonfly
Duck
Eagle
Earth
Elephant
Endless knot
Fan
Filial piety
Finger lemon
Fish
Flowers
Flute
Fox
Gall bladder
Gecko
Ghost
Ginseng
Glow worm
Gong
Good luck gods
Goose
Green
Hair
Halberd
Hare
Hawk
Heart
Heaven
Hell
Heron
Horse
Immortals
Imperial Insignia
Isles of the Blessed
Jade
Jujube
Kingfisher
Lacquer
Laozi
Lily
Lion
Longevity
Lotus
Luohan
Lute
Magnolia
Magpie
Maple
Meander
Mirror
Monkey
Moon
Mountain
Mulberry
Narcissus
Numbers
Opium
Orange
Orchid
Oriole
Owl
Ox
Pagoda
Pan Gu
Panther
Parrot
Pavilion
Peach
Peacock
Pear
Pearl
Peng Niao
Peony
Persimmon
Pheasant
Phoenix
Pig
Pine
Plum
Pomegranate
Purple
Quail
Rain
Rat
Raven
Red
Rose
Ru Yi
Saddle
Scroll
Seasons
Sheep
Shoe
Snake
Spider
Stone
Sun
Swallow
Swastika
Sword
Tai Ji
Tao Tie
Thunder
Tiger
Toad
Tortoise
Tripod
Umbrella
Unicorn
Vase
Walnut
Wave
White
Willow
Wine
Wolf
Wood oil tree
Yellow
---
If you are looking for a motif to convey a particular meaning it can be tedious to look through all the symbols. So here is a list of the symbols arranged by meaning, note that some of these can take multiple meanings so appear more than once.
Beauty terms
Symbols portraying beauty usually in the form of beautiful flowers.
Apple
Apricot
Azalea
Cherry
Glow worm
Jade
Kingfisher
Lily
Magnolia
Orchid
Oriole
Peach
Pear
Pearl
Peony
Pheasant
Phoenix
Boldness
These animals and mountains portray firmness of resolve and fearlessness.
Hawk
Monkey
Mountain
Peacock
Quail
Tiger
Children
Symbols that generally express a wish for children.
Ball
Lily
Pomegranate
Toad
Unicorn
Examination Success
Success in the Imperial Examinations was a passport to power and wealth and it was customary to wish candidates good luck with symbolic gifts.
Apricot
Carp
Crab
Halberd
Appointment to an official post
Allied to success in examinations was the wish to be appointed to a position in government with an annual salary and great prestige.
Aubergine
Bee
Bell
Cinnamon
Cockerel
Crane
Halberd
Lute
Maple
Peacock
Wave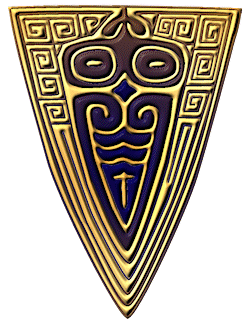 Evil
Creatures that are considered bad omens.
Owl
Crow
Wolf
Family Values
These creatures are considered paragons of filial piety - respect for parents.
Crow
Raven
Sheep
Good Luck
There are a wide range of symbols in Chinese art that all have a general wish for good luck and good fortune.
Bat
Bell
Cabbage
Carp
Cloud
Cockerel
Coin
Deer
Fish
Good luck gods
Lion
Lute
Magpie
Mirror
Narcissus
Orange
Pheasant
Plum
Red
Ru Yi
Spider
Swastika
Tai Ji
Tripod
Unicorn
Amulet
Testimonial
Unsolicited comment from genuine visitor to Chinasage.
Happiness
All these symbols portray a wish for happiness and are suitable portrayed on gifts for friends and family.
Ax
Badger
Bat
Chrysanthemum
Duck
Fan
Finger lemon
Lion
Magpie
Monkey
Oriole
Phoenix
Plum
Spider
Unicorn
Happy Marriage
These symbols are associated with wishing for a long and happy marriage, and children soon to come along.
Ax
Crane
Duck
Fish
Goose
Lotus
Peach
Phoenix
Pomegranate
Shoe
Sun
Wood oil tree

Job Promotion
Wishes for someone to receive a work promotion.
Cypress
Maple
Pomegranate
Long Life
Almost as many symbols are used to wish for a long life as there are to wish for good luck.
Bamboo
Butterfly
Cat
Cicada
Crane
Creeper
Cypress
Deer
Dove
Dragon
Endless knot
Finger lemon
Hare
Jade
Laozi
Longevity
Mountain
Narcissus
Peach
Pear
Pine
Plum
Stone
Tortoise
Loyalty
These things symbolize being loyal in some way or another.
Dog
Dove
Duck
Glow worm
Goose
Pine
Quail
Wood oil tree
Wed 17
th
May
Spending a trillion dollars (yes $1,000 billion) is a serious investment. China's big idea is to open up the country for much wider trade. The primary focus is to develop stronger links with Central Asian countries on the route of the old Silk Road. However the initiative seems all embracing as even New Zealand, hardly on the Silk Road is keen to be involved. The idea ➚ is for both an overland 'Silk Road Economic Belt' (China to Europe) and a '21st century Maritime Road' (China through the Indian Ocean to Africa and then north to Egypt). This has been shortened to 'One belt one road' or 'Belt and Road' or just 'OBOR' for short.
It is hard to work out exactly what the initiative is all about, there seem to be several factors and motives. One is that President Trump has continued to threaten China with extra tariffs to protect U.S. jobs from cheap Chinese imports. If China can open up new markets for her exports she will not be as badly hit by any protectionist measures. The U.S. continues to have a huge balance of payments deficit with China, in March 2017 the U.S. exported $9.6bn but imported $34.2bn. China's heavy dependence on sales into the U.S. is a problem that needed to be fixed. In 2015 China's main trade partners were: United States $457bn, Hong Kong $273bn, Japan $152bn, Germany $97.4bn and South Korea $90.1bn. Shifting trade to new countries will strengthen and stabilize China's economy.
Many analysts also point to the problems of over-capacity in China. Just looking at total imports and exports is too crude a measure, the real problem is that China's growth rate has slowed and the excess capacity in building related industries (steel, cement, construction) need new markets. If China can kick-start economic development elsewhere in the world she solves two problems at once - over-capacity at home and opening up new markets abroad. The China Communications Construction Group has already agreed deals worth up $40 billion in contracts with 'Belt and Road' countries. Sinking so much money in loans that may never be repaid is quite a risk. Venezuela now owes China $65bn and is not in a position to repay. Analysts consider such a huge project will be impossible to manage effectively and huge amounts are likely to be misappropriated.
The initiative comes at a particularly opportune time for the U.K.. Always keen on free trade and instinctively anti-protectionist the U.K. has more to gain than most other countries. With difficult talks ahead on exit of the E.U. trading block the opening up of possible deals with China all over the world is very appealing. U.K. politicians have been very keen to promote the initiative and use its undoubted trading expertise to jointly open up new markets.
The initial proposals centered on the countries of central Asia - along the route of the old Silk Road out of China. The initiative is therefore a way of re-invigorating trading links that were active for a thousand years before trade moved to China's southern ports. The vast bulk of Chinese development had been along the south and eastern coasts, the poorest inland provinces have been left well behind. Of particular importance is the troubled province of Xinjiang. Positioned on the fringes of China the province is more Central Asian than Chinese with a Muslim majority. With frequent terrorist attacks by separatists in the province, China struggles to keep tight control. Recently China has banned Muslim parents from giving their children Muslim names and is embarking on a system of DNA profiling of every citizen. With the 'Belt and Road' initiative deals with neighboring Central Asian states (Takjikistan, Kyrgyzstan, Kazakhstan) the increased economic activity should lessen instability in the region.
The key point is that China is changing from an inward to an outward-looking nation, no longer putting internal development as the top priority. With increased economic involvement comes political power too, and some hawkish observers see this as the first stage in the building of a new Chinese Empire.
Read full story...
Modesty
The virtue of modesty is attributed to some plants and also the qilin.
Bamboo
Lotus
Orchid
Pearl
Peony
Unicorn
Willow
Path through Life
Symbols that reflect upon destiny and overall aims in life.
Heron
Persimmon
Bridge
Peace
Wishes for peace and contentment.
Apple
Box
Chrysanthemum
Crab
Crane
Lotus
Mirror
Phoenix
Quail
Saddle
Shoe
Vase
Protection
These symbols in some manner offer protection from evil and strife.
Bottle gourd
Jade
Sword
Tai Ji
Tao Tie
Tiger
Willow
Arrive quickly
Often combined with other things, this set adds the meaning that 'good fortune', 'exam success', 'children' etc. should happen soon.
Horse
Peng Niao
Jujube
Happen again
These can be added to a design to give the meaning that 'happiness', 'good fortune' etc. should be repeated year after year.
Lotus
Meander
Swastika
Romance
These symbols are closely associated with romance and love. There are many other symbols that relate more specifically to marriage and general good fortune.
Butterfly
Mirror
Strength
This set of symbols give the attribute of strength and fortitude to the meaning of a scene.
Beard
Dragon
Eagle
Mountain
Ox
Pine
Sword
Tiger
Tortoise

Proverb
thin die camel compare horse big
The body of a starved camel is bigger than the body of a living horse.
Respect ancient wisdom rather than the new. Size is more important than age
Wealth
A wish for wealth was often tied up with success in examinations as this led to a lucrative government post.
Basket
Cabbage
Carp
Cinnamon
Coin
Deer
Dragon
Fish
Magnolia
Peony
Toad
Wishes
These symbols have a general theme of good wishes and may be combined with something to give a specific meaning for example good wishes on a marriage.
Bamboo
Elephant
Orange
Ru Yi
Unicorn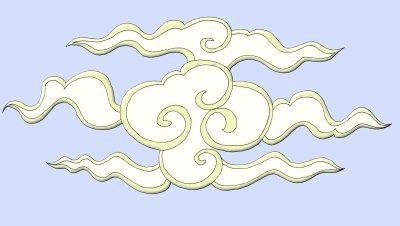 Chinasage is a new web resource, started in 2012, pages will be added, enhanced and re-formatted regularly. Please check back soon for updated information about China.
We would be most grateful if you have any comments or suggestions to help improve this page. Our contact page is also available if you have a longer comment. Just type in a quick remark here:
Citation information: Chinasage, 'Index of Chinese Symbols', last updated 1 Dec 2016, Web, http://www.chinasage.info/symbols/index.htm.
Copyright © Chinasage 2012 to 2017