Chinese Culture and Traditions
Culture
Bats are commonly used in handicrafts, paintings and artwork to give a wish for good luck. This is because 'bat' and 'good luck' sound the same in Chinese.
Culture
In ancient China the Emperor would do very little without consulting the
Yi Jing
(I Ching). The Imperial court had experts to interpret the answers given by this method of Divination. Because it produces a set for 'now' and also a 'change' it is called the Book of Changes and contains explanations of the transformation.
Culture
Along with many other things the Chinese lay claim to the invention of the kite.
Kite flying
remains very popular in China and many can be seen flying in public parks. In the past they have been used for military purposes but fishing is probably the most ancient use.
The Complete Confucius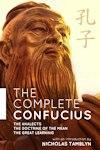 Understanding the teachings of Confucius is essential to understanding both Chinese history and the future. This modern translation of the old sage's work from 2,500 years ago. It includes not only the
Analects of Confucius
but also
The Doctrine Of The Mean
and
The Great Learning
.
More details...

➚
The Chinese language is a treasure trove of history and traditions. This is not all that surprising as the language script has been in use for the past 4,000 years. There are more than a dozen identified script styles for writing Chinese. A good piece of
calligraphy
fetches as high a price at auction as a great painting.
The iconic vision of the
Great Wall
snaking its way up mountainsides is known the world over. The true story behind the wall is more interesting than the widespread myths. Although it stands for China's enterprise and indomitable spirit, it in the end proved a monumental waste of human endeavor.
Culture
The Chinese dragon is no fire-breathing monster, in China they are regarded as powerful but benevolent. As dragons are masters of rain, water and sea they need to be brought on your side if you want a good harvest, and so they need suitable offerings. The
Dragon boat festival
held near midsummer is when everyone used to seek to placate the dragon kings.
Culture
The plum is one of the earliest trees to flower and this often coincides with Chinese New Year. It is considered one of the three friends of winter for this reason. As a symbol it represents long life as the tree is long lived and takes many years to come to flower.
---
Copyright © Chinasage 2012 to 2017