鬼

guǐ

ghost; sly; crafty
Made with 9 strokes.


Picture of a man with an ugly face and a tail - a devil
Different tone
归

guī

(to return)
龟

guī

(tortoise)
圭

guī

(jade tablet)
贵

guì

(precious)
Radical
Index 194 used in:






Pronunciation
Sound file kindly provided by
shtooka.net

➚
under a Creative Commons Attribution Share Alike License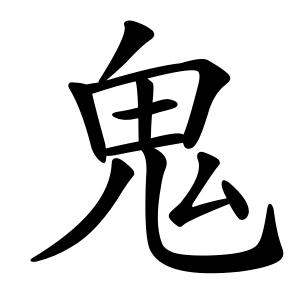 Proverbs
没做亏心事,不怕鬼叫门
méi zuò kuī xīn shì, bù pà guǐ jiào mén
If you have done nothing wrong, there is no worry over retribution
有钱能使鬼推磨
yǒu qián néng shǐ guǐ tuī mò
Money can buy you anything
鬼由心生
guǐ yóu xīn shēng
Being scared of the paranormal; irrational fear of dark and shadows.
神工鬼斧
shén gōng guǐ fǔ
So skilled that workmanship presumed to be the work of a god not a human. Fantastic, superb artistry.
Also
鬼门开

Guǐ mén kāi

Ghost Gate


鬼

guǐ

ghost