Xi Jinping

习

近

平
[1 Jun 1953 - Present]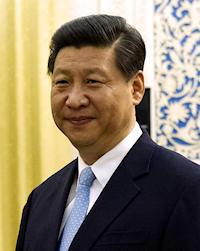 Paramount Leader 2012- Present
Xi Jinping was born in Beijing but his family has roots in Shaanxi province. His father, Xi Zhongxun ➚, was a leader of the Communist party from its earliest years rising to be Vice Chairman of the NPC. His father had friendly relations with the Dalai Lama and was jailed during the Cultural Revolution. Xi Zhongxun went on to manage the creation of the Special Economic Zones (SEZ) in Guangdong under Deng Xiaoping's leadership.
At the age of 16, Xi Jinping worked in Shaanxi while his father was in jail. Here young Xi then spent some time having to live in a cave. His father's situation led to a ban on him joining the Communist party, he only succeeded after ten failed attempts. In 1975, at the age of 22 he returned to Beijing to study Chemical Engineering, Marxist theory and education at Qinghua (Tsinghua WG) University. He went on to take junior posts in the Communist party in Guangdong (where he worked with Hu Jintao) Shaanxi, Hebei, Fujian and Zhejiang. In 2006 he was appointed party secretary in Shanghai. This was a significant step as it is the natural stepping stone before joining the ruling SCP. Seen as a safe pair of hands, a scourge of corrupt practice and untainted by political scandal he rose to be the heir apparent to Hu Jintao. He is perceived as competent, easy-going and affable with a large network of contacts. Broadly his policy is characterized as economically liberal but politically conservative and nationalistic. He has promoted the aspiration to a 'Chinese Dream ➚' somewhat akin to the American Dream ➚ where anyone can aspire to be rich by hard work. He has launched initiatives against corruption which have led to the downfall of some noted senior figures within the party such as Bo Xilai ➚ - even though he did meet and praise Bo Xilai in a visit to Chongqing in December 2010. He likened his attitude to government in 2014 to 'frying small fish ➚' - as the fish are delicate only the gentlest of cooking is needed, so it expressed a need for small, subtle government.
Since 2016 he has taken on more personal power than his immediate predecessors. He does not consult other senior figures in the party and has been given the honor of having his 'thought' embedded in the constitution of the country rather like Mao Zedong. He has been seen as being more hardline and criticized for the brutal treatment of Uighur people in Xinjiang, the rights of protestors in Hong Kong, harsh Covid19 policies, the sovereignty of the South China Sea and the right to criticize the government. He has threatened war against Taiwan if the people of the island seek independence from China. Many appointees now promote untruths in an attempt to suppress anything that appears to show weakness or incompetence. He is seen as much more belligerent and nationalistic than Hu Jintao or even Jiang Zemin and willing to bend the truth to promote Chinese political interest.
He has been heavily criticized over his Covid19 strategy. In the first two years the zero tolerance policy worked well and saved many lives. However in late 2022 even the tough isolation measures proved inadequate to combat new variants (possibly due to less effective nature of Chinese Covid vaccines) and people became less tolerant of the extreme isolation measures that they were repeatedly forced to endure. An apparent total relaxation of the restrictions in December 2022 is likely to lead to a surge in cases and many avoidable deaths.
Xi became President in 2012 and did seem likely to serve the normal term of ten years. However in February 2018 his term was made indefinite. He is the third successive president to have an engineering degree. He has married twice, his second wife Peng Liyuan ➚ is a famous singer. They have one daughter, Xi Mingze ➚, who studied at Harvard University.