Sun Yatsen

孙

中

山
[12 Nov 1866 - 12 Mar 1925]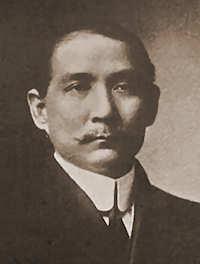 There are two people that are inseparable from the history of modern China, one is Mao Zedong and the other, just as importantly is Sun Yatsen.
Sun Yatsen was born in furthermost southern China: Cuiheng, Guangdong in 1866. His family were poor and two uncles died in California in the Gold Rush ➚. He had a brother living in Hawai'i, and at the age of 12 joined him there to escape poverty and was educated at a Hawaiian school and converted to Christianity. He returned to China for an arranged marriage and studied medicine at Hong Kong, graduating as a doctor in western medicine in 1892. He then worked tirelessly as a revolutionary to overthrow the Qing dynasty and found a modern Republic. His power-base was always southern China which had always reluctantly lived under Manchu rule.
He is known by the name Sun Yatsen in the West, in China he is referred to chiefly as Sun Zhongshan 孙中山, as well as other names ➚ as was the tradition at that time.
Republican or Nationalist
A catalyst to the growth of the Republican movement was the continuing erosion of Chinese prestige by foreign powers. He is quoted as saying 'From 1885, that is from the time of our defeat in the war with France, I set before myself the object of the overthrow of the Qing dynasty and the establishment of a Chinese Republic on its ruins'. His first attempt at revolution in 1895 in Guangzhou failed with many of his friends arrested and killed. The conflicting pulls towards republicanism on the one hand and anti-foreigner nationalism on the other proved difficult to harmonize. The Boxer rebellion (1898-1901) epitomized this toxic mixture of motives of either ejecting the foreigners or over-throwing the 'foreign' ruling dynasty.
Sun made contacts and raised funds among the overseas Chinese and it was not long before the Qing government marked him out as a wanted man with a price on his head. It is believed that he was partly supported by the Triad secret societies during this time. He was kidnapped by Qing agents while in London ➚ in 1896, to be released only by the demands of British sympathizers. He founded the Tongmenghui ➚ 'Revolutionary Alliance' while in exile in Japan which went on to become the Nationalist movement (Guomindang GMD); it received support from those who wished to be ruled by Han Chinese rather than 'foreign' Manchu people. He married Kaoru Otsuki ➚ a 16 year old Japanese girl in 1903, he then also married Song Qingling ➚ of the influential Song family in 1915 while in Japan. He at the time had a close relationship with the Japanese government, in a little known deal, he promised Chinese land to Japan in return for their support.
"The Chinese people have only family and clan solidarity; they do not have national spirit... They are just a heap of loose sand… Other men are the carving knife and serving dish; we are the fish and the meat." [1924]
He continued to promote revolution, based on three core principles: Nationalism (freedom); People's rights (democracy) and People's livelihood (land reform). He envisaged a President kept in check by an elected Parliament and a separate Judiciary.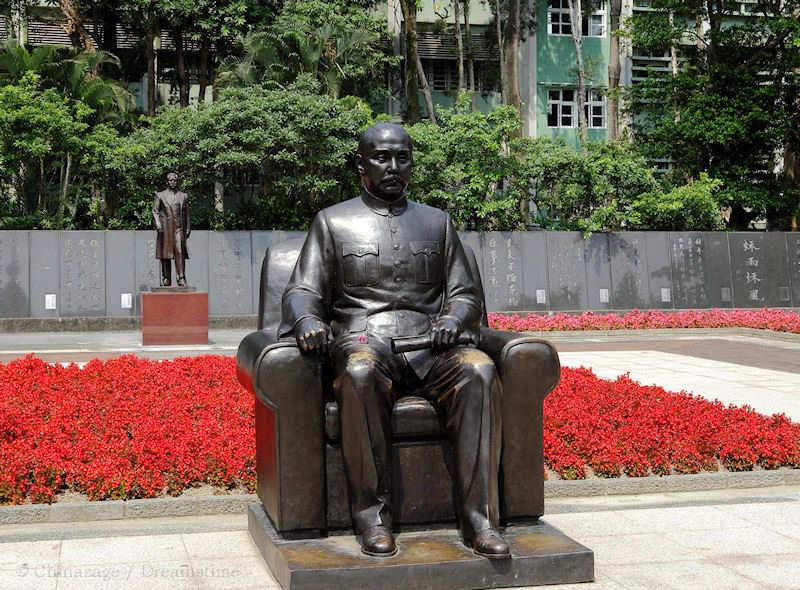 Wuhan revolt
After repeated failures to start a popular revolution during the period 1905-10, the success came after a revolt in Sichuan against the expansion of a European backed railway network. In Wuhan on 10 Oct 1911 the revolution took hold and soon all the provinces in southern and central China supported Sun Yatsen and the nationalists. However Sun was in the United States at the time and it was not until 24th December 1911 that he arrived at Shanghai to take part in the revolution. On 1st January 1912 Sun Yatsen proclaimed the creation of the Republic of China. He was President for only six weeks as political compromises forced him to abdicate in favor of Yuan Shikai, master of northern China. He made this ill-fated move in order to prevent much bloodshed. Yuan Shikai was the preferred leader of the Western powers .
Failure
When Yuan Shikai attempted to form a new dynasty rather than continue the republic, the Republican government effectively ended. Yuan died in 1916 and the country then broke up into areas controlled by local war lords, only interested in maintaining local power. Sun Yatsen tried to re-unify the country and re-found the republic. He was at this time receiving advice from Comintern - the Russian backed organization to promote Communist revolution worldwide. Lenin was dismissive of Sun's abilities: 'Inimitable - one might say - virginal naivety'. The increasingly military nature of the situation brought his military chief Chiang Kaishek to the fore. Sun proved an inspirational speaker and negotiator but poor at leadership and administration. His vision of a new modern China were kept vague to widen their appeal, he accepted help from anyone willing to support him including the Communists. With Russian support it seemed the Guomindang would become the dominant national force; but unfortunately in 1925 Sun was too ill to carry out the crucial negotiations with the northern warlords and he died of cancer on 12 March 1925. His belief that military training was crucial to the success of the Republican cause is clear in one of his last pronouncements: "Now we have Whampoa I may die peacefully" (Whampoa ➚ near Guangzhou was an academy that drilled soldiers in the western style of military training rather than traditional Manchu style ).
His work was appreciated worldwide, Lord Teviot ➚ in the UK said of him 'Sun Yatsen demonstrated to the world how a great man, inspired by no other thought than the determination to bring reforms and benefits to his country and people, can succeed in laying in a few years the foundation of a new era'.
Sun's influence lives on in China. The Guomindang party is the dominant party in Taiwan. A large mausoleum ➚ honoring his memory was built near Nanjing. His widow Song Qingling became honorary President of Communist China for a while. He is credited with marrying modern values with Confucianism and so is regarded as the father of Modern China. Another legacy is the 'Sun Yatsen' plain blue suit that became the national dress for men after the revolution and into the 1970s (when it is became incorrectly attributed to Mao Zedong). On National Day (October 1st) each year his portrait is proudly displayed in Tiananmen Square.