犬

quǎn

dog
Made with 4 strokes.


Ancient picture of a stylized rearing dog, the dot represents an ear
Different tone
全

quán

(all)

泉

quán

(spring)
This character is also represented as a radical in the form:

犭

quǎn






Pronunciation
Sound file kindly provided by
shtooka.net

➚
under a Creative Commons Attribution Share Alike License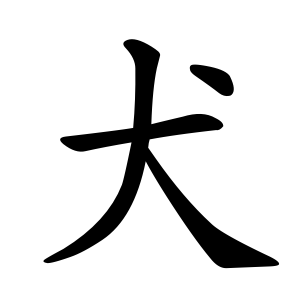 Proverbs
虎父无犬子
hǔ fù wú quǎn zǐ
A son is similar to his father
鸡犬不宁
jī quǎn bù ning
All in turmoil and excitement
一犬吠影,白犬吠声
yī quǎn fèi yǐng, bǎi quǎn fèi shēng
Blindly follow a trend without even knowing its origin
犬牙交错
quǎn yá jiāo cuò
Closely locked together like the two sets of teeth, Said of two opponents who are closely matched in skill who are locked in complex conflict.
鸡犬升天
jī quǎn shēng tiān
Riding high on someone else's success. When someone gets a plum job all his friends and family will also prosper. Alternatively can mean once a problem has been cracked anyone can solve it.
画虎类犬
huà hǔ lèi quǎn
Foolishly undertaking something over-ambitious and coming a cropper. Taking on something beyond your ability. Puffed up with self-conceit.