言

yán words; speech; to say
Used as component

言

in :

信

xìn
Alternative traditional form of character:

訁


Made with 7 strokes.


The radical for speech has been greatly simplified to just two strokes from seven strokes in the full character. It is often used in characters relating to language. It original had an upside down man over a mouth which over time became lines that suggest utterances.
Sounds same
颜

yán (face)
Different tone
演

yǎn (to develop)
This character is also represented as a radical in the form:

讠

yán




Pronunciation
Sound file kindly provided by
shtooka.net

➚
under a Creative Commons Attribution Share Alike License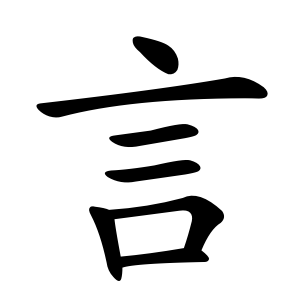 Proverbs
顾左右而言他
gù zuǒ yòu ér yán tā
Avoiding talking about something; taking a long digression
泥人怕雨,谎言怕理
ní rén pà yǔ, huǎng yán pà lǐ
Over time lies will eventually be laid bare
听其言观其行
tīng qí yán guān qí xíng
Judge people by their actions, not by their words
言而无信
yán ér wú xìn
To go back on one's word
一言既出驷马难追
yī yán jì chū sì mǎ nán zhuī
Be careful what you say, it can not be unsaid
言过其实
yán guò qí shí
Overstate the facts or exaggerate skills. Someone who is a bit of a windbag.