竹

zhú

bamboo
Made with 6 strokes.


A simplified picture of leaves emerging from a bamboo stem

Ancient small seal form

Different tone
猪

zhū

(hog)

丶

zhǔ

(dot)

主

zhǔ

(owner)

煮

zhǔ

(to cook)

住

zhù

(to live)

驻

zhù

(to halt)
This character is also represented as a radical in the form:

⺮

zhú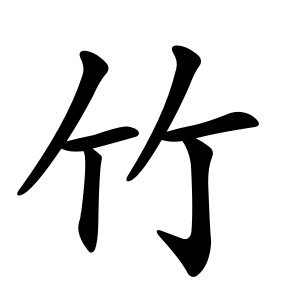 Proverbs
胸有成竹
xiōng yǒu chéng zhú
To be able to paint bamboo (or anything else), you have to have a mental image of how it looks. An admonishment to plan ahead carefully and acquire the skill to carry it out.
势如破竹
shì rú pò zhú
Continuing a successful series. Once you get the knack of splitting bamboo it's best to keep on going. The story is of a general who was advised to rest his army for the winter after a series of successes. The general disagreed, his army had high morale and went on to complete the victory.
罄竹难书
qìng zhú nán shū
So evil that there is not enough paper to record all the misdemeanors. Records used to be made on bamboo strips before paper was invented.
Also
竹

zhú

bamboo