Chinasage Diary
Your daily snippet of information about China. Our diary has a daily fact, proverb and a reminder of upcoming festivals and holidays in China.
Click on the link to add the daily news feed to your browser, so you can receive notifications each day automatically.

http://www.chinasage.info/diary.xml
Sat 15th Dec
Chinese Politburo
The top layer of government in China is the 'Standing Committee of the Politburo of the Communist Party' or
SCP
. The seven (previously nine) members are drawn from the Politburo of the Communist Party of 25 members. No woman has ever been a member of the SCP. All the key offices of state are held by members of the SCP (President, Premier etc.)
On this day
1931
Lin Sen
became President Republic of China 1931
(87 years ago)
Proverb
bitter mouth good medicine
Good medicine tastes bad
It takes hard work and discomfort to achieve something worthwhile
Fri 14th Dec
Last Emperor
The last Chinese Emperor Xuantong (better known as Puyi) ruled from 1908 (at the age of three years old) until he was forced out of the Forbidden City in 1924. During the period from 1912 until 1924 China had both a President and Emperor, although the Emperor had no power he was allowed to retain his title and privileges. He soon fled to the Japanese legation and then with Japanese help he was installed as 'puppet' Emperor/King of Manchuria 1932-45. After WW2 he was then put on trial in Japan and then imprisoned by the new Communist government. After rehabilitation he was released and served as a gardener and librarian in Beijing until his death in 1967.
On this day
1857
Second Opium War 1857
(161 years ago)
2013
Moon Landing 2013
(5 years ago)
2013
Landing on the Moon 2013
(5 years ago)
Proverb
thunder sound big, rain drop small
Thunder is loud but little rain falls
Overly portentous. Reality does not match expectations
Empty vessels make the most noise
Thu 13th Dec
The Yangtse
The
Yangzi
(Yangtse in old spelling)
长江
is the third longest river in the world (3,915 miles
[3,915 miles]
) after the Nile 4,132 miles
[4,132 miles]
and Amazon 3,977 miles
[3,977 miles]
. Unlike these other mighty rivers the whole of its length is entirely contained within China. Its source is in southern Qinghai and then it bends south and then north before heading east through the Yangzi gorges and then on out to the sea near
Shanghai
.
Proverb
person each have capability have no capability
Every person has things that he can do and those that he cannot do
Everyone has their own particular set of skills
It takes all sorts to make a world
Wed 12th Dec
Yangzi dam
The great three gorges dam (Sanxia Daba) is located upstream of Yichang in Hubei province. The huge lake created has allowed boats to sail much more safely up to Chongqing as well as holding back flood waters that used to bring ruin to the lower Yangzi area.
On this day
1936
Xi'an Incident 1936
(82 years ago)
Proverb
aspiration not can slow, time not can lose
Do not let your aspirations weaken; do not waste time
Keep hold of your hopes and dreams, waste no time in achieving them
Don't change horses midstream
Tue 11th Dec
Common language
Because written Chinese characters are not phonetic it is possible to pronounce the same character in many different ways. This is how the different Chinese
languages
have developed. Even though Mandarin is the pre-eminent one,
Cantonese
, Wu and others are spoken by many millions, and yet the remarkable thing is that they can intercommunicate by just writing down what they say - because the written form is the same.
Proverb
hunger not choose eat
When hungry don't care what you eat
The starving aren't fussy over their food - take whatever is available
Beggars can't be choosers
Mon 10th Dec
Doing nothing
The
Daoists
have a strange doctrine of wuwei
無爲
which can be translated as 'inaction' or 'doing nothing' that has had deep cultural impact. It is not to be interpreted directly as bland acceptance but of not resisting the inevitable. The importance is to survive rather than oppose, to 'go with the flow'. The chief example given is of bamboo bending in the wind rather than trying to block it and be broken by it. This doctrine is used in Martial Arts so that the practitioner redirects an opponent's attack rather than trying to block it. Westerners can find this concept challenging as Chinese people may not stick to principles when circumstances suggest an alternative action avoids conflict.
On this day
220
Han dynasty
ended 220
(1,798 years ago)
Proverb
good horse not eat turn head grass
A good horse does not eat the grass behind it
Do not dwell on past actions, progress forward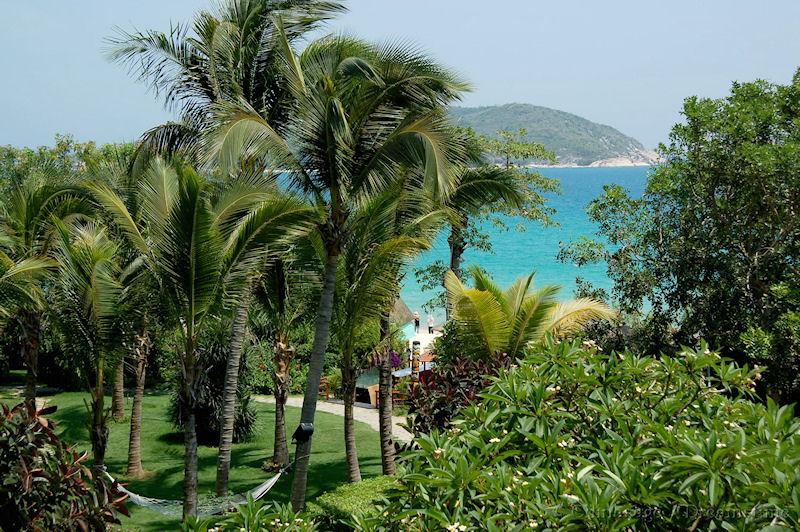 Tropical garden on
Hainan island
Copyright © Chinasage 2012 to 2018