Gansu, China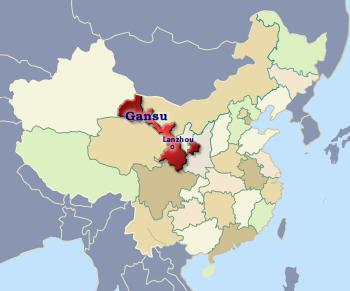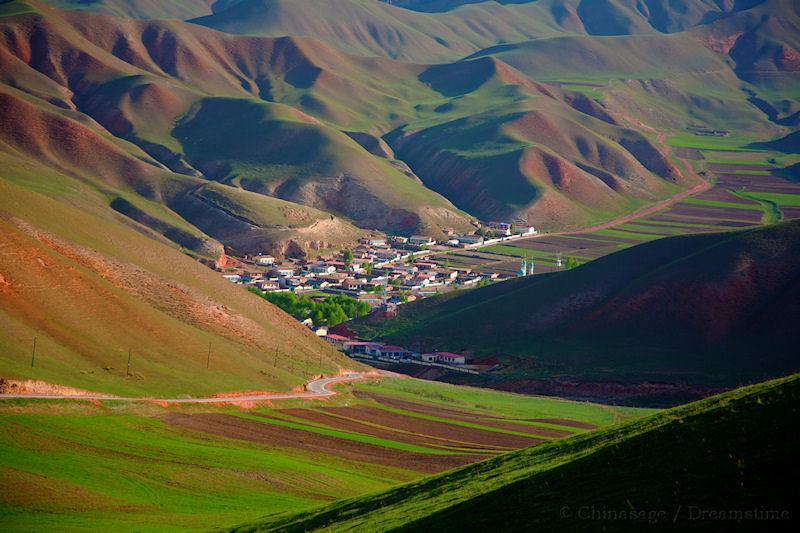 Qilian mountains on the border of Gansu and
Qinghai
Gansu is the historic gateway into China; it stands between the high Tibetan mountain chains to the southwest and the Gobi desert to the north offering a trading corridor with Central Asia through the ages. The Great Wall snakes along its northern edge up to the Silk Route's fort at Jiuquan. The name Gansu is one of the few provinces named after two places 'Gan' (Zhangye area) and 'Su' (Jiuquan area).
Lanzhou
Lanzhou is an important crossing point of the mighty Yellow River on the natural route to Xi'an and northern China. Although now a mjor industrial center, it has a large and fascinating provincial museum.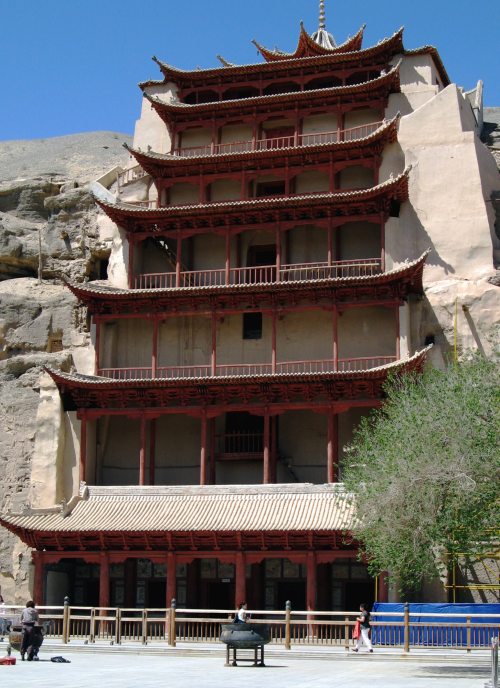 Facade of the Great Buddha Cave (#96). 695 AD (interior); 1935 AD (facade). Mogao Caves, Dunhuang. Empress Wu Zetian sponsored this magnificent cave in order to ally herself with Buddhist clergy and strengthen her reign. A colossal statue of the Buddha, measuring 35.5m (116ft) high, is installed within. The modern facade is nine stories tall. Image by
G41rn8

➚
available under a
Creative Commons License

➚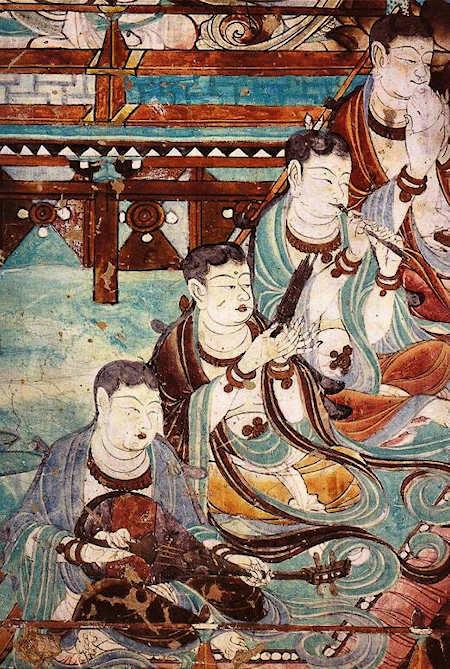 Musicians
in paradise, Yulin cave 25, Dunhuang,
Tang Dynasty
Image available under a
Creative Commons license

➚
Mogao caves
The Buddhist caves at Dunhuang are witness to the import of Buddhism along the Silk Route into China. The Mogao grottoes contain 2,300 painted statues and large painted murals. They have been protected by desert conditions from harm for centuries. Figures were painted over a period of nearly a thousand years and the depictions give useful insight to changes in sartorial style over the period 4th to 14th centuries. Dunhuang was positioned as the last (and first place) in China on the pilgrim and trade route to India. The Tang dynasty murals are considered the finest. Although depiction of human figures predominate there is, for instance a large, detailed depiction of Wutai Mountain. A large hidden storeroom was discovered with heaps of scrolls, paintings and sacred vessels, it is believed they were walled in at the time of the Western Xia conquest. When discovered by Europeans in the early 20th century a number of important artifacts were taken away including the Diamond Sutra ➚ (the first printed book) which is now held by the British Library, London.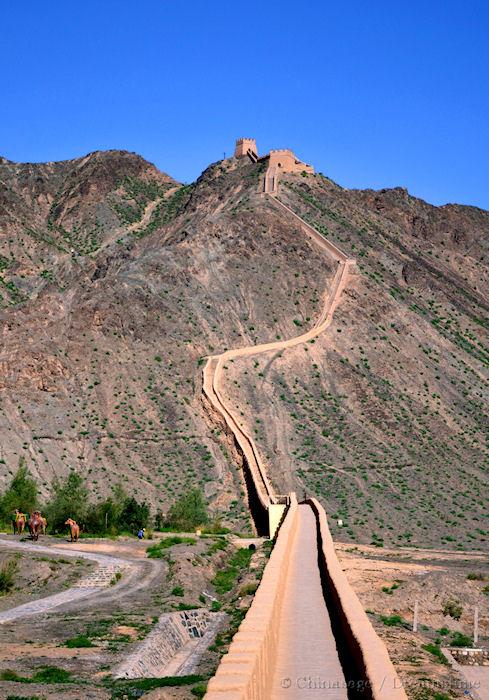 Restored section near the end of the Great Wall, Jiayuguan, Gansu
Other places to visit in Gansu
Maijishan Grottoes
The Maijishan Grottoes ➚ near Tianshui, Gansu are another set of impressive Buddhist carvings cut deep into a steep cliff. Walkways are strung along the cliff edge for visitors to appreciate them. Some are carved, others are modeled in clay and date from the 4th century into the Qing dynasty. They vary immensely in size.
The famous crescent lake near Dunhuang, Gansu
Just as impressive as Dunhuang and Maijishan are the Yulin Caves ➚ near Luomen. Also known as Wanfoxia 'The gorge of ten thousand Buddhas', it is rather remote and has caves constructed over a thousand year period dug out on two cliffs facing each other across a gorge. It is located 47 miles [47 miles] south of Anxi.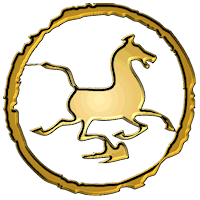 A representation of the famous flying horse found in Gansu.
Bingling Si ➚ has another fine collection of Buddhist sculptures. Linxia has a number of mosques. Between Linxia and Luqu is a major Tibetan Buddhist monastery – Labrang Monastery, home to 1,500 monks - which demonstrates how far Tibetan influence stretches into China. Wuwei in Gansu is where the famous flying horse sculpture ➚ was discovered in 1969. Langmusi in southern Gansu is remarkable for its scenery and mix of ethnic people.
Shandan in the middle of the transport corridor is famous as the location of the Shandan Bailie School ➚ which was established by the Englishman, George Hogg in 1945. He rescued 30 boys from the war in China by guiding them over the mountains from Shaanxi .
The fort of Jiayuguan at Jiuquan marked the Chinese frontier for many travelers long before China extended west into Xinjiang. Built in 1372 of tamped soil and bricks it controlled the narrow pass the Silk Route followed into China. The 35 feet [11 meters] high walls were wide enough for horses to ride along the top. Over land travelers must have been greatly impressed by their first glimpse of Chinese architecture.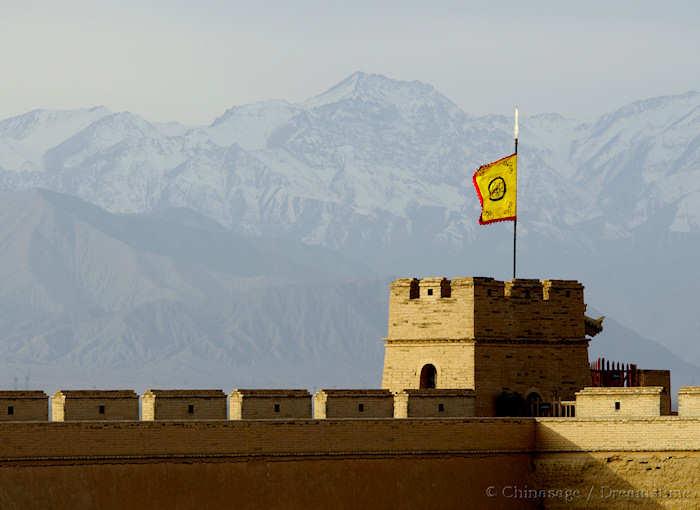 Jiayuguan fort with snowy Qilian mountains, Gansu
Gansu History
One of the earliest and most significant claims to fame is that the Qin people that went on to unify China under Qin Shihuangdi may have originated from Gansu. Wudi, the August emperor of the succeeding Han dynasty sought to solve once and for all the threat from barbarian tribes to the north. He strengthened existing parts of the Great Wall, built new walls and forced the re-settlement of up to 500,000 people into the Gansu region to consolidate Han rule.
Gansu Geography
Cold in winter and very hot in summer, the province has very low rainfall (16 inches [40 cms] a year), so habitation and agriculture is restricted to areas close to rivers. It is a mountainous area (70% of land is mountains or plateau) with most land about 2,000m above sea level. Specialty food in the province includes lamb and Lanzhou noodles. It is famous for producing angelica; carved jade; medicinal herbs and melons.
The discovery of extensive iron ore and coal deposits has led to heavy industrialization in places, but much of the Gansu province is arid with desert or poor pasture land. Its long history of settlement is demonstrated by significant numbers of Tibetan, Hui, Mongol and Kazakh minority people. It is intended that the Belt and Road initiative ➚ will bring increased trade on improved roads through Gansu and help with more industrialization and modernization.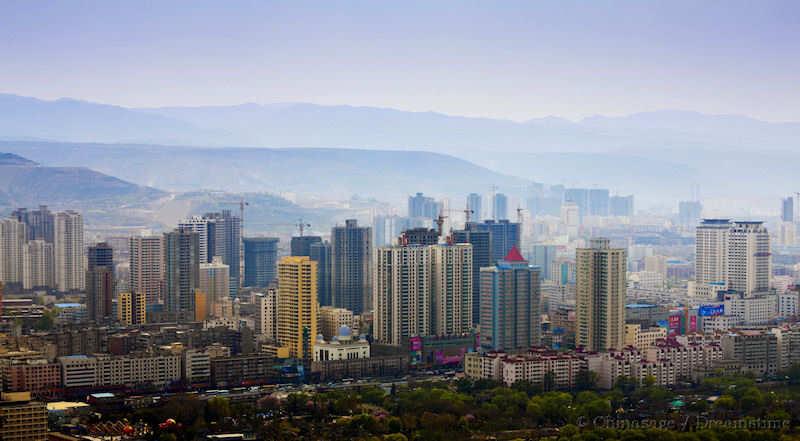 Lanzhou city skyline, Gansu
Airports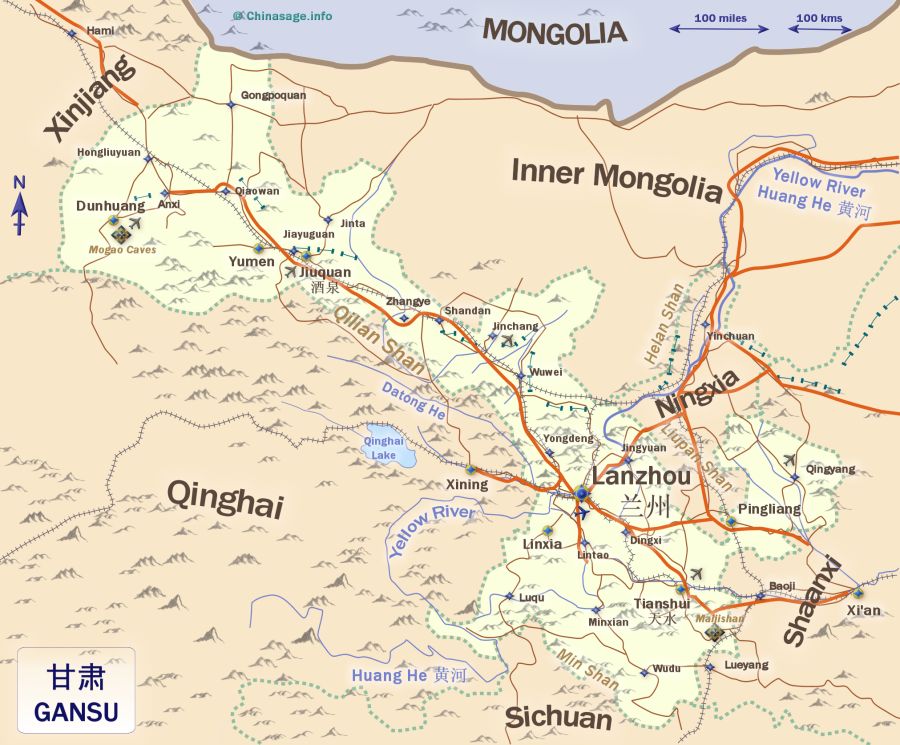 Google map of Gansu
Bing map of Gansu

➚
Show Bing Map

➚
Gansu Climate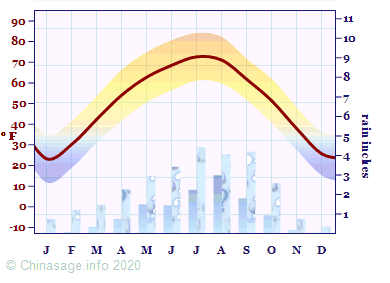 Major Cities
Population
Jiuquan

酒

泉

350,000
Lanzhou

兰

州

2,628,426
Tianshui

天

水

3,500,000
Wuwei

武

威
493,092
City populations for 2012, Province statistics National Bureau of Statistics 2014
No information available


Copyright © Chinasage 2012 to 2020
Please wait...
Downloading information about character