Chinasage Diary
Your daily snippet of information about China. Our diary has a daily fact, proverb and a reminder of upcoming festivals and holidays in China.
Click on the link to add the daily news feed to your browser, so you can receive notifications each day automatically.

http://www.chinasage.info/diary.xml
Today Sat 16th Dec
Flowers and fruit
Flowers and fruit are used in Chinese art to give a symbolic meaning. Quite often this is the obvious one of grace and beauty as with orchids, plums, azaleas and magnolias. In other cases the symbolism comes from words that sound the same in Chinese, so maple means 'appointment'; orange 'good wishes'; cinnamon 'valuable' and jujube 'early'. Some have a sexual connotation so have to be used with care if used as a gift.
On this day
755
An Lushan Rebellion
began 755
(1,262 years ago)
Proverb
produce live have love good fortune, pride love produce live foolish
A life of love is happy; a life for love is foolish.
Love is not the most important thing
Festivals
22
nd
Dec Winter Solstice
(Lichun calendar)
25
th
Dec
圣诞老人
Christmas day
1
st
Jan
元旦
New Years day
5
th
Jan Moderate cold
(Lichun calendar)
Fri 15th Dec
Shanghai
Shanghai City was known as the 'Paris of the East' in the 1920s. By Chinese standards
Shanghai
is a very modern city. It was just a small fishing port in the 1840s with population of only 50,000; by 2007 this had risen to an incredible 18.6 million making it the largest city in China. It is considered China's second city.
On this day
1931
Lin Sen
became President Republic of China 1931
(86 years ago)
Proverb
night long dream many
The longer the night, the more dreams there will be
When in hard times it is foolish to merely dream of better things
If wishes were horses, beggars would ride
Thu 14th Dec
Gunpowder
The Chinese invention of
Gunpowder
took a long time before it came to be used in offensive weaponry. It was first used in alchemy and as a drug. It was when the
Song dynasty
was faced by the military threat of the Qidan and then
Mongol
people that guns, rockets and incendiary bombs started to be used.
On this day
1857
Second Opium War 1857
(160 years ago)
2013
Moon Landing 2013
(4 years ago)
2013
Landing on the Moon 2013
(4 years ago)
Proverb
high house make water tank
Pouring water from the roof of a tall building
Being in a good position to repel attackers. Building a commanding position.
Wed 13th Dec
Common language
Because written Chinese characters are not phonetic it is possible to pronounce the same character in many different ways. This is how the different Chinese
languages
have developed. Even though Mandarin is the pre-eminent one,
Cantonese
, Wu and others are spoken by many millions, and yet the remarkable thing is that they can intercommunicate by just writing down what they say - because the written form is the same.
Proverb
sleeve hand side observe
To look on with folded arms
To look on without offering any help or showing concern
Tue 12th Dec
The Braggart
When
Marco Polo
came back from China in 1292 he dictated his recollections of 17 years in China while in prison. The descriptions of all the rich, lavish and huge things he said he saw in China led to him being given him the nickname of 'il Milione' or 'the Braggart'.
On this day
1936
Xi'an Incident 1936
(81 years ago)
Proverb
walk horse look flower
Looking at the flowers while riding a horse
To take a cursory look at something. Smug
Mon 11th Dec
Du Fu
The famous Tang dynasty poet
Du Fu
's (
杜甫
712 - 770) thatched cottage can still be seen at
Chengdu
the capital city of Sichuan province.
Proverb
cause tree seek fish
To catch fish on a tree. To look at a tree hoping it will catch fish.
Waste time doing something pointless and bound to fail
Sun 10th Dec
Macau
Macau
has overtaken Las Vegas as the top city for gambling in the world. It has the largest casino anywhere. Rich Chinese visitors come to the semi-autonomous district for short breaks in the casinos and to the horse races.
On this day
220
Han dynasty
ended 220
(1,797 years ago)
Proverb
have eye not know great mountain
To fail to see the great Taishan mountain
To be too arrogant/ignorant to notice true talent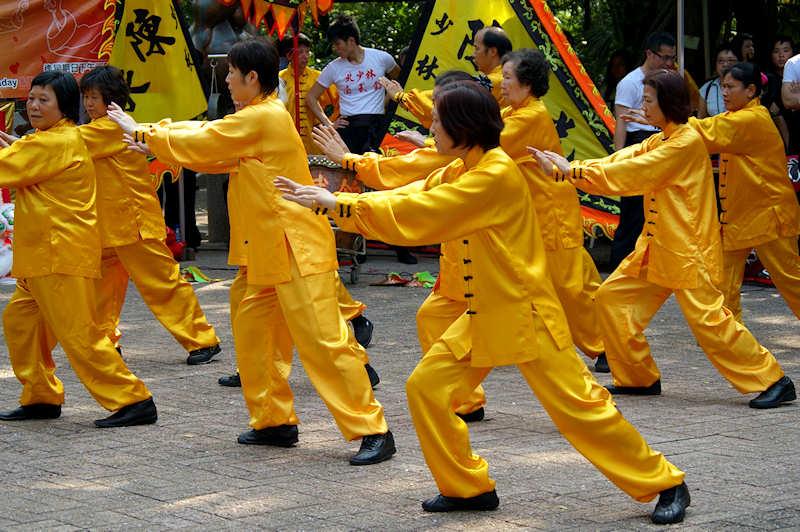 Tai chi show in Kowloon Park,
Hong Kong
Image by
Jakub Halun

➚
available under a
Creative Commons license

➚

Chinasage is a new web resource, started in 2012, pages will be added, enhanced and re-formatted regularly. Please check back soon for updated information about China.
We would be most grateful if you can help improve this page. Please visit our (secure) contact page to leave any comment. Thanks.
Citation information: Chinasage, 'China Diary', , Web, http://www.chinasage.info/chinadiary.htm.
Copyright © Chinasage 2012 to 2017