Chinasage Diary
Your daily snippet of information about China. Our diary has a daily fact, proverb and a reminder of upcoming festivals and holidays in China.
Click on the link to add the daily news feed to your browser, so you can receive notifications each day automatically.

http://www.chinasage.info/diary.xml
Today Wed 18th Jan
Three Rivers National Park
Sanjiangyuan
三江源
is a national park in Qinghai province which contains the source of three great rivers: the
Yangzi
,
Yellow
and Mekong rivers. It is vast area covering 140,155 sq miles
[363,000 sq kms]
of low rainfall and sparse vegetation.
On this day
1955
Battle of Yijiangshan Islands 1955
(62 years ago)
Proverb
heart flower in full bloom
The flower of the heart in full bloom
Full flowering of joy
Festivals
20
th
Jan Severe cold
(Lichun calendar)
28
th
Jan
春节
Chūnjié
Chinese New Year - Spring Festival
year 4714
3
rd
Feb Spring begins
(Lichun calendar)
11
th
Feb
元宵节
Yuánxiāojié
Lantern Festival
18
th
Feb Spring showers
(Lichun calendar)
Tue 17th Jan
Inner Mongolia
The huge province of Inner Mongolia acts as a buffer zone between the main part of China and the vast, arid expanse of Mongolia and Russia. In the western part the Gobi desert makes habitation difficiult. Most of the people live near to the bend of the
Yellow River
. The mountains that form China's geographical border run along its inner edge. Historically it has been raids by Mongolian people that have regularly harassed the city dwellers of northern China.
On this day
2005
Zhao Ziyang died 2005
(12 years ago)
Proverb
wolf feeling dog lungs
Wolf aggression, dog bark. Ungrateful; cruel and unscrupulous
Ungrateful and unscrupulous
Mon 16th Jan
Passing the Dragon Gate
The importance of the Imperial examinations in dynastic China was such that many metaphors arose about them. Passing the Dragon gate was one such term. The idea was based on a folk tale of how a lowly carp became a dragon when it succeeded in braving the rapids of the Yellow River at Dragon Gate. The rigors of study were likened to the struggles of migrating fish jumping up waterfalls. Success in examination was associated with carp, and successful candidates would buy their ticket home in Carp Street near the Examination Hall in Beijing.
On this day
1987
Zhao Ziyang became General Secretary Communist Party 1987
(30 years ago)
Proverb
also want horse good, also want horse not eat grass
Want the horse to prosper, but not want the horse to eat grass
To prosper you must make compromises, you can not have it all your own way
You can't have your cake and eat it
Sun 15th Jan
Equality of women
The role of women in China was through most of the Imperial Era one of subjugation to men.
Women
had to defer to men in all things; it was only as a widow that she would have the power to control a household. The position eased on the fall of the
Qing dynasty
in 1911 but it was not until the Communist party victory in 1949 that equality began to be introduced across the country.
On this day
1987
Hu Yaobang
no longer General Secretary Communist Party 1987
(30 years ago)
Proverb
world does not have no break up of banquet
No banquet in the world goes on forever
Good fortune can not last for ever
All good things must come to an end
Sat 14th Jan
Asian tigers
The rise of the Asian Tigers (South Korea, Taiwan, Hong Kong and Singapore) in the period 1960-90 was an important development that spurred subsequent Chinese growth. They showed that rapid modernization was possible in Asia and went on to produce significant investment capital for Chinese development.
Proverb
person heart separate belly
A person's heart is not discernible from looking just at the body
People are inscrutable. Do not judge by appearance
Do not judge a book by its cover
Fri 13th Jan
Temple of Heaven
The Temple of Heaven served a particularly important purpose in Imperial China. The Emperor as Son of Heaven had to perform rituals at New Year and start of Spring to ensure the good fortune of the year ahead. He would plough a ritual furrow to indicate the start of the agricultural year. The Temple of Heaven is round - symbolizing the circular vault of heaven set in a square park - symbolizing the square, flat earth. The Imperial number nine was extensively used in its construction.
Proverb
affair real victory goto mighty debate
A real victory is better than a great debate
Better to act than just talk about it
Actions speak louder than words
Thu 12th Jan
K2
China has not only the highest mountain in the world on its borders:
Mount Everest
(Qomolangma) but also the second highest K2 on the border with Pakistan.
Proverb
turn over cloud overturn rain
Conjuring clouds with one hand and rain with the other
Impressing by conjuring tricks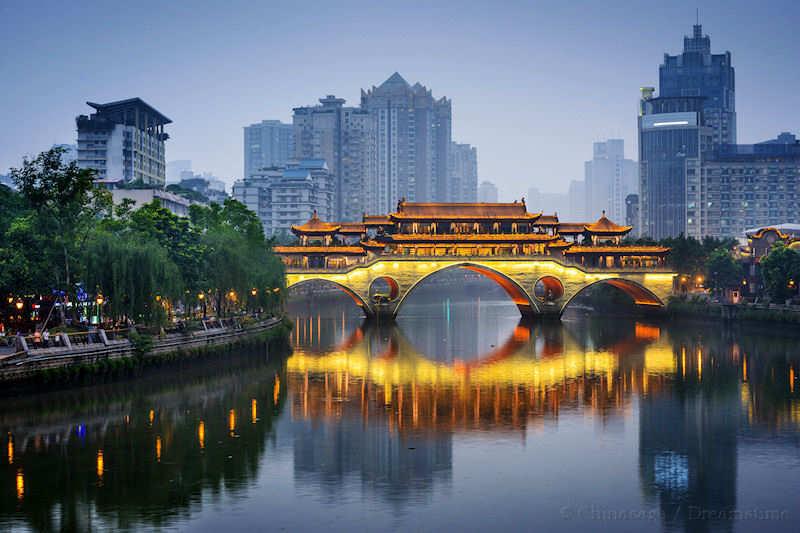 Anshun bridge at Chengdu,
Sichuan

Chinasage is a new web resource, started in 2012, pages will be added, enhanced and re-formatted regularly. Please check back soon for updated information about China.
We would be most grateful if you have any comments or suggestions to help improve this page. Our contact page is also available if you have a longer comment. Just type in a quick remark here:
Citation information: Chinasage, 'China Diary', , Web, http://www.chinasage.info/chinadiary.htm.
Copyright © Chinasage 2012 to 2017