Chinasage Diary
Your daily snippet of information about China. Our diary has a daily fact, proverb and a reminder of upcoming festivals and holidays in China.
Click on the link to add the daily news feed to your browser, so you can receive notifications each day automatically.

http://www.chinasage.info/diary.xml
Today Wed 26th Sep
Jesuit mission
The Jesuit mission to China in the
Ming dynasty
was partially successful. The leader
Matteo Ricci
studied Chinese language and culture extensively and was admired by the Chinese for his scholarship. The Jesuits brought a more precise knowledge of astronomy which further impressed the Imperial court.
Proverb
meat wrap child hit dog
Hitting a dog with a meat bun
To use a self defeating method to solve a problem
Festivals
28
th
Sep
祭孔大典
Confucius's Birthday (Modern)
1
st
Oct
国庆节
National day
8
th
Oct Cold Dew
(Lichun calendar)
17
th
Oct
重阳节
Chong Yang Festival
23
rd
Oct Frost descends
(Lichun calendar)
Tue 25th Sep
Martial arts
The martial arts are one of China's most familiar cultural exports. They are well represented in many action films from China and Hong Kong. Some forms of martial art were further developed in Japan and are now known by the Japanese names: karate, judo and taekwando. The most widespread and gentler form is Taichi or more correctly
Taijiquan
, the system of movements builds muscle tone and improves posture and breathing. Many Chinese use Tai Chi as their daily morning exercise.
On this day
1711
Emperor Qianlong born 1711
(307 years ago)
1881
Lu Xun
born at Shaoxing
Zhejiang
1881
(137 years ago)
Proverb
have eye not know great mountain
To fail to see the great Taishan mountain
To be too arrogant or ignorant to acknowledge true talent
Mon 24th Sep
Largest city
The modern city of
Xi'an
stands on the site of the great city of Chang'an, the largest city in the world for many centuries. It had a vast city wall and the population was over one million. It reached its peak during the
Tang dynasty
with traders living in the cosmopolitan city attracted over the Silk Road that ended here. Vast quantities of food needed to be brought from southern China to feed the city's population.
Proverb
ten year establish timber, hundred year establish person
It takes ten years for a tree to grow but it takes a hundred years for talents to be nurtured
Studying may be slow and arduous but will be worth it
Sun 23rd Sep
Many writing styles
The Chinese art of calligraphy has many different styles. There are ancient styles such as the Small seal script that dates back 2,000 years and then there is the grass script for faster writing. Calligraphy is considered one of the highest artistic accomplishments; the meaning of a character can be reinforced by the style of strokes used to write it. However, works of calligraphy can be hard to read and so styles that use clearer character outlines are used in books and newspapers. Recently a 1,000 year old piece of calligraphy fetched over $30 million at auction.
On this day
1215
Kublai Khan born 1215
(803 years ago)
Proverb
dragon war tiger battle
Bitter fight between a dragon and tiger. An evenly matched big fight
Struggle between two equal leaders
Sat 22nd Sep
Red eyebrows
The red eyebrow
赤眉
rebellion was a grass roots rebellion fuelled by famine and high taxes. They showed their loyalty to the cause by painting their eyebrows and/or foreheads red. This was 2,000 years ago in the troubled reign of
Wang Mang
. Perhaps red was chosen as it was the dynastic color of the
Han dynasty
which Wang Mang had overthrown and the rebels sought to restore.
Proverb
bitter exhuast sweet arrive
Bitterness over, happiness arrives. At the end of suffering comes relief
After troubles comes happiness
The darkest hour is just before the dawn
Fri 21st Sep
Boys better than girls
There is still a preference for girls rather than boys, illegal gender selection is building up, there are now 119 boys for 100 girls. Traditionally boys stayed at or near home and worked with their family while girls left the village to be
married off
to another family. For a family to continue it therefore needed boys. Boys were also needed in the important ancestral rituals. Nowadays with severe birth control policies, couples prefer boys in order to continue the family line.
On this day
690
Empress Wu Zetian becomes Emperor 690
(1,328 years ago)
Proverb
fragrant vanish jade broken
Fragrance is dissipated; jade is broken
Spoken of on the death of a beautiful young woman
Whom the Gods love die young
Thu 20th Sep
Ancient observatory
Near to the great Song mountain in
Henan
lays the Gaocheng observatory that has been active for three thousand years. Astronomical observations were key to setting the
Chinese calendar
. The main instrument is a stone gnomon that allows heights of stars and planets to be measured to great accuracy.
Proverb
eye high hand low
Eyes look up but the hands go down
To have high ambitions but possess limited skills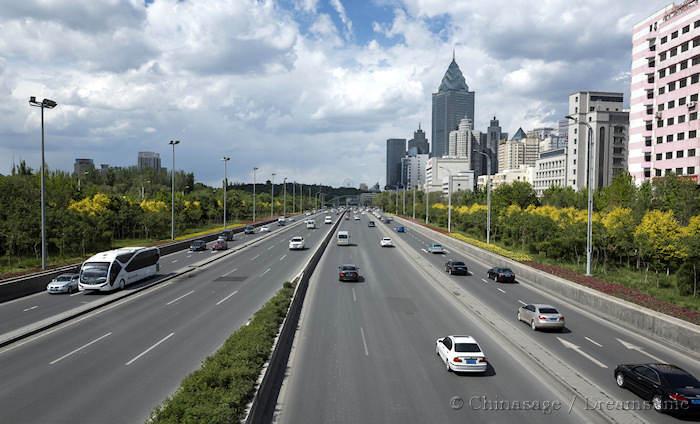 Expressway into Urumqi,
Xinjiang

Chinasage is a new web resource, started in 2012, pages will be added, enhanced and re-formatted regularly. Please check back soon for updated information about China.
We would be most grateful if you can help improve this page. Please visit our (secure) contact page to leave any comment. Thanks.
Citation information: Chinasage, 'China Diary', , Web, http://www.chinasage.info/chinadiary.htm.
Please wait...
Downloading information about character
Copyright © Chinasage 2012 to 2018
Please wait...
Downloading information about character