Chinasage Diary
Your daily snippet of information about China. Our diary has a daily fact, proverb and a reminder of upcoming festivals and holidays in China.
Click on the link to add the daily news feed to your browser, so you can receive notifications each day automatically.

http://www.chinasage.info/diary.xml
Today Wed 23rd Aug
Measuring up
China had its own system of
weights and measures
that were scaled in units of ten long before the French adopted the metric system in the late eighteenth century. When the
Republic of China
was declared in 1912 the Chinese authorities aligned the traditional Chinese measures to the Metric system. The traditional measure of distance the 'li'
厘
is now defined as 500meters (which is 547 yards).
On this day
551BCE
Confucius
born 551BCE
(2,569 years ago)
Proverb
have eye not know great mountain
To fail to see the great Taishan mountain
To be too arrogant/ignorant to notice true talent
Festivals
23
rd
Aug End of Heat
(Lichun calendar)
28
th
Aug
七夕节
Qīxìjié
Chinese Valentine's Day
5
th
Sep
盂兰盆
Yúlánpén
Hungry Ghost
7
th
Sep White Dew
(Lichun calendar)
10
th
Sep
教师节
Teachers day
13
th
Sep
诸葛武侯诞辰
zhū gě wǔ hóu dàn chén
Birthday of Zhuge Liang
23
rd
Sep Autumnal Equinox
(Lichun calendar)
Tue 22nd Aug
Goji Berries
Another noted Chinese export are the nutritious and healthy berries grown in northern China.
Ningxia province
is noted for the production of Wolfberries now better known as Goji berries. In traditional
medicine
they are used for the treatment of high blood pressure.
On this day
1904
Deng Xiaoping
born at Guang'an
Sichuan
1904
(113 years ago)
Proverb
left right pride difficult
Both options are difficult
In a dilemma
Mon 21st Aug
Deng Xiaoping in France
One of the pivotal periods of
Deng Xiaoping
's life was the time he spent as a student, worker and communist revolutionary in France [1920-26]. The influence on his outlook and world view must have been crucial to his later actions as Paramount Leader [1978-92]. He retained his love of French food, particularly croissants. He was also a fan of soccer.
Proverb
slow opening flower did not certainly not smell
A late-blooming flower is not necessarily lacking in fragrance
Success late in life is still success
Sun 20th Aug
Mental agility
Although the Chinese
abacus
has been abandoned in favor of the digital calculator there are still many Chinese children still learning how to use the abacus at night classes. This is because the mental skills required to use an abacus are important in developing mental arithmetic. A recent competition to find the fastest brain for computing a sum was won by people who had learned the abacus. Once the skill is gained it is fairly easy to compute complex sums by imagining carrying it out on an abacus. You could see this by noting how the winner's fingers twitch while they are computing.
On this day
2008
Hua Guofeng
died 2008
(9 years ago)
Proverb
injure crowd this horse
Bring injury to the group
The bad person of the family
Bad apple; Black sheep
Sat 19th Aug
Pears as gifts
The Chinese have used symbolism for many centuries. Particular objects in a painting have a symbolic meaning, for example a pine tree symbolizes long life. When giving
gifts
it is important to avoid things with an unfortunate meaning. Pears are a case in point, as
梨
'li' sounds the same as
离
'li' separate and divorce. Umbrellas, clocks and belts are similarly problematic.
Proverb
person heart separate belly
A person's heart is not discernible from looking just at the body
People are inscrutable. Do not judge by appearance
Do not judge a book by its cover
Fri 18th Aug
Dunhuang caves
The Mogao caves near Dunhuang are a famous visitor attraction in Gansu province. Over hundreds of years a series of caves were dug and decorated with Buddhist emblems. There are 2,300 painted statues and murals. Dunhuang used to be the last place before entering China on the Silk Road from India. Western archaeologists plundered the site in the late 19th century including the oldest printed book in the world: The Diamond Sutra.
On this day
1227
Genghis Khan
died 1227
(790 years ago)
Proverb
person heart no attain snake swallow elephant
A person's greed is like a snake that seeks to swallow an elephant
Greed is insatiable
Thu 17th Aug
Ming founder
Occasionally in Chinese history a man of humble origins has risen to overthrow a dynasty and found his own. The most dramatic example of this is
Zhu Yuanzhang
who overthrew the Yuan dynasty to become
Emperor Hongwu
洪武帝
founder of the
Ming dynasty
. His family were poor peasants and after living as a novice in a Buddhist monastery he joined the Red Turban rebels. He quickly rose to be leader and gained wide support against the Mongol rulers.
On this day
1926
Jiang Zemin
born at Yangzhou
Jiangsu
1926
(91 years ago)
Proverb
eye high hand low
Eyes look up but the hands go down
To have high ambitions but possess limited skills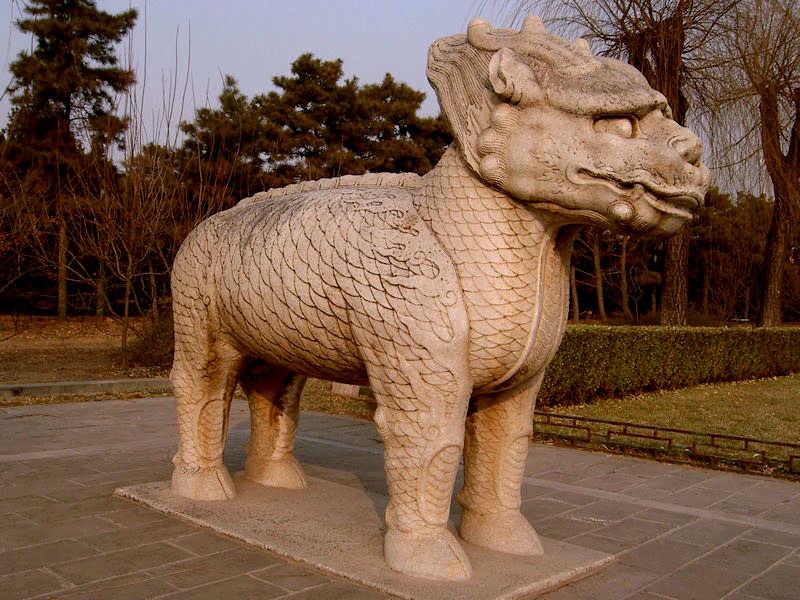 "Ways of souls" tombs of the Emperors of the Ming Dynasty (1368 to 1644CE). 50km north west of Beijing, in Changping. December 2005. Image by ofol available under a
Creative Commons License

➚
.

Chinasage is a new web resource, started in 2012, pages will be added, enhanced and re-formatted regularly. Please check back soon for updated information about China.
We would be most grateful if you have any comments or suggestions to help improve this page. Our contact page is also available if you have a longer comment. Just type in a quick remark here:
Citation information: Chinasage, 'China Diary', , Web, http://www.chinasage.info/chinadiary.htm.
Copyright © Chinasage 2012 to 2017