Chinasage Diary
Your daily snippet of information about China. Our diary has a daily fact, proverb and a reminder of upcoming festivals and holidays in China.
Click on the link to add the daily news feed to your browser, so you can receive notifications each day automatically.

http://www.chinasage.info/diary.xml
Today Fri 20th Oct
China's neighbors
China has the largest number of
land borders
together with Russia. There are 14 in all, starting in East and running anti-clockwise they are: Korea (North), Russia, Mongolia, Kazakhstan, Kyrgyzstan, Tajikistan, Afghanistan, Pakistan, India, Nepal, Bhutan, Myanmar, Laos and Vietnam. The length of border with
Afghanistan
is tiny - only 40 miles; Laos and Tajikistan have only slightly longer at 200 miles.
On this day
1928
Li Peng born 1928
(89 years ago)
1962
Sino Indian War began 1962
(55 years ago)
Proverb
joy extreme produce sorrow
After extreme joy will come sorrow
All good things must come to an end
Festivals
23
rd
Oct Frost descends
(Lichun calendar)
28
th
Oct
重阳节
Zhòngyángjié
Chong Yang Festival
7
th
Nov Winter begins
(Lichun calendar)
11
th
Nov
光棍节
Singles day
22
nd
Nov Light snow
(Lichun calendar)
Thu 19th Oct
Last Emperor
The last Chinese Emperor Xuantong (better known as Puyi) ruled from 1908 (at the age of three years old) until he was forced out of the Forbidden City in 1924. During the period from 1912 until 1924 China had both a President and Emperor, although the Emperor had no power he was allowed to retain his title and privileges. He soon fled to the Japanese legation and then with Japanese help he was installed as 'puppet' Emperor/King of Manchuria 1932-45. After WW2 he was then put on trial in Japan and then imprisoned by the new Communist government. After rehabilitation he was released and served as a gardener and librarian in Beijing until his death in 1967.
On this day
1936
Lu Xun
died 1936
(81 years ago)
Proverb
you die I live
Fight to the death
To fight to the bitter end
Wed 18th Oct
The ancient Shu kingdom
We often think of China as a single unified nation but through its long history different regions have expressed their own unique identity within China. One of these is the Shu Kingdom that now covers Sichuan and Chongqing provinces. As the area is protected on three sides by high mountains it has always seen itself as a somewhat separate entity. After the
Han dynasty
China broke up into
several kingdoms
, it was the Shu kingdom that held on to many Han traditions.
On this day
1860
Second Opium War 1860
(157 years ago)
Proverb
evil people crooked way
Evil people in crooked ways
Dishonesty and deceit
Tue 17th Oct
Chinese Politburo
The top layer of government in China is the 'Standing Committee of the Politburo of the Communist Party' or
SCP
. The seven (previously nine) members are drawn from the Politburo of the Communist Party of 25 members. No woman has ever been a member of the SCP. All the key offices of state are held by members of the SCP (President, Premier etc.)
On this day
1919
Zhao Ziyang born 1919
(98 years ago)
Proverb
love house reach crow
Strong love that encompasses all, including the crow sitting on the roof
Totally in love
Love is blind
Mon 16th Oct
Old coins
Ancient civilizations can often be identified from a use of standard
coinage
over many centuries. China can claim to have used coins continuously for 3,000 years and a standard coin the wuzhi - round with a square hole - was in circulation for 2,000 years.
On this day
690
Empress Wu Zetian became ruler 690
(1,327 years ago)
1934
Jiangxi Soviet Breakout 1934
(83 years ago)
1934
Start of Long March 1934
(83 years ago)
1964
First Chinese atomic bomb 1964
(53 years ago)
Proverb
have eye not know great mountain
To fail to see the great Taishan mountain
To be too arrogant/ignorant to notice true talent
Sun 15th Oct
Xi'an incident
The leader of Free China and the Republican party
Chiang Kaishek
was kidnapped by his own generals at the Hot Springs,
Xi'an
on 12th December 1936. The event brought to a head the dispute between the Communists and Republicans about the reaction to the Japanese who had by then invaded most of northern China. Talks with
Zhou Enlai
and others forced Chiang to form the first United Front against
Japan
.
Proverb
net open one side
To leave one side of net open. To allow a way out
To give someone a chance of escape
To let someone off the hook
Sat 14th Oct
World upside down
When the Chinese invented the
compass
they chose south rather than north as the primary direction. In China it is called
指南针
'point south needle'. Compasses pointed south and for this reason maps showed south at the top rather than north. South was more important than north as it is the direction of the sun and hence all warmth and light. This convention has the advantage that the compass direction can be confirmed by the position of the sun at midday.
Proverb
beautiful appearance can eat
So lovely to see want to feast on
A beautiful woman
A feast for the eyes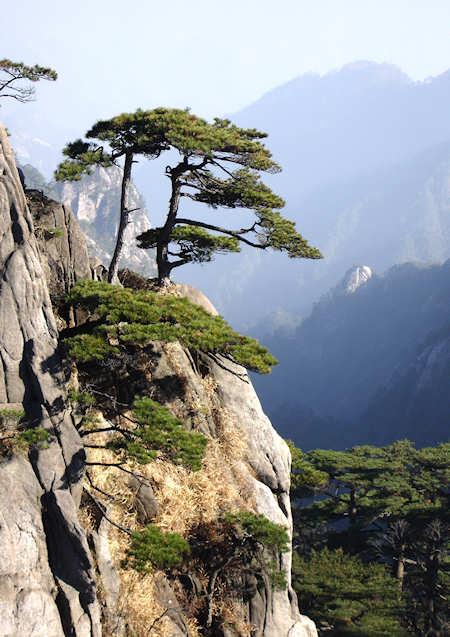 Huangshan mountain with Pinus hwangshanensis trees, Nov 2010
Image by
Peter05031960

➚
available under a
Creative Commons license

➚

Chinasage is a new web resource, started in 2012, pages will be added, enhanced and re-formatted regularly. Please check back soon for updated information about China.
We would be most grateful if you can help improve this page. Please visit our (secure) contact page to leave any comment. Thanks.
Citation information: Chinasage, 'China Diary', , Web, http://www.chinasage.info/chinadiary.htm.
Copyright © Chinasage 2012 to 2017