Chinasage Diary
Your daily snippet of information about China. Our diary has a daily fact, proverb and a reminder of upcoming festivals and holidays in China.
Click on the link to add the daily news feed to your browser, so you can receive notifications each day automatically.

http://www.chinasage.info/diary.xml
Today Mon 27th Mar
Southern Clouds
The border province of Yunnan in the south west has a different feel to most of China. Culturally and historically it shares much with neighboring Laos, Thailand and Burma. It has many deep valleys that run north to south trapping moist tropical air allowing the province to have unique wildlife to China. The famous nature reserve at Xishuangbanna has many tropical delights including elephants. The province is home to a diverse range of minority peoples with their own traditions and customs.
On this day
1993
Yang Shangkun no longer President PRC 1993
(24 years ago)
1993
Qiao Shi became Chairman NPC 1993
(24 years ago)
1993
Wan Li no longer Chairman NPC 1993
(24 years ago)
Proverb
flower flower lifespan limit
Life full of experience. Dazzling world of excitement
World seething with life
Festivals
30
th
Mar
上巳节
Shàngsìjié
Shangsi Festival
4
th
Apr
Bright and Clear Festival
(Lichun calendar)
11
th
Apr
赵公明
Zhào gōngmíng
Birthday of the God of Wealth
20
th
Apr Corn Rain
(Lichun calendar)
Sun 26th Mar
The Yangtse
The
Yangzi
(Yangtse in old spelling)
长江
is the third longest river in the world (3,915 miles
[3,915 miles]
) after the Nile 4,132 miles
[4,132 miles]
and Amazon 3,977 miles
[3,977 miles]
. Unlike these other mighty rivers the whole of its length is entirely contained within China. Its source is in southern Qinghai and then it bends south and then north before heading east through the Yangzi gorges and then on out to the sea near
Shanghai
.
Proverb
tree cease make boat
The tree has been made into a boat
Too late to change anything
What's done is done
Sat 25th Mar
Eight Immortals
The Eight Immortals Ba xian are some of the best known and best loved folk deities in China. The disparate band of individuals are usually shown in a boat each holding an emblematic object: bottle gourd, fan, basket, bamboo tube, peach, sword, flute and castanets. They joined together to defeat the Dragon King.
On this day
1988
Li Peng became Premier PRC 1988
(29 years ago)
Proverb
strike grass startled snake
Striking the grass alerts the snake
Unwisely alerting an enemy
Fri 24th Mar
Jin dynasty
When the Khitan people drove the Song dynasty out of northern China they established their capital at Zhongdu (Beijing) and in many ways turned to Chinese traditions. They bore the brunt of the assault of the Mongols and ruled for just over a hundred years.
Proverb
snow up add frost
Add frost to snow
To add to misfortunes unnecessarily
Add insult to injury
Thu 23rd Mar
Roman ban
The popularity of Chinese silk in Rome became such a drain on Roman Imperial finances that
Emperor Tiberius

➚
issued an edict to ban men wearing silk. In one year over 22,000 pounds of gold was spent on its import.
Proverb
beaten head burnt brow
Head bruised and brow burned
In terrible trouble
Beaten black and blue
Wed 22nd Mar
Qufu
The town of Qufu, Shandong was the home of
Confucius
(
孔
夫
子
Kǒngfūzǐ
) and descendents now in the 83rd generation still live there. The size and grandeur of the buildings rival that of the
Forbidden City
in Beijing.
Proverb
Dong Shi imitate knit eyebrows
The story is of Dong Shi, an ugly person imitating the posture of famous beautiful woman
Xi Shi

➚
by knitting his eyebrows
Ludicrous self-conceit
Tue 21st Mar
Firecrackers
The loud bangs from strings of
firecrackers
are often heard when the Chinese have something to celebrate. Traditionally gunpowder was packed into the hollow stem of
bamboo
, but now paper and plastic are used for the casing. Liuyang in Hunan is a key center in the manufacture of firecrackers.
On this day
927
Emperor Taizu born 927
(1,090 years ago)
Proverb
self ashamed not like
Ashamed at own inferiority
Ashamed of oneself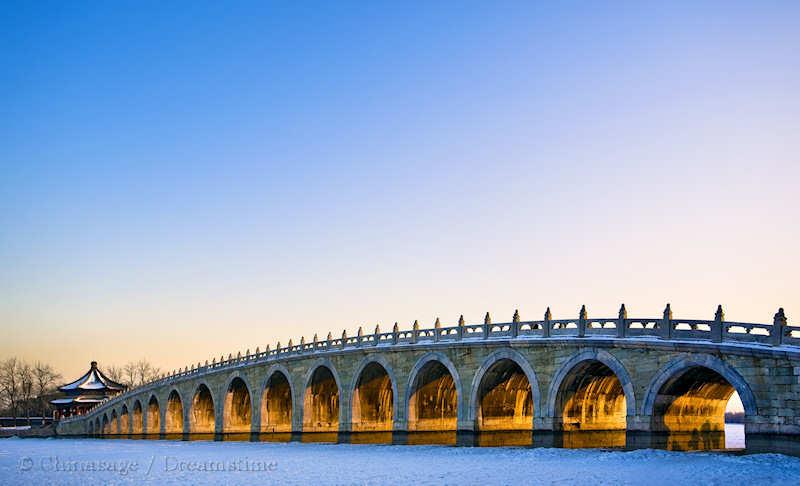 Summer Palace
bridge with 17 arches, Beijing

Chinasage is a new web resource, started in 2012, pages will be added, enhanced and re-formatted regularly. Please check back soon for updated information about China.
We would be most grateful if you have any comments or suggestions to help improve this page. Our contact page is also available if you have a longer comment. Just type in a quick remark here:
Citation information: Chinasage, 'China Diary', , Web, http://www.chinasage.info/chinadiary.htm.
Copyright © Chinasage 2012 to 2017