斗

dǒu unit of weight; peck; cup or dipper shaped object; ten sheng
Made with 4 strokes.
Different tone
都

dōu (all)
豆

dòu (bean)
Radical
Index 68 used in:






Pronunciation
Sound file kindly provided by
shtooka.net

➚
under a Creative Commons Attribution Share Alike License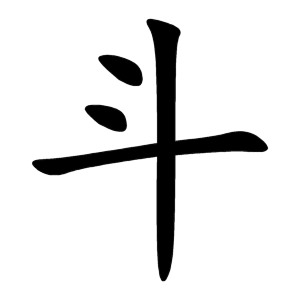 Proverbs
凡人不可貌相, 海水不可斗量
fán rén bù kě mào xiàng, hǎi shuǐ bù kě dòu liàng
Judging by appearance is dangerous
龙争虎斗
lóng zhēng hǔ dòu
Struggle between two equal leaders
人不可貌相,海水不可斗量
rén bù kě mào xiàng, hǎi shuǐ bù kě dǒu liáng
First appearances can be deceptive
车载斗量
chē zài dǒu liáng
Huge quantity. A very large number. Overabundant.
不为五斗米折腰
bù wèi wǔ dǒu mǐ zhé yāo
Refusing inducements to betray a principles. Incorruptible. The story is of a man who refused to work for a corrupt and arrogant official even though he lost out on a generous salary.
困兽犹斗
kùn shòu yóu dòu
Desperate measures to keep going. To fight like a cornered animal.