怕

pà to be afraid; to fear; to dread

Made up of [

忄

xīn

heart radical 61,

白

bái

bright; clear radical 106]
Note
The 'heart' radical indicates an emotion and 'white or bright' suggests turning white with fear as the blood drains away
Related characters
Using

忄

xīn
:
情

qíng (affection)
惊

jīng (to start)
忆

yì (to recollect)
忙

máng (busy)
懂

dǒng (to understand)
怜

lián (to pity)
Using

白

bái
:
泉

quán (spring)
的

de (of)
百

bǎi (hundred)
Different tone
爬

pá (to crawl)
Pronunciation
Sound file kindly provided by
shtooka.net

➚
under a Creative Commons Attribution Share Alike License
Proverbs
不怕路长只怕志短
bú pà lù cháng zhǐ pà zhì duǎn
Do not be afraid of a long road to success only be afraid of a shortage of ambition
不怕慢就怕站
bú pà màn jiù pà zhàn
Do not be afraid of slowing down as long as you keep going
初生之犊不怕虎
chū shēng zhī dú bù pà hǔ
Innocence about the dangers involved
斧快不怕木柴硬
fǔ kuài bú pà mù chái yìng
A talented person is not afraid of a difficult task
留得青山在,不怕没柴烧
liú dé qīng shān zài, bù pà méi chái shāo
Do not despair, there is plenty of time and opportunity
没做亏心事,不怕鬼叫门
méi zuò kuī xīn shì, bù pà guǐ jiào mén
If you have done nothing wrong, there is no worry over retribution
Routledge Grammar:Basic Chinese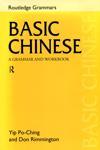 If you want to go beyond speaking and writing 'tourist Chinese' you need a good grounding in Chinese grammar. This Routledge guide goes far beyond memorizing useful phrases and serves as an essential course if you want to speak Chinese well and understand Chinese text. All the Chinese is in both pinyin and characters. It does not include a dictionary section so you will need a dictionary in conjunction with the book.
More details...

➚

Chinasage is a new web resource, started in 2012, pages will be added, enhanced and re-formatted regularly. Please check back soon for updated information about China.
We would be most grateful if you can help improve this page. Please visit our (secure) contact page to leave any comment. Thanks.
Citation information: Chinasage, 'Chinese character pà 怕 to be afraid', , Web, http://www.chinasage.info/chars/fch_pa_to_be_afraid.htm.
Please wait...
Downloading information about character
Copyright © Chinasage 2012 to 2018