Chinese Sudoku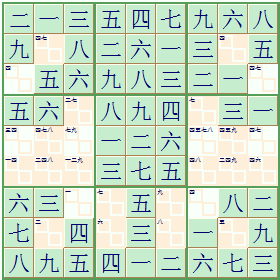 One of the products offered by Silurian Software ➚ (who runs this web site) is an advanced Sudoku generation and solving application called Sudoku Dragon ➚.
As well as fully supporting the traditional kinds of Sudoku using numbers it also lets you play puzzles with letters; symbols; Chinese numbers and Chinese phrases.
On the right is a Sudoku Dragon puzzle using the Chinese characters for the numbers 1 to 9. You can play the puzzle while learning the characters for numbers at the same time.
---
Sat 21
st
Jan
With Chinese New Yea on Saturday 28th January (a Rooster year) the largest mass migration on Earth begins in earnest. The tradition of going back to your ancestral family home continues in China. It is estimated there will be 2.98 billion trips over the whole holiday period with many taking more than a week away with their families. It is not all that surprising that Hainan island is proving one of the hardest to reach destinations. Travel times can be over 33 hours as it has poor train connections and there is very high demand. It is the time of year for foreign tourists to stay away!
Read full story...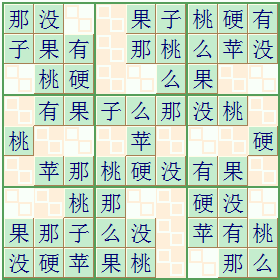 It also offers a range of Chinese phrases where each 'number' 1 to 9 has been substituted by a Chinese character. When the puzzle is complete the nine character Chinese phrase is revealed. The toolbar gives the pinyin and English translation for each character in the phrase. So you learn some Chinese characters at the same time as playing a Sudoku puzzle.
To download the puzzle generator and solver to your Windows PC or laptop go to the Sudoku Dragon web site ➚. You can try it out for free for 22 days before you need to think about purchasing it.
Copyright © Chinasage 2012 to 2017