Chinasage : All about China
W
e hope China sage's information will be of use to everyone with an interest in the World's most important nation. We cover China's
provinces
,
history
,
language
and
traditions
.
China sage
remains under active development; please check back regularly to look at the revised and expanded information.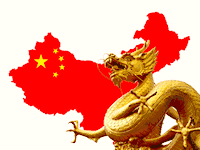 Fact of the day
Battle of Talas
During the
Tang dynasty
the extent of Chinese ruled territory spread west through Central Asia. The decisive battle at Talas in 751 with the Arab Abbasid Caliphate led to the defeat of Gao Xianzhi and the end of Chinese western expansion.
Read More
Time in China
Current weather

Beijing weather
Clear
70
° F /
21
° C
Sep 18th 2017 at 7:30pm UCT

We're building an exciting new information source all about China.
We found other sites about China were poorly structured, too detailed (such as Wikipedia) or just too old-fashioned. What we thought was needed was a carefully constructed set of pages with strict editorial control so that links and pages are consistent, up-to-date and easy to navigate without clutter.
Our first release included descriptions of each province that makes up China, this was followed by the dynasties that follow China's history and we are now adding all sorts of features on traditions and culture. We hope you find the site the best place to start your study of China. We plan to release further pages on news, key figures, cultural background and anything else we hope you will find relevant to understanding this vast country.
If you think you know about China, check out your knowledge with our Quiz section, all the answers to the questions are somewhere on the web site. Our source section has full reviews and descriptions of over a hundred books about China that have been used as reference material for these pages.
We chose the name "Chinasage" for the web site because this can be read as either "china sage" (中国英明 zhōng guó yīng míng) or "china's age" (中国时代 zhōng guó shí dài) , which promotes our new knowledge resource at a time when China has come of age in the World.
The Chinese
language
is rightly treasured as the country's greatest accomplishment. Our language section introduces the historical and linguistic background that greatly adds to the appreciation of China. The written script has fascinated Western scholars for centuries. In the language section we include some introductory lessons, a guide to how it is written and some of the oldest classical texts.
History of the often difficult relations between China and Japan. With the Japanese occupation of China 1937-45 and continued U.S. support for Japan has led to continuing frictions between governments and peoples.
We offer a free consultation for Yi Jing (I Ching) the Chinese system for fortune telling. It uses the ancient yarrow stick method and gives full information about the 'gua' (hexagram) that is chosen. The consultation takes account of user action - it is not random.
The illustrious Ming
It was during the Ming dynasty that China achieved many accomplishments: a vast fleet sailed the seas and made many dicoveries.; an encylopedia of the accumulated knowledge was distilled into 11,000 chapers; trade with America brought in new vegetables and cotton that were widely grown.
Read More
Women in China
Gender equality in China has been a long time coming. Traditions dating back thounsands of years are hard to shift. There has yet to be a woman appointed to the top rung of government committee. Change really only started to come after the foundation of the Peoples Republic in 1949. Our page on attitudes to women covers the few Imperial women leaders, marriage and concubines as well as foot binding.
Read More
Jade
is highly valued in China, and much of Asia, above gold and diamonds. The gemstone that is harder than steel can be carved into exquisite shapes.
China Sage Site updates
Here are the last few updates made to the web site. For older entries please visit our site updates page.
Fri 12
th
May
For much of the last two thousand years China was by any standard the most advanced nation on Earth, and yet by the early twentieth China was classed as a third world country needing massive food aid to alleviate famine. The reason why China did not maintain a lead in science and technology has puzzled scholars; in particular it was Joseph Needham who posed his famous question 'Science in general in China - Why did it not develop??. Many answers have been proposed but none of them seem to totally fit the bill.
Fri 17
th
Mar
We've been through all the web pages and updated the list of references. We continue to receive requests for citation and it is important that we clearly present all our sources. We found that some source references were missing and some mentioned that were not actually used by the text. All the source references are stored in a knowledge database - no notes or card references and so we can quickly trace back to the source of facts.
At the same time we have continued to improve the web site content as soon as new material is researched and added.
Mon 16
th
Jan
The story of the isolated community of Jews in China was a sensation in Europe and America of the late 19th century. At the former Chinese capital of Kaifeng a community had lived at peace with the local Chinese for one thousand years. They had built their synagogue in the Chinese style and held the sacred Torah. The community grew to about one thousand before coming to an end in the early 19th century.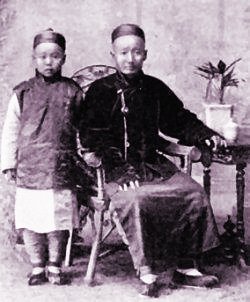 Jews of K'ai-Fun-Foo (Kaifeng Subprefecture), China. A picture from the public domain en:Jewish Encyclopedia. Available under a
Creative Commons License

➚
Thu 22
nd
Dec 2016
As another year comes to close, we at Chinasage have been working hard on a new look for our web site. As more and more people use smartphones rather than desktops to access the web we have developed a solution that should be both faster and more attractive for all users.
We surveyed many leading web sites and looked at how they have solved the problem of providing information in an attractive manner. We decided that we wanted to promote other content on the web site rather than relying on users exploring the sire using old fashioned navigation bars, so we have littered many pages with little boxes advertising related content elsewhere. We hope you like the new design, if you experience any difficulties in using the it - it may not work well with your particular browser - please let us know so we can investigate.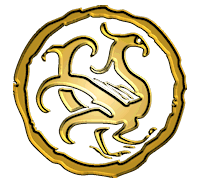 Wed 19
th
Oct 2016
We've added a major new article on China's population. The number of people in China has been a major concern for many years. With 20% of the world's population, China governs more people than any government has ever done before. With the imposition of the much hated 'One Child Policy', the only policy of its kind ever enacted, the population projections show the total numbers leveling off in about ten years time before a gradual decline. The issue of population in China is not a new one, it has been the most populated country throughout much of the last two thousand years.
The
Great Wall
winding its way like a huge dragon across the mountains near
Beijing
Conventions
We use a consistent style for links within the site. An internal link taking you to another page within our site is shown like this while a link to a page on any other web site is shown like this ➚.
We use Chinese characters wherever appropriate. Most browsers should display both the characters and the pinyin correctly. Where the older Wade Giles system is still used we make sure this is highlighted. Except where stated all characters are the modern simplified form used in the People's Republic rather than the traditional ones (pre-1970s). To help you learn Chinese characters many of the very common characters are highlighted thus: 中 hovering the mouse over the character pops up a box showing derivation and usage information for the character.
Dates are given using the BCE/CE (Before Common Era and in Common Era) year convention rather than BC/AD. If a date is not followed by BCE or CE it should be taken as CE.
China sage authorship
All the text on this web site is our own, we do not copy and paste from other web sites. We research each topic from a number of separate sources. The only exception to this are quotations and image credits. All text is our copyright and can not be used/copied without our permission. We are independent of any other company or government, the opinions expressed are our own. We do not receive funding from any external agency or organization.
Teacup Media (China History Podcast)
We are delighted to be able to promote links to Laszlo Montgomery's excellent Teacup Media ➚ series created over the last six years. Lazlo Montgomery ➚ has in depth knowledge of building commercial contacts with China over 25 years. This set of 175 podcasts totals almost 100 hours of audio commentary which covers every conceivable topic in Chinese history. Highly recommended.
Acknowledgments
We are extremely grateful to the many people who have put their photographs online for anyone to adapt and use. Without them our site would be very drab. If we are not using the image license correctly please let us know. Some pages use Javascript ➚ to create special effects such as our airport table and calendar. We are grateful to the original authors for providing their code to be used and adapted by anyone else. The online Chinese dictionary uses the definition from the CC-CEDICT project ➚ for which we are grateful for a generous free license.
Feel free to contact Chinasage to point out any errors, omissions or suggestions on how to improve this web site.
Copyright © Chinasage 2012 to 2017