Chinasage : All about China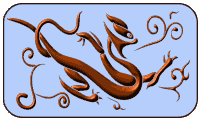 C
hina sage's information will be of use wanting to learn more about world's upcoming nation. We cover China's
history
,
traditions
,
language
and
provinces
.
China sage
is in active development – check back to see new and expanded information.
We have descriptions of each Chinese province , and the dynasties but just as importantly we cover all sorts of cultural traditions. We hope you find the site the best place to start your study of China. We plan to continue to improve and extend our coverage.
If you think you know about China, check out your knowledge with our Quiz section, all the answers to the questions are somewhere on the web site. Our source section has full reviews and descriptions of over a hundred books about China that have been used as reference material for these pages.
Years
The traditional cycle of astrological years is associated with twelve animals, each of these are combined with one of
five elements
to give a total cycle length of 60 years. The cycle of animals is rat; ox; tiger; rabbit; dragon; snake; horse; sheep; monkey; rooster; dog and pig.
Read More
Attitudes to women have varied greatly in China over the centuries. The traditional subservient position of
women
in society has only really changed in the last sixty years. Our section describes the role of women down the centuries including the role of concubines and how some Imperial women bucked the trend.
The cultivation of
rice
for food has been carried out in China for the last 10,000 years. Over this time about 50,000 different varieties have been bred selectively for every possible soil and climate type. Recently it has proved cheaper to import rice rather than grow it in China, so rather surprisingly China is a major importer of this staple food.
When people think of China many will picture martial arts as these have been portrayed so widely in films and on TV. The various techniques were developed in the monasteries where active exercise was the perfect balance to long spells of meditation. Many ordinary Chinese practise
Taichi
each day to maintain health and suppleness.
Writing characters
The art of calligraphy is still widely appreciated in China. Fine historic pieces by the great masters continue to achieve high prices at auction. To appreciate Chinese writing it is important to know how the characters are made with the brush. Our page on brush strokes lets you learn how to write in Chinese calligraphy.
Read More
Tue 6
th
Mar
Hong Kong has managed to pip Japan and Italy as the location with the highest life expectancy. Figures for 2016 give 81.3 years for men and 87.3 years for women. This is a remarkable turnaround for China which has suffered from high mortality rates going back centuries. Some put the high survival rate to diet, some to physical health and others to the climate. Hong Kongers generally eat a varied diet with a good proportion of health-giving fish and can be compared to the Mediterranean diet. Many people in the 80s came from the mainland and reached there by physical exertion - swimming to Hong Kong Island or traveling hundreds of miles overland, so maybe physical fitness plays a part. Hong Kong is notorious for its high humidity but the sub-tropical climate there never sees cold winters and this is a key factor in survival rates of the elderly. As well as a warm climate Hong Kong has many green spaces, and it is easy for people to get away from the urban center to a tranquil natural spots among the mountains. All this makes the former colony a good place to live.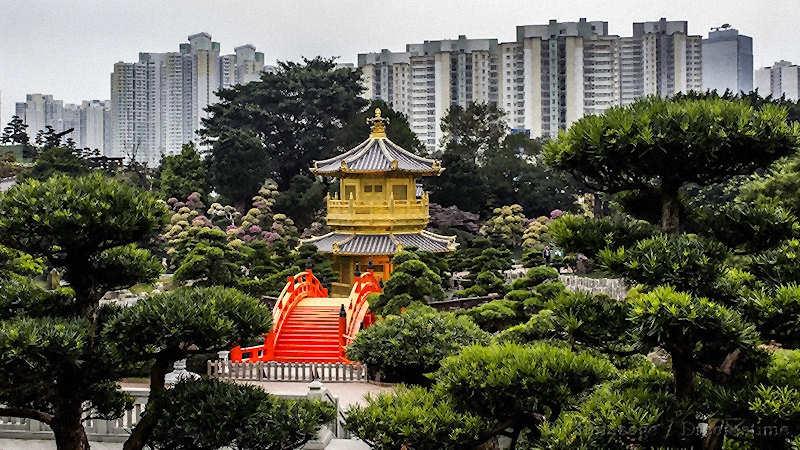 A pavilion located at Nan Liang Garden in
Hong Kong
Read full story...
Read all our
news stories...

Proverb
work multiple times merit half
Work very hard for half the result
Work with care rather than speed
Less haste more speed
Governing 1,400 million people is no mean feat. China's structure of
government
is a power pyramid with the President at its head. In theory the people elect representatives who decide policy, in practise the ruling elite are rarely challenged by the democratic process. However the strong military involvement in government has been on the wane for over 25 years.
The second part of the Zhou dynasty was known for incessant warfare between kingdoms. It was time of great importance to China as the philosophical traditions were developed that went on to dominate the next two thousand years. The first unification of China as a large nation state then followed.
About Chinasage
We're building an exciting new information source all about China. We found other sites were poorly structured, too detailed (such as Wikipedia) or just too old-fashioned. What we thought was needed was a carefully constructed set of pages with strict editorial control so that links and pages are consistent, up-to-date and easy to navigate without clutter.
We chose the name "Chinasage" for the web site because this can be read as either "china sage" (中国英明 zhōng guó yīng míng) or "china's age" (中国时代 zhōng guó shí dài) , which promotes our new knowledge resource at a time when China has come of age in the World.
China Sage Site updates
Here are the last few updates made to the web site. For older entries please visit our site updates page.
Tue 10
th
Apr
Even though China is the most populous nation on Earth (although soon to be overtaken by India) there is still room for wildlife away from the heavily populated regions. As China has deserts, snow fields, high mountains, tropical rain forests and vast grasslands the range of opportunities for wildlife is remarkably diverse. In our brief survey of the main regions within China and the more remarkable creatures and plants living there we are immensely grateful to people who have posted their entrancing photographs for public use.

Portrait of a male snow leopard (Panthera uncia) of the Rheintal zoo. Modifications made by
Niabot

➚
. Image by
Tambako

➚
available under a
Creative Commons License

➚
Fri 30
th
Mar
The yin and the yang is the best known concept from ancient Chinese wisdom. It is now used by everyone - and often incorrectly as it is about alternatives and balance rather than opposites. We've taken our short description of yin-yang out of the Feng Shui section, greatly expanded it and given it a section all to itself.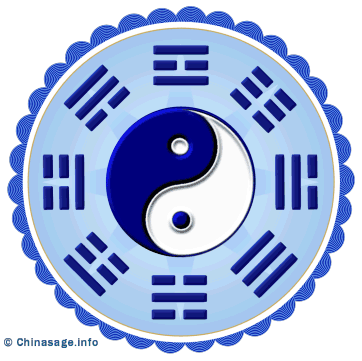 Tue 6
th
Mar
Korea is never far from the news these days and with the Winter Olympics just over it seems an opportune time to take a look into China's relations with Korea. It's unfortunately all too common for people not to know why we have ended up with a divided Korea, and that this division is certainly not of the Korean peoples choosing.
China has exerted a strong influence over Korea in the last two thousand years and shares many cultural traditions. There have been time when China invaded Korea but also times when China intervened to defend it from other invaders. In this new article we concentrate only on the history of foreign relations with Korea from the Chinese perspective.
Japanese Empress Jingu (169-269CE) setting foot in Korea. Painting by 1880 Yoshitoshi . Available under a
Creative Commons License

➚
Gilt bronze lion guarding the
Forbidden City
Conventions
We use a consistent style for links within Chinasage. An internal link taking you to another page within our site is shown like this while a link to a page on any other web site is shown like this ➚.
We use Chinese characters wherever appropriate. Most browsers should display both the characters and the pinyin correctly. Where the older Wade Giles system is still used we make sure this is highlighted. Except where stated all characters are the modern simplified form used in the People's Republic rather than the traditional ones (pre-1970s). To help you learn Chinese characters many of the very common characters are highlighted thus: 中 hovering the mouse over the character pops up a box showing derivation and usage information for the character.
Dates are given using the BCE/CE ➚ (Before Common Era and in Common Era) year convention rather than BC/AD. If a date is not followed by BCE or CE it should be taken as CE.
Authorship
All the text on the Chinasage web site is our own, we do not copy and paste from other web sites. We research each topic from a number of separate sources. The only exception to this are quotations and image credits. All text is our copyright and can not be used/copied without our permission. We are independent of any other company or government, the opinions expressed are our own. We do not receive funding from any external agency or organization.
Teacup Media (China History Podcast)
We are delighted to be able to promote links to Laszlo Montgomery's excellent Teacup Media ➚ series created over the last six years. Lazlo Montgomery ➚ has in depth knowledge of building commercial contacts with China over 25 years. This set of 175 podcasts totals almost 100 hours of audio commentary which covers every conceivable topic in Chinese history. Highly recommended.
Acknowledgments
We are extremely grateful to the many people who have put their photographs online for anyone to adapt and use. Without them our site would be very drab. If we are not using the image license correctly please let us know. Some pages use Javascript ➚ to create special effects such as our airport table and calendar. We are grateful to the original authors for providing their code to be used and adapted by anyone else. The online Chinese dictionary uses the definition from the CC-CEDICT project ➚ for which we are grateful for a generous free license.
Feel free to contact Chinasage to point out any errors, omissions or suggestions on how to improve this web site.
Copyright © Chinasage 2012 to 2018