方

fāng square; honest; upright
Note
Originally two boats lashed together then became a swastika to represent four regions of a square
Number of strokes
4
Radical
Index 70 used in:
族

zú (clan)
;
房

fáng (house)
;
访

fǎng (to visit)
;
纺

fǎng (fine woven silk fabric)
;
仿

fǎng (to imitate)
;
防

fáng (to protect)
;
放

fàng (let go)
Sounds same
匚

fāng (basket)
Different tone
房

fáng (house)
防

fáng (to protect)
访

fǎng (to visit)
纺

fǎng (fine woven silk fabric)
仿

fǎng (to imitate)
放

fàng (let go)
Pronunciation
Sound file kindly provided by
shtooka.net

➚
under a Creative Commons Attribution Share Alike License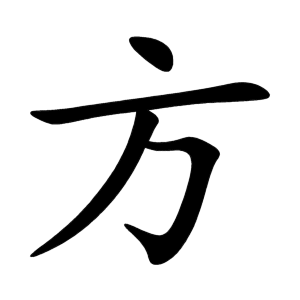 Stroke order for character 方, kindly provided under
Wikimedia creative commons license

➚
Proverbs
来日方长
lái rì fāng cháng
There is adequate time
Chinese dialects
It is often thought that the Chinese language is the same all other China. There are however many distinct Chinese languages that are written the same but pronounced differently. The main language groups: Wu (Zhejiang) 77 million; Yue (Guangdong/ Guangxi/ Overseas) also known as Cantonese; Min (Fujian/ Guangdong/ Taiwan) 60 million; Jin (Shaanxi/ Shanxi/ Inner Mongolia) 45 million; Xiang (Hunan) 36 million; Hakka (Guangdong/ Overseas) 31 million; Gan (Jiangxi) 30 million; Hui (Zhejiang/Anhui) 3 million; and Ping (Guangxi) 2 million. The large emigration of people from Fujian and Guangdong has given Yue (Cantonese); Min (Hokkien) and Hakka a worldwide distribution.
Read More
Looking for something?
You can use our search facility to find almost anything Chinese on our web site. We have also included a 'tag cloud' with all the Chinese related keywords so you also use this facility to find something or just explore the host of information available on this web site.
Read More

Chinasage is a new web resource, started in 2012, pages will be added, enhanced and re-formatted regularly. Please check back soon for updated information about China.
We would be most grateful if you have any comments or suggestions to help improve this page. Our contact page is also available if you have a longer comment. Just type in a quick remark here:
Citation information: Chinasage, 'Chinese character fāng 方 square', , Web, http://www.chinasage.info/chars/fch_fang_square.htm.
Copyright © Chinasage 2012 to 2017