四

sì four

Made up of [

匸

xǐ

box; bag radical 23,

八

bā

eight; 8 radical 12]
Note
A square area divided into four parts, it has the division character in the middle
Number of strokes
5
Related characters
Using

匸

xǐ
:
医

yī (doctor)
Using

八

bā
:
分

fēn (divide)
公

gōng (public)
其

qí (his)
六

liù (six)
共

gòng (common)
兴

xīng (prosper)
穴

xué (cave)
戴

dài (to respect)
Sounds same
巳

sì (snake)
跑

sì (to run)
Different tone
丝

sī (silk)
厶

sī (private)
纟

sī (silk)
思

sī (to think)
死

sǐ (die)
Pronunciation
Sound file kindly provided by
shtooka.net

➚
under a Creative Commons Attribution Share Alike License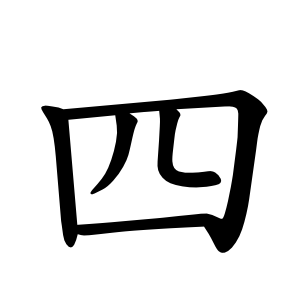 Stroke order for character 四, kindly provided under
Wikimedia creative commons license

➚
Provinces
四川

Sichuan
Cities
四平
Siping,
Jilin
Proverbs
家徒四壁
jiā tú sì bì
To be very poor
四面楚歌
sì miàn chǔ gē
Ambushed from all sides. Under sustained attack
Phrases
四十五个人
sì shí wǔ gè rén
45 people
我们喝了四杯绿茶
wǒ mén hē le sì bēi lù chá
We have drunk four cups of green tea
Mandarin Chinese: The Rough Guide Phrasebook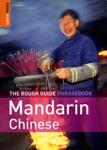 A well organised and useful phrasebook. Very useful for a business traveler or tourist. It has a dictionary of words and phrases with Chinese mandarin and characters as well as a shorter pinyin to English guide. This is followed by dialogue suggestions for common encounters: shopping, traveling and dining.
More details...

➚
Ten day week
In ancient China the week was ten days long splitting the month into three weeks. The choice of a seven day week is pretty arbitrary; it divides the month into four weeks. As the lunar month is 29.53 days the three week month is a more accurate division. So when bewailing the long time to the next weekend perhaps you should be grateful you do not have to wait an extra three days each week!
Read More

Chinasage is a new web resource, started in 2012, pages will be added, enhanced and re-formatted regularly. Please check back soon for updated information about China.
We would be most grateful if you can help improve this page. Please visit our (secure) contact page to leave any comment. Thanks.
Citation information: Chinasage, 'Chinese character sì 四 four', , Web, http://www.chinasage.info/chars/fch_si_4.htm.
Copyright © Chinasage 2012 to 2018