Colors in Chinese art

色
sè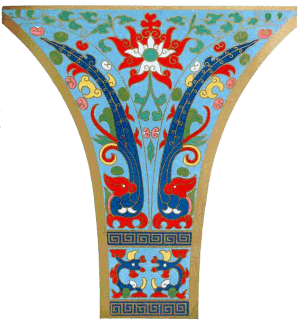 Chrysanthemum design motif (Plate 33) available under a
Creative Commons License

➚
The Chinese make substantial use of color symbolism. Throughout history colors have had specific associations and meanings. Each dynasty had its own dynastic color that was used for its robes and emblems. According to the theory of 'fives' of five elemental properties there are five primary colors: red; yellow; blue (including green); white and black. Traditionally colors have been vivid and brash, so that they brightened up the drab houses of the time. In ancient days the character 色 sè was also used as a word for conjugal sex as in Confucius's dictum 'Eating and sex are given by nature'.
Red is the color of joy and celebration and is the lucky color. Red paper is often used for writing expressions of good wishes. White is the color of mourning and funerals. It represents purity. Blue/Green is the color of growth and vegetation and so life itself. Black is the color of illness, death and criminality. Yellow is the national color and the color of the emperor. Roofs are yellow to represent yin and earth, while walls were painted red to represent yang and heaven.
To this should be added later introductions to the spectrum: green; blue (as separate colors) and purple. Purple is an imperial color and also used in the robes of high officials. Brown was the Imperial color of the Song dynasty and represents the earth element. In Buddhist symbolism red; blue and black are fierce forms while white and yellow denote mildness. Propitious gods are generally white and demons black.
Here is a list of the principal colors that are noted for their symbolism in Chinese art:
Black
Blue
Color
Green
Purple
Red
White
Yellow
---
Black

黑
hēi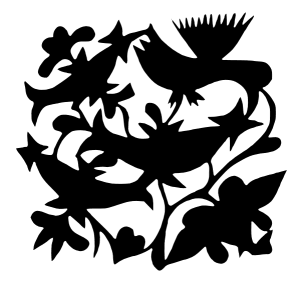 Papercut design of birds and fishes.
In the Feng Shui system black is associated with water; from the destruction cycle black (water) extinguishes red (fire); and so what follows a dynasty associated with 'red' should be a 'black' dynasty. The first Qin Emperor therefore chose black as his emblematic color to extinguish the red of the preceding Zhou dynasty. The roof of the library in the Forbidden City is black to keep fire away.
Black denotes darkness and death but also honor; so in Chinese opera a blackened face is used for grim but honorable characters. The character for black 黑 hēi originates from the process of producing soot which was then made into ink. The character represents a blackened window over a flame.
near vermilion that red, near ink that black
He who stays near vermilion is stained red; he who stays near ink is stained black
Taking on the color of the company kept. Adapt to surroundings
A person is known by the company he keeps
---
Blue

蓝
lán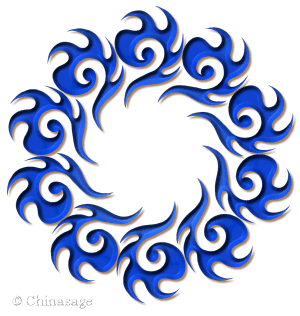 Generally blue has a negative connotation. Opera characters with blue make-up are usually ghosts or bad characters. The wearing of blue flowers or ribbons in the hair is considered unlucky. Blue eyes, considered beautiful in the West, are very rare amongst Han Chinese. However a bluebird is the messenger from the gods, principally associated with the Queen Mother of the West.
Pure blue is an expensive dye and for centuries a blueish-green was all that was available, this is called 青 qīng the character is used in the name of Qinghai province after the color of the lake from which it takes its name. As in other cultures separate words for 'blue' and 'green' were not originally used, qing was used for both colors. The cobalt blue that gave the deep pure colour to porcelain glazes only became available in the Yuan dynasty when it was imported from Persia.
Kuixing the god of examinations is painted with a blue face and as he committed suicide, he is not a particularly lucky figure. Studying into the night was called to 'study under the blue lamp' and blue was the color associated with scholars; blue was used as the color for the sedan chairs of one grade of senior officials.
indigo blue comes out foremost blue but excel foremost blue
Indigo is obtained from the indigo plant, but such color is bluer than the plant itself
Wise schooling has produced excellence beyond the teacher. The follower has surpassed the master.
---
Green

绿
lù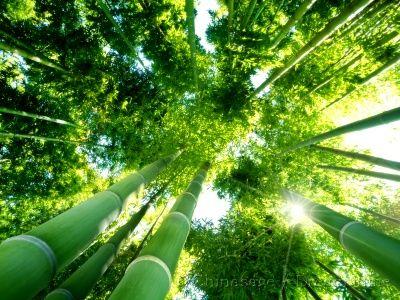 Looking up in a
bamboo
forest
Green is the color of vegetation and so is the symbol of Spring and future harvest. It is generally a propitious color and the color of the God of Literature's robes.
Green is the color associated with the element 'wood', the Ming dynasty and the lucky number 8. The character for green uses the radical for silk denoting the use of green as a dye. It has long been known as the complementary color to red in decorations and paintings. Originally the character 青 qīng used to be used to cover both the colors blue and green.
---
Purple
紫
zǐ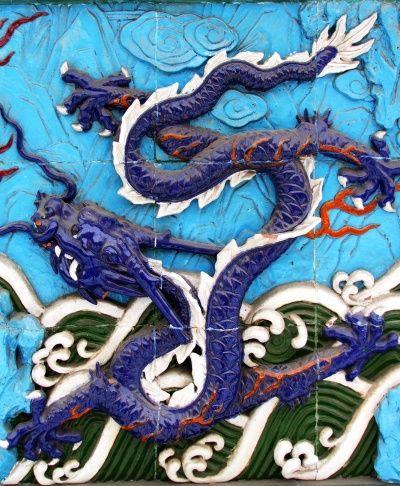 Purple china dragon in the China garden, St.Petersburg. Image by
Lvova Anastasiya

➚
available under a
Creative Commons License

➚
As in Rome, the color purple is associated with the Emperor because of its rarity and expense (Han purple ➚). The Imperial capital district was formally called the 紫禁城 Zijin Cheng the 'Purple Forbidden City' which matches the 'Purple Forbidden Enclosure' 紫微垣 in the stars around the North pole. It came into widespread use at a late date and is not considered one of the five principal colors.
In Chinese opera a face is painted purple to represent an incorruptible, loyal mandarin. In color symbolism it represents grief and introspection.
---
Red

红
hóng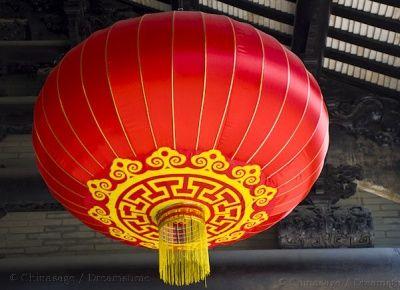 Red lantern
Red is the color of blood and so by association the color of life itself. In the Feng shui system of five elements red is associated with south and summer. Red is the luckiest color and is widely seen at festivals and marriages to bring good luck and keep evil at bay. Charms written on red paper are plastered all over houses at Chinese New Year because according to legend the Nian monster hates anything red. 宏 hóng sounds the same and means 'great; magnificent' so a red color bestows idea of wish for greatness in decorations, so a red bat is a wish for great good fortune.
Cinnabar gives the red color to official seals and in itself was considered a potent elixir for long life. From cinnabar the pigment vermillion was made and this was the color reserved for the Emperor. The Emperor would write his own comments on documents in vermillion ink.
Red was the dynastic color of the Zhou dynasty so many things had to be colored red during that period, a red raven was the emblem of the dynasty. A traditional marriage custom is for the newly weds to drink from cups connected with a red thread.The preponderance of red had a resurgence in Mao's Communist Era and it may well be that the ancient auspicious associations of red helped the communist cause. In opera a painted red face indicates divinity and heroism and is often used for Guandi the god of war.
---
White

白
bái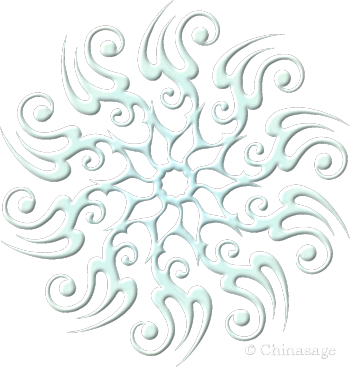 White, which is really the absence of color rather than a true color, is associated with the direction west, and autumn in the theory of five elements and five colors. White, or more correctly, un-dyed cloth is worn for funerals and mourning in contrast to black in the West. White was the dynastic color of the Shang dynasty. The white lotus is a strong emblem for purity and virginity. As white hair color comes with old age it can also depict sagacity. In Opera white make-up symbolizes treachery and a white flower in women's hair is considered unlucky.
---
Tue 6
th
Mar
Hong Kong has managed to pip Japan and Italy as the location with the highest life expectancy. Figures for 2016 give 81.3 years for men and 87.3 years for women. This is a remarkable turnaround for China which has suffered from high mortality rates going back centuries. Some put the high survival rate to diet, some to physical health and others to the climate. Hong Kongers generally eat a varied diet with a good proportion of health-giving fish and can be compared to the Mediterranean diet. Many people in the 80s came from the mainland and reached there by physical exertion - swimming to Hong Kong Island or traveling hundreds of miles overland, so maybe physical fitness plays a part. Hong Kong is notorious for its high humidity but the sub-tropical climate there never sees cold winters and this is a key factor in survival rates of the elderly. As well as a warm climate Hong Kong has many green spaces, and it is easy for people to get away from the urban center to a tranquil natural spots among the mountains. All this makes the former colony a good place to live.
Read full story...
Read all our
news stories...
Yellow

黄
huáng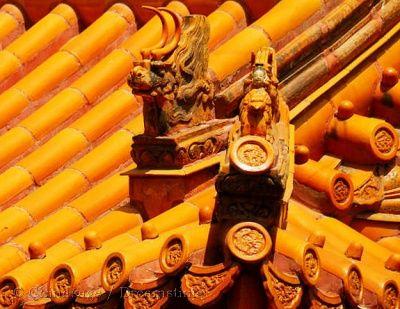 Yellow glazed tiles on a temple roof
Yellow is a very auspicious color in China, it is probably best translated as 'golden' as that gives to a non-Chinese a better idea of its attributes. It is associated with Earth and 'center'. The loess soils of northern China are Yellow earth 黄土 huáng tǔ and the Yellow River flows through this cradle of Chinese civilization. The Yellow Emperor was the mythical founder of China - indeed 皇 huáng 'emperor' sounds the same. Yellow is the color of Imperial robes and the roofs of Imperial buildings. Charms written on yellow paper were bought at temples to keep evil out of the home. The stars on the Chinese flag are all yellow. From all this it should be evident how important the color yellow is in China.
---
Source references used for this page:
Book : A Dictionary of Chinese Symbols, Eberhard, Routledge, 1983
pp. 41-43, 134, 242-243, 248-249, 259, 262-263, 312-313, 322;

Book : China A to Z, Kai Strittmatter, Haus Publishing, 2006
p. 14-16;

Book : China A to Z, May-lee Chai and Winberg Chai, Plume, 2007
pp. 38-40, 194-196;

Book : China Wakes, Nichola Kristof and Sheryl Wudunn, Random House, 1995
pp. 70, 195;

Book : Chinese Customs, Hu Lingque and Xiang Wei, Better Link Press, 2008
pp. 20-21, 62-63;

Book : Chinese Symbolism and Art Motifs, C.A.S. Williams, Tuttle, 1993
p. 76-79;

Book : Symbols and Rebuses in Chinese Art, Fang Jing Pei, Ten Speed Press, 2004

➚
p. 47-48;

Book : Symbols of China, Feng Jicai, Compendium, 2010
p. 16;

Book Fun with Chinese Characters, The Straits Times, Federal Publications,1982 [1]
p. 128;

Book Social life of the Chinese, Justus Doolittle, Harper and Brothers, 1865 [2]
p. 307-309;

symRed (sin-idioms)

➚
;

symRed (wikipedia)

➚
;

symRed (wikipedia)

➚
;

symYellow (dartmouth)

➚
;

symYellow (kirj)

➚
;

symYellow (travelchinaguide)

➚

Chinasage is a new web resource, started in 2012, pages will be added, enhanced and re-formatted regularly. Please check back soon for updated information about China.
We would be most grateful if you can help improve this page. Please visit our (secure) contact page to leave any comment. Thanks.
Citation information: Chinasage, 'Color Symbolism in Chinese art', last updated 25 Jan 2018, Web, http://www.chinasage.info/symbols/colors.htm.
Please wait...
Downloading information about character
Copyright © Chinasage 2012 to 2018